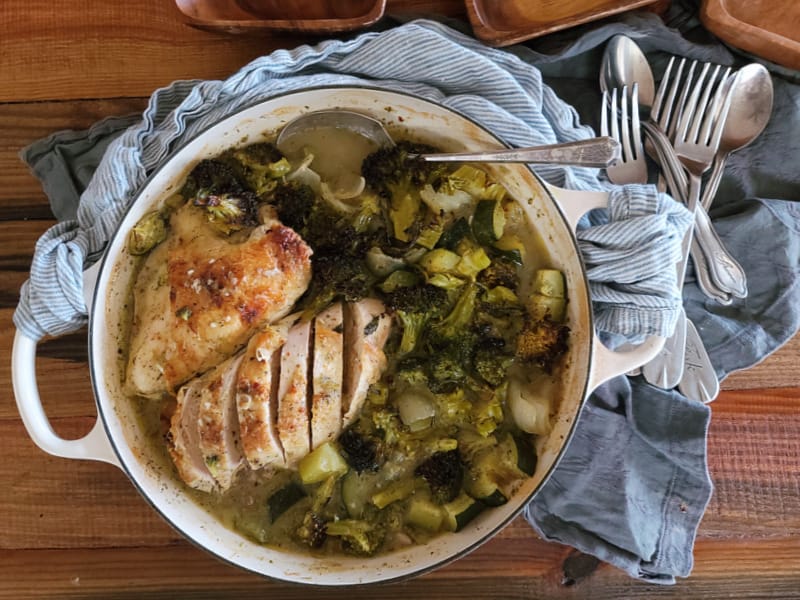 Creamy broccoli chicken is a one-pot wonder! In about an hour, you'll be eating gourmet. And, imagine, less cleanup! Big bonus points!
Broccoli Chicken Bake
One skillet. Healthy ingredients. Chicken. Broccoli. And, a few other things. You're going to rave about this recipe!
Broccoli and Chicken
Broccoli is such a glorious vegetable. Eaten raw or cooked, it's a great source of fiber and protein. And, it's got an array of fabulous minerals and vitamins, A, C, E, K and B including folic acid, that are just great for your body.
Chicken and Broccoli Casserole
This recipe is kind of like a casserole, but I wouldn't call it a casserole. It's more like a braised bake of chicken. After the chicken is close to being done, you're going to add the broccoli and other vegetables. All you want them to do is steam in the hot bubbly sauce.
Broccoli Chicken
It doesn't take long for these vegetables to steam and then the finishing touch is to turn on the broiler to get a golden brown char on the chicken and broccoli. If you want just the chicken, then do this browning prior to putting in the vegetables to steam.
Broccoli Chicken Pasta
It's perfect to serve this dish as is. But, if you want something to pour it over, then there's nothing better than preparing your favorite pasta noodles or maybe rice.
Easy Chicken Recipes for Two
What I really love about this recipe is that it's an easy chicken dish for two. Since my bone in skin on chicken breasts were quite large, we had enough for the two of us, plus leftovers for another meal. The recipe does make a nice hearty gravy, too.
And, you can see from the way I sliced the larger thick chicken breasts, substantial slices of chicken could be served.
Creamy Chicken Recipes Easy
Creamy chicken without the broccoli and vegetables is another variation of this recipe. Yes, if you just want to make an easy creamy chicken, then follow the recipe but don't add the veggies.
I'm always looking for new seasoning mixtures, too. And, this one by my dear foodie friend, Kita, of Girl Carnivore is perfect for so many poultry dishes. It's full of flavor and the aromas are divine! My friends over at Spiceology sure do have some crazy good mixtures. And, what I love about them is that they're designed and curated by foodie peeps of mine!
Creamy Chicken
And, if you want to add potatoes to this creamy chicken, then, again, you'll do that after the chicken has cooked about midway through. If your potato chunks are big bite size, it will take probably at least 20 minutes to cook. Be sure to snuggle these potatoes, and I'd highly recommend the Yukon gold potato variety, into the gravy sauce.
Creamy Broccoli and Chicken over Rice
If you're looking for other really easy and delicious chicken recipes, then why not check out these options. Yes, we love chicken in our home, so I love to come up with lots of new ideas!
Rustic Italian Chicken Shitake Mushrooms
One Skillet Harissa Chicken & Vegetables
Sticky Buttermilk Fried Chicken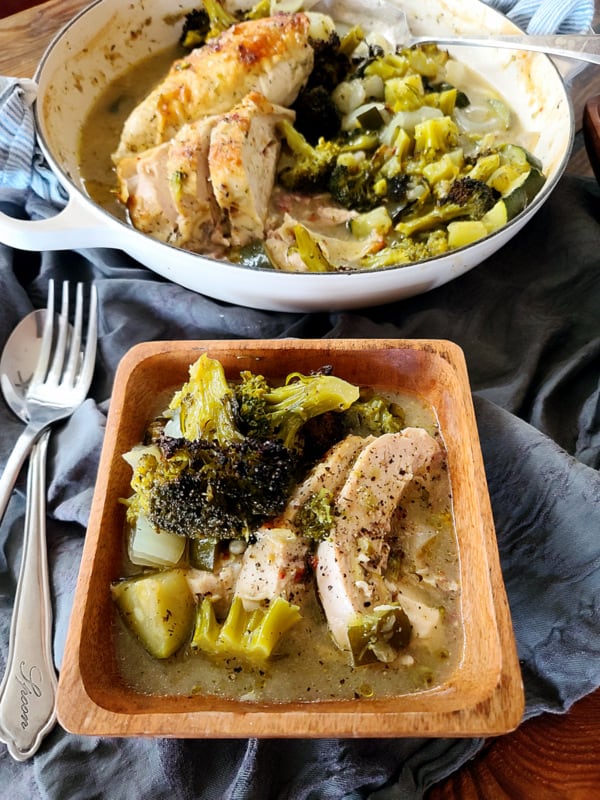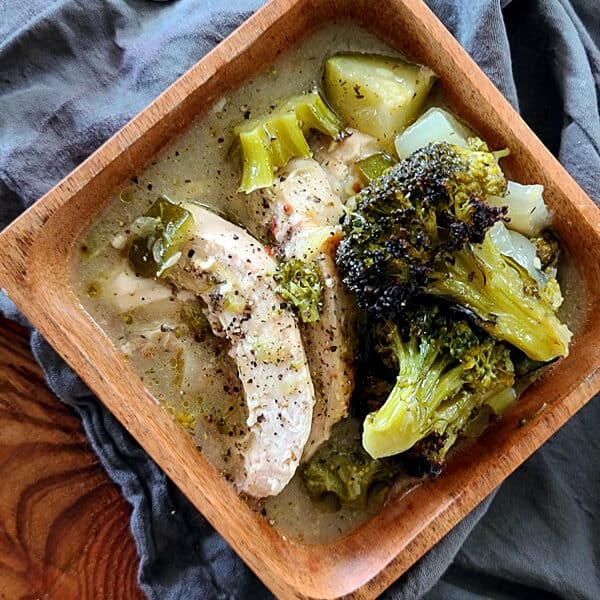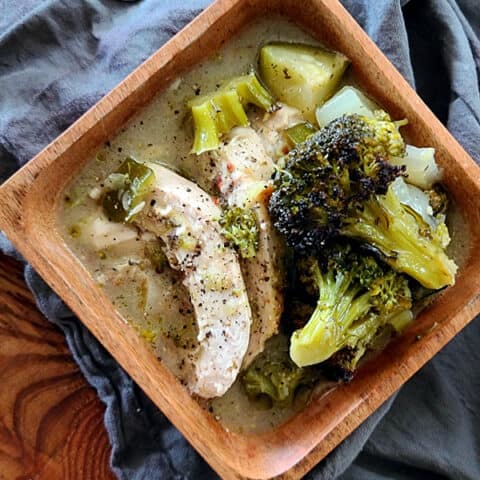 creamy broccoli chicken
Ingredients
Preheat oven to 425
2 large chicken breasts, about 1 ½ lbs., bone in, skin on
1 (10.5 oz.) can cream of celery soup + 2 cups water
1 Tbl. nutritional yeast
1 Tbl. Girl Carnivore Spiceology Egg + Everything Else Seasoning Mixture
1 tsp. sea salt
6-7 cups broccoli flowerets with some of the stems
1 large zucchini, cut into large bite size pieces
1 large sweet onion, cut into large bite size pieces
¼ cup extra virgin olive oil
Instructions
Rinse and pat dry the chicken breasts. Put in a large (5 quart) oven-safe pan (with lid).

In a large measuring cup or medium bowl, whisk together the celery soup, water, nutritional yeast, everything seasoning, and salt. Pour over the chicken.
Put the lid on. Bake in a preheated 425 oven for 35 minutes.

Remove, move chicken to one side and add the broccoli, zucchini and onion into the gravy sauce.

Cover with the lid and bake another 15 minutes.

Remove the lid. Drizzle the olive oil all over the chicken and veggies. Turn oven to broil (pan should be at least 10 inches from the broiler) for 10 minutes. Five minutes longer if you want more browning on your chicken and veggies.

Remove from oven. Put lid on. And, let the chicken/veggies rest for about 10 minutes. Ready to serve!