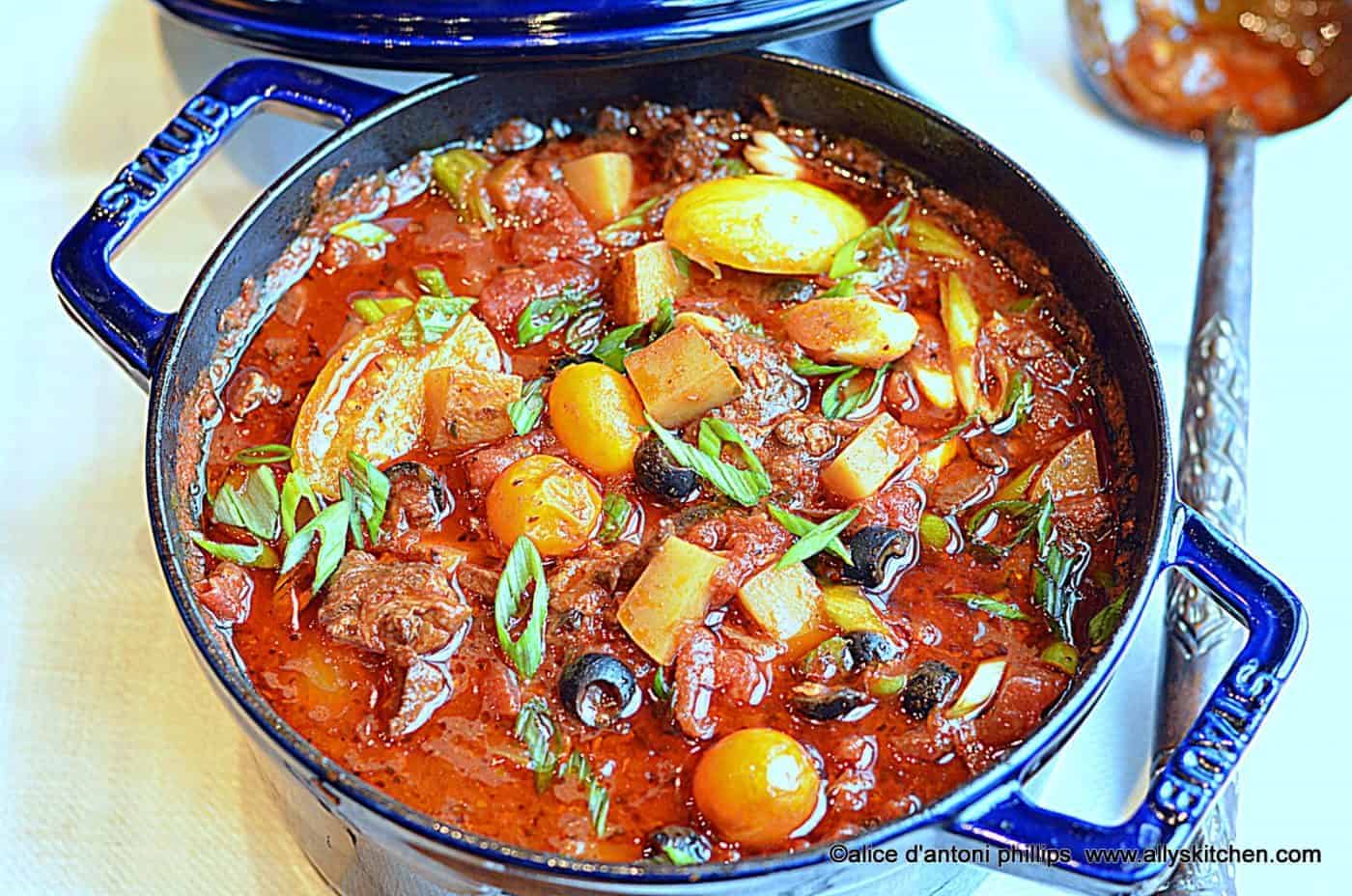 Whether you cook this on the stovetop, in a slow cooker/crockpot or in the oven~~you're in for a comfort food experience that will make you want to curl up in your snuggle jammies on the sofa, turn on your fave TV show or movie, pour a glass of wine or another sippy, and play like life is a bowl of cherries and there's no worries or cares to contend with~~all can wait until you've indulged yourself! Sound like a deal?
Well, then get busy on this pot of beef, potatoes and tomato love, and you can create your own fantasy! Here's to ~peace, love and making our fantasies come true~ xo ~ally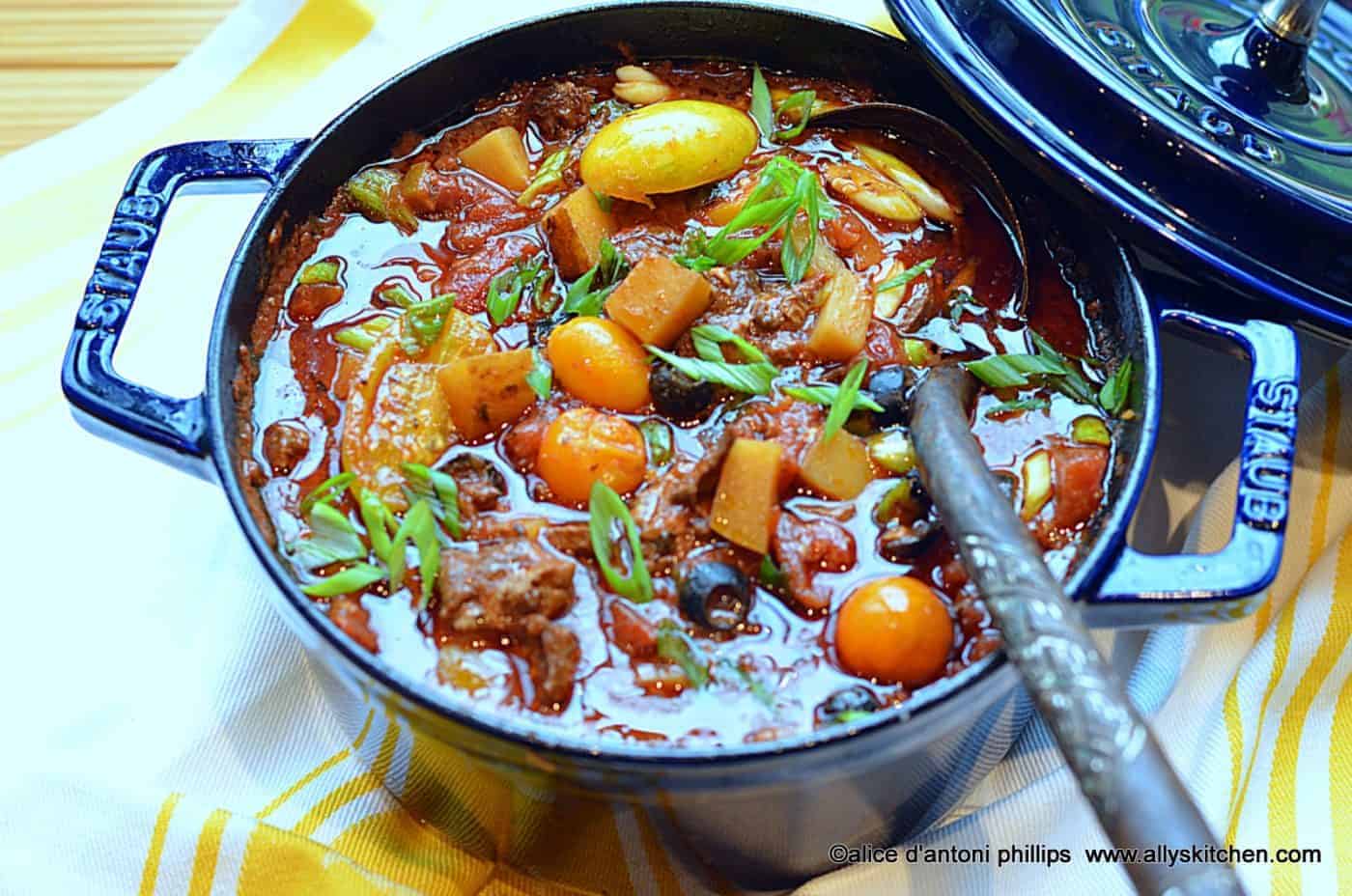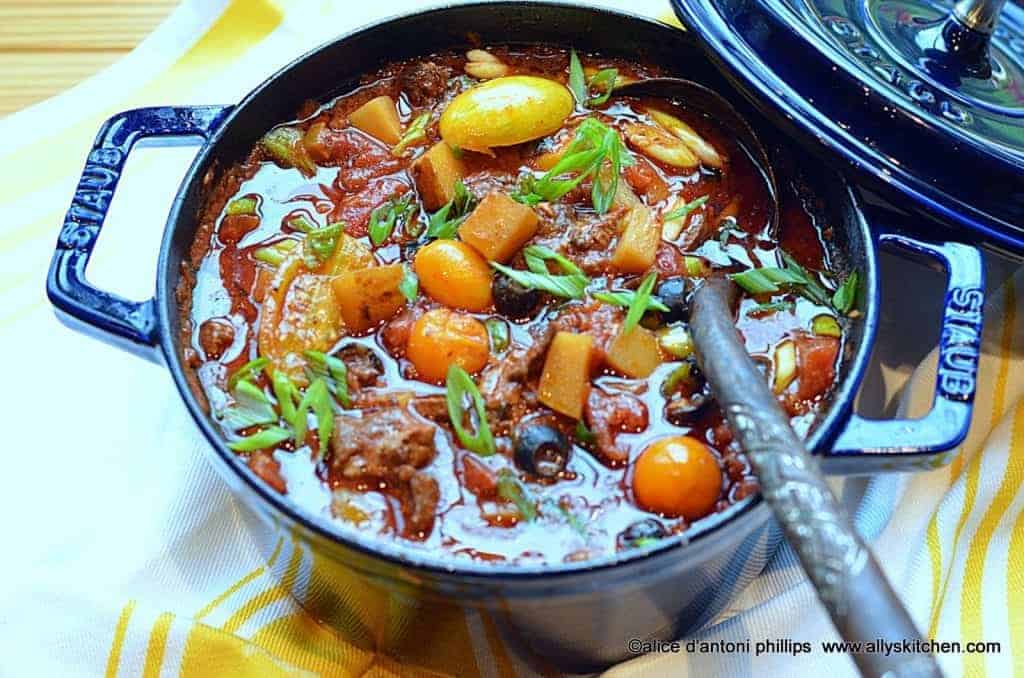 Serves: 4-6
What you need:
3 Tbl. olive oil
1 lb. beef, chopped in small pieces
1/4 cup deli-bar garlic individual cloves with oils
2 (15 oz.) chopped tomatoes with juice
1/2 cup olives, chopped (green and/or black)
3/4 cup (6 oz. can) V8 spicy tomato juice
1 1/2 tsp. sea salt
1/2 tsp. red chili flakes
1 to 1 1/2 cups water (as needed)
2 cups potatoes, diced
3/4 cup cherry tomatoes, sliced in halves lengthwise
3/4 cup green onions, sliced with green parts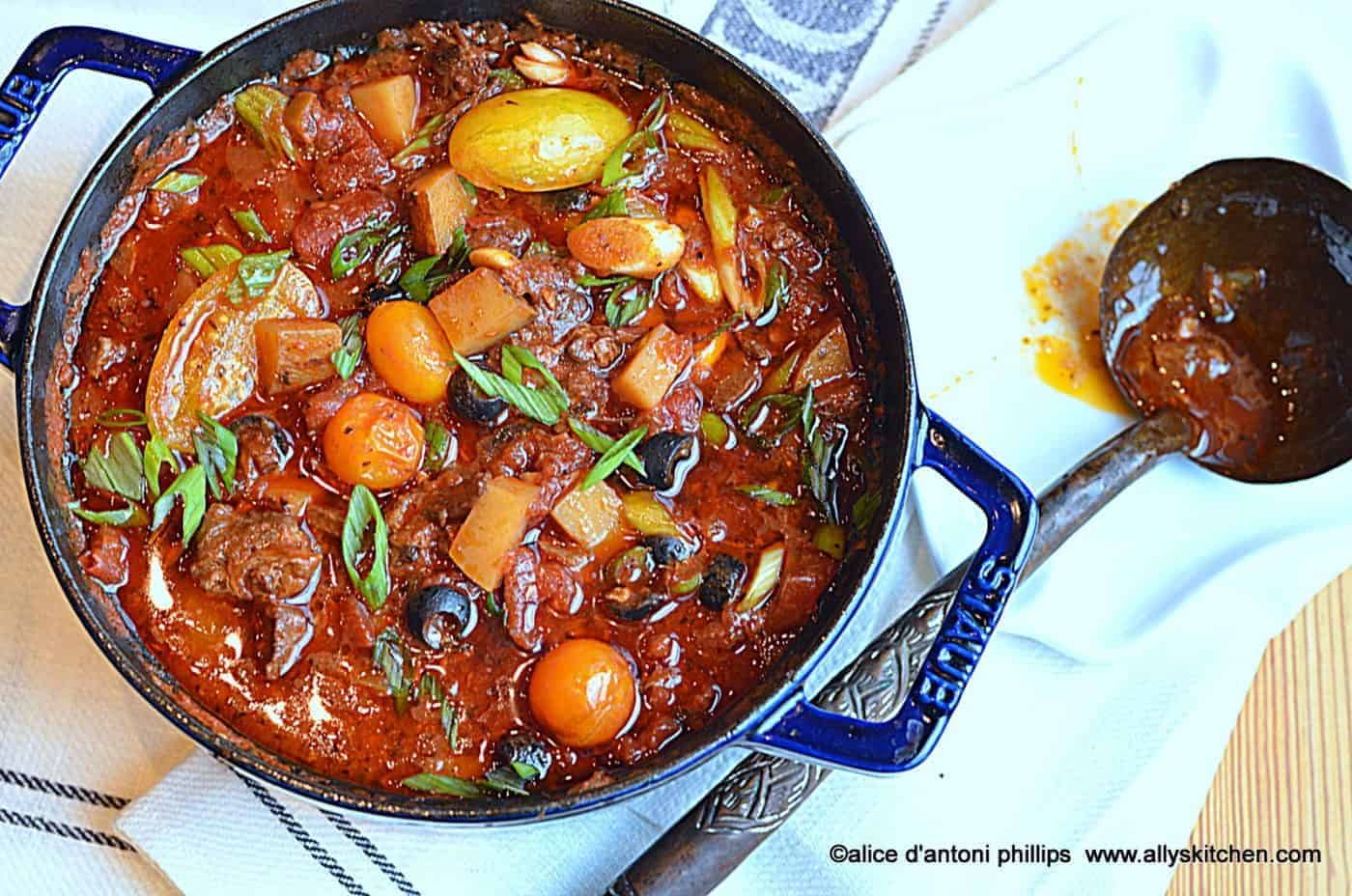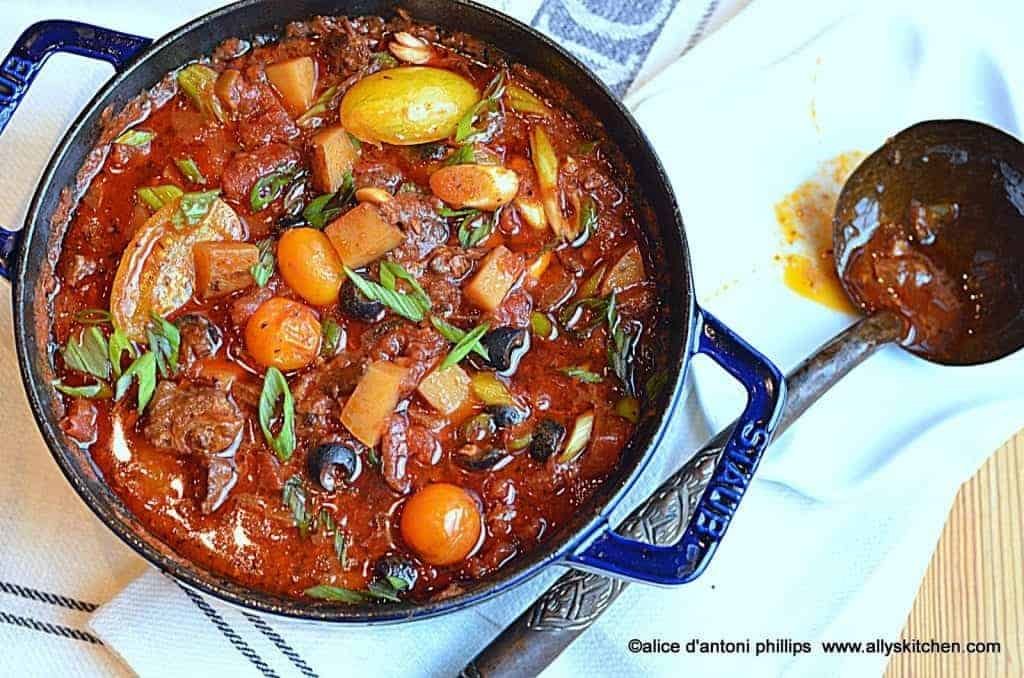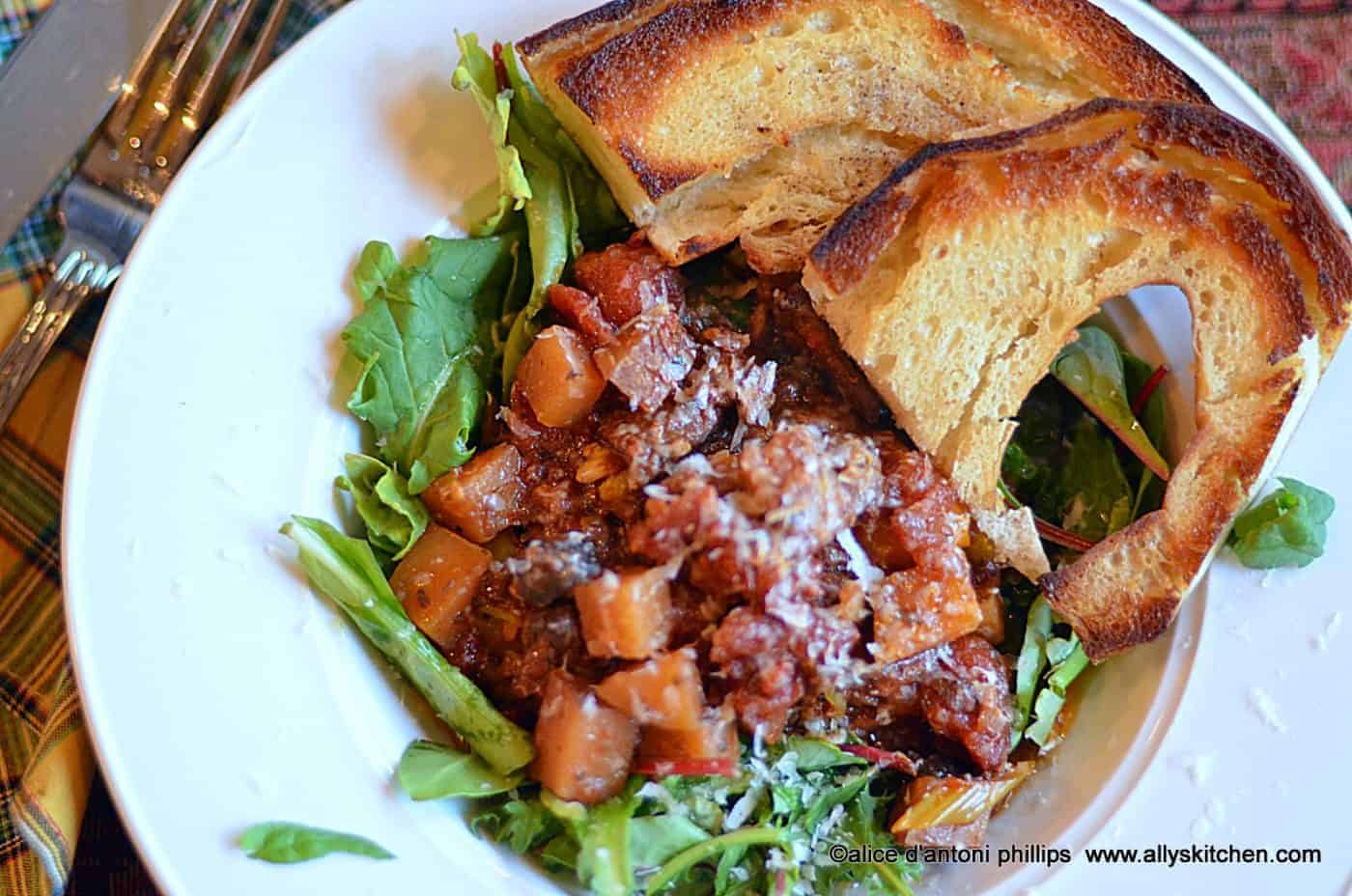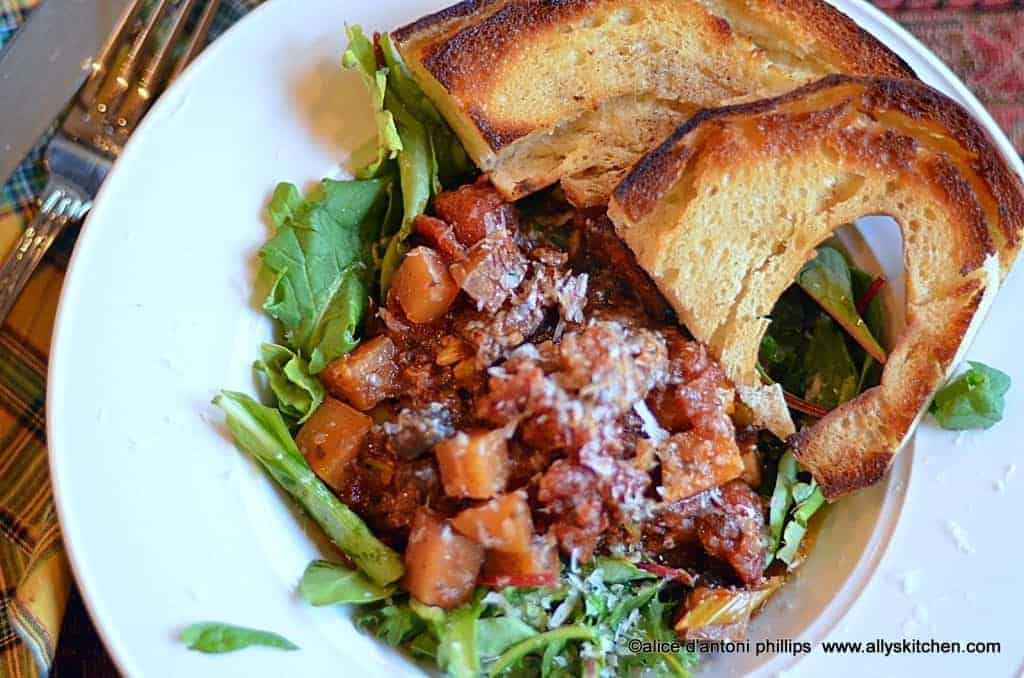 What you do:
In a heavy pot (with lid~~and, you know how I love cast iron pots), heat the olive oil on medium high, add the beef and sear on all sides (turning and tossing) until you have some good browning going on~~about 5-6 minutes. Add the garlic and cook another 5 minutes. Reduce heat to medium, add the chopped tomatoes and cook, stirring occassionally, for about 20 minutes.
Blend in the olives, spicy tomato juice, salt, and chili flakes and cook on medium low another about 45 minutes~~add water as needed and stir occasionally so nothing sticks to the bottom of the pot. Add the potatoes/blend into the mix, lower the heat to low and cook another 30-45 minutes. Stir several times. If not serving immediately, turn off heat and move to another blaze.
Blend in cherry tomatoes and green onions about 15 minutes before serving.