purple cabbage salad & roasted tomatoes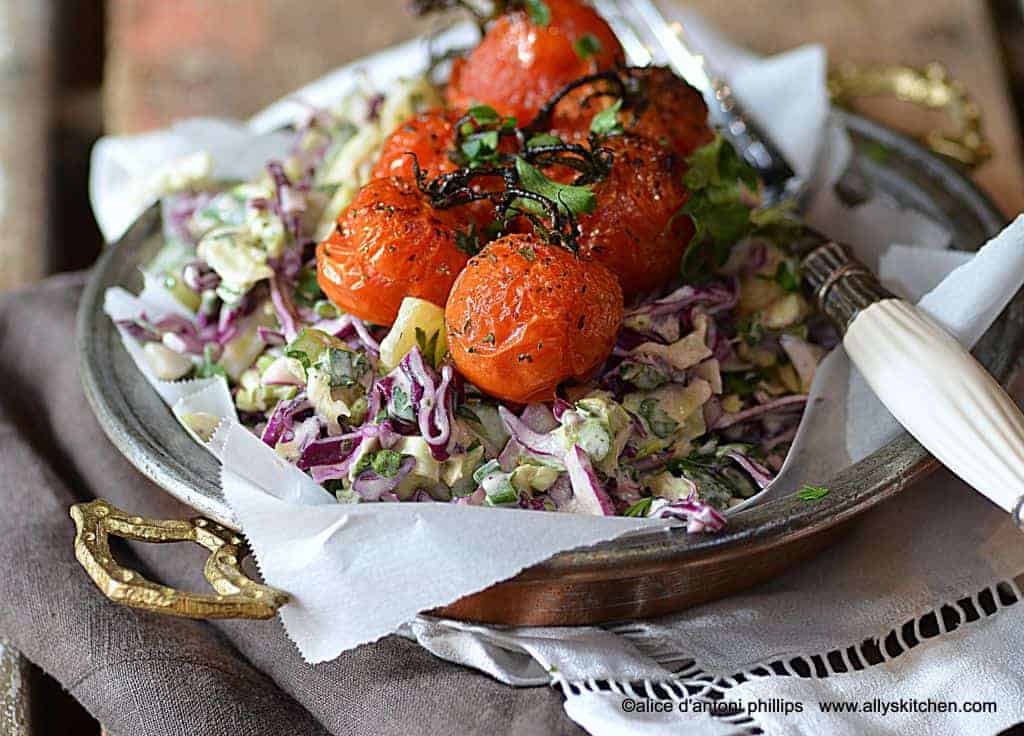 Cabbage cabbage…seems to be the forgotten 'stepsister' of the more elegant salad greens! But not so in my ally boho world…to me cabbage is gorgeous, and even more stunning and tasty in its natural state. Oh, yes, we can cook, steam, fry it, make cabbage rolls (which I love because my Croatian mom made the best 'sarma' out there~~I'm working on that recipe, too!)and cole slaw and more. But, I love to showcase cabbage in all its glory with this purple cabbage salad & roasted tomatoes!
Rustic and truly what I call 'close to the earth' eating~the dressing makes it even more creamy and luscious. Let this bowl of crunchy boho love refrigerate a day, and you're going to revel in its parade of flavors, crunch and texture. Now, I served this as mounds of beauty on a plate an topped each serving with two roasted tomatoes. Yes, leave the vine on, it adds to the boho farm feel.
xox ~peace & close to the earth eating~ ally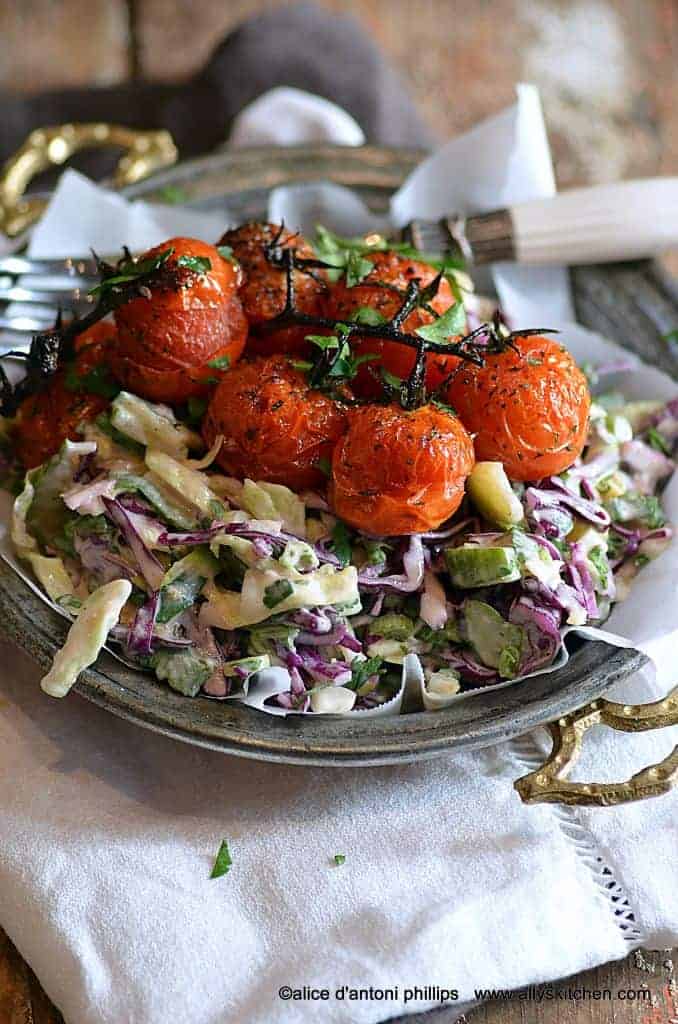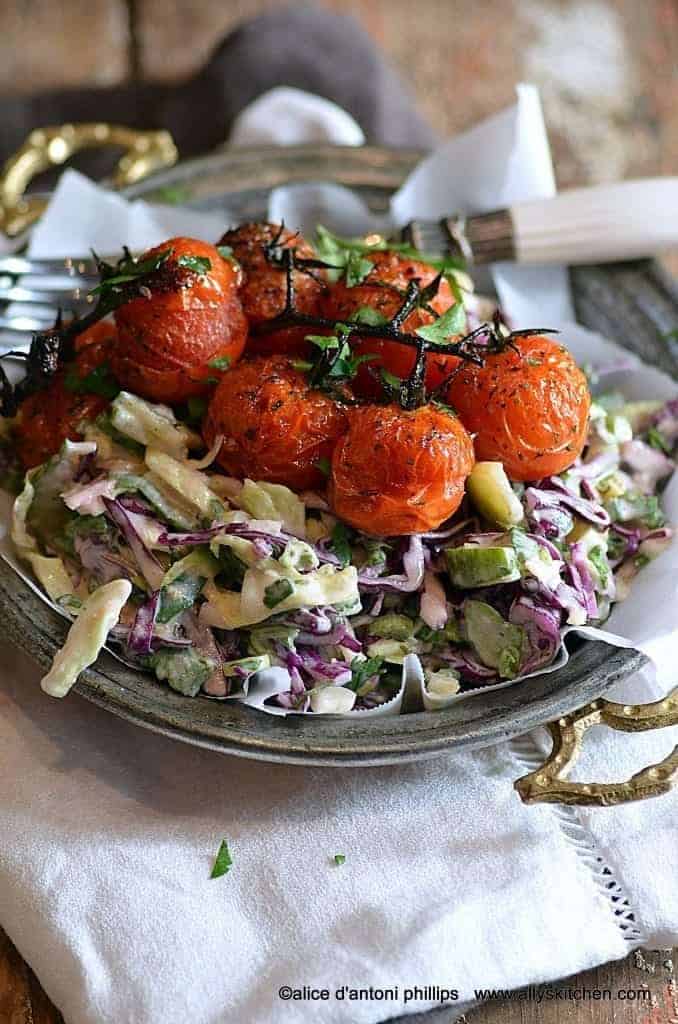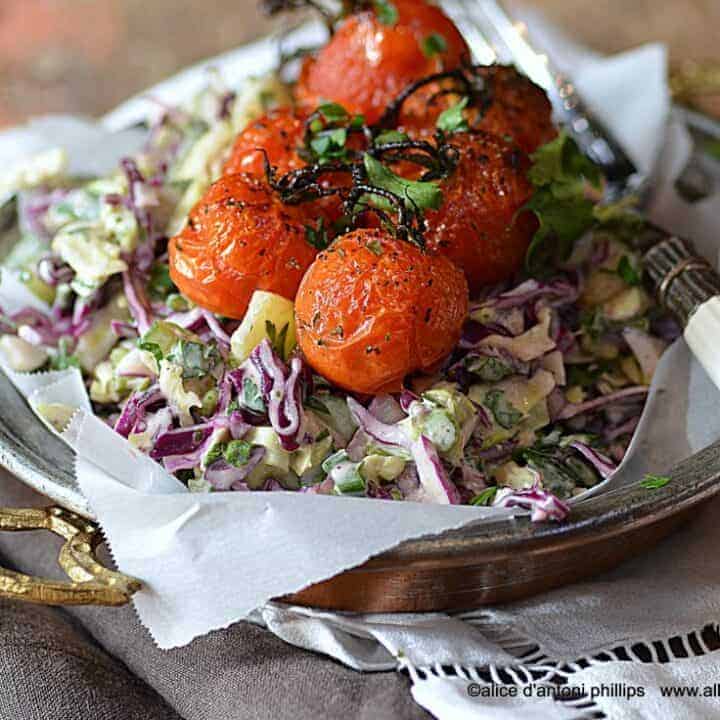 purple cabbage salad & roasted tomatoes
Ingredients
Preheat oven to 425
10-12 Campari tomatoes, stem on, small size
Cooking spray
1 tsp. lemon pepper
2 cups purple cabbage, thinly sliced
2 cups cabbage, thingly sliced
1 cup arugula greens, roughly chopped
3 green onions, thinly sliced
1/3 cup Italian parsley, roughly chopped
1/2 English cucumber, skin on, cut into bite size pieces
1 1/2 tsp. sea salt
1 tsp. coarse ground pepper
1/4 cup mayonnaise
1/2 cup sour cream (you could use plain Greek yogurt also)
4 Tbl. olive oil
1 Tbl. freshly grated ginger
1/4 cup fresh basil, chopped
1 medium sized lemon, juice & zest
Instructions
Put the tomatoes on a parchment paper lined cookie sheet. Coat with cooking spray and lemon pepper. Roast in a preheated 425 oven for about 10 minutes. Remove and cool. If you want more 'charring' on the tomatoes, simply turn the oven to 'broil' for a few minutes. Watch carefully.
In a large mixing bowl, combine the purple cabbage, green cabbage, arugula green onions, parsley, cucumber and toss and blend.
In a small mixing bowl, whisk together the salt, pepper, mayonnaise, olive oil, basil lemon juice and zest.
Pour over the cabbage mixture. Toss and blend well. Refrigerate for about 30 minutes before serving with the roasted tomatoes.
Notes
You can substitute any other type of tomato. If you're using large tomatoes, slice in wedges or thick slices and oven roast.