Expect a Middle Eastern flair when you dig into this slow cooker beef beef tomatoes olive stew. Yes, it's got the components of velvety tender and chunky fork-tender beef that's cooked low and slow and is just perfect for serving creatively!
How to Serve
As you see, I'm just serving my slow cooker beef tomatoes olive stew in a most 'purist' fashion. A warm loaf of crusty baguette and a dollop of sour cream. Believe me, it's amazing just like this! But, think of the many other ways you can serve this dish. Over mashed potatoes. Oh, why not do warm creamy Southern grits! Or, how about creating simple sliders say with slices of crispy chilled cucumbers and onions marinated in a simple vinaigrette. Of course, there's the standby pasta that always woos palates. And, if there are any leftovers, well, imagine the soup that you can create!
The Full Flair
Just in case you want to experience the full flair of Middle Eastern dishes, then add to your serving pieces something very different. Here are some of my favorite Amazon choices! And, here's another wonderful Middle Eastern beef dish that you can make and serve in any of these stunning dishes!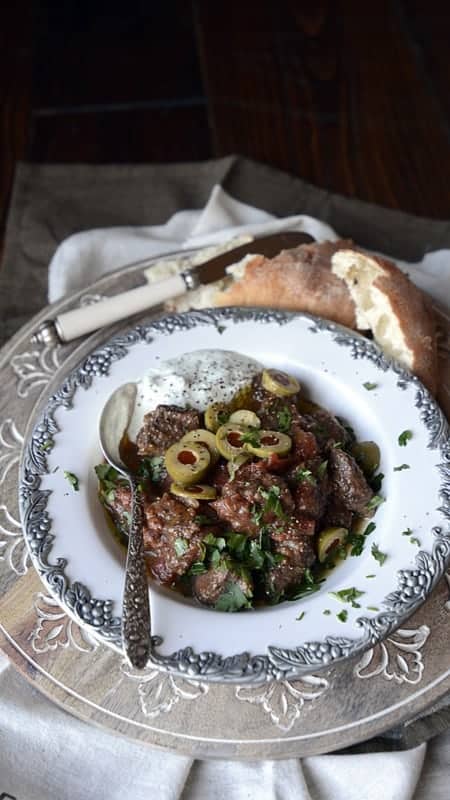 slow cooker beef tomatoes & olives
Ingredients
¾ cup extra virgin olive oil, divided
2 cups sweet onions, finely diced
6 garlic cloves, peeled and sliced thinly
¼ cup concentrated tomato paste
2 ½ to 3 lbs. beef, New York Strip, cut into small (about 1 ½ x 1 ½ ") chunks
1 ½ cups flour, all-purpose
1 cup red wine
1 Tbl. dry harissa
2 tsp. ground cumin
2 tsp. smoked paprika
½ tsp. red chili flakes
2 tsp. sea salt
1 tsp. white pepper
1 (28 oz.) can diced tomatoes + 2 cups water
2 cups green olives with pimentos, sliced in halves if small and sliced into several pieces if large, you can also use chopped olives
Instructions
Turn the slow cooker to the high setting for 4.5 hours. Add one-fourth cup of olive oil, onions, garlic, and tomato paste. Whisk and blend together. Cover with the lid and prepare the beef.
Put the flour in a large mixing bowl. Add the beef chunks and coat well with the flour.
Heat a heavy large cast iron skillet on medium high. Add the remaining oil. Let it get hot. Shake off the excess flour from beef chunks. Add about one-third to one-half of beef chunks to the oil. Brown well on all sides. Use a slotted spoon and move the browned beef chunks to the slow cooker. Repeat with the remaining beef chunks. Deglaze the skillet with the wine, scrap the skillet, then add this liquid mixture to the slow cooker.
Mix the harissa, cumin, paprika, chili flakes, salt and pepper in a small bowl. Sprinkle into the slow cooker. Add the tomatoes and water. Blend. Cover and cook for another about four hours.
Check the meat after a couple of hours, stir and if you need to add some additional water (or beef broth), do so. When the meat is very tender (after about four hours), add the green olives and let the stew simmer another 30 minutes.
https://allyskitchen.com/slow-cooker-beef-tomatoes-olive-stew/
©ally's kitchen intellectual property