Easy Middle Eastern Lentil Salad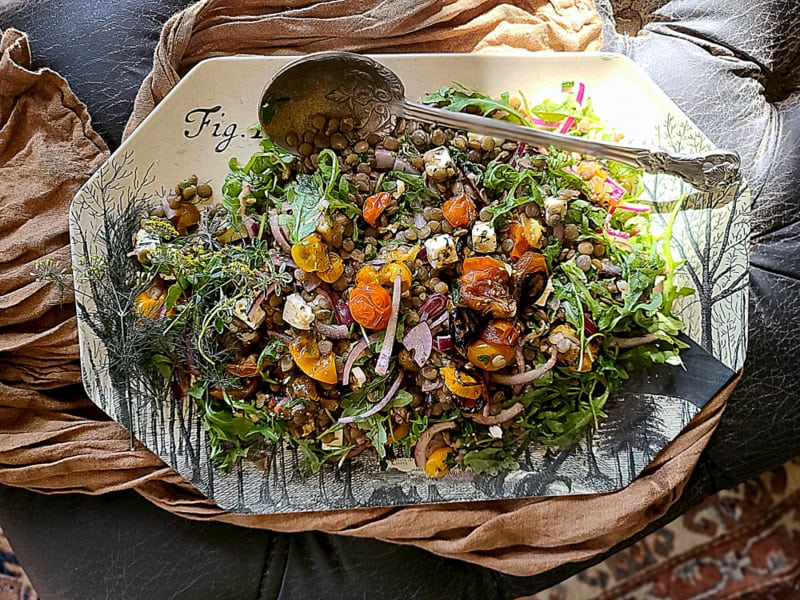 Easy Middle Eastern Lentil Salad will dazzle your family, guests or anyone! Healthy, easy to prepare, and divine! Perfect with anything!
I've made this lentil salad so many times I can't keep count. Yes, it's that good. And, the original recipe, which I've adapted, is credited to the talented and amazing chef, Yotam Ottolenghi. He's undoubtedly one of my most favorite chefs. I find his recipes are right up my alley. Of course, if you love Middle Eastern and Mediterranean foods like I do then you're in business. It's so worth buying his cookbooks.
What are Umbrian Lentils
Umbrian lentils are spectacular! They're small perfectly shaped brown jewels with a delicate flavor. When cooked, and they cook rather quickly, they're tender and delightful.
The important thing about these Umbrian lentils, which are also known as Castelluccio lentils, is that they don't become mushy when cooked. Some lentils do that and they're better for soups than salads.
For more great reading on the different types of lentils, Bon Appetite puts it simply in this quick read!
Umbrian Lentils Substitute
Umbrian lentils come from the Umbrian area of Italy. You can find them at some Italian delis or purchase them online, which I do. In fact, when I buy them, I usually buy 4-6 bags at a time because they do last.
If you can't find Umbrian lentils or don't want to order, you can use the French green lentils, which are from the Puy region of France.
Mediterranean Lentil Salad
Of course, this salad is quite 'Mediterranean'. Yes, fresh healthy ingredients. Certainly vegetarian. And, perfect with a protein or seafood. Of course, I love to eat a scoop of this Middle Eastern lentil salad with a fried egg on top. Give me some warm baguette and I'm one happy gal!
Moroccan Lentil Salad
Moroccan lentil salads are quite similar to this salad. What makes it more Moroccan would be the addition of some fresh mint into the herb mixture. And, another addition would be maybe a tablespoon of harissa mixture.
You can purchase harissa (dry and paste mixture), BUT there's nothing better than making your own. And, I promise you that my recipe for harissa that's in my cookbook is as simple as it gets!
Lentil Salad Recipe
One thing I really love about this recipe is that you can prepare it in steps. For instance, you can cook the lentils a day ahead of time, refrigerate and then have them ready to use.
Only one caveat to that is that when mixing everything together with lentils that are still 'warm' (certainly not hot), the flavors tend to infuse more deeply and beautifully.
Cold Lentil Salad
This lentil salad can be eaten cold, warm, or at room temperature. I love it cold with something spicy and hot, like fried chicken or maybe a spicy grilled shrimp. The coolness of the salad and the subtle softness of the lentil texture pairs well with so many things.
Warm Lentil Salad
Warm lentil salad would be enhanced with slices of protein on top. Think grilled chicken or seafood. Of course, a red meat would be divine. I've served with my open fire lamb chops and it's a perfect combination. Another idea would be to try my Mandarin Lamb Chops. That tad of sweet mandarins would just send the flavors over the top!
Middle Eastern Lentil Salad
Lentils are full of nutrition. And, as you might know there are different colors!
BROWN: An earthy flavor. They hold their shape. Yes, perfect for this recipe.
PUY: This is the fancy French type. Smaller in size than a regular lentil, these have a peppery taste.
BELUGA: Oh, these are the dramatic black lentils. Yes, think caviar! Perfect for salads, too.
GREEN: Traditionally these vary in size. And, green are the most inexpensive lentils.
YELLOW/RED: Oh, these are the ones that get mushy when they cook. And, the cook quickly. They're got a sweet nutty flavor.
Brown Lentil Salad Recipe Easy
My recommendation is that you bite the bullet and order the Umbrian Lentils. Why? Because this is such an exquisite salad, you want to use the very best ingredients in order to make it the most authentic that you can. You won't be disappointed!
I served this salad at a charity cooking demo and I can tell you that those looking on when this salad was plated on a platter were in awe of its beauty! And, don't forget, you can add some greens to this salad!
I tossed in some peppery fresh arugula and it was divine!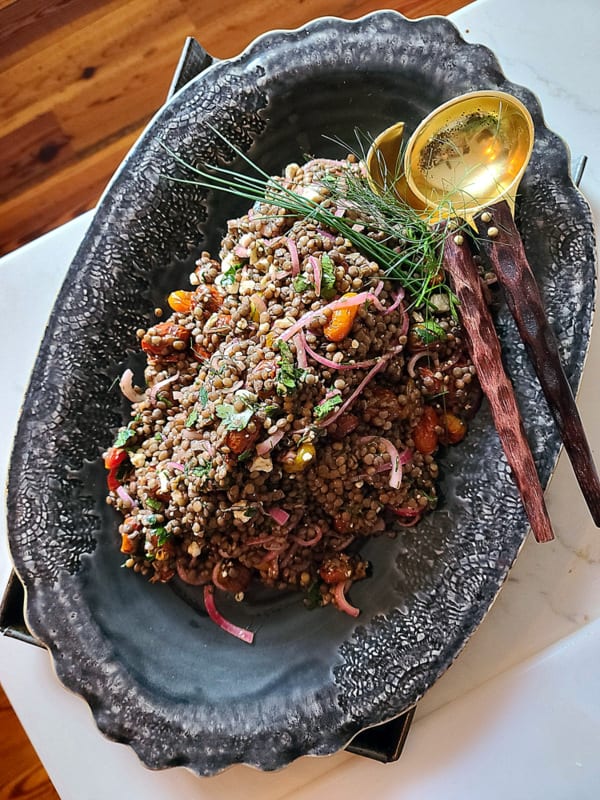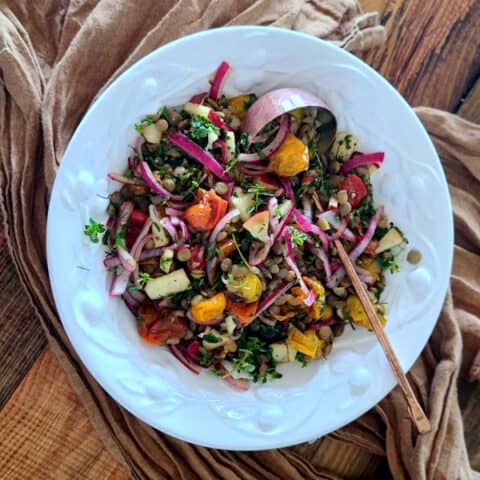 Easy Middle Eastern Lentil Salad
Ingredients
CHARRED TOMATOES
4 cups cherry heirloom tomatoes, whole
10-12 lemon thyme sprigs
3 Tbl. extra virgin olive oil
3 Tbl balsamic vinegar
1 tsp. sea salt
LENTILS
1 1/2 cup Umbrian lentils
5 cups chicken stock
REMAINING SALAD
1 medium red onion, very thin slices
1 tsp. salt
3 Tbl. red wine vinegar
1 tsp. coarse black pepper
1/4 cup fresh flat parsley, fine chop
3 Tbl. fresh dill, fine chop
2 Tbl. fresh chives, fine chop
6 oz. gorgonzola crumbles
2 Tbl. extra virgin olive oil
Instructions
Preheat oven to 325.
Put tomatoes in a medium mixing bowl with olive oil, balsamic vinegar, salt. Toss and blend. Spread on a parchment paper lined cookie sheet. Cover with the fresh thyme sprigs.
Roast in a preheated 325 oven for 20 minutes. Turn oven to broil (tomatoes should be about 10-12 inches from broiler) and 'char' for about 5 minutes. Remove. Discard the thyme. Let the tomatoes cool.
Put the lentils in a braiser pan or pot. Cover with the chicken stock. Turn heat to medium high. Bring to boil. Reduce heat to medium, cover and cook about 20 minutes or until tender. Drain off any excess liquid. Let the lentils cool.
Put the onions in a large mixing bowl with the red wine vinegar, pepper and salt. Let them marinade about 20 minutes.
Add the lentils to the onions and blend. Add the tomatoes (and juices in the pan, scrape into the bowl) and fresh herbs. When ready to serve toss and blend in the gorgonzola and drizzle with the additional olive oil.