Childhood memories. Sparks that come from food. And, this squash honey cashew soufflé takes me back, yes, way back.
Growing up in the mountains of Southern West Virginia, Fall had lots of aromatic memories for me. I can smell in my mind's eye the falling dried leaves from the many trees in our yard and that, yes, covered it like a blanket of crinkly brown fabric. My siblings and I would rake them into a huge pile, and the crowning fun was to take a long run and dive head first into the 'mountain' of leaves. Oh, the crunch. And, yes, the scents.
Of course, other Fall aromatic memories centered around food. Especially those scents of cinnamon, nutmeg, cloves, fried apples, pumpkin, squash (many varieties) and more. Mom had the dank dark basement full of canned goods. We were set for the winter. And, it was only a matter of time before the big coal truck would deliver that first load of coal for the furnace that heated our gurgling radiators.
This recipe is sponsored by Dole Packaged Foods~full disclosure here.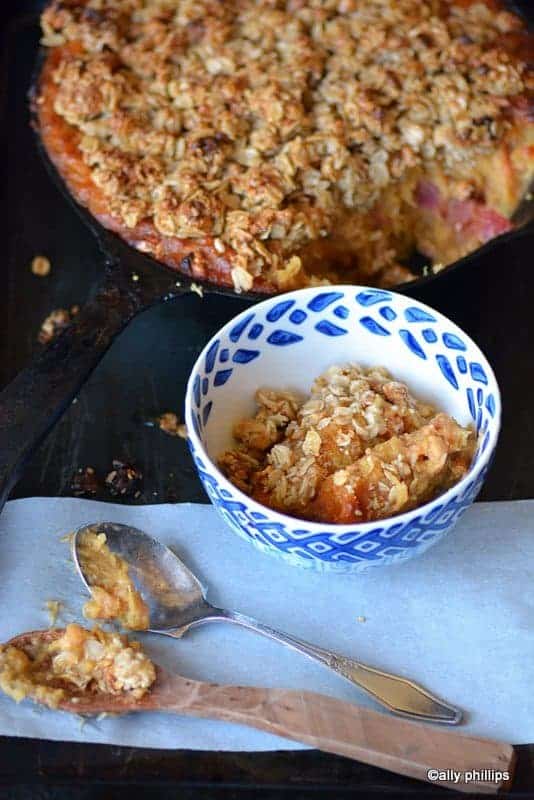 squash honey cashew soufflé
Ingredients
Preheat oven to 350
3-3 ½ cup acorn squash, cooked
2 Dole Package Foods Mixed Fruit Black Cherry Gel
5 Tbl. Honey, divided
1 ½ tsp. ground cinnamon
2 eggs, beaten
¼ cup all-purpose flour, sifted
¼ tsp. sea salt, divided
1 (5 oz.) package Dole Packaged Foods Mrs. May's Cashew Crunch, crushed
2/3 cups old-fashioned oats
3 Tbl. Salted butter, melted
Instructions
In a mixing bowl, combine the squash and mash it up well. Add the cherry gel and blend together well. The gel will dissolve somewhat and the fruit chunks will stay basically whole.
Add 4 tablespoons of honey, cinnamon, eggs, ¼ teaspoon salt, sifted flour and half the crushed cashew crunch. Blend together well. Pour into a greased 7-8" cast iron skillet. Bake for 28-30 minutes. Meanwhile make the crunch topping.
In a small mixing bowl, combine the remaining cashew crunch, oats, and butter. Blend together well.
Put the topping on the soufflé after 28-30 minutes of cooking. Return to oven and bake another 25-30 minutes. Remove, cool, drizzle the top with the remaining honey and scoop out with a large spoon for servings!
Notes
Get ready to have palate surprises with the delicious chunks of fruit from the Dole Packaged Foods Black Cherry Fruit Gel!
This recipe could double as a dessert~imagine some fresh whipped cream atop a serving!
https://allyskitchen.com/squash-honey-cashew-souffle/
©ally's kitchen intellectual property