slow cooker aussie grassfed beef cowboy caviar layered chili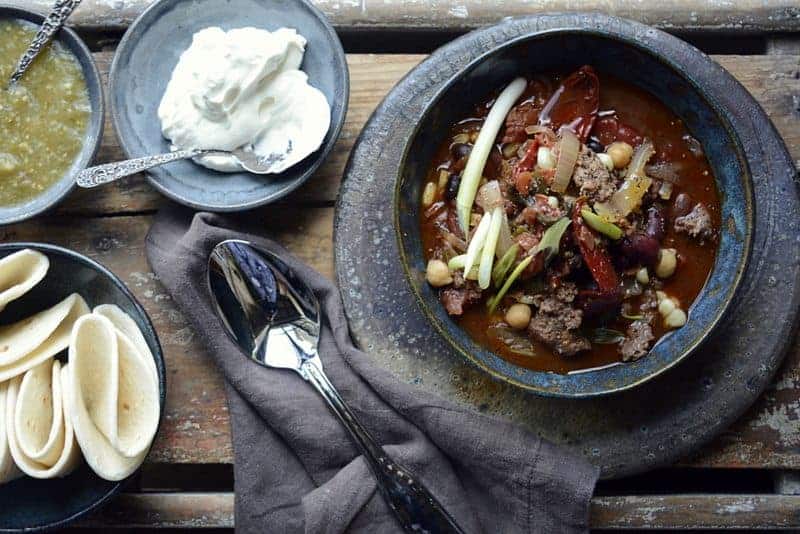 Slow cooker aussie grassfed beef cowboy caviar layered chili is downhome goodliness that sticks to the ribs! Slow cooker magic!
Be sure to order some Kettle and Fire Beef Bone Broth to have in your pantry! It's perfect for this chili!
Easy Slow Cooker Chili
Chili is certainly a classic soup, and this slow cooker aussie grassfed beef cowboy caviar layered chili tops the charts with great flavor. And, yeah, I know the name of this recipe is a mouthful.
I give credit to my grandson, John, who was visiting us in Colorado with his gal, Nancy. As they were having a bowl, after a strenuous hike in the Rockies, I said, "I'm not sure what to call this chili, I mean it's gotta have a special name."
Chili Recipe
John, who's quite the foodie and cook himself, then said that it seemed to be a cross with cowboy caviar with the beans (usually made with black eyed peas) and corn and then the luscious tomatoes and other ingredients that make it a chili.
That was all it took. That became the name of this recipe! As a side note, the history of cowboy caviar, also known as Texas caviar has an interesting beginning!
Best Slow Cooker Chili
Both Nancy and John, young doctoral students at Duke and UNC Chapel Hill, gave the chili two thumbs up. I assured them that it was really easy to make and the slow cooker would adapt to their busy lifestyles as Millennials.
Both of these features of cooking, easy/simple and using a handy kitchen appliance/gadget (and, in this case, the slow cooker), are really important to Millenials. John went on to tell me all about the appliances they have collected.
Healthy Slow Cooker Chili Recipe
Everything from a great food processor, blender, rice cooker, stand mixer, slow cooker, bread maker and more to which I shared that my array of appliance gadgets is limited because I learned to cook the old school way decades ago when those things weren't available.
Now, I do have some essential extras like a mixer and food processor, but I get a lot of intrinsic pleasure and value from kneading my own dough in making bread!
Crockpot Turkey Chili
Now this cowboy caviar chili uses a 'layered' technique. All you do is put each ingredient in the slow cooker layer by layer. No need to stir up until the cooking's done basically because it'll blend itself into a great chili soup. And, if you want to substitute ground turkey for the grassfed beef, no problem.
Chili with Beef
I confess that I don't know all the scientific technicalities of this technique (or if there are really any), but I'm thinking that as the heat slowly permeates over time through the 'layers' each infuses the other below making it a little more flavorful.
I could be totally wrong. If you want to blend and stir from the get go, have at it. But, you just might try this and see if you discern any difference!
Chili Bean Recipe
Of course, essential to any recipe is sourcing the very best ingredients to use. And, the True Aussie grassfeed ground beef has a flavor that simply exceeds other beef. (Side bar, I could also cut up small chunks of a larger chunk of beef, like a New York strip, and use in this chili.) That's because these are happy animals who are free to pasture roam in healthy environments.
Grass Fed Beef Chili
This beef is naturally leaner and cooks in about 30% less the time as regular beef. And, there're multiple health benefits (that help you justify paying a little more!). More bang for your buck in terms of nuitrition:
"Australian grassfed beef products are lean and naturally contain 13 essential nutrients required for good health, including Iron, Zinc, Omega-3 and B vitamins." If you want to know where to buy Aussie products, then all you need to do is put in your zip code. And, for other AUSSOME RECIPES, check out their website!
Best Damn Chili
Final important message. I am a brand ambassador for True Aussie Beef & Lamb. And, I'm compensated for creating recipes for them using their product(s). I don't partner with any brand unless I truly believe in and support their product(s). And, most importantly, would feed to my family and friends! All these opinions and the creation of this recipe are credited to me.
Oh, yes! At the end of this recipe, check out my other recipes I've created with their beef and lamb.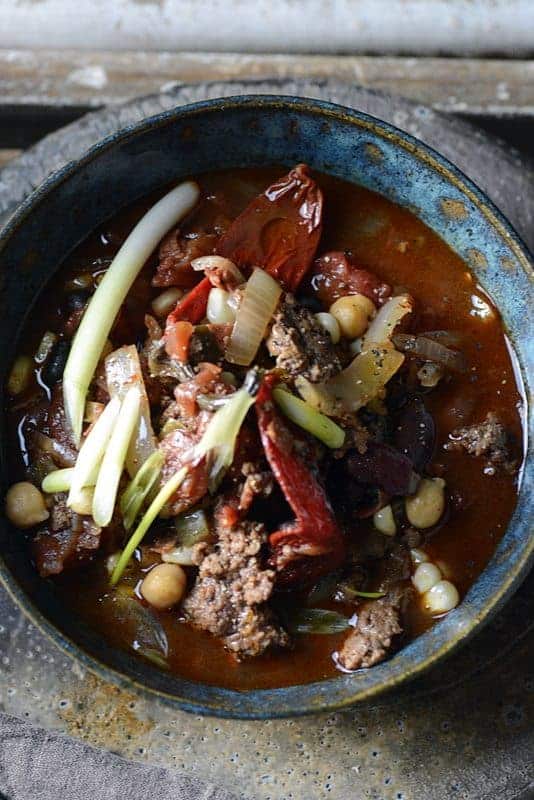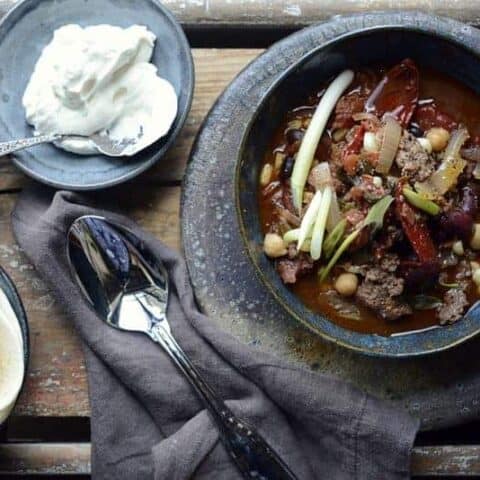 slow cooker aussie grassfed beef cowboy caviar layered chili
Ingredients
1 lb. Aussie grassfed ground beef
1 cup sweet onions, sliced thinly into quarter half rounds
1 cup green peppers, diced
1 cup pepperoni, diced
2 cups corn, slightly thawed or fresh cut off the cob
1 pkg. (1.25 oz.) chili seasoning
1 tsp. sea salt
1 tsp. coarse ground pepper
1 tsp. ground cumin
4-5 whole dried chilis, jalapeno and/or serrano, do not slice open!
3 (15 oz.) cans organic beans, your choice, kidney, pinto, black, garbanzo, etc., with liquid
2 (14.5 oz.) cans organic roasted diced tomatoes
1 (32 oz.) beef bone broth
Instructions
Start layering the ingredients in the slow cooker. Crumble the meat and place on the bottom. Add the next individual layers of onions, peppers, pepperoni and corn.
In a small bowl, mix together the chili seasoning, salt, pepper and cumin. Sprinkle on the corn.
Add the dried chilis then the three cans of beans.
Top the beans with the diced tomatoes. Pour the broth in and around the sides of the slow cooker.
Cover with a doubled foil and then the lid. Cook on high for four hours.
Notes
Like most all soups and stews, this chili gets better on days two and three!

If you like more beans in your chili, then throw in another can or two.

I used a combination of pinto, black beans, kidney and garbanzo beans.

Top your hot chili with things like shredded cheese, sliced green onions, olives, sour cream and other munchies like oyster crackers, saltines, cornbread, soft tortillas, tortilla chips, etc.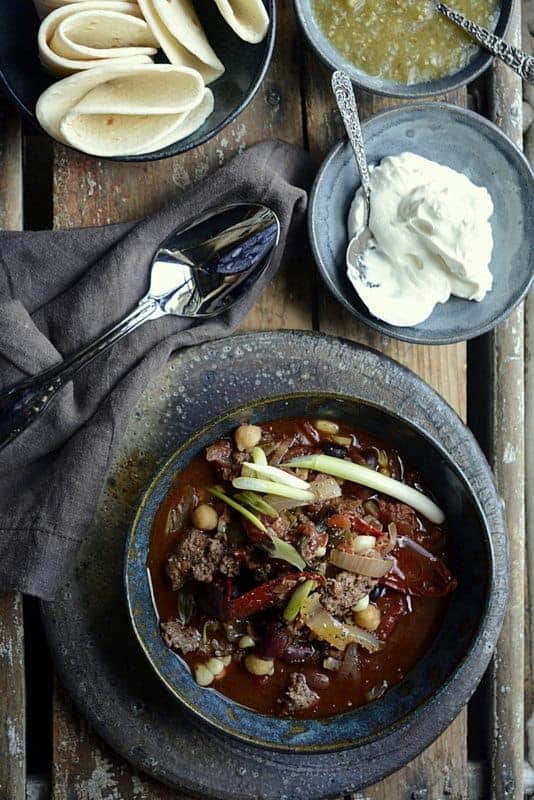 https://allyskitchen.com/aussie-grassfed-boneless-leg-of-lamb-morrocoan-style/