smoked anasazi beans fresh herbs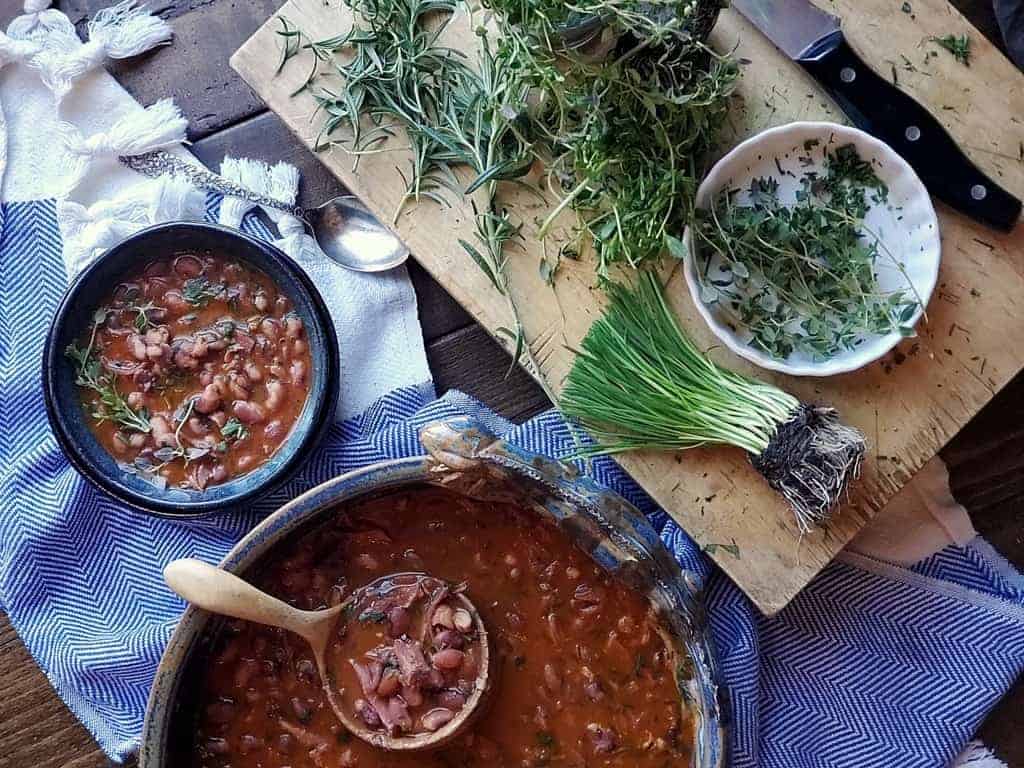 Anasazi Bean
If you've never tried anasazi beans, then you're in for some serious deliciousness and nutritiousness! Easy to source! Check Amazon or your local grocer!
First cultivated thousands of years ago in New Mexico by the Indians in that area, anasazi beans are also known as adzuki and appaloosa beans. "The name Anasazi is a Navajo word given to another tribe thought to be ancient Pueblo Native Americans. It could mean "Ancient Ones" or "Ancient Enemies." The Anasazi tribe existed from approximately 200-1300 A.D."
Undocumented sources indicated that in the 1950s, during excavation of ruins, a clay pot with some of these beans was uncovered. Despite being in these ruins, these beans were able to sprout! Anasazi beans, kind of like a pinto, have more 'beauty' with their deep hues of maroon, flecks of white and speckling design. When they cook up, they resemble a small red kidney bean without the gorgeous speckling.
Essentially considered an 'heirloom' bean, they can be used in so many ways, stews, soups, chilis, refried and more. They're infused with protein, good healthy starches and fiber. Anasazis are also rich in potassium, iron and folate.
Anasazi Bean Nutrition
Packed with protein and fiber, plus an incredibly great taste, Anasazi beans are a little different. Surprisingly, they cook a tad bit faster. You can get tender anasazi beans in about 20% less cooking time than other similar type beans, like pinto beans. And, here's the good news, anasazi beans don't have as many of those compounds that result in the toots and gas of beans!
So again the best thing about these beans is that they're less gassy! Yes, they have about twenty-five percent less of the gas-producing properties of pintos! So, have a second bowl!
And, if you're hankering for lima beans, which are creamier and like almost gravy, then try these Hillbilly Baby Lima Beans!
Pinto Beans
Now I love me some pinto beans, and I have some awesome recipes for cooking this amazing legume that's part of my Appalachian heritage. Growing up in coal-mining country of southern West Virginia, you'd see a big pot of pinto beans on just about every coal camp house kitchen stove all the time.
Southern Pinto Beans Recipes
The anasazi bean is nutritious like the pinto bean. And, when I think about these two beans, they're really kind of like first cousins. So, if you've cooked pinto beans, then you'll have no problem with this anasazi bean recipe. But, if you're still hankerin' for pinto beans, then my smokey ham hock pinto beans are your perfect cowboy beans!
Anasazi Bean Recipes
OK, the great thing about bean recipes is that you don't need to have many ingredients to achieve stunning flavors. This anasazi bean recipe has five ingredients (well, less the salt!), and each of these ingredients plays a huge role in the overall finished beans.
Southern Pinto Beans
I love my bean recipes to have a thick, almost gravy-like, soup texture. I'm not hugely fond of brothy and 'watery' beans. If you want to thin out the bean gravy then just add more water or beef stock. These beans are the kind that I'll always find when camping and when I'm wanting to make some outstanding cowboy beans.
Herbs for Cooking
Herbs for cooking just elevate and change your culinary results. And, fresh herbs are truly different in cooking than dried herbs. If you can source fresh herbs, you'll taste the different. Plus, you'll see the difference just in the vibrancy of the beans.
Southern Beans
Just remember that dried herbs are more concentrated and spicier. They're more intense in their flavor, so you'd going to use about a third less of dried than fresh herbs. For instance if your recipe calls for say three teaspoons of fresh rosemary, you'd use one teaspoon of dried rosemary.
Fresh herbs are more fragrant and tender in their taste which means we're going to load up more on the fresh herbs in this recipe.
Cowboy Beans
Now real cowboy beans are usually eating pinto beans. But, with this anasazi bean recipe, you can swap out the pintos and trying something new. While these beans are smokey and flavorful, just add some finely diced jalapenos or serrano peppers to make the those spicy hot beans that cowboys loved.
During the day when cowboys were doing their work of rounding up cattle and more, these beans could soak in a big pot on the chuckwagon, then they'd be cooked over the campfire. Wow, just thinking about this makes me want to pack up the car and go camping!
Best Dried Beans
Anasazi beans also known as adzuki beans, boy, oh, boy are they amazingly delicious and cowboys will love! Now, there's a little wait time to get these beans ready to eat, but, believe me, it's worth all the time!
Western Pinto Beans Recipe
Of course, you can do these beans in a slow cooker or pressure cooker. I've done them like that, but, in my opinion, you just don't get the rich deep thick broth like 'gravy' that you do when cooking in a large heavy pot or Dutch oven.
What kind of amazes me about these beans? Well, they're one of my most pinned and popular recipes. I have another on the website and the procedure is a tad bit different. Check out these spiced and seasoned 'Adzuki Beans'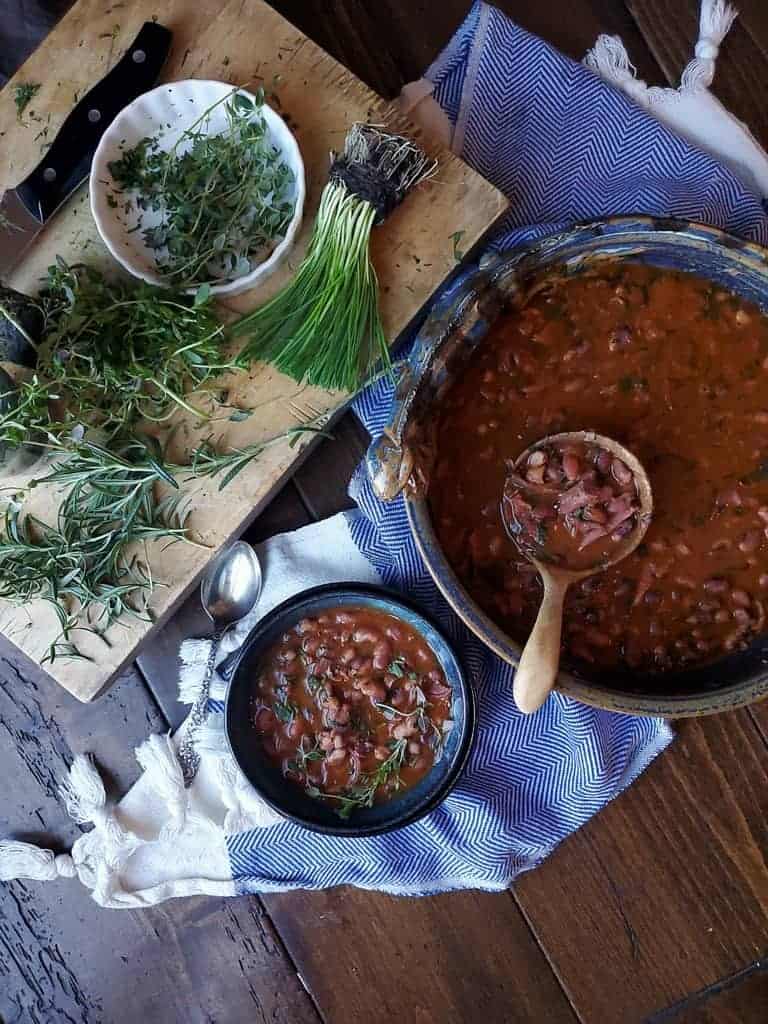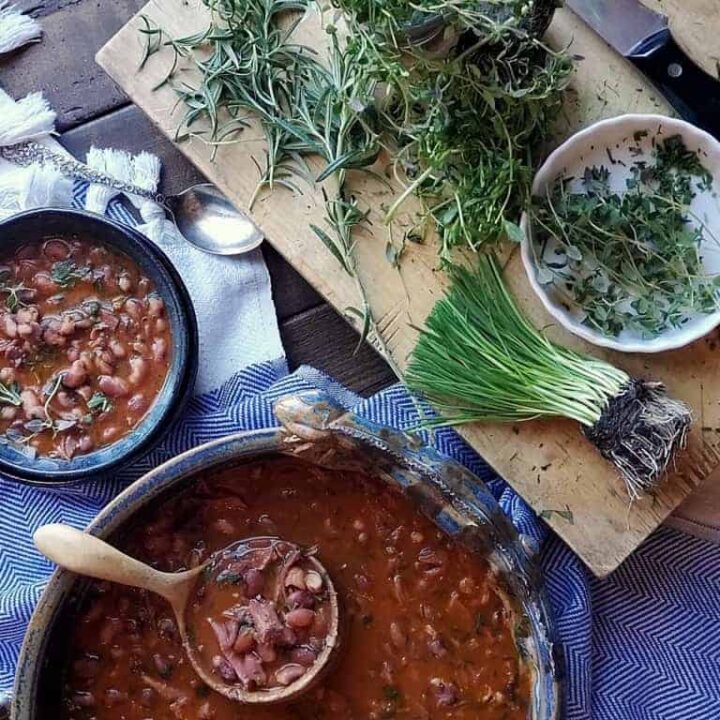 smoked anasazi beans fresh herbs
If you've never tried anasazi beans, then you're in for some serious deliciousness and nutritiousness! Easy to source! Check Amazon or your local grocer!
Ingredients
1 lb. Anasazi beans, dry, rinse several times to clean well
2 Tbl. nutritional yeast
1 tsp. sea salt
1 large ham shank
3 tsp. smoked paprika
½ cup fresh herb blend, chopped fine, combination of tarragon, basil, cilantro, rosemary (less of this herb), thyme, parsley, chives
Instructions
In a large stock pot over high heat, put about 10 cups of water, add the beans, nutritional yeast, salt and ham shank. Cover and bring to a roaring boil for about 20 minutes. Reduce the heat to medium high, put lid askew and let beans cook at a low boil, adding water as needed, for another about 60 minutes.
Cook the beans until tender adding water as needed. This could be from 3 to 4 hours. Continue to add liquid as needed (water and/or bone broth).
Remove ham shank and let it cool. Shred meat from the bone and put into the beans along with the smoked paprika. Blend, cover, turn heat to medium low for another about 15 to 20 minutes.
Add the fresh herbs, turn off heat, cover and let the beans 'steep' about 20 minutes. Add salt and pepper as needed.
Notes
If you want a 'kick' to your beans, add red chili flakes or another hot ingredient to achieve this flavor.