aussie grassfed beef asian bowl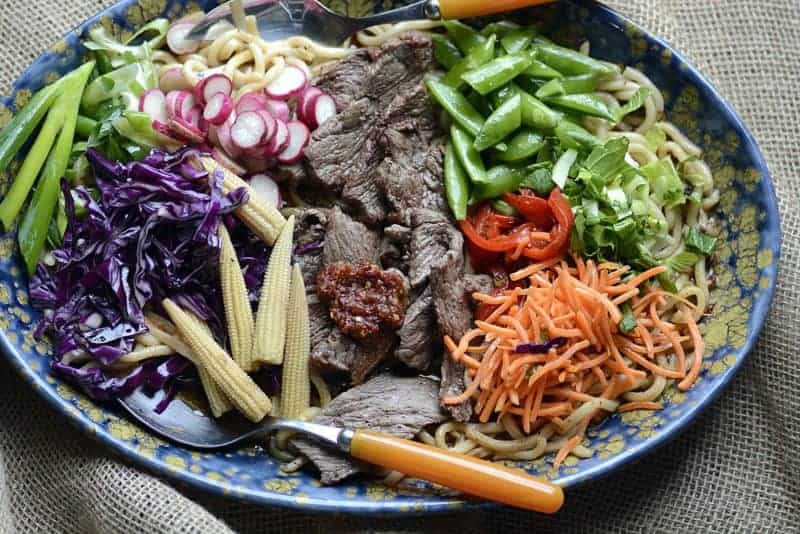 Totally decadent and in minutes you can be eating this aussie grassfed beef asian bowl! Build your own because it's deconstructed!
Asian Beef Bowl
Sometimes a little bit of meat that's 'oh so amazing' is just what you need when you team it with a lot of fresh raw veggies! And, that's what we have here with this aussie grassfed beef asian bowl!
Asian Beef Bowl Recipe
What's most incredible about this recipe is that it literally takes no time at all to create. It's also very visually stunning and decidely healthy for you.
Spicy Asian Beef Bowl
The hardest part of this recipe? Cooking the melt-in-your-mouth aussie grassfed beef slices (yes, I used the New York strip cut) and this take just a few minutes.
Korean Beef Bowl
Another fun thing about this recipe is that it's a conversation starter and it's interesting to watch people build their aussie grassfed beef Asian bowl choosing what they want from the platter of love.
Asian Beef Bowl with Veggies
This recipe would be a fun one for movie night, date night, or just a girlfriends' wine night. You're only in the kitchen a few minutes.
You can prep ahead the veggies, store them individually in small ziplock bags and have it all ready to serve before that first glass of wine is sipped!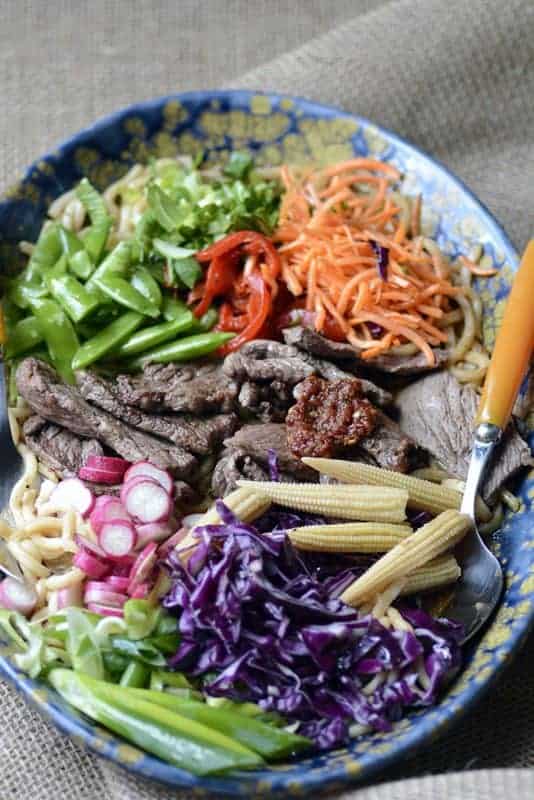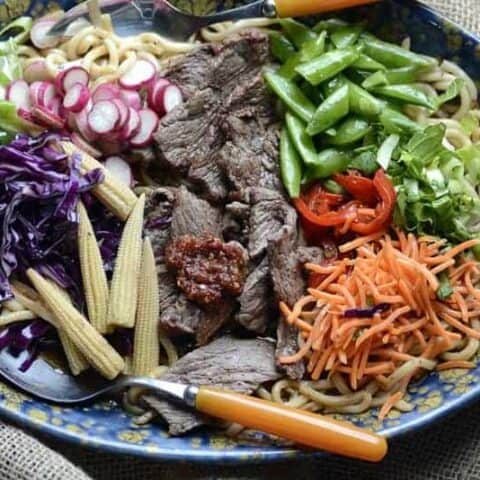 aussie grassfed beef asian bowl
Ingredients
1 lb. Aussie Grassfed New York Strip, cut into about ½" thin strips
¼ cup sesame oil
1 tsp. coarse ground pepper
1 ½ cups beef stock
2 Tbl. garlic chili sauce
2 Tbl. soy sauce, low sodium
2 packages Udon packaged noodles (7.1 oz. each)
TOPPINGS:
½ cup radishes, sliced thinly
1 cup baby bokchoy, sliced thinly with greens
1 cup carrots, shredded
1 cup pickled baby corn
1 cup sugar snap peas, cut diagonally in halves
1 cup shredded purple cabbage, packed
½ cup roasted red pepper slices
½ cup green onions, sliced thinly
Instructions
In a large heavy cast iron skillet over medium high heat, put the sesame oil. Let it get hot. Add the beef strips. Turn and cook on both sides about four to five minutes. Using tongs, remove the beef to a plate and cover with a lid.
Reduce heat to medium low and in the same skillet add the beef stock, garlic chili sauce and soy sauce. Whisk and blend.
Add the udon noodles. (They will be in a solid 'brick like' form. Let them soak in the liquid and gently pull them apart.) Cover and let the noodles cook for about 10 minutes.
For serving, place the noodles/broth in a large serving plate or bowl. Add the beef strips to the center. Then place the raw veggies in and around the beef and on top of the noodles.
Serve immediately. Everyone builds their own bowl from the selection of veggies, noodles and beef.
Notes
The variety of toppings for the Asian beef bowl can vary. If you want to do steamed veggies, like broccoli, cauliflower, carrots and other things, feel free to substitute.

Another option is to add a soft boiled egg to the veggie bowl.

Be sure to have an array of other garnishes like sliced green onions, water chestnuts, chow mein noodles, crispy fried onions (canned type), nuts.