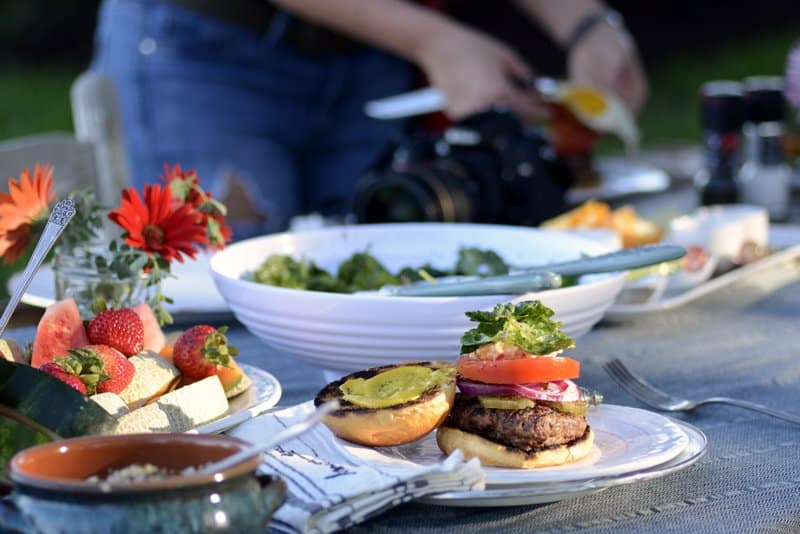 Are you looking for a delicious lamb burger recipe? Try out this tasty recipe for "aussie lamb burger" from the experts at Ally Kitchen!
The Great American Burger
There's nothing more Epically American than a burger! And, I'll confess I am a burger lover! And, now I'm talking 'aussie lamb burger night! When I lived in Boston for about three years, I even created a 'Burger Tribe'. We roamed the streets and neighborhoods for THE best burgers, and, boy, did we find some great ones! And, you bet we got excellent service when we announced we were the 'Burger Tribe' and crawling streets for the best burgers!!
Great Burger Brands
No one celebrates burgers better than Girl Carnivore, AND May is 'burger month'! You definitely want to swing by this website because there are lots of great burger recipes, AND there is a giveaway if it's the month of May, Burger Month! Lots of creative foodies join in creating their most decadent burgers. And, I'm telling you some of them are outrageously amazing! This burger month doesn't happen unless there are great brands that support this adventure, so check them out when you visit the Girl Carnivore site to enter this year's giveaway!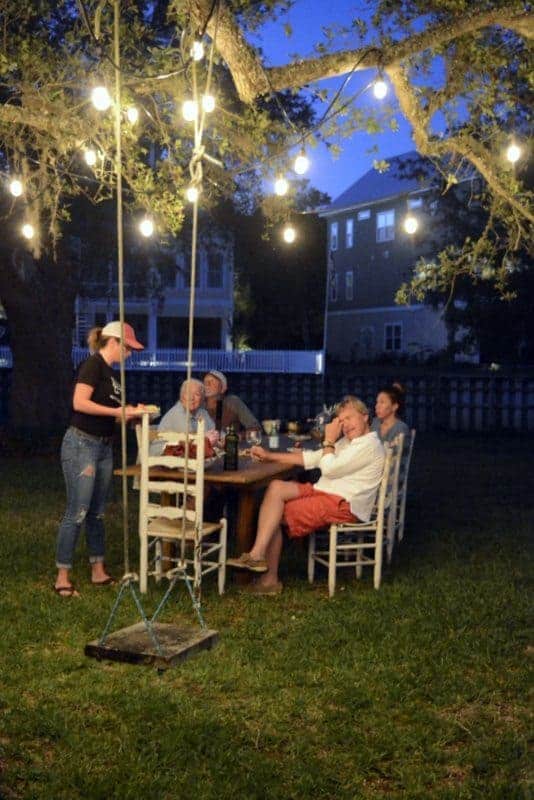 Lamb Burger Seasoning
Now, I'm one of those 'burger purists.' So not a lot of lamb burger seasoning on my burgers. They're delicious meat without much effort at all.
I like mine simple with just a few splashes. Nothing fancy because I want to taste that fantastic chargrilled burger and not be distracted by other textures and flavors that might overshadow my juicy burger! Plus, I want to give that burger a little' smoosh, open my mouth wide, and take that first bite.
Beef and Lamb Burger
While I love beef, I'm telling you, you gotta try the lamb. Pure lamb. Ground lamb. And, for these burgers, I decided to throw a party! You bet, a party of burgers and even on a weeknight, or when my kids were younger, a 'school night.' That's one of the great things about being an empty nester, and you can have parties any night of the week. And, no one throws a party better than having one studded with Aussie Beef & Lamb!
Lamb Burger Temperature
Lamb burger temperature depends upon how you like your burger. Not much different than your beef burger. For medium rare, 145 degrees. Medium will be about 160 degrees and well done at 170 degrees.
Lamb Burgers
Why did I choose lamb for these lamb burgers, and, in particular, Aussie lamb? Well, first of all, this is a sponsored post. That means I'm being paid for this post. But, I don't partner with any brand unless I believe in and trust their product. I mean how else could I write something about it unless I was convinced it's good stuff. This lamb from down under is, as their website explains, "free-range and naturally fed on our abundant pasturelands, so it's mild tasting and naturally lean and tender. Plus, Aussie Lamb is free of artificial additives and hormone growth promotants — a pure product of its pure environment."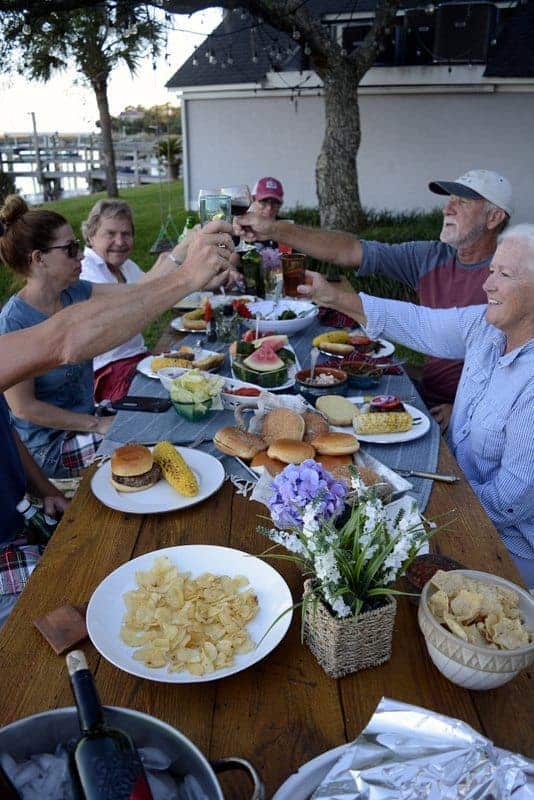 Less Ingredients Recipe
It didn't take much at all to season this delicious meat. In fact, like my burgers, I didn't want to load up with spices and more ingredients that would eventually morph the ground lamb into something else. So, when you look at the ingredient list for the burgers, you'll see simple. That's it, plain and simple. I like my burgers nice and thick, too, and depending upon your desired finish, you need to factor in that grass-fed meats as a 'general rule take about 30% less cooking time. Like steaks, chops, and other cuts of meat, I like to let my cooked burgers 'rest' a couple of minutes, covered with foil, before putting on the buns. It just seems to add more juiciness and taste. Besides, what's that napkin for? Wiping all the beautiful juices that will be on your face!
A Memorable Experience with Eating
This 'lamb burger night' was so so so much fun. Just a small group of us eating outdoors laughing, sipping wine, telling big tale stories, listening to oldies but goodies music and knowing that life really is dang good! Yes, you want to #OwnYourParty and #BeAussome as much as you can. So make it happen. Deck out that table. Call some friends. Get ready to make meals turn into memorable experiences!
Wine Bucket Pictures
PS~I've added a couple of extra pictures to this post. Check out the wine 'bucket'…so, I asked my hubby to put the wine on ice, and, as you can see, he chose a big skillet and filled it with ice. Hey, it's old school. Then the last picture…well, you can see we went well into the night, and it was a school night!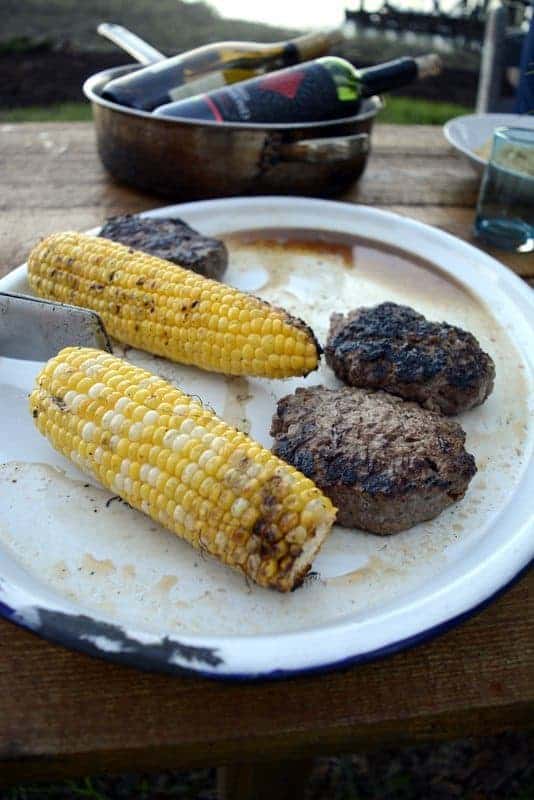 lamb burger night
Are you looking for a delicious lamb burger recipe? Try out this tasty recipe for "aussie lamb burger" from the experts at Ally Kitchen!
Ingredients
2 lbs. lamb, ground
2 tsp. sea salt
1 tsp. coarse ground pepper
¼ cup worchestire sauce
¼ cup spicy BBQ sauce, your favorite
6 buns (I used brioche.)
1 ½ cup jalapeno pimento cheese, divided, one-fourth cup per burger
TOPPINGS:
Red Onions, sliced in thin rounds
Tomato slices
Dill pickles
Fresh greens, arugula, European blend, your favorite
Mustard
Ketchup
Mayonnaise
Instructions
Put the lamb in a large mixing bowl. Add the salt, pepper, worchestire sauce and BBQ sauce.

Blend and mix well with your clean hands. Divide into six equal parts and pat out the burgers.

Place on a hot grill (charcoal or gas). Cook to your desired finish.

https://www.charbroil.com/community/how-long-to-grill-hamburgers/

Place the buns on the grill for about 20-30 seconds or until just warm and crisp.

Build your burger adding the pimento cheese as the next to the last topping finishing off with the fresh greens that you can slightly smoosh into the pimento cheese!