Simple pies with a lot of power and punch. How's this come about? Well, a short cut with the pie crust. Yes, let's use a refrigerated roll out crust. Feel totally free to make one if that's your style and you have the time. However, if not, then there's not much compromised with the packaged crust. At least, that's my 2 cents' worth.
What I love about a pie is some crunch and crispy on the crust and with each piece that's served. Notice that I don't use the word 'slice' because this run coconut liqueur ribbon peach pie is not sliced, but scooped. The technique of 'ribboning' (yes, new pastry word from my kitchen) waving the dough in strips just on the perimeter of the crust gives you that. Then, brush with an egg white and sprinkle with the large crystal turbanado sugar, and you have a flash of sweet and crunch after it bakes.
There's nothing more refreshing than peaches and these frozen peach slices are another shortcut. However, you know that if you want the fresh peaches, go for it because when they're in season, there's nothing better. To add to the peach flavor, the orange marmalade and rum coconut liqueur sneaks in and makes your palate say wowzeee! What's happening! Don't want to use the liqueur, then substitute with orange juice.
Brighten up your summer table with this peach pie. And, if it's not summer and the dead of the winter, well, you're adding some fruity sunshine! xoxo ~peace & peaches~ ally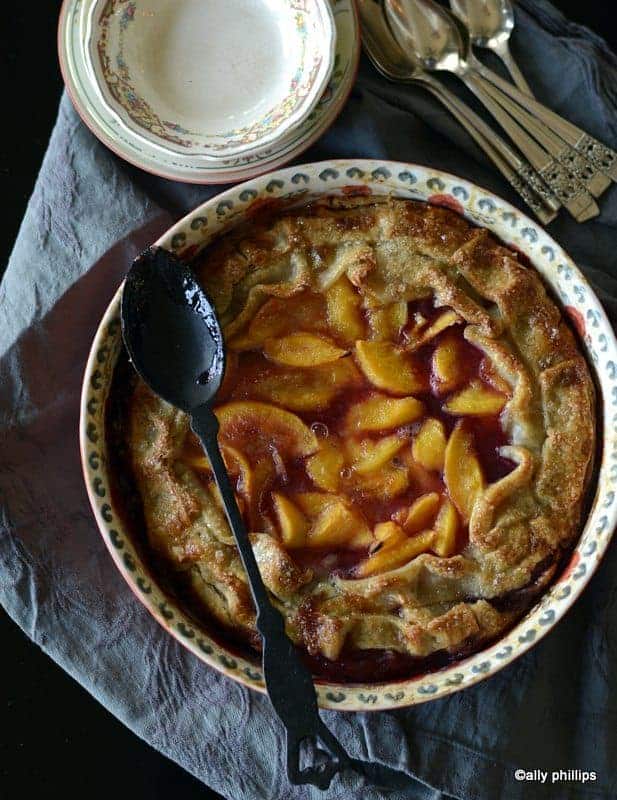 rum coconut liqueur ribbon peach pie
Ingredients
Preheat to 350
2 refrigerated pie crusts, roll out, room temperature
4 Tbl. turbando sugar, divided
2 cups mixed berries, frozen
2 packages (12 oz. each) frozen peaches
½ cup orange marmalade
4 Tbl. butter, salted, divided, melted
¼ cup rum with coconut liqueur
2 Tbl. flour, all-purpose
1 egg
Instructions
Grease a 10" round deep baking dish well. Place one of the pie crusts in and gently mold into the dish letting the perimeter dough stand.
Put in two tablespoons of butter and sprinkle on two tablespoons of the sugar. Put the mixed berries in the bottom.
Put the peaches in a mixing bowl. Add the orange marmalade and blend. Combine the rum and flour and whisk together. Put in the peaches and blend well. Pour into the baking dish and spread around. Fold over the standing dough crust and pinch together.
Roll out the other pie crust and cut (lengthwise) into six 2"wide strips. Place three around the pie and form little 'waves' and pinch into the dough.
Do the same with the remaining strips. Use a pastry brush and coat the exposed dough. Sprinkle with the remaining sugar on top the peaches and dough.
Bake in a preheated 350 oven for about 35-40 minutes. Remove and cool for about at least 30 minutes.
https://allyskitchen.com/rum-coconut-liqueur-ribbon-peach-pie/
©ally's kitchen intellectual property