Rum Coconut Liqueur Ribbon Peach Pie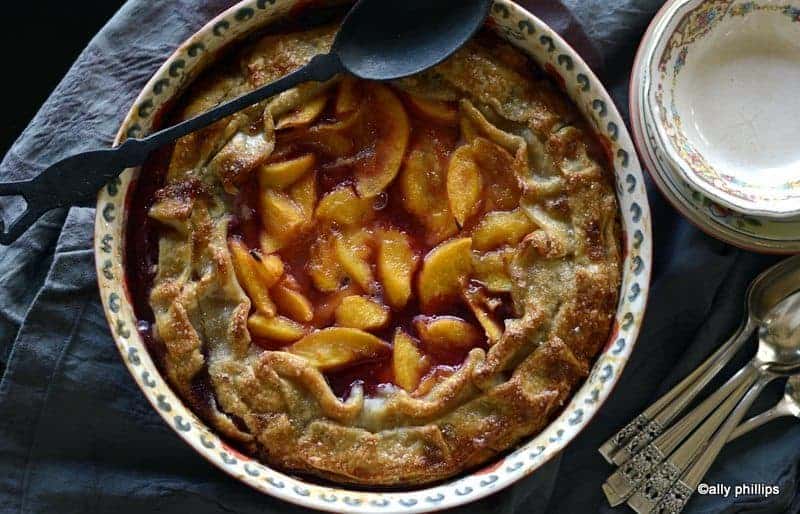 As the 'rogue' baker, I keep baking simple. From cakes to pies, nothing's easier than this rum coconut liqueur ribbon peach pie!
Perfect Peach Pie Recipe
If you're gonna say, peach pie? Nah! Not a fan; I'm gonna pass. Then you definitely haven't tried a Fresh Peach Skillet Pie. It's the perfect blend of peaches with caramelized sugar that seeps through the pie. It's divine and delicious! Trust me, no blueberry, no pecan, or apricot pie can beat this pie. Add a zest of lemon to your peaches, and add a dollop of vanilla ice cream on top of the pie. You'll bite into a juicy, heavenly piece of pie with a subtle flavor of bitterness and caramelized peaches. God! It's so worth every bite of it!
Frozen Peach Recipe
The best recipe for the summer or all year round you could make with frozen peaches is the Peach cobbler. It's peachy, caramelized, ooey-gooey, and topping it off with crispy crumbles is just so good, and you can say this is going to be your top favorite homemade peach cobbler recipe ever. Do you know what other recipe would be as good as this one? It is Upside Down Peach Pie Mounds; they are so good and yum that you will love every bite of it.
How to Use Frozen Peaches
The benefit of using frozen peaches for your dessert is that you can use it as such, no peeling, no slicing, and available any time of the year, not just during the summer season. Peach pie and other peachy desserts are often significantly underrated, but if you make it just the right way, you will nail it and make your guests go on an eating frenzy! Do you know what else could drive them crazy? It is the upside-down peach pie tart tatin, try it; you'll love it, and so does everyone!
Frozen Peach Recipes Easy
Who doesn't love a good'er peach pie? The perfect jammy peachy pies are so good to die for! You can make many peachy recipes which can be done in under 30 minutes. You can also check out the 30 best easy, quick pie recipes to try out some new pies you haven't baked before! If I can digress for a moment, I'd like to stand by how good this can come out! Not so jammy or not so gooey pie served warm with a scoop of vanilla ice cream on top!
Easy Peach Pie
Do you have absolutely little to no time to prepare a great dessert for your special guests? Worry not! Let's make some easy peach pie. Pie for everyone! Although extra love and credits to handmade pie crust, but desperate times call for desperate actions, you'll have to go with store-bought pie crust and frozen peaches for your pie to bake it right on time before your guests arrive. But every bite of the pie is totally to die for! If you don't jam well with peaches, then you can try out the strawberry custard pie.
Peach Pie with Alcohol
Do you wanna take your pie game up a notch? Add a little bit of booze to your pie batter, which would add a great flavor to your normal pie. I mean, you can always skip the alcohol part if you don't want it. But brandy and whisky give a bittersweet taste to your pie. Most people like it, but some don't. You can try your take on it to know if you're a hater or a lover of this boozy recipe!
Frozen Peach Pie Filling
Extra points for dedicatedly handmade pie crust, and that is what makes the pie merrier. All you need is homemade pie crust and frozen peaches or canned peaches. The flaky and crispness of the crust, the tender and juicy peach filling, and topping it off with vanilla ice cream is one of the beautiful summer memories for me, which I relish every now and then. These pies are nostalgic and remind you of your secret grandma's recipe. What else would rekindle your old memories? I would say it is an easy apple slab pie.
Southern Peach Pie Recipe
Make your perfect southern peach pie with store-bought pie crust and make a lattice topping, so you don't have a jammy pie. You want to try something new, then check out the recipe for the perfect peach pizza pie, paired with brie cheese and basil. It will be a sweet and savory summer season pizza!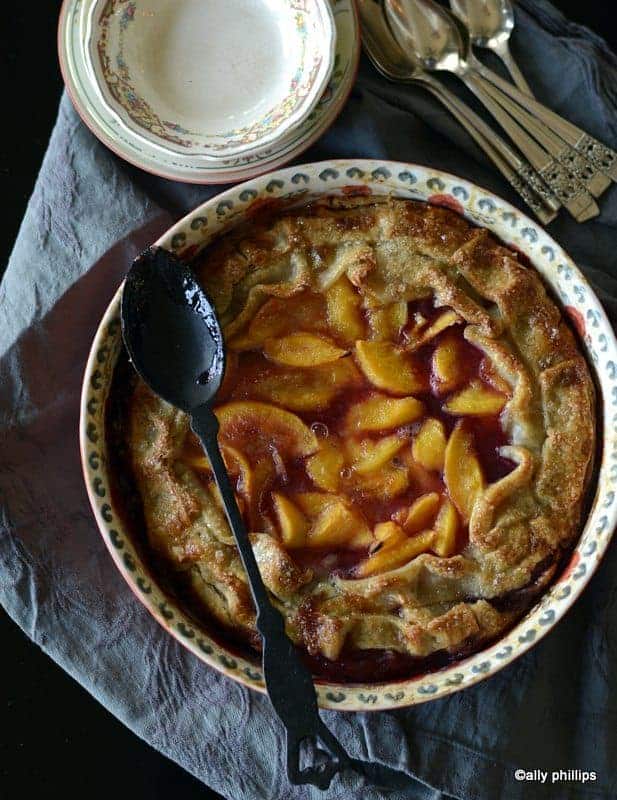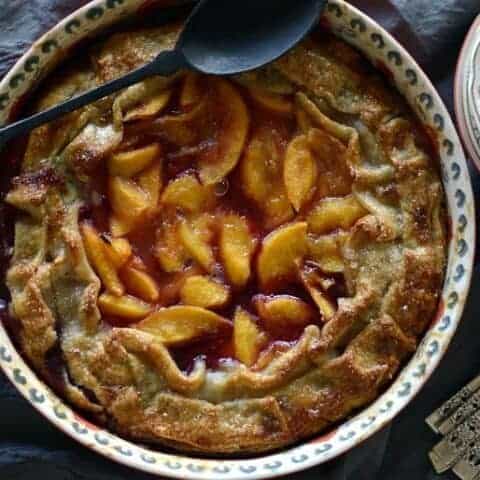 Rum Coconut Liqueur Ribbon Peach Pie
As the 'rogue' baker, I keep baking simple. From cakes to pies, nothing's easier than this rum coconut liqueur ribbon peach pie!
Ingredients
Preheat to 350
2 refrigerated pie crusts, roll out, room temperature
4 Tbl. turbando sugar, divided
2 cups mixed berries, frozen
2 packages (12 oz. each) frozen peaches
½ cup orange marmalade
4 Tbl. butter, salted, divided, melted
¼ cup rum with coconut liqueur
2 Tbl. flour, all-purpose
1 egg
Instructions
Grease a 10" round deep baking dish well. Place one of the pie crusts in and gently mold into the dish letting the perimeter dough stand.

Put in two tablespoons of butter and sprinkle on two tablespoons of the sugar. Put the mixed berries in the bottom.

Put the peaches in a mixing bowl. Add the orange marmalade and blend. Combine the rum and flour and whisk together. Put in the peaches and blend well. Pour into the baking dish and spread around. Fold over the standing dough crust and pinch together.

Roll out the other pie crust and cut (lengthwise) into six 2"wide strips. Place three around the pie and form little 'waves' and pinch into the dough.

Do the same with the remaining strips. Use a pastry brush and coat the exposed dough. Sprinkle with the remaining sugar on top the peaches and dough.

Bake in a preheated 350 oven for about 35-40 minutes. Remove and cool for about at least 30 minutes.