chocolate cream cheese sheet cake with bourbon brown sugar pecans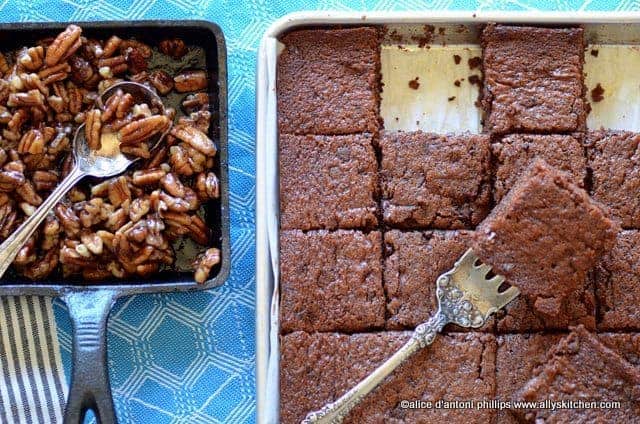 This chocolate cream cheese sheet cake with bourbon brown sugar pecans is probably one of the best chocolate cake you'll ever put in your mouth–at least that's my palate's opinion and that of food seekers who were salivating waiting for this cake to be eaten! Of course, no one eats until all the glamour shots are done!
Kind of like a 'Texas Sheet Cake' in that I used a half sheet pan to bake it in. I like the thin slices, which can almost seem like cake brownies. But if you want to stack them and have a big ol' piece the size of Texas, have at it! I think what makes this cake so moist is the mascarpone. Now, yep, it's on the pricey side, but sometimes you just have to splurge and spring for those ingredients that do without a doubt make something better!
Of course there are so many other things you can do with this cake when serving~~add whipped cream, ice cream, fresh strawberries or raspberries, chocolate ganache, a sparse drizzle of balsamic glaze, a dollop of sweetened cream cheese whip~~and, don't forget, the nuts are best if warm!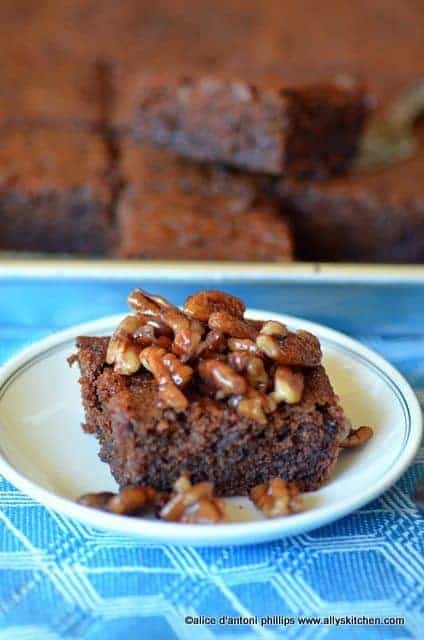 Makes: 1 sheet cake (9 ½ x 13")
Preheat oven to 350
What you need:
Dry ingredients:
1 cup all-purpose flour, sifted
1 tsp. baking powder
¼ tsp. sea salt
3 tsp. instant coffee (or instant espresso)
Wet ingredients:
¾ cup butter, salted & room temperature
2/3 cup sugar
8 oz. mascarpone, room temperature
1 Tbl. vanilla
4 eggs, room temperature
½ cup milk (2% or whole)
½ cup 60% chocolate, pieces
Topping:
1 tbl. butter, salted
2 Tbl. bourbon
3 Tbl. brown sugar
1 cup pecans, chopped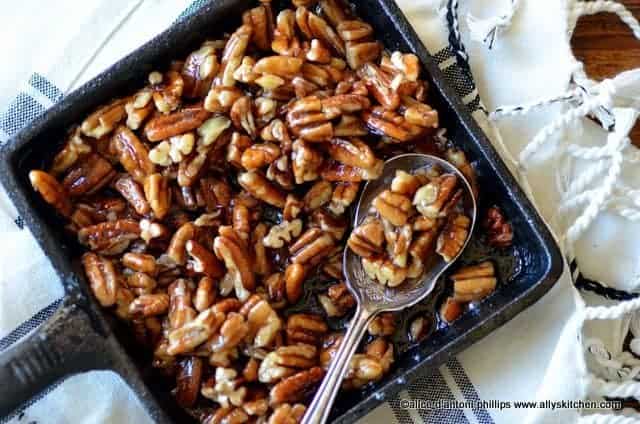 What you do:
In a large mixing bowl, sift together the flour and baking powder. Add the salt and instant coffee and toss and blend.
In another large mixing bowl, whip (using a hand mixer) together the butter and sugar until light and fluffy (about 2 minutes). Add in the mascarpone and vanilla and whip another about 2 minutes. Add the eggs one at a time and incorporate using the hand mixer. Blend the milk into the mixture.
Add half of the dry ingredients to the wet and blend well; then add the remaining dry ingredients and blend well. The batter will be fluffy and thick.
Grease well a sheet pan (about 1 to 1 ½" deep)—I also lined with parchment paper. Pour in the batter and smooth into the pan. Bake in a preheated 350 oven about 22-25 minutes. Remove to a cooling rack until cool.
Topping: Melt the butter in a small skillet over medium heat. Add the bourbon and brown sugar and blend, toss in the pecans. Cook about 4-5 minutes. Remove. Serve as toppings on the servings.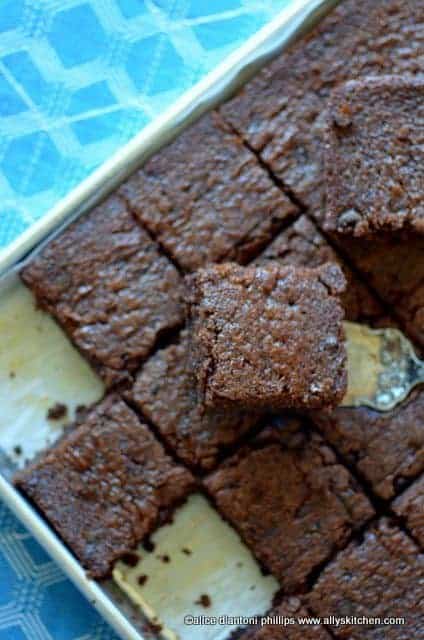 ©alice d'antoni phillips www.allyskitchen.com