This is really a nutty bread! I used not only chopped walnuts but almond flour, so it's quite nutty and tasty! While I don't specialize in gluten-free, nor practice it in my eating lifestyle, it never hurts cut back a littler here and there when I can.
Besides I love Bob's Red Mill products, so when I spied the unopened bag of almond flour in my pantry, I knew I was going to use it instead of regular flour! Rather than use all raisins, I thought this would be more interesting and have a different texture if I used both golden raisins and currants. According to About.com here's what a currant is~~
Currants are dried, dark red, seedless grapes. They are dried to produce a black, tiny shrivelled, flavour-packed the grapes were originally cultivated in the south of Greece, and the name currant comes from the ancient city of 'Corinth'. These currants are known as Zante currants in the States.
And, of course, here's what a raisin is~~
Raisins are dried white grapes. They are dried to produce a dark, sweet fruit. The grapes used are usually Moscatel.
You can use all raisins if you like, craisins, dried blueberries, or whatever makes you happy when you're making it or better yet, what you have in your pantry. On a side note, I was going to add shredded coconut, but thought, it might be a tad bit too sweet. So, when I make this again, I'll cut back about half on the brown sugar and try some coconut! For me, baking and cooking are all about 'boho'ing' to your preferences!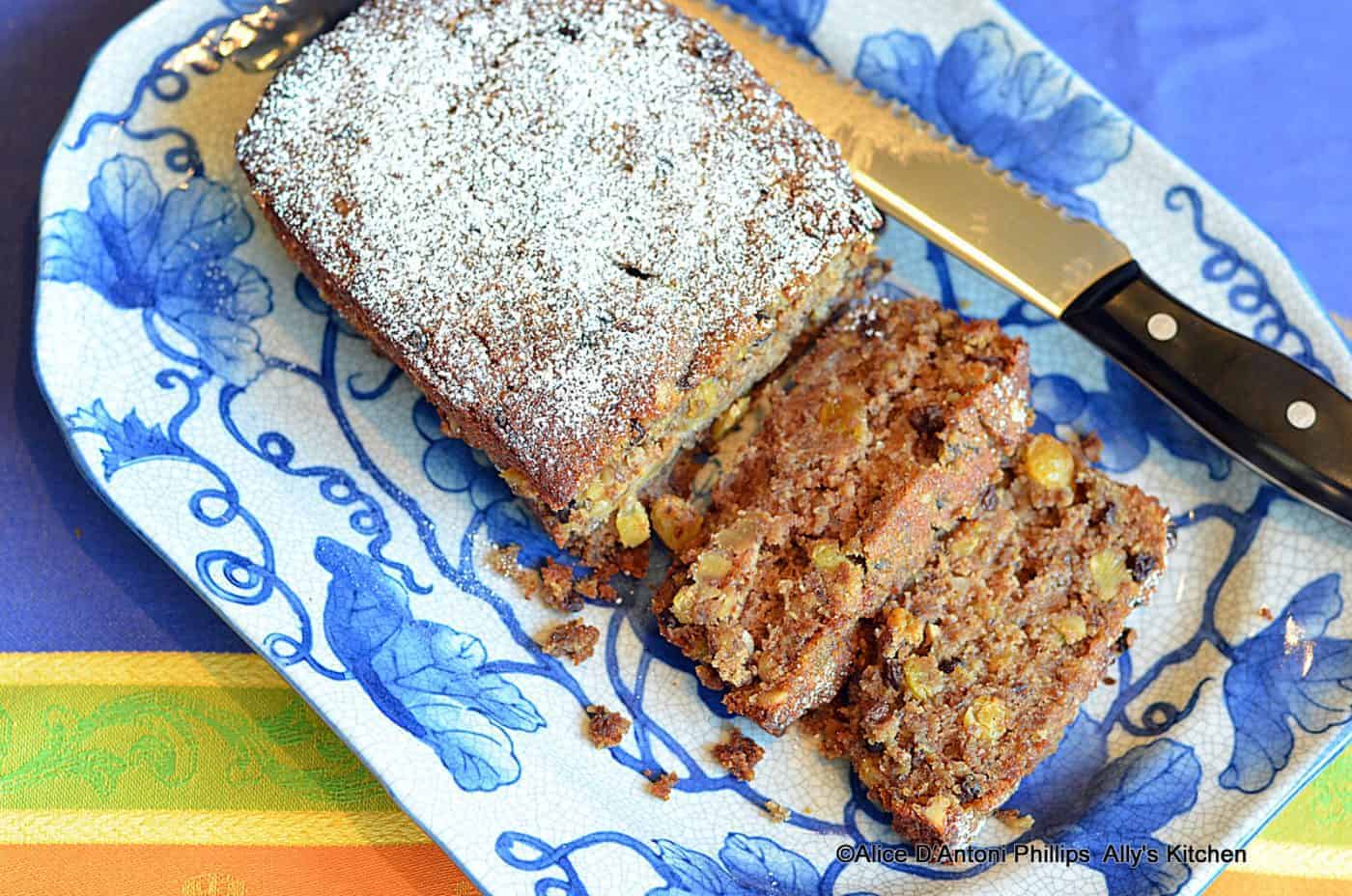 Applesauce Currant Walnut Bread
Ingredients
Preheat oven to 325
1 cup dark brown sugar
1 stick of softened unsalted butter
1 1/4 cup applesauce
2 eggs
2 tsp Rodelle vanilla
2 ½  cups almond flour
1 tsp. Jamaican allspice
1 tsp. baking soda
1 1/2 tsp. baking powder
½ tsp salt
½ cup ground flax seeds
½ cup currants
¼ cup golden raisins
¾ cup chopped walnuts
Instructions
In a large mixing bowl, cream the butter and sugar together with a mixer.  Add the applesauce, eggs, vanilla and blend.
Sift in the flour, allspice, baking soda, baking powder, salt and blend with a spatula. 
Add the flaxseed and incorporate.  Finally, add in the currants, raisins and walnuts and blend well.
Scoop the thick batter into the well-greased baking loaf pan. 
Bake in a preheated 325 oven for 50-60 minutes or until a toothpick comes out clean from the center.
https://allyskitchen.com/applesauce-currant-walnut-bread/
©ally's kitchen intellectual property