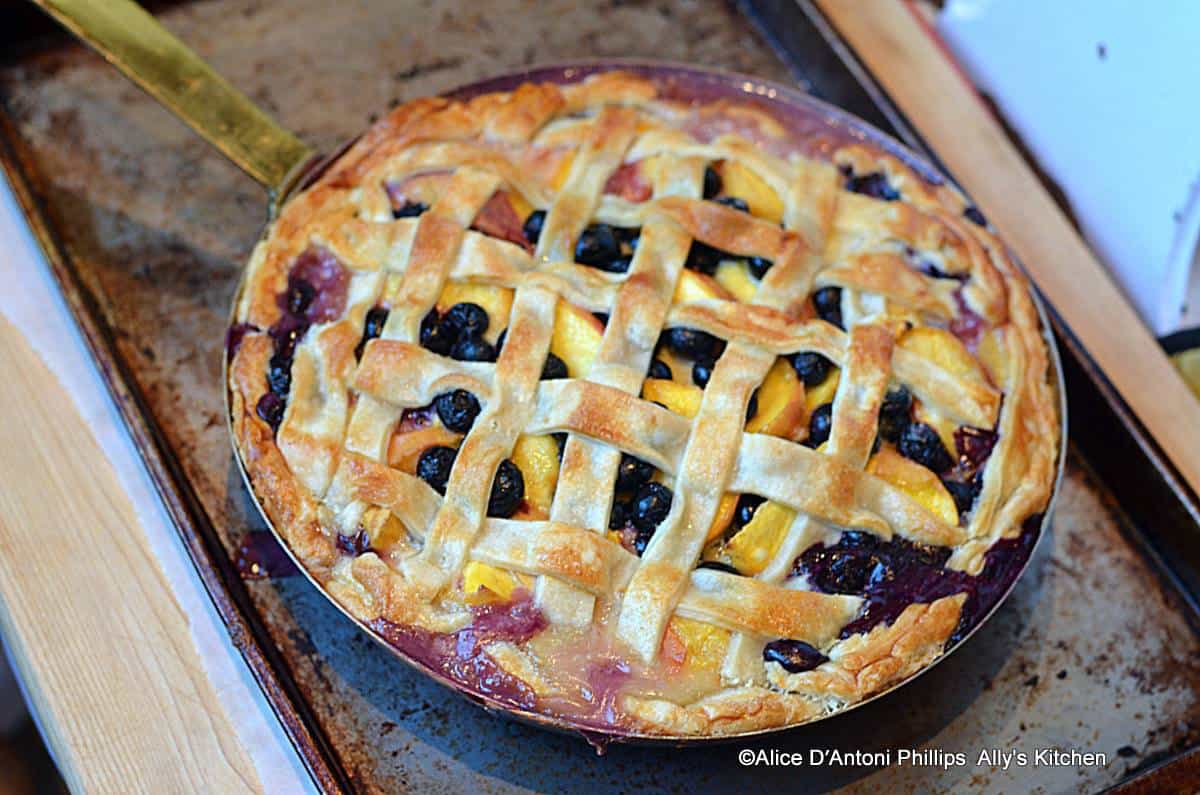 This is the most delicious and easy to make Fresh Peach Skillet Pie, ever! Incredibly tasty and flavorful. Get the recipe today.
Fresh Peach Skillet Pie
Being a South Carolina girl, I know good peaches~~we have some of the best. However, when I came to Colorado, I saw my Palmetto state's match! Palisade, located on the Colorado River at the base of the Grand Mesa in far western Colorado, is a town in Colorado. It's known for a lot of things, but, for me, it's the peaches that rock! They're totally amazing~~grown in really fertile soil, Palisade is an agricultural mecca. And, the majority of the vineyards in the state are located here. Here's what the Chamber of Commerce writes about Palisade~~
Peach Pie Recipe
Peach pie is a real summer treat. Only in July or August can you prepare a pie with ripe peaches, juicy sweet, and incredibly aromatic. Awesome fresh peach pie, simple and elegant at the same time, big and flavorful!
Easy Fresh Peach Pie Filling Recipe
A quick and easy peach filling recipe for pie requires simple ingredients and will take less time. Use fresh, frozen, or canned peaches. Summer pies with berry or fruit filling are the tastiest, most fragrant, and juicy. You always want all the fruit juice to remain in the pie, not to leak out and, accordingly, not to burn, not to soak the dough. To do this, when preparing the filling from juicy fruits, it must be thickened somehow by tying the fruit juice. And then the cake will delight you not only with its appearance but also with its excellent taste.
Peach and Blueberry Pie Filling
Now besides the peaches what makes this skillet pie cool is that I've added the fabulous vanilla made by Rodelle~~this isn't just any 'vanilla'~~it's pure Madagascar bourbon~~even though it's a small amount ingredient, it packs a powerful flavor that brings out the peach and blueberry sweetness. Then to add a twist to the vanilla, I also used cardamom~~just the scent of it drives me crrraaazzee! It's used in Indian and Middle Eastern dishes, and it's another small amount added that creates a unique flavor for this skillet pie.
Blueberry Peach Pie Recipe
Blueberry and peach pie is another fairly easy to prepare, but very tasty pie, the recipe of which is worth taking note of. The main thing is that the peaches are as fresh and tasty as possible, and then the cake will turn out to be cool. Blueberry and peach pie goes well with tea and coffee and also goes well with milk. Try to cook on occasion – you will surely like it!
I'm also sharing a few of my favorite recipes that work great such as:
Mediterranean eggs olives mozzarella
Executive Producer~~'The Forgotten Kingdom'
Southern cinnamon peach pie
Upside down Peach Pie Mounds
Perfect peach pizza pie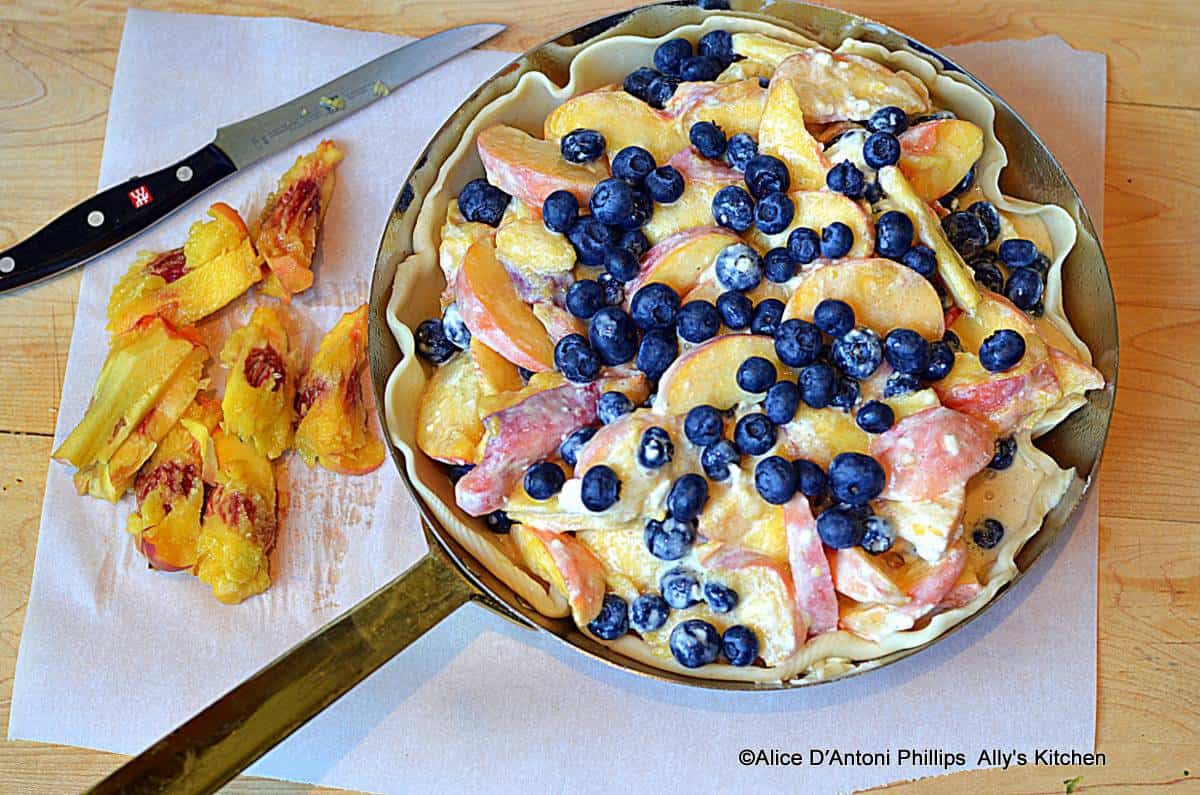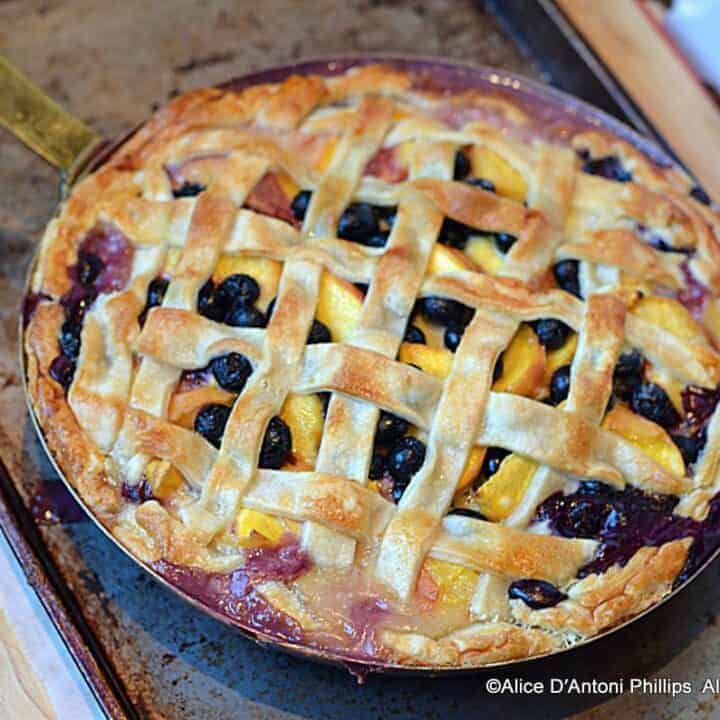 Fresh Peach Skillet Pie
Yield: Makes:  One appx 10" skillet pie Preheat oven to 350

This is the most delicious and easy to make Fresh Peach Skillet Pie, ever! Incredibly tasty and flavorful. Get the recipe from Ally's Kitchen.
Ingredients
2 pre-packaged refrigerated roll-out pie crusts
8 cups sliced fresh peaches (skin on…wash very well!) (NOTE:  You can substitute frozen peach slices~~they're great!)
3 cups blueberries
2/3 cups sugar + 2 tsp (divided)
3 tbl lemon juice
½ cup cream
1 tbl Rodelle vanilla
1 tsp cardamom
2 tbl corn starch
¼ tsp sea salt
1 cup mascarpone
2 tbl melted butter
1 beaten egg (egg wash)
Instructions
Coat the inside of a skillet with cooking spray. Roll out one pie crust and mold into the skillet. Set aside.

In a large mixing bowl, combine the peaches, blueberries, 2/3 cups of sugar, and the lemon juice and toss and blend.

In another small bowl, combine cream, vanilla, cardamom, corn starch, salt, and mascarpone and whisk together blending well. Pour over the peach/blueberries and blend and toss.

Put peach/blueberry mixture into the pie crust. Drizzle the melted butter all around. Top the pie with the second pie crust—design as you like—I tried to do a lattice top—it's o.k. Coat with the egg wash. Sprinkle 2 tsp of sugar all over the top.

Bake in a preheated 350 oven for about 60 minutes. (Note: If crust to getting too brown, cover loosely with foil.) Let cool about 20-30 minutes before scooping out the goodness!