KISS…you've certainly heard that acronym used!  Well, this is a KISS recipe…it's just so simple, it defies logic.  The flavor and taste don't seem to go with the simplicity of the preparation.  But, it does work…like the 'Roasted Charred Cabbage Rounds' the cauliflower is really really tasty. It's got a slight crunch, the charring brings out flavors that no other way of cooking can, and the tender al dente finish makes this one cool finger food!
Now how many it will serve will depend on the size of your head of cauliflower, but, quite frankly, I can eat a small head all by myself!
Food Styling Tip: Serve these roasted cabbage rounds in a skillet that's been warmed in the oven. Perfect for keeping them yummy when you put on the table~~just don't forget a trivet!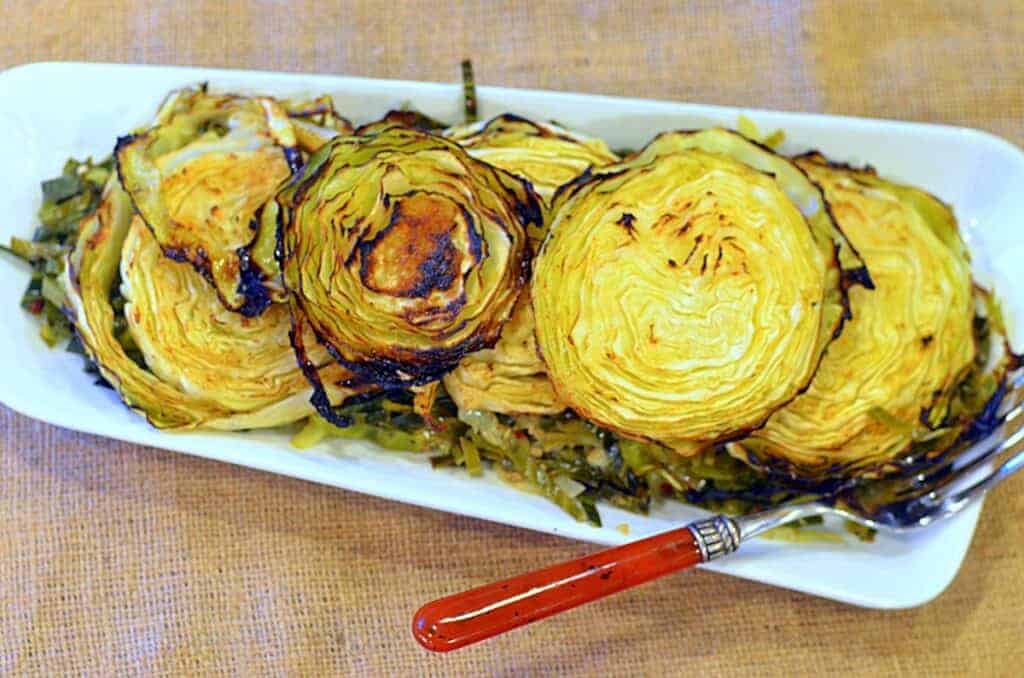 Roasted Charred Cabbage Rounds
Ingredients
Preheat oven to 425
1 head cabbage cut into rounds (for the part you cannot cut, just chop up)
Canola cooking spray
2 tsp. Lemon Pepper
1 tsp. Sea Salt
1 tsp. Fresh Ground Pepper
Instructions
Put the cabbage rounds (and pieces) on a parchment-paper lined cookie sheet.  Coat well  with cooking spray, lemon pepper, salt and pepper (to taste).  
Leave space between the pieces, place in preheated 425 oven for about 20 minutes or until the charring begins to surface.  Remove and eat!
Notes
Sprinkle your favorite spices or spice combos on the hot roasted cabbage. Thai Spice, Cumin, Ras el Hanut, Harissa. Your choice or nothing!
https://allyskitchen.com/roasted-charred-cabbage-rounds/
©ally's kitchen intellectual property