Paradise Pineapple Smoked Pork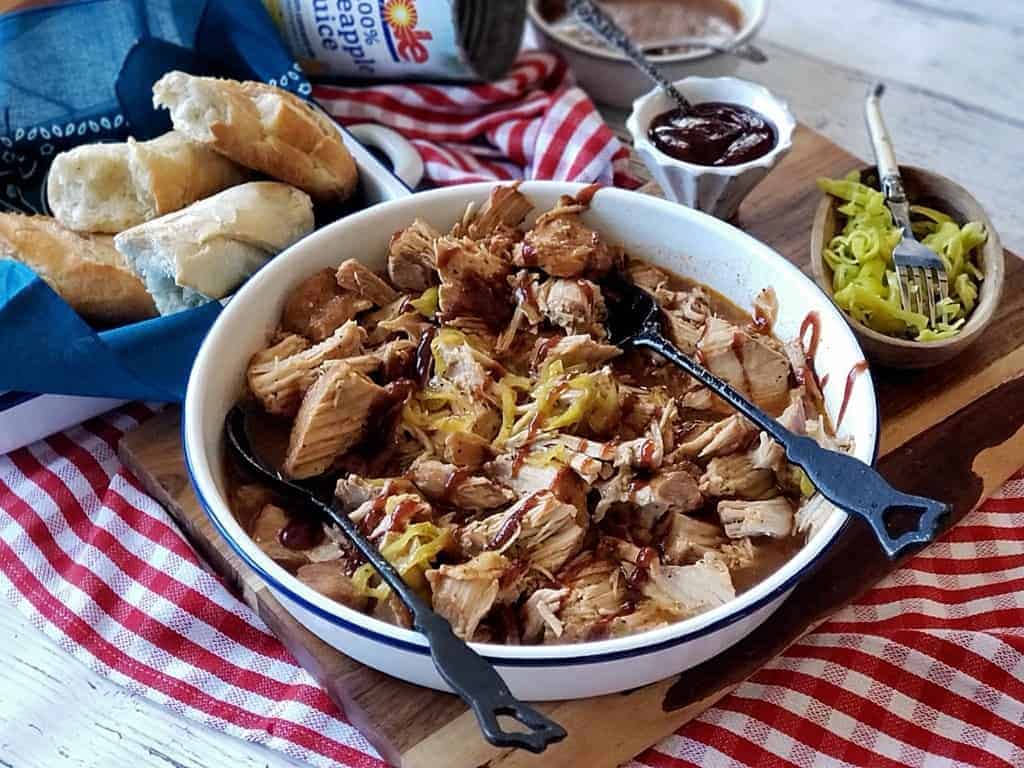 I'm here to tell you that this is THE easiest smoked pork recipe you'll ever find. AND, it's paradise pineapple smoked pork!
Kalua Pork Recipe
Every once in a while, it is okay to indulge your palate with New York Strip Hot Smoked Paprika Red Wine Stew. And on his special day, what better way to celebrate it than with smoked pork chops? When it comes to special occasions, sweet and sour recipes always work for me, and I am sure the whole family would love the flavor of the tangy pineapple sauce on these chops!
Kalua Pork in Oven
Over medium heat, heat the oil in a wide pan and cook the smoked paprika salmon chunks on both sides until they have browned. Remove the chops from the pan, reduce the heat, and place the butter and garlic in the same pan. Carefully brown it, without making it burn.
Hawaiian Smoked Meat
Add the juice, sugar, cinnamon, and cloves to the pineapple. Keep cooking until the sauce thickens, over a low flame. Attach the chops, cook for a few more minutes and serve over each chop with a slice of pineapple and cherry. Serve with a generous amount of sauce with onions or tomatoes, mashed potatoes, or rice, and whiskey smoked cowboy chili.
Smoked Kalua Pork
Mind, since they are smoked and have already been seasoned with salt, you don't need to season the pork chops. If you like, you can use center cut chops and season with just a little bit of salt and pepper so that you do not change the sauce's flavor. The sauce can be served over grilled chicken or salmon as well. Team it up with Naan Bread Smoked Salmon Veggie Squares for the best flavors.
How to Cook Kalua Pork
Put one-fourth of the pineapple aside for further use with Smoked Green Beans with Roasted Cherry Tomatoes. To weigh 1/2 cup, cut enough of the remainder into 1/4-inch cubes and conserve the rest. Squeeze the juice from the reserved rind into a blender with your fingertips. Cut the reserved pineapple into 1-inch pieces and combine with the juice in the blender until very smooth, at high speed, for about 1 minute. In a dampened-cheesecloth-lined sieve set over a cup, add purée. Drain for approximately 30 minutes, until you have 1 cup of juice. Boil juice over moderately high heat in a small skillet until reduced to about 1/4 cup, 10 to 14 minutes.
Pork Chops in a Skillet
Heat the oil in the skillet over medium-high heat until the skillet is hot but not smoking, then sauté the chops, rotating once, until the skillet is browned and cooked through, about 5 minutes. Switch it to a dish and keep warm. Then add pineapple sauce and bring to a boil over moderate heat, scraping up any brown pieces, discarding the fat from the skillet. Pour the chops over the sauce.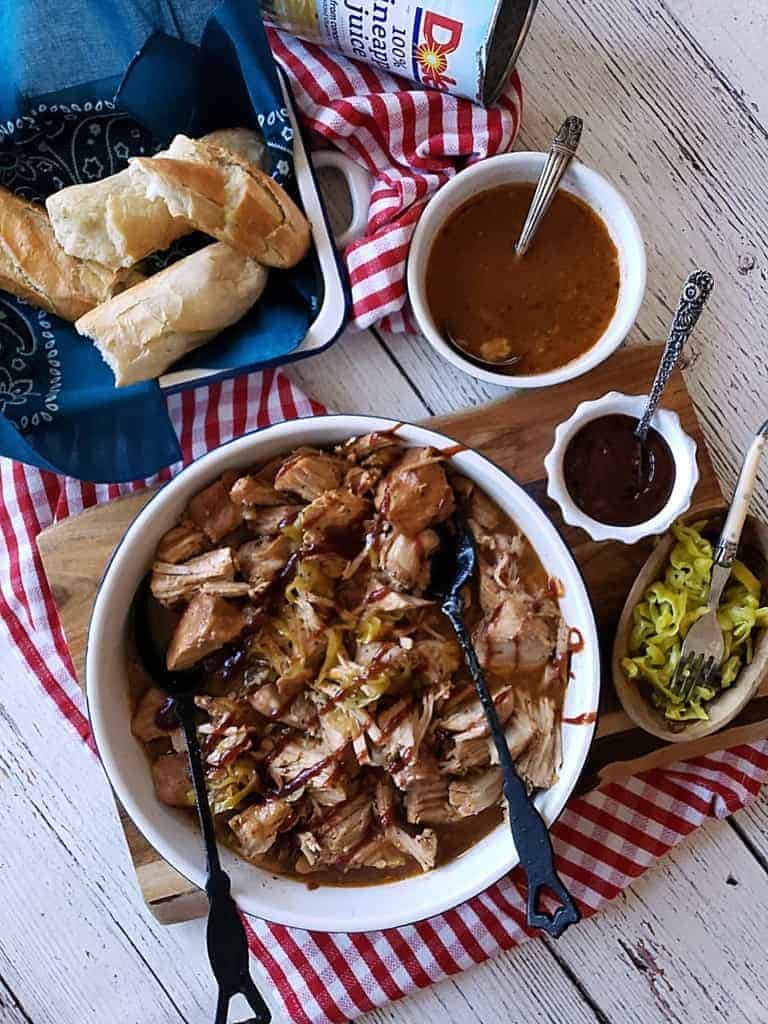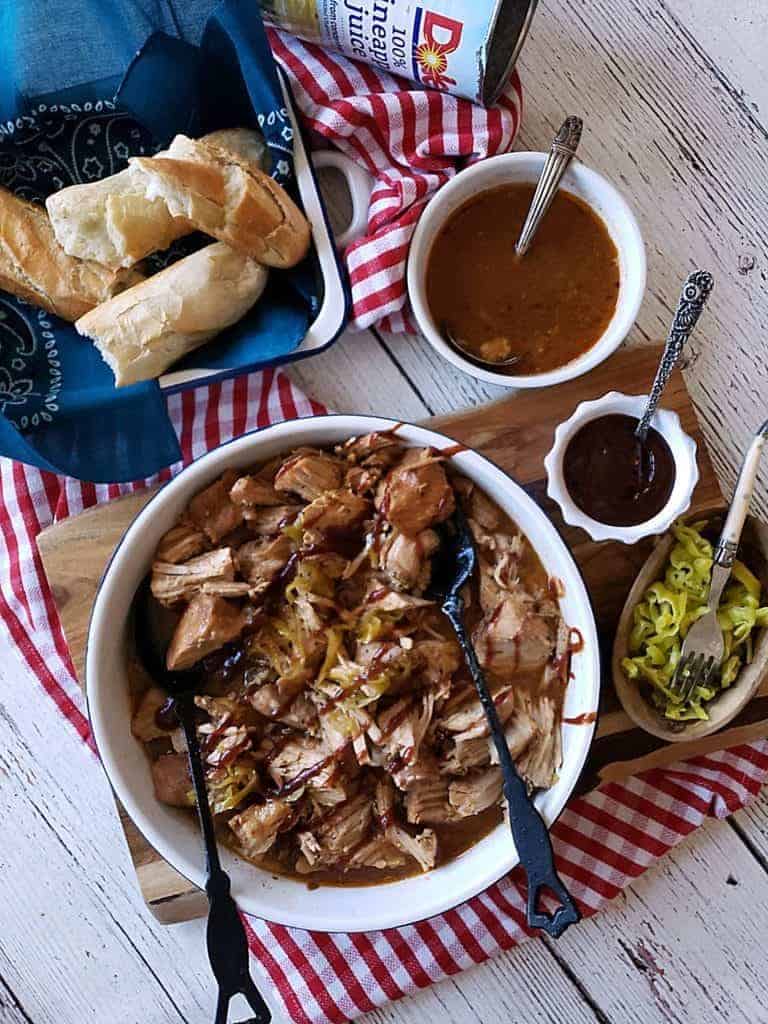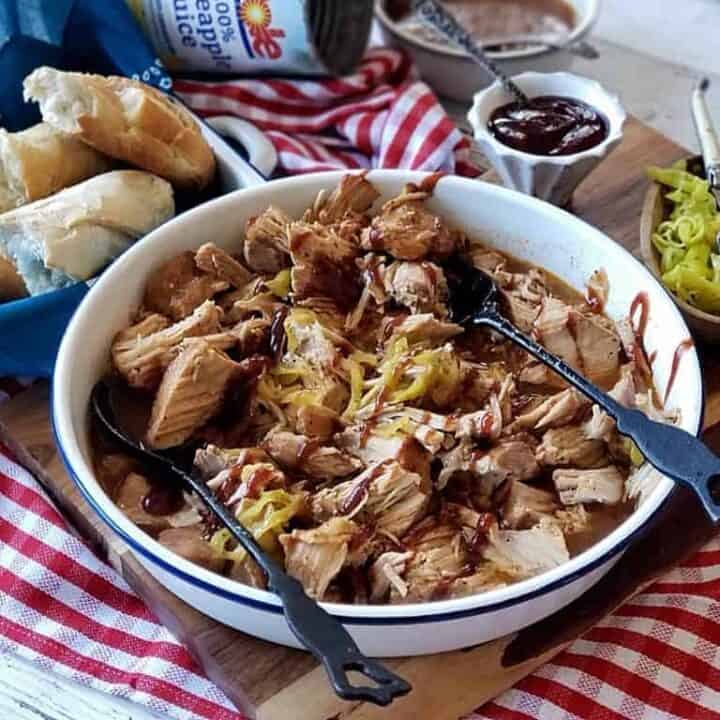 Paradise Pineapple Smoked Pork
I'm here to tell you that this is THE easiest smoked pork recipe you'll ever find. AND, it's paradise pineapple smoked pork!
Ingredients
4 to 4 ½ lb. pork loin, cut into 6-8 pieces
2 cups Dole Packaged Foods Pineapple Juice
1 pkg. (1.2 oz.) Lipton Recipes Savory Garlic Herb Mix
3 tsp. liquid smoke
2 tsp. sea salt
2 tsp. coarse ground pepper
1 cup Golden Greek Peperoncini with ½ cup juice, plus more for serving
1 cup Sweet Baby Rays Hickory & Brown Sugar BBQ sauce, plus more for serving, (can use your favorite BBQ brand}
Instructions
Put the pork in the multi-cooker. (I use a Cuckoo 8-in-1 Multicooker, which is similar to an InstaPot.)

Whisk together the pineapple juice, garlic herb mix, liquid smoke, salt and pepper. Pour over the pork. Add the peponcini and pour the BBQ sauce on top.

Close the lid. Select [Meat] using [MENU] button, and set the cooking time to 90 minutes. Press [COOK] button.

When done, open lid, remove meat to a serving piece (deep enough to accommodate juices/broth) and shred meat with a fork.
Notes
If preparing in a slow cooker, select high setting for 4 hours.

If using an InstaPot: Press the meat/stew button and set for a 90 minute cook time. Let it decompress. Remove toa bowl type serving dish, shred with a fork and serve!