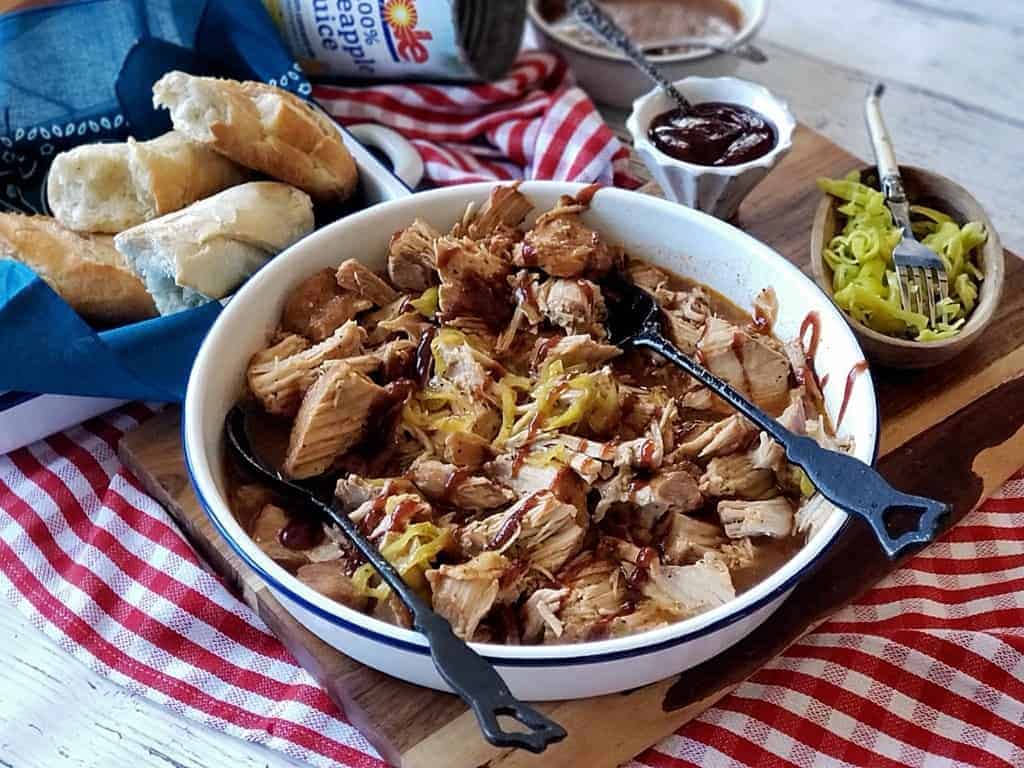 Thanks to Dole Packaged Foods for partnering with me for this paradise pineapple smoked pork recipe! I am the creator of this recipe and for the description and information that follows. For a full disclosure, click here!
Honestly, sometimes I really surprise myself with the challenge of creating delicious recipes with just a few ingredients. Now the key to this challenge is to make sure every ingredient is packed with great flavor and taste. And, that's what you always get when you use the King of Pineapple Juice. Yes, Dole Packaged Foods pineapple juice that comes packed in different size cans. I like to buy the large cans when I have company or when I'm cooking. I'll put it all in large Mason or Ball jars, refrigerate and have for whatever I need, cooking, using for making cocktails or mocktails, or simply sipping juice.
About the Paradise Pineapple Smoked Pork
This paradise pineapple smoked pork couldn't be any simpler! I mean if you've got a slow cooker, or multi-cooker using your slow cooker setting, then you're in business. Now, if you don't, then not to worry. This recipe can be done in the oven, too. You'd need to use a heavy Dutch oven type pot and have a real tight lid and cook this on 400F for about 3 to 3 1/2 hours. Check it occasionally to see if you need to add liquid as it evaporates using this cooking technique versus the slow cooker. You'll want the end result the same, the meat should easily shred with a fork. As a side note, you might want to check this out for more info on using your multi-cooker. Here's an excellent post on using your multicooker and settings to choose.
Honestly, with just six ingredients, not counting the salt and pepper, you can't go wrong. Depending upon how many you're serving, if you have leftovers of this truly PARADISE pineapple smoked pork, you can freeze and use later for other things, like tacos, soups, stews, sandwiches and more!
Pineapple is such a versatile fruit! And, here's a sweet pineapple scone recipe that will be perfect for weekend or holiday mornings!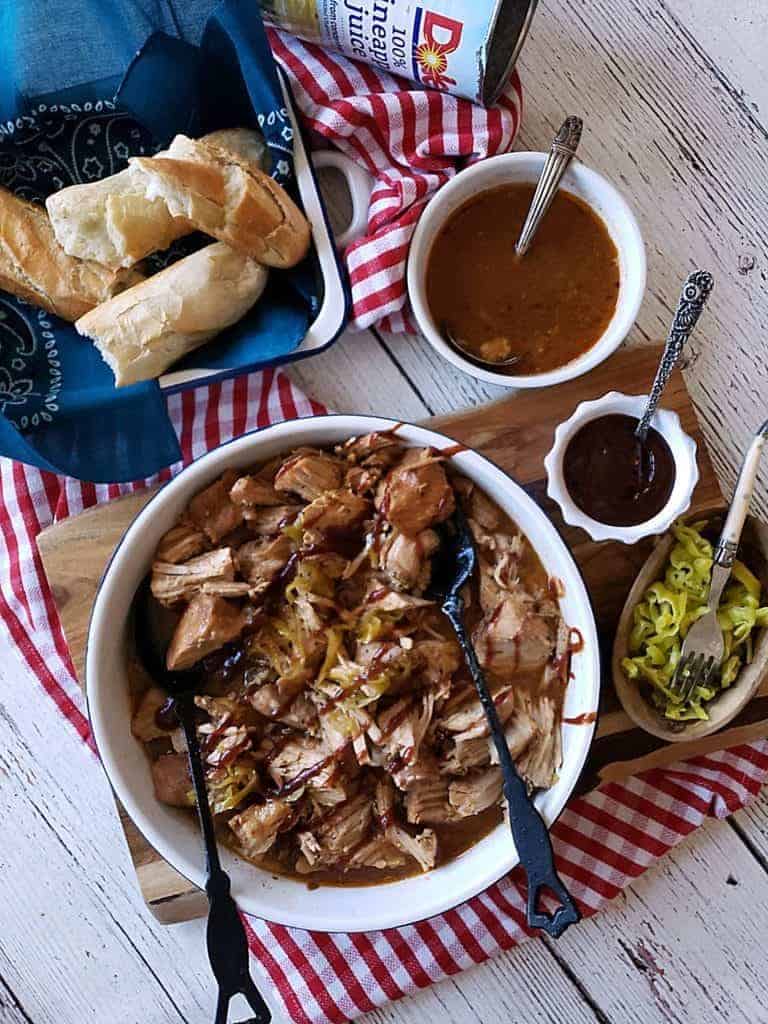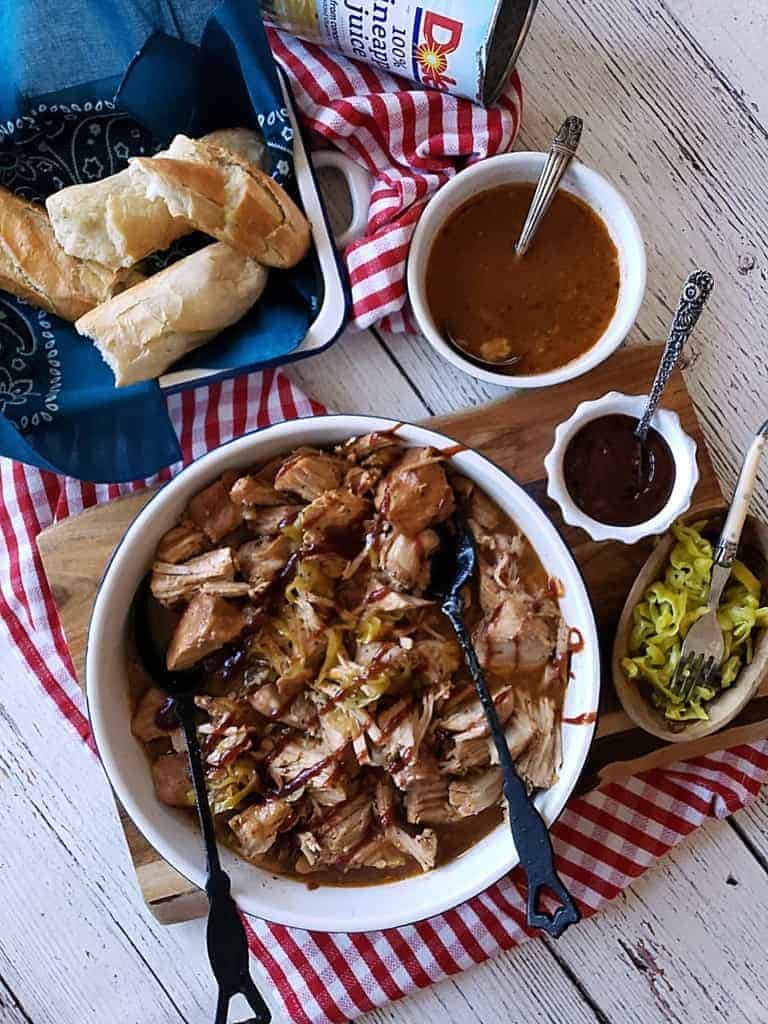 paradise pineapple smoked pork
Ingredients
4 to 4 ½ lb. pork loin, cut into 6-8 pieces
2 cups Dole Packaged Foods Pineapple Juice
1 pkg. (1.2 oz.) Lipton Recipes Savory Garlic Herb Mix
3 tsp. liquid smoke
2 tsp. sea salt
2 tsp. coarse ground pepper
1 cup Golden Greek Peperoncini with ½ cup juice, plus more for serving
1 cup Sweet Baby Rays Hickory & Brown Sugar BBQ sauce, plus more for serving, (can use your favorite BBQ brand}
Instructions
Put the pork in the multi-cooker. (I use a Cuckoo 8-in-1 Multicooker, which is similar to an InstaPot.)
Whisk together the pineapple juice, garlic herb mix, liquid smoke, salt and pepper. Pour over the pork. Add the peponcini and pour the BBQ sauce on top.
Close the lid. Select [Meat] using [MENU] button, and set the cooking time to 90 minutes. Press [COOK] button.
When done, open lid, remove meat to a serving piece (deep enough to accommodate juices/broth) and shred meat with a fork.
Notes
If preparing in a slow cooker, select high setting for 4 hours.
If using an InstaPot: Press the meat/stew button and set for a 90 minute cook time. Let it decompress. Remove toa bowl type serving dish, shred with a fork and serve!
https://allyskitchen.com/paradise-pineapple-smoked-pork/
©ally's kitchen intellectual property