Paradise Pineapple Smoked Pork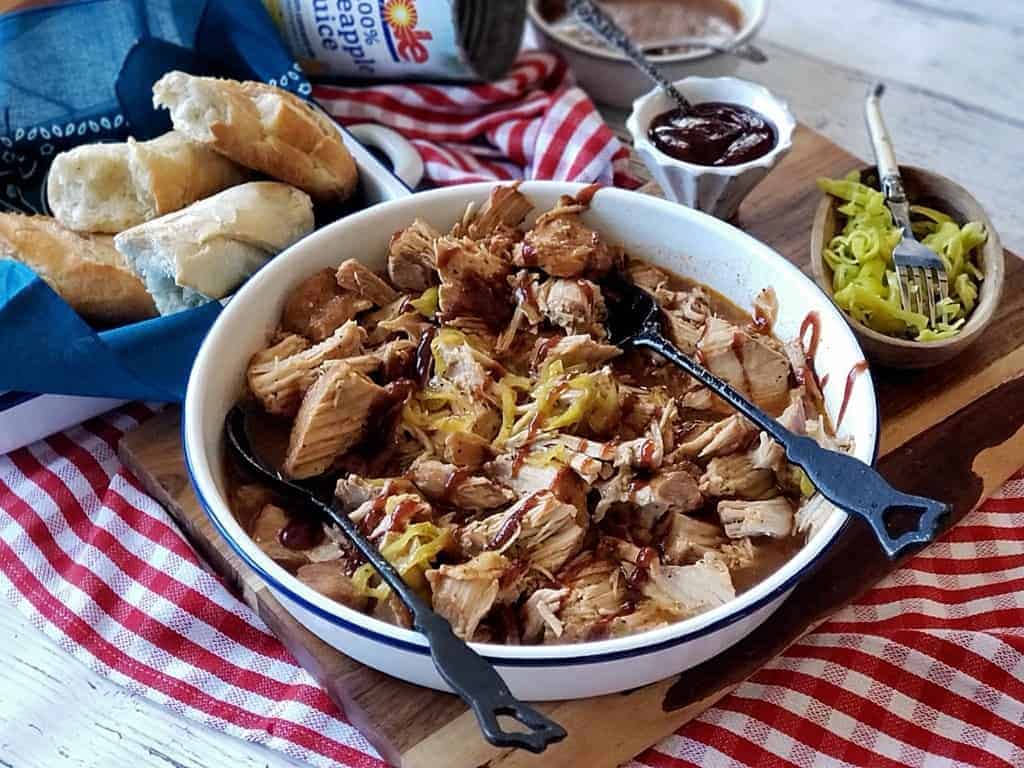 I'm here to tell you that this is THE easiest smoked pork recipe you'll ever find. AND, it's paradise pineapple smoked pork!
Pulled Pork Pineapple Juice
You don't have to have a huge smoker and all the accessories of a BBQ master to have the exquisite taste of pulled pork.
No sireeee bobby, this recipe lets you have those flavors using your own kitchen cooking.
Pineapple Pulled Pork Recipe
You can do this pineapple pulled pork in the oven using a Dutch oven or you can use your slow cooker or multi-cooker.
While I absolutely adore oven cooking, I decided to pull out the multi-cooker for this one because I needed to get out and run some errands. Isn't that the beauty of this cooking appliance. It frees us from the kitchen!
Pulled Pork Pineapple Juice
Pineapple juice is a fabulous liquid to use with pork. Well, you can use pineapple juice with other meats and seafoods, too.
Pineapple juice has an enzyme called bromelain. This helps meat become more tender because it helps break down collagen fibers. So the pineapple juice is more than just flavor, it acts like a natural tenderizer, too.
You can also use fresh pineapple in this recipe, and if you make my pineapple skin tea, well, you have some killer liquid to go into the recipe. Just omit the coconut sugar when you're making the pineapple tea!
How to Use Liquid Smoke on Meat
The Pioneer Woman, Ree Drummond, loves to use liquid smoke. She explains in this concise post on her website: As confusing as it may sound, liquid smoke is actually pretty simple—it's smoke from burning wood that's been condensed to liquid form.
Slow Cooker Pulled Pork Easy
My recipe is pretty straight forward and easy. Again, if you choose to do it in the oven, set your temperature at 400. Cover with parchment paper, then a layer of foil and then put the lid on. You want it to be as tight as possible.
You'll also need to check every 30 to 45 minutes to see if you need to add more liquid, which can be water, a vegetable broth, or a chicken bone broth, as it will evaporate with the oven cooking.
Typically, it's going to take a few hours using the oven. You'll know it's read when those chunks are easily shreddable.
Best Pulled Pork
This is one of the best pulled pork recipes I've created. And, one more thing, if you don't have liquid smoke and can't source it, then just substitute one tablespoon of smoked paprika.
But, you might want to take a gander at some of my others like Pork Sloppy Joes, 5-Ingredient Green Chile Pork, or Latin Style Pork Picadillo.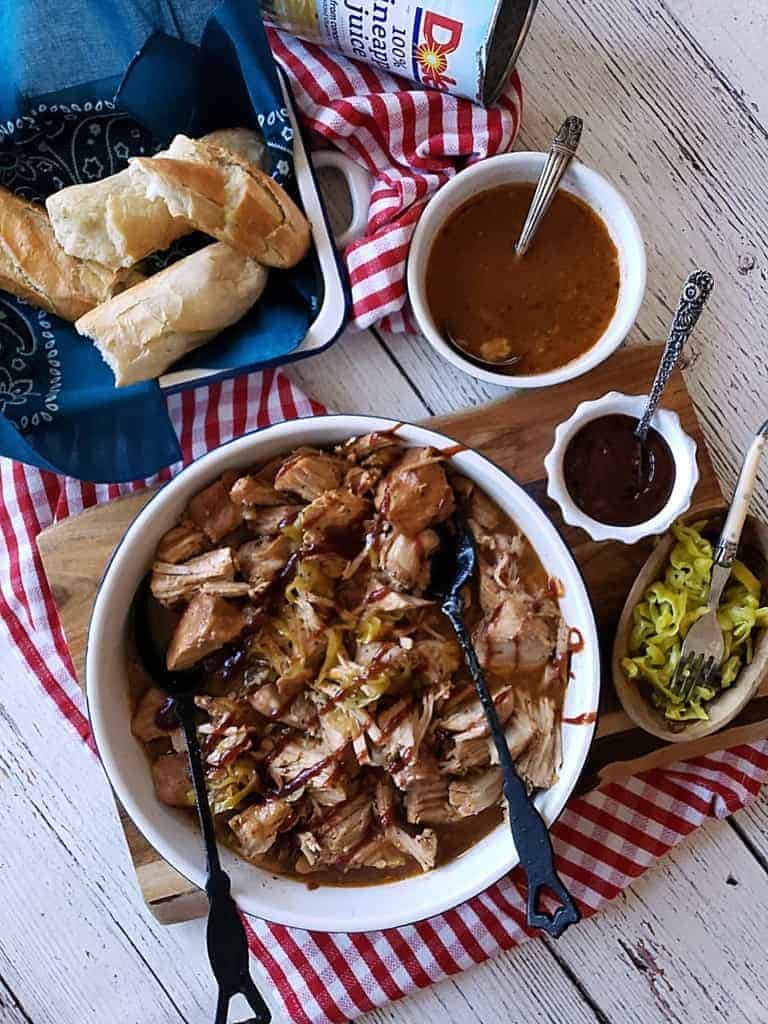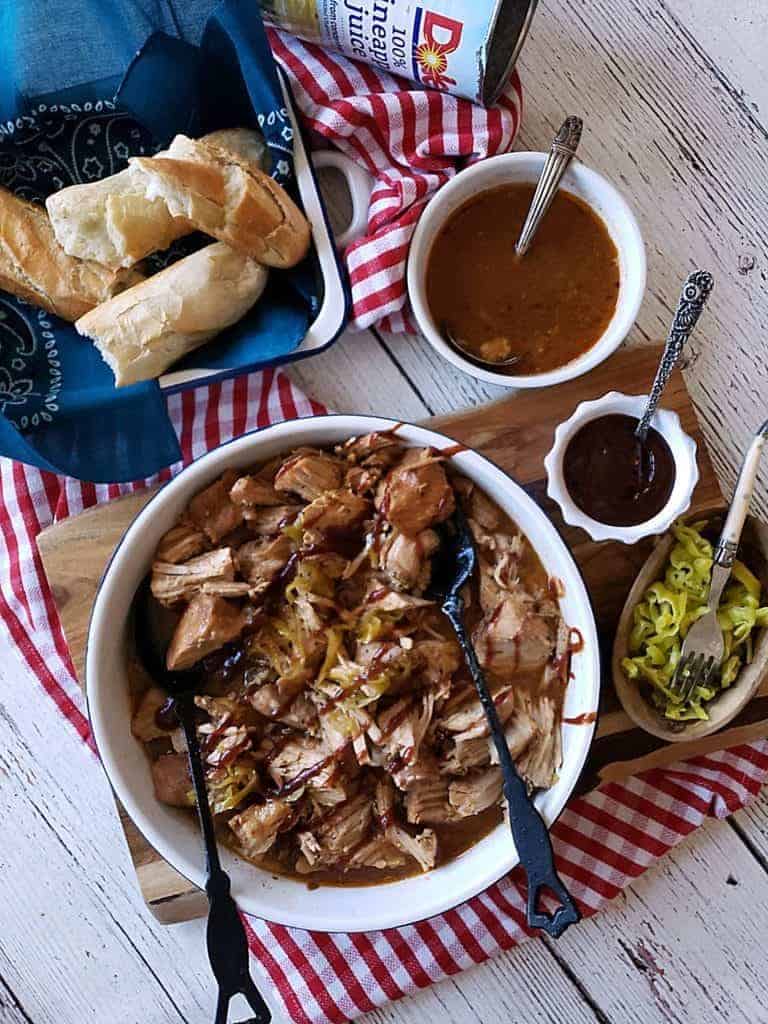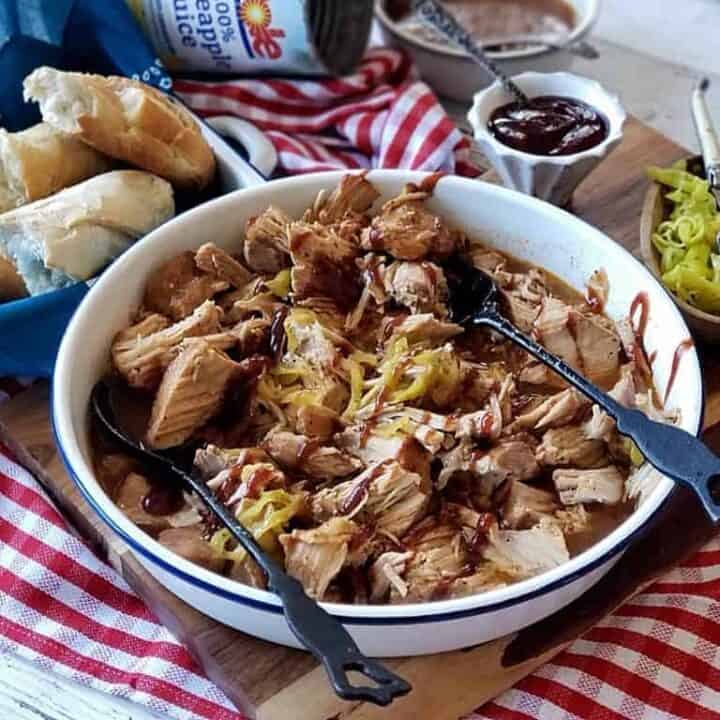 Paradise Pineapple Smoked Pork
I'm here to tell you that this is THE easiest smoked pork recipe you'll ever find. AND, it's paradise pineapple smoked pork!
Ingredients
4 to 4 ½ lb. pork loin, cut into 6-8 pieces
2 cups Pineapple Juice
3 Tbl. NO salt seasoning mixture, i.e., Costco brand, Mrs. Dash
2 tsp. ground cumin
3 tsp. liquid smoke, can substitute one tablespoon smoked paprika
2 tsp. sea salt
2 tsp. coarse ground pepper
1 cup Golden Greek Pepperoncini with ½ cup juice, plus more for serving
1 cup NO sugar BBQ sauce, plus more for serving, (can use your favorite BBQ brand}
Instructions
Put the pork in the multi-cooker. (I use a Cuckoo 8-in-1 Multicooker, which is similar to an InstaPot.)
Whisk together the pineapple juice, spice mixture, cumin, liquid smoke, salt and pepper. Pour over the pork. Add the pepperoncini and pour the BBQ sauce on top.
Close the lid. Select [Meat] using [MENU] button, and set the cooking time to 90 minutes. Press [COOK] button.
When done, open lid, remove meat to a serving piece (deep enough to accommodate juices/broth) and shred meat with a fork.
Notes
If preparing in a slow cooker, select high setting for 4 hours.

If using an InstaPot: Press the meat/stew button and set for a 90 minute cook time. Let it decompress. Remove toa bowl type serving dish, shred with a fork and serve!