When do you know you've created something that's off the charts boholicious?  When your 2 1/2 year old grandson, who's my #1 Sous Chef, chants, 'Mooore Mama Allllweee…mooowrre!'  That's precisely what happened when I made this 'Pumpkin Walnut Bread'! He was like glued to the prep table sitting on his little red retro stool with the pull out steps, his head perched in his propped up arms waiting patiently for it to cool.  'Nicholas, ok, go sit at the big table, and Mama Alllweee will bring you a piece!'
So as I slowly walked to the table the bread-tart in hand as if it were the 'Hope Diamond', his eyes twinkling, excitement in every pore of his body and oozing out, I started singing 'Happy Birthday' (I mean why not make it even more fun!), and Nicholas chimed in as we were singing, '…happy birrrfffffday to me, happy birrrffday to me…' (no, it wasn't his birthday!)  Oh the joy that shone through those coal black eyes was priceless! Nicholas is my steadfast sous chef and #1 taste tester~~when he gives the food the 'moooore mooooore' chant, I know it's fabulous!
ally note~~you can substitute dried cranberries (chopped dates, currants, etc.) for the pomegranate seeds or leave out altogether~~listen to your palate and pocketbook ~~peace & the love of punnnkin~~ xoxo ally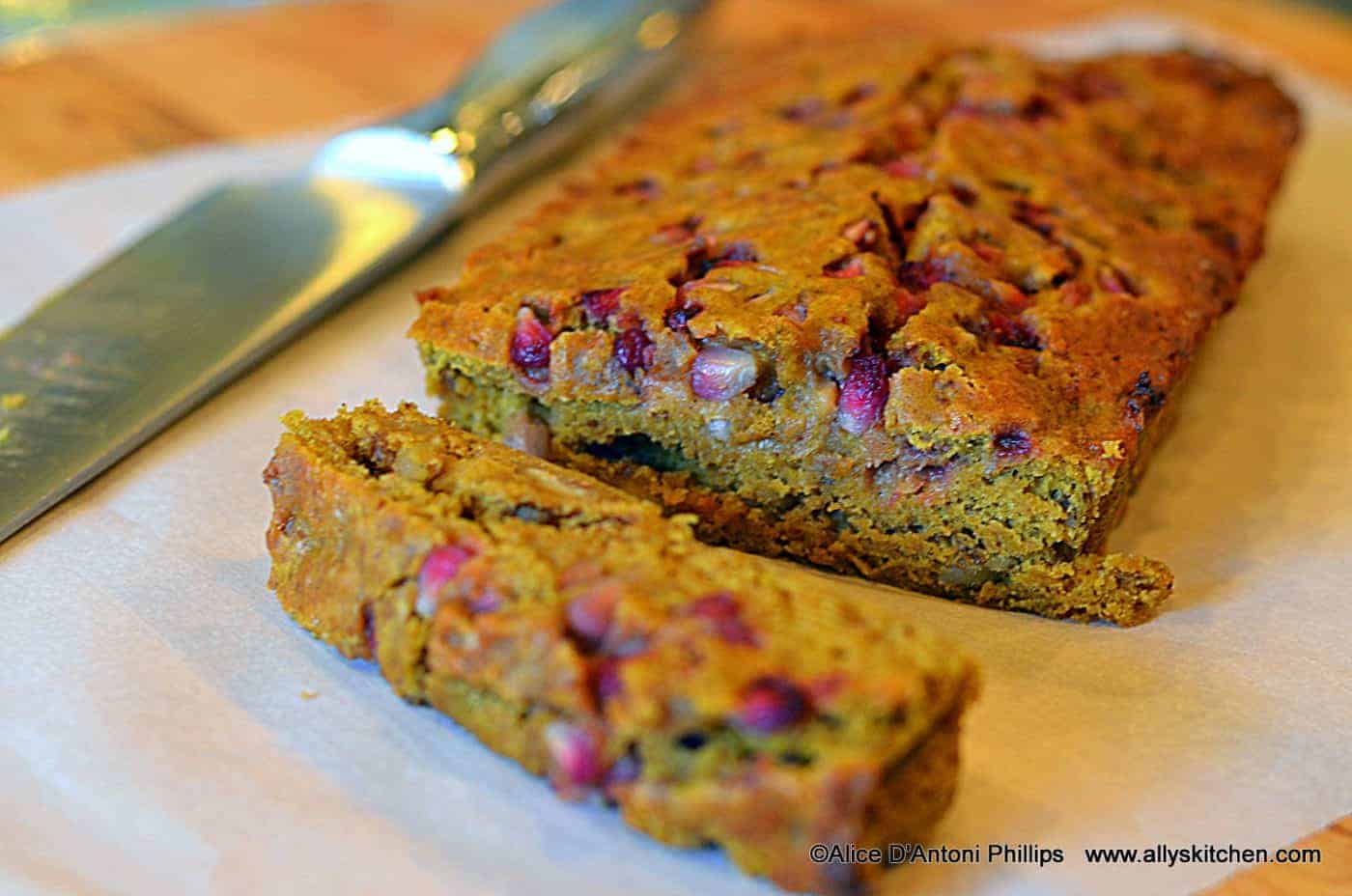 Preheat oven to 350
Makes: 2 loaves
What you need :
1 stick softened salted butter
¾ cup packed light brown sugar
3 room temperature beaten eggs
1 (15 oz.) can pumpkin puree
½ cup buttermilk
3 cups all-purpose flour
1 (3 oz.—small package) instant vanilla pudding (optional)
3 tsp baking powder
¼ tsp. baking soda
1 tsp. sea salt
2 tsp. cinnamon
½ tsp. nutmeg (fresh grated if you can!)
¼ tsp. ground ginger
¼ tsp. ground cloves
1 scraped vanilla bean (I use Rodelle—really great beans!)
1 cup chopped walnuts
1 cup pomegranate arils (can substitute dried cranberries)
2 Tbl. raw sugar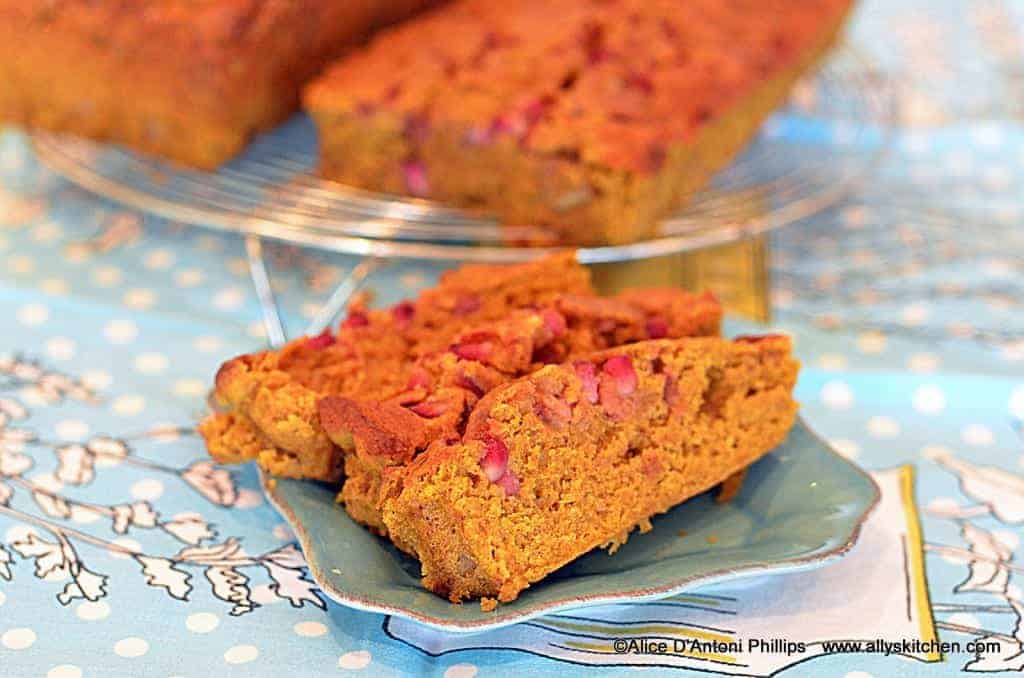 What you do:
In a large mixing bowl, combine the butter and sugar and blend with a hand mixer about 3-4 minutes.  Gradually add in (using the low speed of the mixer)  the eggs, pumpkin puree and buttermilk and set aside.
In another mixing bowl, combine the flour, baking powder, baking soda, pudding mix, salt, cinnamon, nutmeg, ginger, cloves and scraped vanilla bean.  Blend well with a whisk.
Combine half of the dry ingredients into the wet ingredients and blend well.  Add the remaining and blend.
Add in walnuts and pomegranate arils and blend.
Pour into a well-greased bread baking pan. Sprinkle the top of each with some of the raw sugar.  (I used one bread pan and an rectangular tart pan.)  Bake in a preheated 350 oven about 50-60 minutes or until a toothpick comes out clean. (Note: My tart pan bread cooked faster because it was much thinner.) If the top starts getting too brown, cover loosely with foil.
When done, remove and cool about 30+ minutes on a rack before slicing.