Fresh Crab & Campari Tomatoes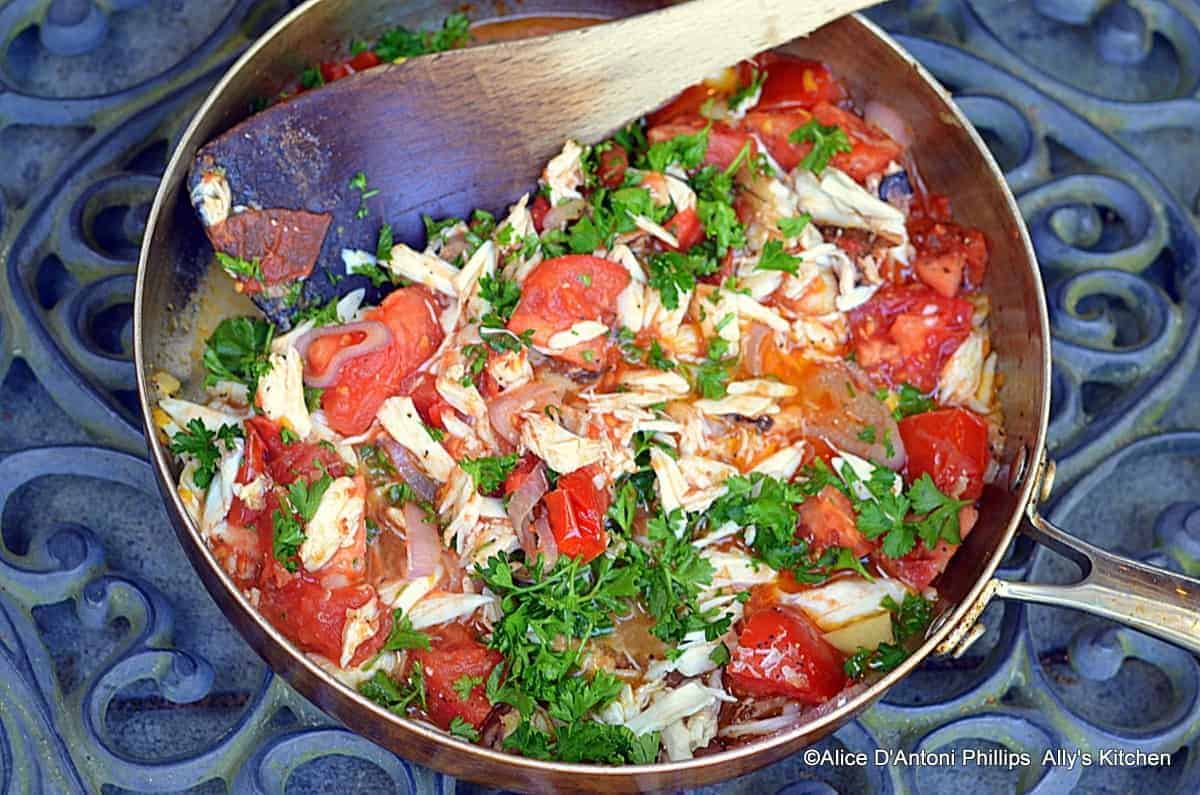 Here's a really easy recipe to make a fresh crab & campari tomatoes appetizer that will be a hit when it comes to entertaining.
Recipes Crab Meat
If you have no clue or never have cooked crab before, then you can start with something simple. You can make crab pie like chicken pot pie and turn your average dinner dish into a bomb of flavorful seaside food. You don't have to worry about messing it up even if you're new to this, and this recipe will come out just fine; add your seasoning to the pie stuffing and bake it just like your normal pot pie. The crab meat will give away such a beautiful flavor and texture to your pie! You'll be a fan of it!
Fresh Crab
I'm sure you've heard about shrimp pasta before, but have you ever tried crab pasta? Add in some fresh crab into your cheesy pasta, and you will have yourself a cheesy crabby pasta which is equally as good as shrimp pasta but at a much cheaper rate. Your whole family would love this new recipe and will instantly become their favorite one!
Fresh Crab Meat Recipes
You can make many dishes with fresh crab meat, one of which includes the good' ol American crab boil, which is perfect for a family get-together or any big party which includes a huge crowd. You can also prepare al fresco summer chicken tomatoes & purple potatoes alongside just in case, for those who aren't a great fan of seafood can have a dig at this! Eventually, your recipe would be a big hit!
What is Imitation Crab Meat
You may not be aware of it completely, but you have had imitation crab meat before. No? Crab cakes? Seafood salad at your favorite restaurant! Doesn't it ring a bell? I know, right! Imitation crab meat is made from deboned fish meat, which is predominantly used in crab cakes, sushi rolls, etc. Imitation crab does not contain any crab meat in them since it is made out of the flesh of fish. They might add in some crab flavor to simulate and mimic real crab meat. You can make your favorite crab cakes with imitation crab meat and have it with the main course meal of Cumin-infused pan-seared chicken.
Canned Crab Meat
Having some guests over at your place for dinner, and you're looking for the right appetizer to impress them? All you need is a can of crab meat, and you are totally prepared to pin them down with your sway-away crab cakes. Crab cakes are very easy to make, and it doesn't soak up too much of your time, so you will have time to prepare a salad like purple cabbage salad & roasted tomatoes along with the main course.
Recipes for Crabs
Who said you should curtail crab recipes to only crab cakes and seafood salad? Go the extra mile and make a seafood pizza with crab meat. If you are not a fan of crab, then I would recommend the vegan style Breakfast spinach Pizza, loaded with nutrients and vitamins, the best way to kick start your day. You can also go crazy and try crab stuffed dumplings that taste like your favorite seafood place dumplings.
How to Cook Fresh Crab Meat
Anyone can make crab recipes, and it's no big deal! If you're afraid that you might mess it up, then you can always try the easy recipes like the crab pizza, Penne crab pasta, Mac and cheese with crab meat, and the list goes on and on. It is always nice to have your main dish with a side of Campari tomato-onion olive salad to get a balanced diet. It is always better to buy fresh crab meat than canned meat since the fresh meat will give a juicy and tender texture to the meat.
What to do with Fresh Crab Meat
If you want to make a delightful recipe, go to the market and buy a few fresh crabs. Then get back home to get into action; you can make crab soup with veggies and crab. It is comfort food, and it is rich in protein and vitamins. If you're not a fan of soup, then try the Fresh Crab & Campari Tomatoes recipe. It only needs minimum cooking. It's the perfect summer recipe that is tasty and delightful!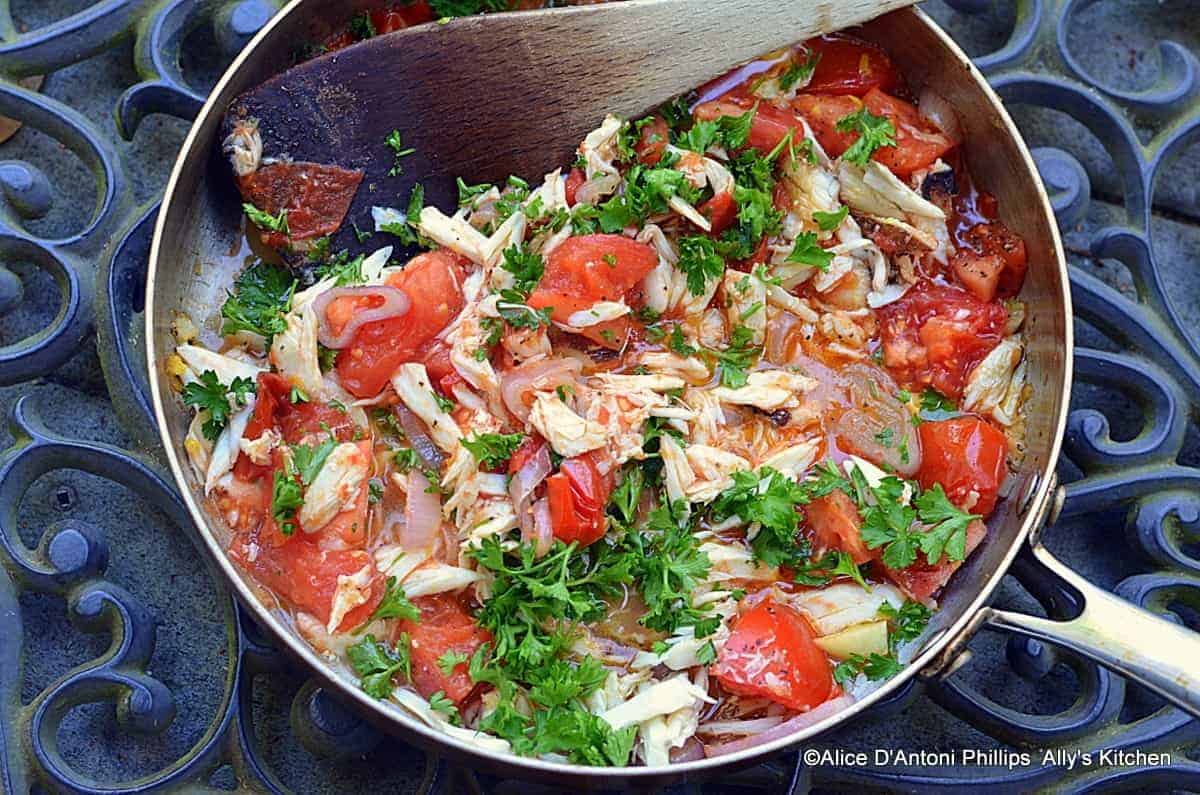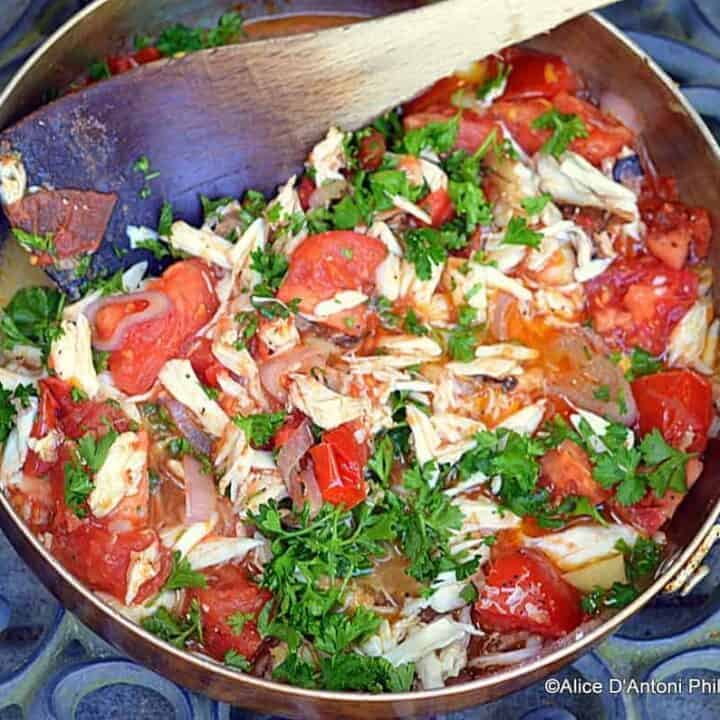 Fresh Crab & Campari Tomatoes
Here's a really easy recipe to make a fresh crab & campari tomatoes appetizer that will be a hit when it comes to entertaining.
Ingredients
2 tbl olive oil
2 tbl butter
2 tbl chopped garlic
1/4 cup thinly sliced shallots
6 Campari fresh tomatoes cut into large pieces
1/3 cup freshly grated asiago or parmesan
1 1/2 cups fresh crab meat
1 tsp sea salt
1 tsp coarse ground pepper
1/4 cup fresh chopped parsley
Instructions
In a skillet over medium heat, melt butter and add olive oil. Saute the garlic and shallots about 2-3 minutes. Add tomatoes and blend. Reduce heat to medium low and add asiago, crab meat, salt and pepper. Blend and let cook about 5 minutes. Reduce heat to low or simmmer and toss in parsley. Ready to serve however you like it! I spooned it on toasted thin sandwich rounds~~why not some pasta!