Purple Cabbage Salad Recipes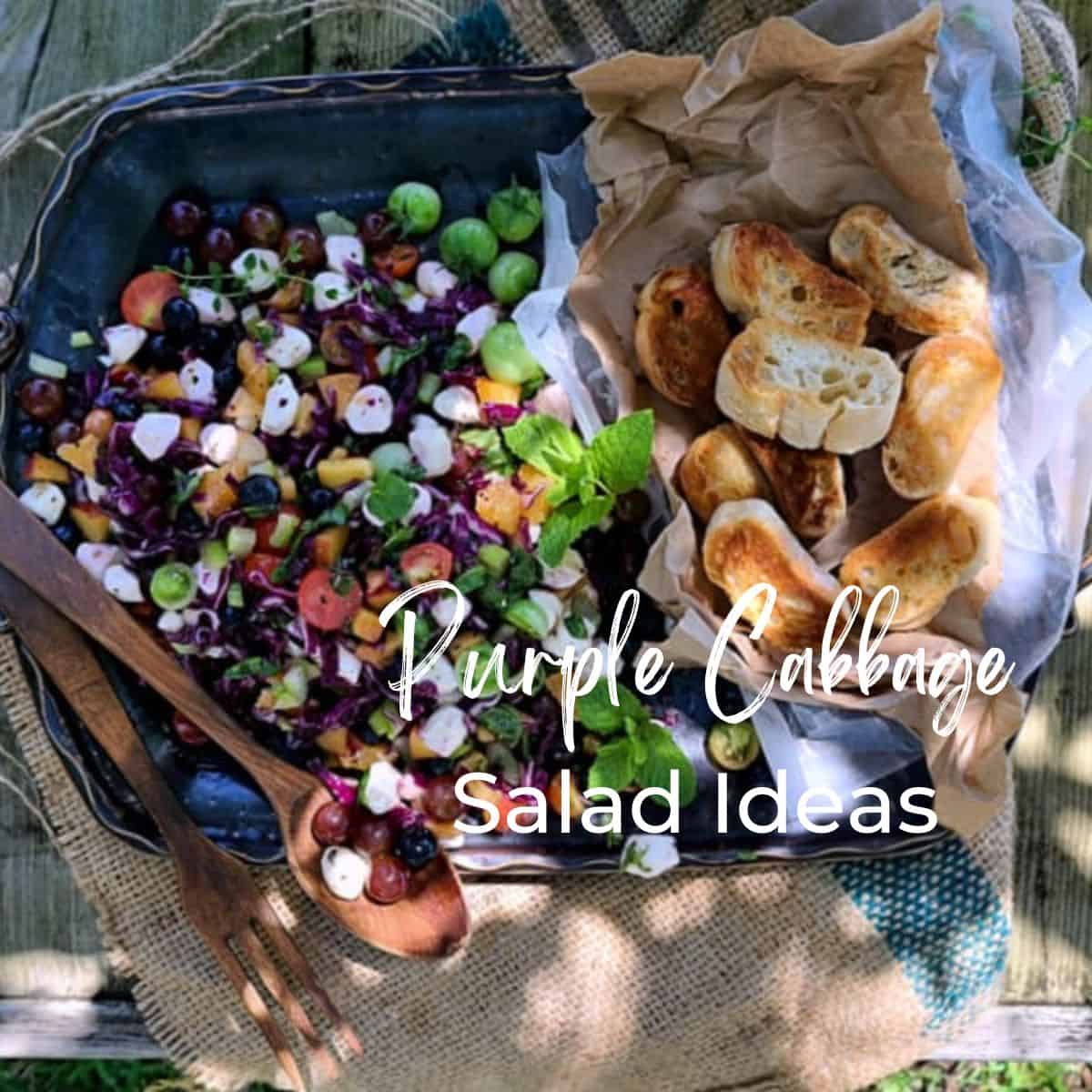 These purple cabbage salad recipes are the perfect combination of ease, flavor, and health benefits. Purple cabbage, a milder, sweeter cabbage variety, is the star of the show in all of these recipes, and you're going to love them!
As a Croatian family living in the Southern United States, cabbage was always on our family's plates in one form or another. After all, cabbage is a big part of both Croatian and Southern cooking. Our garden always had a row of cabbages in it, and my grandmother and mother were always preparing some kind of salad or slaw.
Believe it or not, I loved cabbage even as a kid. While other children turned their noses up at most vegetables, I couldn't get enough of them. I firmly believe that's because I was encouraged to eat what we had, and that led to a love of all kinds of foods.
As I got older, I never lost my love of cabbage, its flavor, and its texture. I love all varieties of cabbage, and I incorporate them into all kinds of dishes. I mainly use cabbage for salads these days because I just love the flavor and crunch that it provides!
Why You'll Love These Recipes
Cabbage is such a versatile vegetable that's so full of flavor and crunch that there's really nothing not to love about it. The same thing applies to these recipes. They're loaded with flavor and texture, and they make a great accompaniment to almost any main course. You can't beat that!
They use just a few simple ingredients that you can find in your garden, pantry, or grocery store.
They're easy to make and only require a few simple steps.
They're full of flavors and textures.
They're packed full of vitamins, minerals, and nutrients.
They make delicious sides for all kinds of main courses. Or they can BE the main course!
Why These Purple Cabbage Recipes Work
Cabbage is a super versatile vegetable. It can be cooked down until soft in dishes like sauerkraut and the like. When it's raw, cabbage has a strongly vegetal flavor with a great crunch and a subtle sweetness that you can taste more and more as you chew.
These recipes work because they take full advantage of everything raw cabbage has to offer, especially the sweeter, milder flavor of purple cabbage. This delicious cabbage variety is paired with all kinds of ingredients in these recipes, creating salads that are as interesting and colorful as they are delicious.
Purple Cabbage vs. Green Cabbage
Purple cabbage and green cabbage are very close when it comes to nutritional value. They both have approximately the same amount of vitamins and minerals, however, purple cabbage has more flavonoids – beneficial plant compounds – than green cabbage.
In addition, purple cabbage has a sweeter, milder flavor than green cabbage with far less of that vegetal bite than its green counterpart. That being said, they're both delicious, and I highly recommend you cook with both varieties. And don't forget red cabbage, either!
Health Benefits of Cabbage
Cabbage is commonly called a superfood, and for good reason. It's absolutely packed with vitamins, minerals, nutrients, and flavonoids. As I just mentioned both purple and green cabbage run neck and neck when it comes to their health benefits, with purple cabbage edging out green cabbage when it comes to flavonoids. Both varieties are incredibly healthy.
Cabbage contains vitamins K, C, A, and B6, as well as manganese, calcium, potassium, and magnesium.
It aids digestion and promotes gut health, creating a better gut biome.
It's thought to reduce inflammation throughout the body.
Cabbage, especially purple cabbage, is packed full of flavonoids that may improve heart health.
It's thought that it can lower blood pressure and cholesterol.
What to Serve with These Cabbage Salad Recipes
These purple cabbage salad recipes make a healthy main course or a side dish with almost any of your favorite main courses. The flavors in these recipes are so versatile that you can enjoy them with beef, chicken, pork, or seafood dishes. They're also fantastic with soups and bread!
Purple Cabbage Salad Recipes You'll Love
And here we are, my list of delicious purple cabbage salad recipes. From cabbage blueberry salad and cabbage apple salad, to cabbage salad with tomatoes, and so much more, you're going to find a recipe you love on this list. They're all so delicious and so crunchy!
Try All of These Purple Cabbage Salad Recipes
From cabbage paired with grapes to salads with pecans, these purple cabbage salad recipes are chock full of flavor, so easy to make, and so healthy for you. Give any or all of them a try, and I know you'll fall in love with them. And what's not to love with all their delicious flavor?!