Simple Picnic Cabbage Salad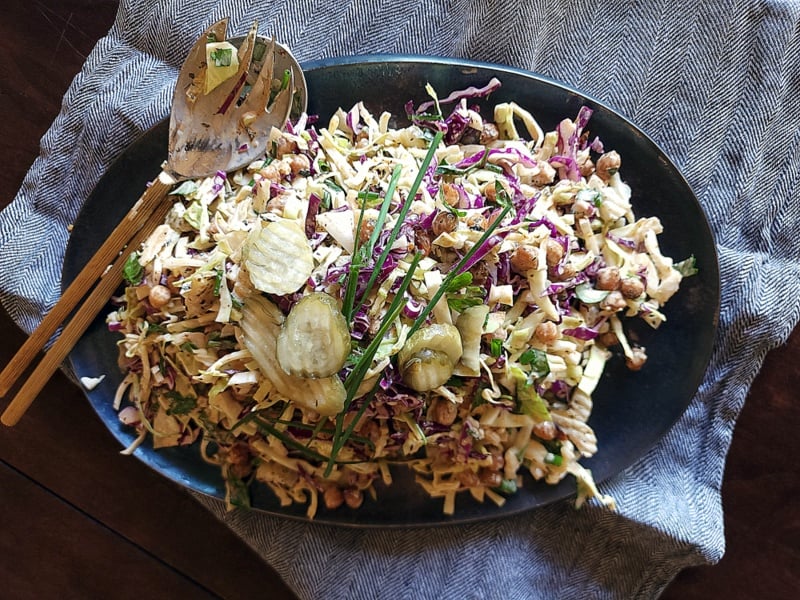 Elevate your next cookout, party or get together with this simple picnic cabbage salad! Healthy. Crunchy. Plus, it stays fresh for days!
Cabbage Salad Ideas
Oh, do I have cabbage salad ideas! Yes, I'm a cabbage lover and have been ever since I was a little' girl growing up in Appalachia in Southern West Virginia.
Why do I love cabbage so much? Well, because Mom used it a lot! Cabbage rolls. Coleslaw. Fried cabbage and potatoes. Fried cabbage and tomatoes. Yes, cabbage is not only healthy, great fiber and nutrition, but it's cheap and it fit our tight food budget!
Bean Cabbage Salad
Adding the garbanzo or chickpeas to this cabbage salad makes it almost like a complete meal. Yes, you have some excellent nutrients. Garbanzo beans are an excellent source of carbohydrate, protein, fiber, B vitamins, and some minerals, they are a nutritious staple of many diets.
How to Make Coleslaw
Now I love coleslaw for many reasons. First of all, it's a 'salad' that keeps for several days. Nothing bugs me more than throwing out salad because it doesn't keep well when refrigerated. You know, it gets wilty and slimy.
Not the case with coleslaw. For me, it gets tastier on day 2 or 3. Yes, you refrigerate it. And, the dressing flavors seem to intensify more. Plus, the cabbage stays pretty darn crunchy.
Cabbage Salad Dressing
Making the dressing for a cabbage salad is simple. You can make it with or without mayo. And, I'm recommending avocado mayo. Just healthier for you!
If you'd like to have a no mayo dressing for this salad, then check out these two options. Vinaigrette 1. Vinaigrette 2. They're superb vinaigrettes that make any salads fabulous!
Red Cabbage Recipes
So what's the hype on red cabbage, also known as purple cabbage, and, boy, do I have some awesome recipes. Besides being budget friendly, it's packed with nutrients:
It's a good source of vitamin K.
It provides small amounts of calcium, magnesium, and zinc, which can help build and maintain healthy bones.
Red cabbage is high in fiber, making it easier to digest foods and keep your digestive system healthy.
Cabbage Salad
If you're looking for a beautiful salad to take on a picnic, then you've found it! Just make sure you keep it cool if you're having to travel. And, if you want to swap out the mayo dressing for a non-mayo dressing, thereby reducing the need for careful refrigeration, then try either of the vinaigrettes I've linked above.
Easy Red Cabbage Recipes
The great thing about this salad is that you could do most all of the salad prep a day ahead of time and just keep refrigerated. Not sure doing it more than 24 hours in advance would be good because sometimes the cabbage can get a 'browning' effect.
That's because cut cabbage will oxidize, or turn brown. Of course, it's best eaten when freshly cut or shredded.
However, if you'll be using later, you can reduce and minimize browning by storing tightly wrapped in plastic or in an airtight container. Another great way to reduce browning is to toss with lemon juice. However, you'd need to use within two to three days.
Salad Made with Cabbage
Never overlook the power of the meager head of cabbage in creating something simply fabulous for a salad. I love to add chopped red/purple and green cabbage into lots of different salads, including my ahhhhhhhmazing anti-inflammatory raw veggie salad!
Bean and Cabbage Salad
And, if you're not a chickpea lover, then my best recommendation for a bean in this salad would be cannellini beans. Chickpeas or garbanzo beans are the best because they've got a texture that doesn't 'moosh' as easily as other beans. Plus, they're just spectacular with the Harissa seasoning mixture.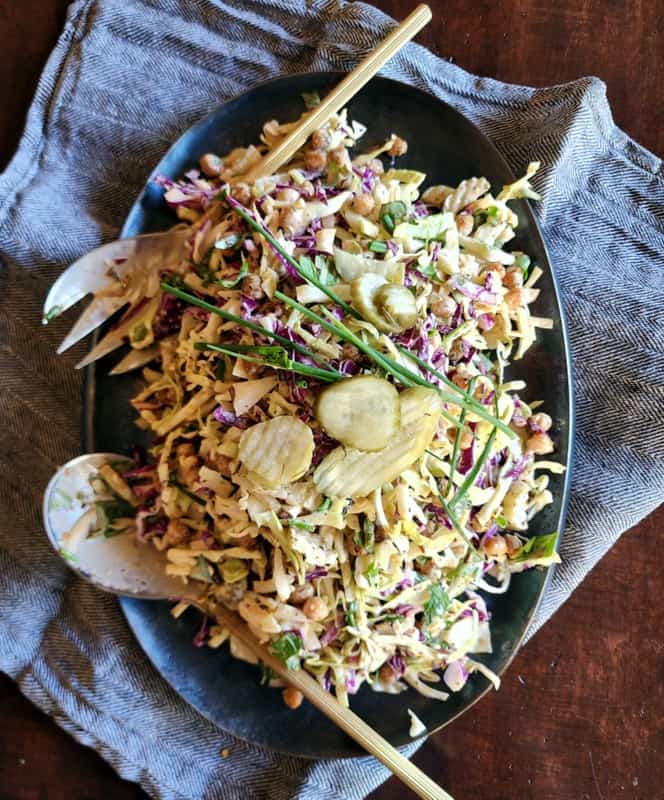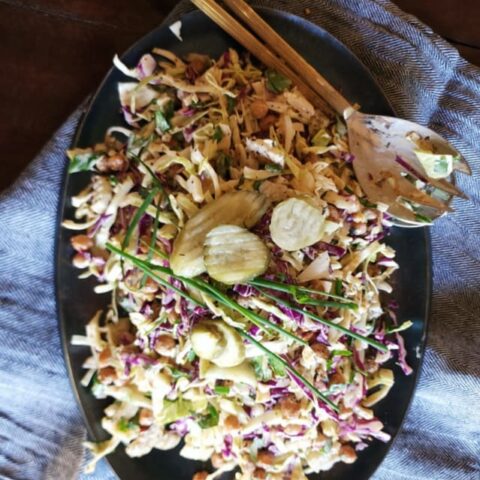 Simple Picnic Cabbage Salad
Ingredients
BEANS
4 cups garbanzo beans, mostly drained, canned or cooked from dry beans
3 Tbl. extra virgin olive oil
1 Tbl. Harissa seasoning mixture, see Notes below
DRESSING
1/3 cup avocado mayo, see Notes below for product
1/3 cup plain Greek yogurt
1/4 cup extra virgin olive oil
1/4 cup pickle juice, can substitute apple cider vinegar or juice of fresh lemon
1 tsp. Himalayan pink salt
1 tsp. coarse ground pepper
1 Tbl. Italian seasoning mixture
SALAD
1 cup refrigerated dill pickle chips, roughly chopped, see notes
4 cups red cabbage, thinly sliced
4 cups green cabbage, thinly sliced
1 1/2 cups red onions, thinly sliced, about 2" pieces
1 cup flat parsley/spinach, roughly chopped, 1/2 cup of each
Instructions
In a medium skillet over medium heat, put the olive oil. Let it get very warm. Add the beans and the harissa seasoning mixture and blend. Cover and cook the beans for about 10 to 15 minutes. Remove from heat and cool somewhat.
In a small bowl, whisk together all the ingredients for the dressing. Set aside.
Combine the salad ingredients in a large bowl and blend. Then add the beans. Drizzle on the dressing.
Toss and blend well. Refrigerate or serve immediately.
This salad will last refrigerated for several days. Use in so many different ways, including as coleslaw on top of your hot dogs!