Pea Grape Coleslaw & Bleu Cheese Crumbles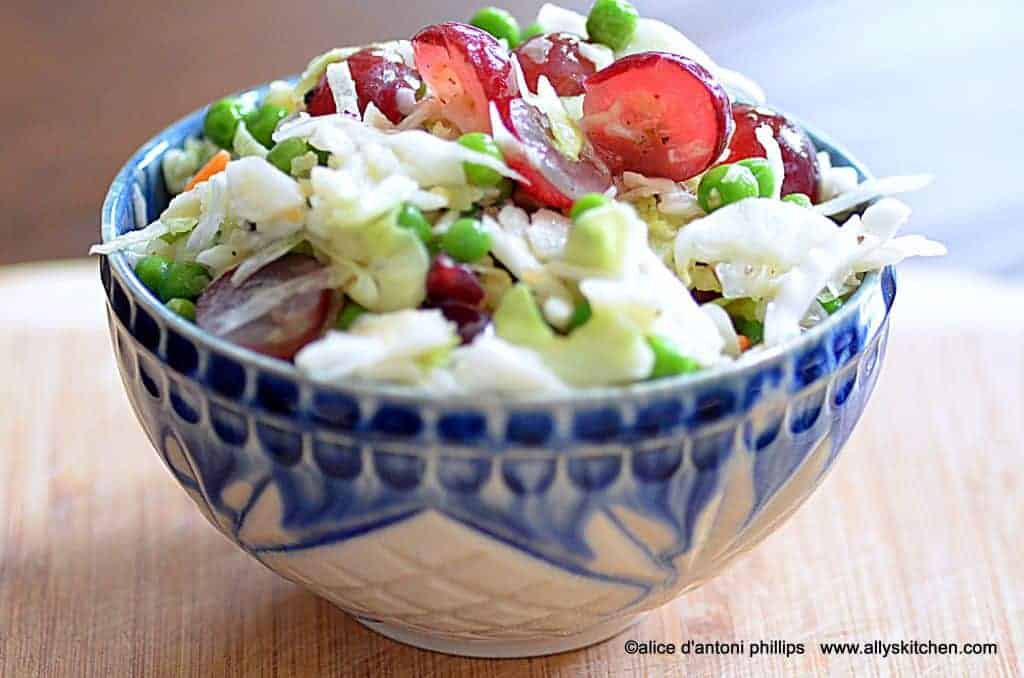 Treat yourself to a Pea Grape Coleslaw & Bleu Cheese Crumbles. So simple to make like we're talking ten minutes!
Easy Blue Cheese Coleslaw
There's nothing complicated about creating an easy blue cheese coleslaw!
All you need with this pea grape coleslaw & bleu cheese crumbles is a piece of meat, or if you don't want that then just add some nuts for more protein, crunch and flavor!
Creamy Blue Cheese Coleslaw
Keep in mind that this is not your typical expected coleslaw, but I guarantee you're gonna love it!
And, if you're looking for great packaged coleslaw, check out this brand!
However, if you're slicing your own cabbage, then it's best to serve within 24 hours of its slicing. And, you can combine regular green cabbage and red/purple cabbage.
Blue Cheese Coleslaw Vinegar
Coleslaw dressings can be creamy-based or vinegar-based. It's your choice.
This coleslaw is very unique.
Not only is this coleslaw a far cry from the traditional that you usually think of, but it's also a meal of bursting flavors with juicy grapes and sweet peas.
Refreshing Cabbage Salad
Many folks love to eat coleslaw salad with seafood. But it's also great with other sides.)
You can add or not add mayonnaise to it; it's up to you but the salad pairs brilliantly with almost every light dish, hearty meals like stews, and roasts.
You can make the salad with simple green cabbage and add colors to it. A touch of onions and a tang dressing will do wonders.
Coleslaw Recipe with Blue Cheese
The combination of blue cheese, lemons, mayonnaise, black pepper, sliced stalks celery, green onions, and shredded coleslaw in the Blue cheese coleslaw dish makes the very simple dish elegant and delicious. So, if you are having some guests arriving tonight, why don't you try pairing the blue cheese coleslaw with beef or buffalo chicken; trust me, your guests will not stop licking their fingers.
Coleslaw Recipe
To make the perfect and delicious coleslaw, all you need is to gather four ingredients which are shredded coleslaw, high-quality mayonnaise, apple cider vinegar, and honey. These ingredients are basic and you can get them from your basic pantry. It's just one of those recipes you will use over and over again. So, feeling hungry and wanting something to go with your glass of wine? Why don't you try the last-minute coleslaw recipe?
Coleslaw Dressing
For making the coleslaw dressing, you can add the Buttermilk mint blue cheese dressing. The rich, creamy, and tangy dressing is jaw-dropping and you can pair it with steak salad or chicken wings.
So, to make the dressing, all you need is mayonnaise, sour cream, buttermilk, lemon juice, vinegar, grounded pepper, salt, and some other spices. The mixture of these ingredients will make your coleslaw dressing win an award.
You've got that crunch and cream tangy balsamic and bleu cheese, oh, yeah, that's totally optional.
Easy Coleslaw
Guests are arriving and there's nothing I can make last-minute, urggh, now what? If you are also in this situation, then the easy coleslaw recipe is the one for you. The back pocket recipe is so easy to make that it won't take you more than five minutes.
It can act as your perfect side dish. The classy and creamy texture of the dish will make your guests ask about the recipe as well. So, why not?
This salad is one that will 'keep' for a couple of days. It's something that gets better on day two and will be a great 'go-to' salad on day 3, if there's any left!
Belly up to the table and see what I'm talkin' about!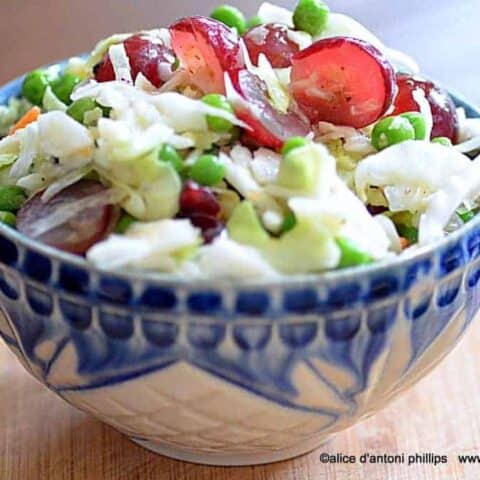 Pea Grape Coleslaw & Bleu Cheese Crumbles
Treat yourself to a Pea Grape Coleslaw & Bleu Cheese Crumbles. This recipe is so simple to make that it will take you no more than five minutes.
Ingredients
6 cups cabbage, shredded and chopped
1 cup red grapes, sliced lengthwise in halves
1 (10 oz.) package thawed petite peas
1 Tbl. butter
1 tsp. sea salt
1/2 tsp. fresh ground pepper
1/2 tsp. garlic granules
1 tsp. dried onions, minced
1/4 cup olive oil
1/4 cup Greek yogurt
3 Tbl. avocado mayonnaise
3 Tbl. balsamic vinegar
1/2 cup blue cheese crumbles (get a really good brand like Maytag), can substitute goat cheese
Instructions
Put the coleslaw in a large mixing bowl. Put the peas and butter in a microwavable dish, add 1/4 cup water, cover and microwave on high for 3 minutes.
Remove, let steam for 2 minutes, take off lid, toss and blend, drain off water, and let the peas cool about 10 minutes, then add to the coleslaw mixture.
In a small bowl, combine the salt, pepper, garlic, dried onions, olive oil, yogurt, mayonnaise and balsamic vinegar and blend together well. Drizzle on the coleslaw mixture, toss and blend really well.
Refrigerating for a while makes it better, but you can serve immediately if your food seekers are hungry and can't wait!
Notes
Can use a combination of cabbages.

To save time, you can buy the pre-chopped bags of cabbage. One 16 oz. bag should suffice.

Quickly sauté some shrimp and top on each serving. Makes a meal!

Grilled chicken also very yummy! Two thumbs up!