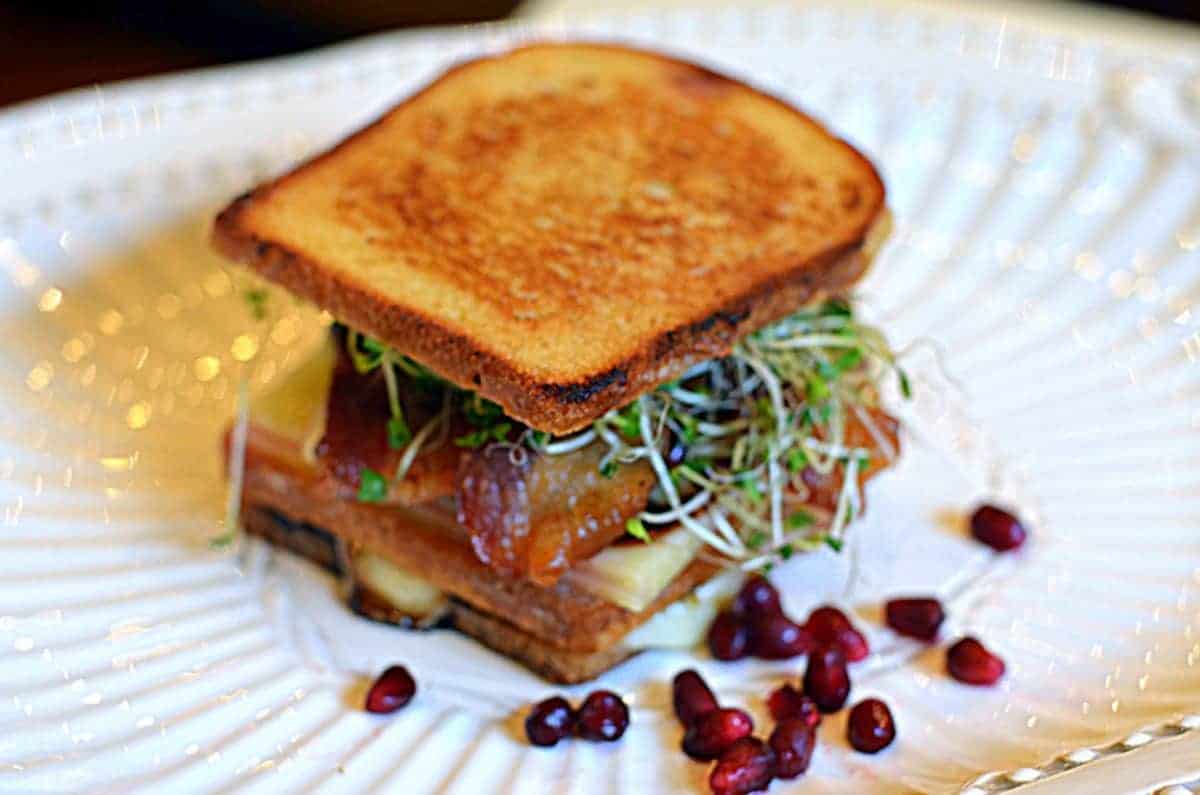 Recipe creation is a major form of creativity~~brain power~~a combination of right and left brain and then the emotions and feelings that are settled somewhere in the mind.  It's no different than song writers, artists, dancers, sculptors and other forms of beautiful creation!
When I go into my recipe artistry, my mind processes and assimilates for days and weeks, mostly at a subconscious level, thoughts, ideas, and concepts.  Then when I least expect it, a virtual light goes off in my head~~I can be doing a sun salutation, riding my bike, folding laundry, doing dishes, putting on make-up, whatever~~it's all so random, and like a thief in the night, I don't know when to expect it.
This recipe won the 'professional chef' category for the Stiebs nature Elevated Contest where you had to creatively use pomegranates.  There was no voting~~a panel of professional food critics made the selection.  This sandwich is a collage of flavors and textures~~a little heat from the horseradish, creamy cheddar cheese, salty bacon, crispy buttery bread, and then the cymbals of delight~~bursts of sweet pomegranate juice from the seeds~~like littl' pops of bubble wrap on your palate!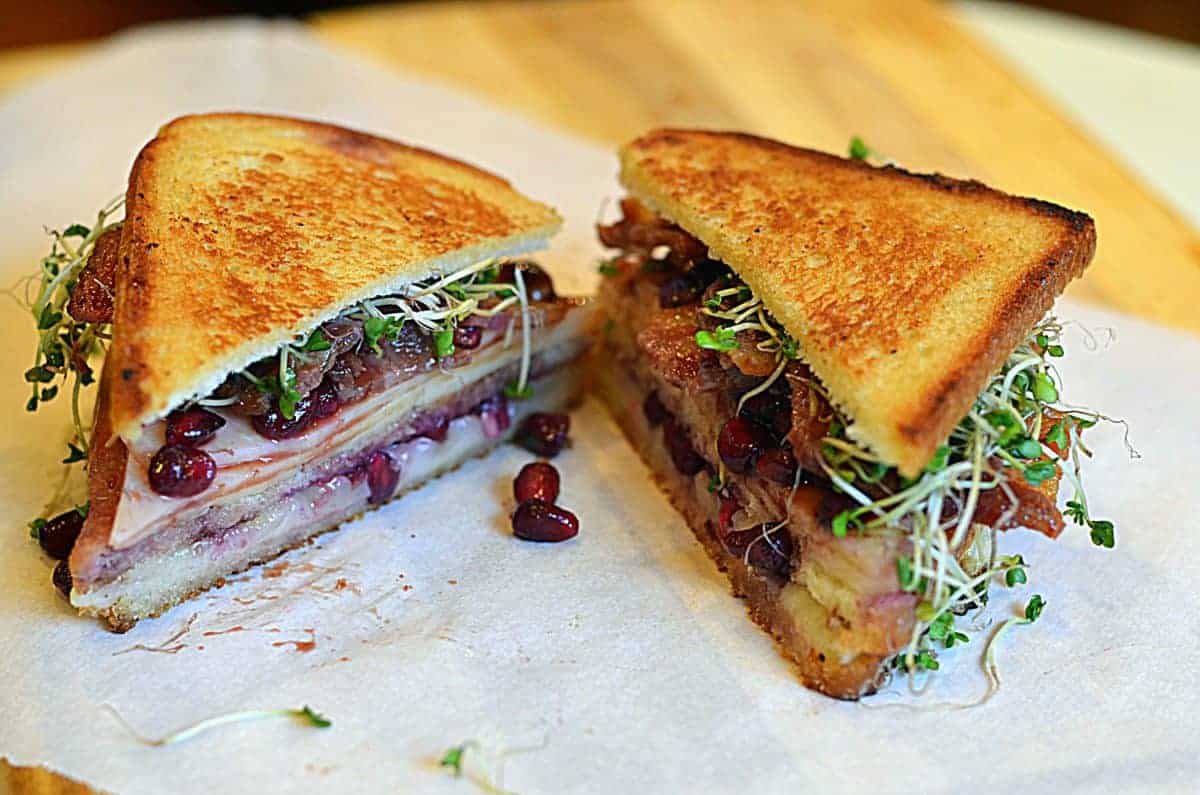 Makes: One sandwich
What you need:
3 slices of very thin sliced white bread
3 tbl salted softened butter
1 slice horseradish cheddar cheese
2 slices white cheddar cheese
3 tsp pomegranate (or fruit) balsamic glaze
1/3 cup pomegranate arils (gently pat in doubled/tripled paper towels some of the excess moisture from the pomegranate arils~if you don't have pomegranate, you could substitute dried cranberries chopped into smaller pieces)
3 slices thin fried bacon (cut in halves)
1/3 cup broccoli spouts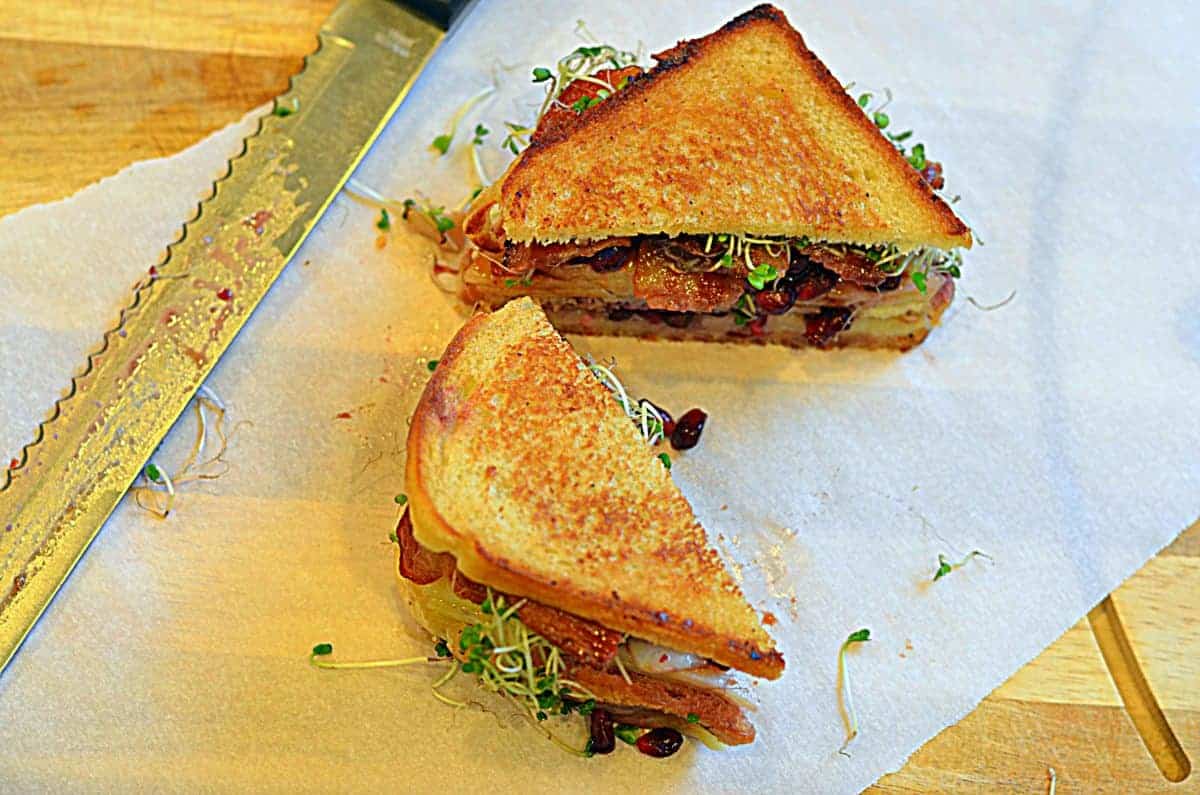 What you do:
Butter one side of each slice of bread.
Heat a large non-stick skillet on medium heat.  Add two slices of bread buttered side down.  On one slice add the slice of horseradish cheese.  Drizzle on 1 ½ teaspoon of the balsamic glaze.  Sprinkle half of the pomegranate seeds on the glaze.  Put the other slice of bread in the skillet, grilled side up, on top. Reduce heat to low.
Add the two slices of white cheddar cheese.  Cover with a lid for about 60 seconds letting the cheese melt somewhat.  Add the remaining balsamic glaze.  Sprinkle on the rest of the pomegranate seeds.  Add the bacon and top with the broccoli sprouts.  Use a thin metal spatula to remove the entire sandwich from the skillet.  Put on a plate.
Increase heat to medium high.  Add the last sliced of buttered bread (buttered side down) and grill to a golden brown.  Remove and place on top of the sandwich.  Slice, eat, dance and sing!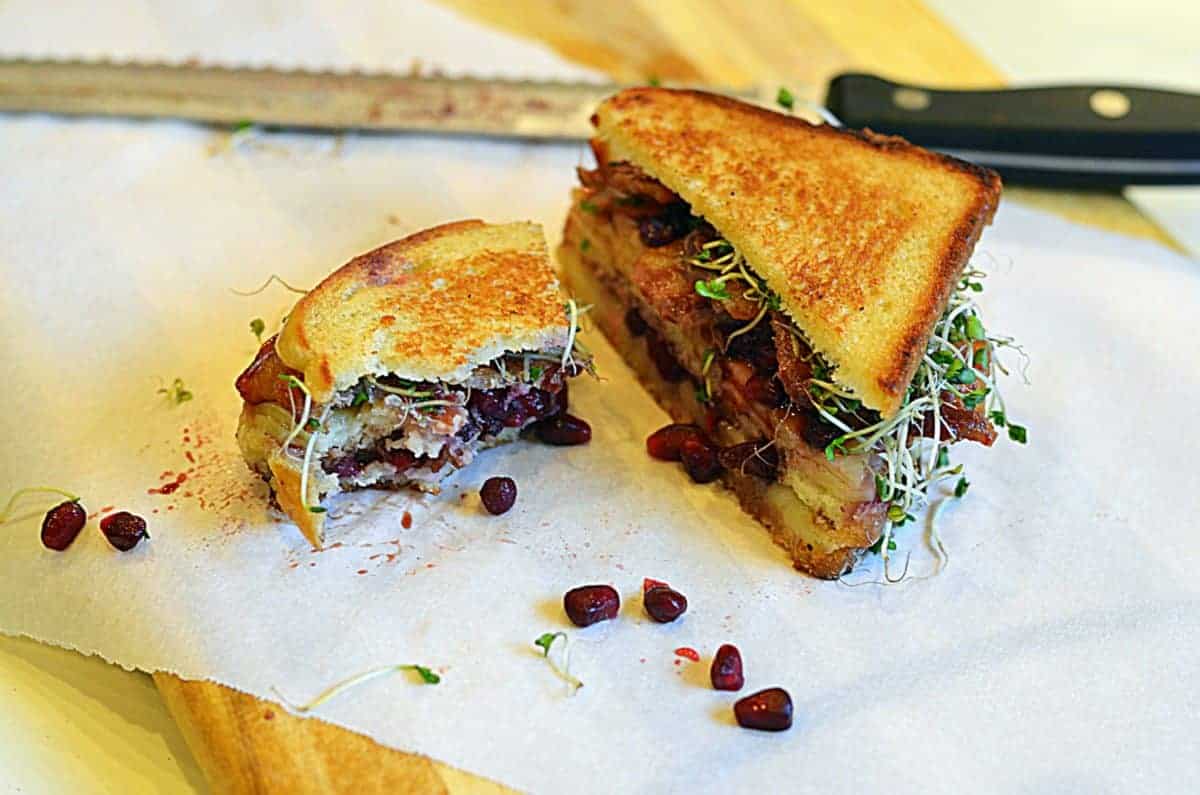 ©alice d'antoni phillips  www.allyskitchen.com