The Best Toddler Cooking Tools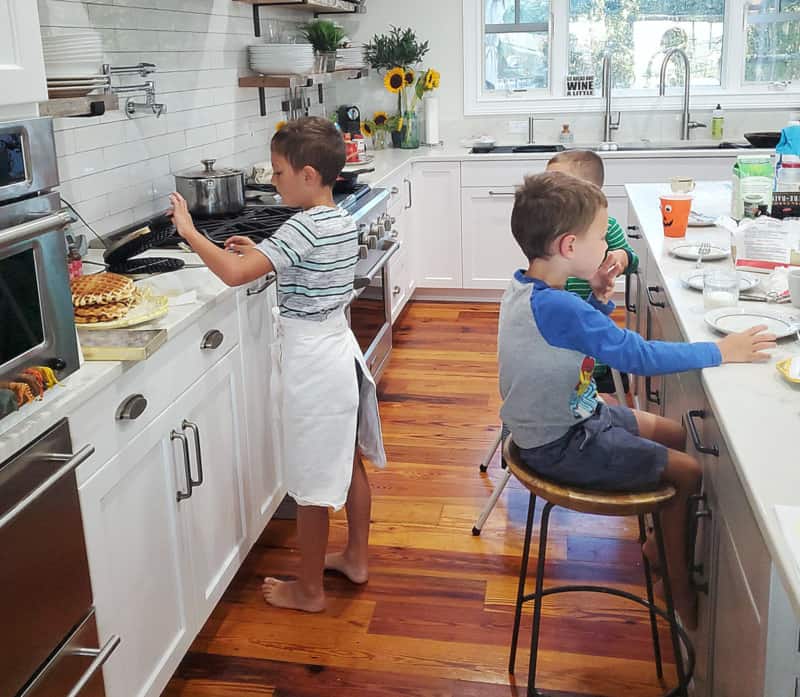 The Best Toddler Cooking Tools are those that are as close to the real thing as possible. And, these are tools that I use with my grandkids!
Best Toddler Cooking Tools
Children's cooking tools, especially for the smaller toddlers, should be carefully selected. And, with twelve grandchildren, eight of whom are under the age of ten, I've had many crawling, standing, sitting, jumping and playing in the kitchen.
When children participate in cooking, they're more likely to eat what they're prepared. That's a huge bonus.
Cooking Utensils for Small Hands
It takes a lot of patience for little small hands to learn to handle their own specially designed cooking utensils. So don't expect miracles. Expect messes and lots of flub ups.
The big thing is that they get your constant positive reinforcement and guidance. And, these best toddler cooking tools will make the learning curve more enjoyable.
Child Size Real Cooking Utensils
My thoughts are that these cooking utensils should be as close to 'real' as possible.
Of course, the knives can't be sharp. That's a given. But, the handles, the ability to chop or cut, the feel and look of the utensil should be 'real' to them.
And, it goes without saying that you incorporate in your teaching and instructions 'rules' when handling certainly utensils and equipment.
Kids Real Cooking Sets
Some of the tools and utensils that I have my toddler grands use in the kitchen are actually the real things that I use. These are mainly items that are safe and secure, for instance, wooden spoons with shorter handles, rubber spatulas with short handles, small metal egg turners, the rolling pin, plastic bowls, smaller cutting boards.
However, giving you child a sense of ownership with his/her tools is important. So, towards that end, I have a special place in my kitchen where the kids know they'll find their tools.
Real Cooking Tools for Toddlers
The tools that my toddlers use are absolutely real looking. The stir and serve set from Melissa & Doug is perfect. It's compact not taking up much space and it has the essential tools. Learning the names and purposes of each tool is an important part of their progress. So, in no time at all you can say, 'Grab your whisk and whisk the eggs!'
And, your child will know what to use. Sometimes 'how' to use it is not completely mastered. So, to make it easier say to whisk eggs for a recipe, I'll put the eggs in a large glass measuring cup. I'll place it on a folded dish towel to help with slipping and sliding. The cup is larger (4-cup) and deep enough making it easier to flop the whisk around and still keep most of the egg in the cup!
Take a look at some of my cooking videos with my grands. Maybe you'll pick up some ideas!
Kids Knife Set
If your children or grandchildren are like mine, after a few tries or experiences with something they want to do it themselves. In fact, sometimes Emeline will push me away, and say, 'No, Avee, no help'. Well, this means you have to give them some space.
With the kids knife set and even the peeler, you can pretty much be assured they can continue to work at their pace and skill level without getting hurt.
Remember to start teaching them the correct way to do things from the get go. For instances, how to hold the knife. How to curl their fingers when say cutting a cucumber into slices. Washing their hands before they start to cook. Washing hands after handling certain foods, like raw chicken. All of these guidelines start early. You explain it to the child, and then they know.
If you have doubts about our child using the kids knives, then add another layer of 'protection'. Use the No Cry Cut Resistant gloves that will protect them.
Kids Cooking
There are lots of things out there on the market for children's cooking. These are just a few of the items that I've found very useful.
Try not to overwhelm your child. And, there's many things that you can make do with that you have in your kitchen now. For instance:
I use my regular measuring cups and spoons with my grands.
I also have a nesting set of plastic bowls that they can easily pull from the shelf themselves.
They know where the pot holders are. I've taught them rules about the range, oven, stove, and more.
I'm teaching each one, according to age and safety, how to turn on/off a blaze and the oven.
Round veggies and fruits are sliced in halves by me, so there's a flat surface for the kids to cut.
To help them reach the cabinet surfaces, you can use a toddler tower or step stool for older children. If I have a younger child on a step stool, I'm right beside or behind them or I have another adult with me in the kitchen.
My older 6+ grandchildren are learning to carefully use small appliances like a waffle iron.
Use easy kid recipes as much as possible
Don't forget to start taking your kids to the grocery store with you. Teach them how to find the best healthy fresh foods, avoid processed foods and make wise nutritious choices.
I'll be adding items to this list below occasionally as I find and test items that you might like for our children and/or grandchildre.