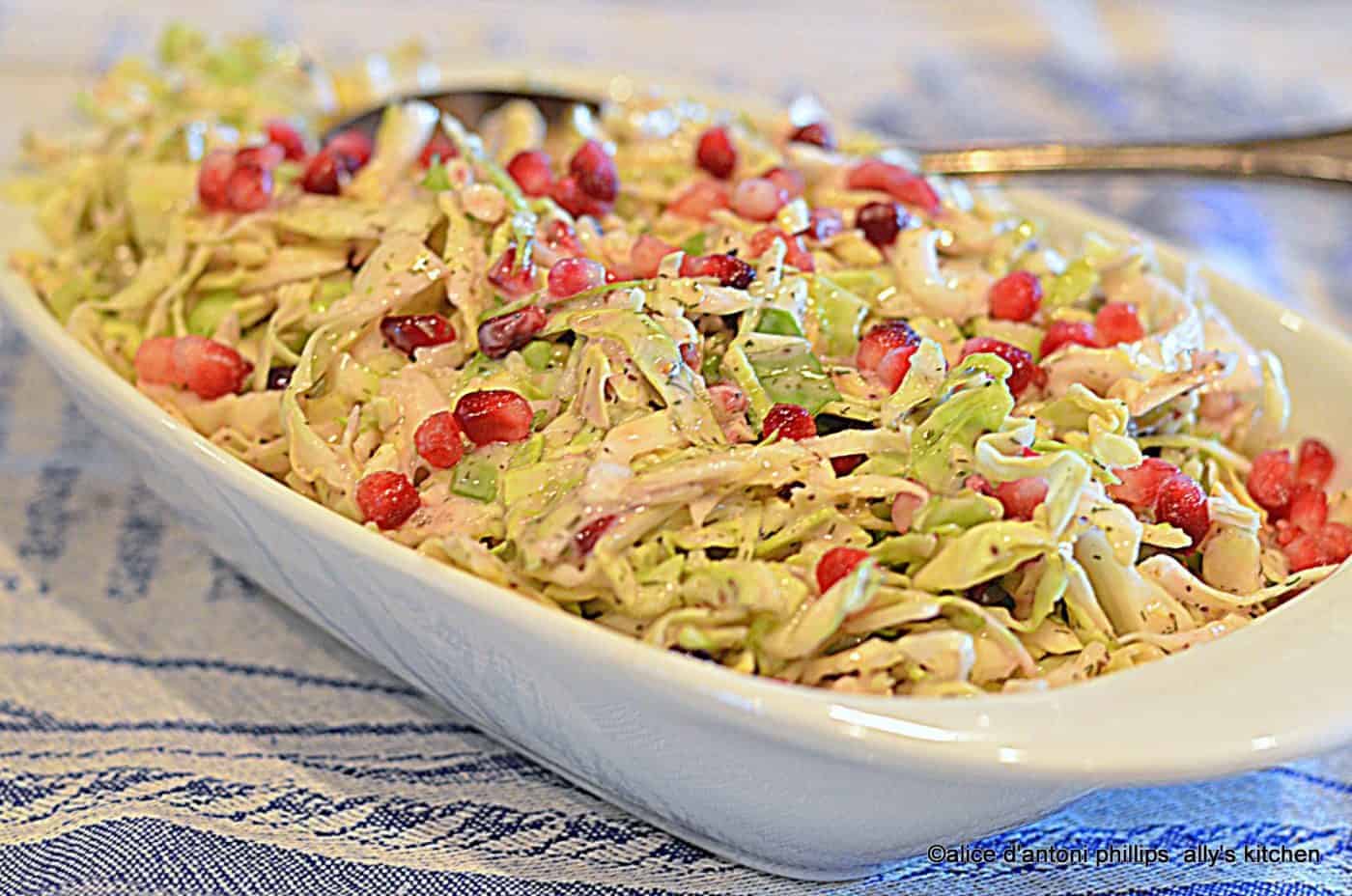 Pomegranate Coleslaw is a super simple, colorful, and delicious salad that would be a great addition to any holiday table and an easy one to make last-minute too!
Pomegranate Coleslaw
When I was a guest of Taste of Israel to the Holy Land for a culinary and cultural adventure, I was intrigued and fascinated by the Jerusalem Market~~the fresh fruits, vegetables, spices, herbs, flowers, meats, pastries, breads, cheeses, wines and more were abundant! One thing that I realized was that pomegranates are almost a staple there~~I saw pomegranate seeds, juices, and the whole fruits everywhere!
Pomegranate Salad
This pomegranate salad was created on the fly. Yes, we eat a lot of pomegranates, and I wanted to make something quick and easy for dinner.
As a child, pomegranates were a specialty, something that only came when in season, usually around the holidays~~so Mom would splurge and buy these spectacular fruits! I remember the tiny bursts of sweetness, like popping bubblewrap in your mouth, every time I bit into one! That sensation of excitement still is there for pomegranates, and since visiting Israel, I now have even more of a love for this special fruit.
Pomegranate Honey-Lime Coleslaw
This Pomegranate honey-lime coleslaw is an amazing addition to any Holiday meal. This recipe has a kid-friendly sweet/tangy flavoured dressing and nothing too outlandish as far as veggies go. Garnish it with beautiful jewel red pomegranates. Give it a try!
Coleslaw Recipe
Sooooo creamy and refreshing! I used to think coleslaw would require a lot of ingredients and insisted on freshly shredded cabbage but believe me guys coleslaw recipe only requires FOUR ingredients and includes a pre-shredded cabbage blend and it tastes perfect! It's just one of those recipes you'll use over and over, plus it's super versatile and you can customize it how you like.
Pomegranate Cabbage Salad
The salad with cabbage and pomegranate turns out to be juicy, tasty and healthy. Both fresh white cabbage and Chinese cabbage are perfect for this dish. This unusual salad can be quickly prepared for lunch or dinner, and it will look dignified on the festive table. This salad is lean and is great for weight-conscious people who are counting calories.
But, if you still want something more delicious with pomegranate, then try these recipes!
New York Strip Pomegranate Beef Stew
Bourbon pomegranate chocolate cake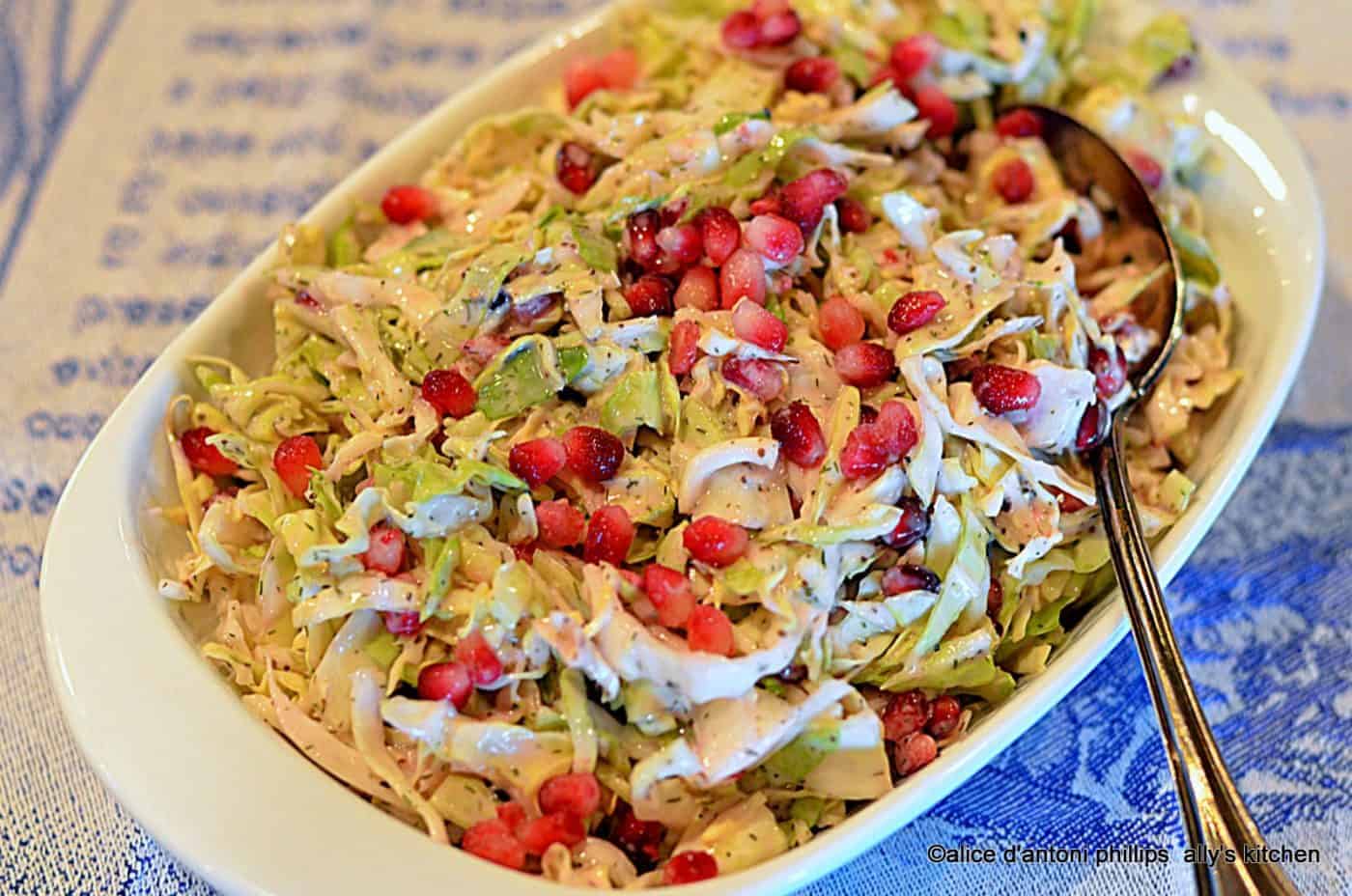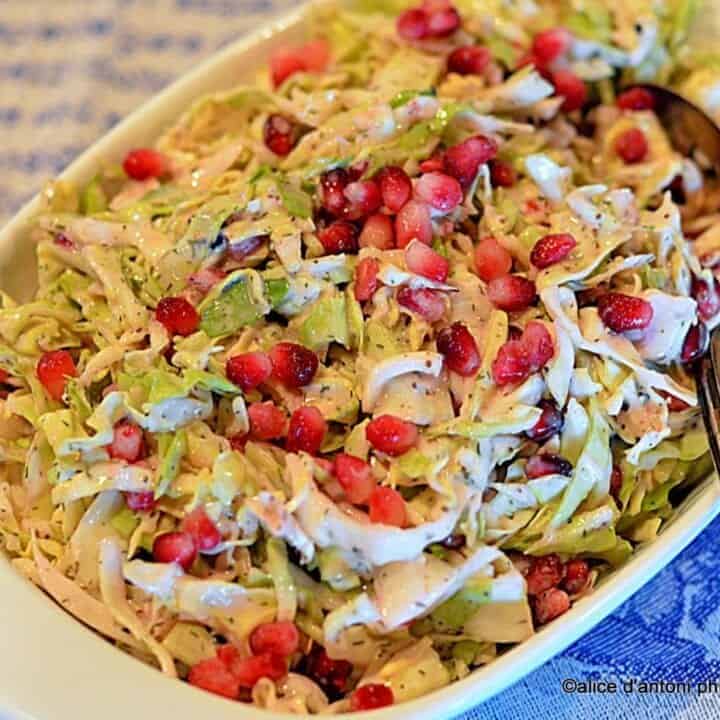 Pomegranate Coleslaw
Pomegranate Coleslaw is a super simple, colorful, and delicious salad that would be a great addition to any holiday table and an easy one to make last-minute too!
Ingredients
6-8 cups shredded cabbage
1 cup thinly sliced celery
1/4 cup mayo
3/4 tsp sea salt
1 tsp celery seeds
1 tsp lemon pepper
1 tbl sugar
1/2 tsp dill (dry)~~if fresh use 1 tbl finely chopped
5 tsp rice vinegar
1 tbl grated fresh ginger
1/3 cup crushed and smashed fresh (or frozen) mango chunks
1 cup pomegranate seeds
Coarse ground pepper (optional)
Instructions
In a large mixing bowl, combine put the cabbage and celery. Put the mayo, salt, celery seeds, lemon pepper, sugar, dill, vinegar, ginger and mango in a food processor and pulse into a thick liquid. Drizzle on the cabbage/celery, toss and blend well.

Gently toss in the pomegranate seeds last. Refrigerate about 30+ minutes before serving. Note: You can substitute Napa cabbage with some Bokchoy thinly sliced and give it more of an Asian flair.