bourbon pomegranate chocolate cake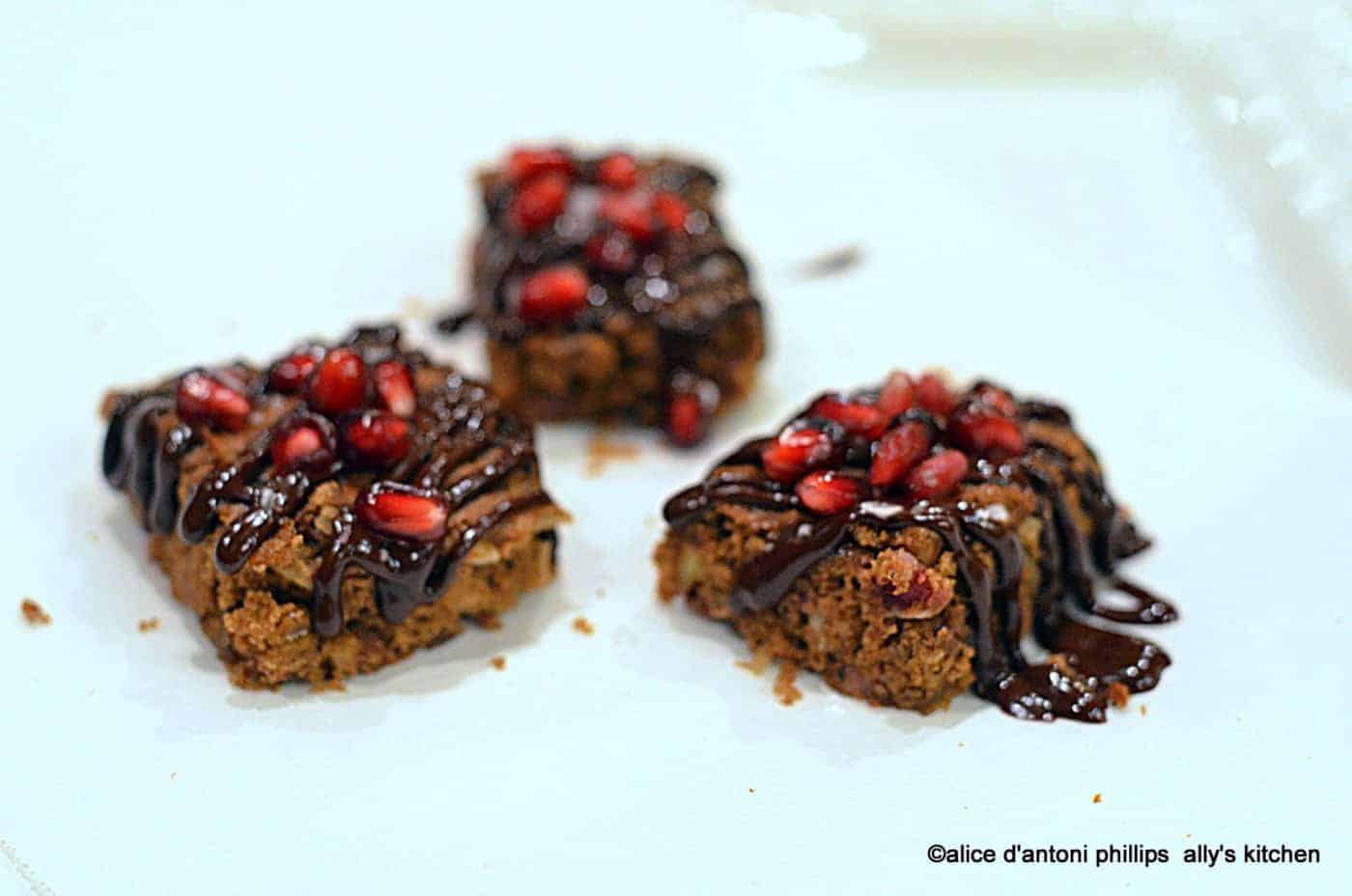 Just saying bourbon pomegranate chocolate cake makes me *swoon*! Once you taste this chocolate cake, well, get ready to seriously SWOON!
Whiskey Cake Recipe
Everyone's going to love this whiskey cake recipe! I mean what's not to love about bourbon and chocolate! This recipe and the final result is so worth the time you've going to put into it.
Bourbon Cake
A great bourbon cake starts with a great bourbon. Or whiskey! Well, according to World Whiskey Day: "For a whiskey to call itself bourbon, its mash (the mixture of grains from which the product is distilled) must contain at least 51 per cent corn. The mash must be distilled at 160 proof or less, the distillate must be stored in charred new oak barrels at 125 proof or less, and it must not contain any additives."
Tipsy Cake
In essence, this is going to be nicknamed your 'tipsy cake'! Now if you're an adult, really don't go thinking you're gonna be inebriated by eating a slice of this cake. But, you might just want to keep it off limits to those under age!
Chocolate Bourbon Cake
This chocolate bourbon cake has some serious chocolate in it. That' what makes it so rich and decadent. Then you're going to ramp up the chocolate flavors by adding some dried instant espresso coffee. Imagine, that! You're getting more chocolate flavor with this simple additon.
Whiskey Cake Recipe from Scratch
Of course you could use a chocolate cake mix for this recipe, but sometimes special cakes like this one have to be done from scratch. And, while this whiskey cake recipe from scratch might look daunting with the cake and drizzle, it's really not. I promise!
Whiskey Chocolate Cake
If you don't want to make this a whiskey chocolate cake, then you can substitute apple juice for the liquid. But, just know that the cooking process really does temper the alcohol in the whiskey. But, certainly, follow your own heart and head if you're making this recipe and whether you want to use the alcohol.
Pomegranate Recipes Baking
Seasonal fruits and vegetables are always the best when cooking and when creating new recipes. During pomegranate season, I'm creating a windstorm of recipes that use this delectable fruit. A lot of the time pomegranate seeds are used in salads and not so often in baking, but don't think they can't be fabulous making a kind of pomegranate dessert.
Pomegranate Desserts
Pomegranate desserts can be as simple as sprinkling pomegranate seeds on ice cream or more complicated like cakes, pies, donuts, cookies and more. I'm loving these pomegranate dessert ideas from Buzz Feed!
Dessert with Pomegranate
Dessert with pomegranate doesn't have to be complicated. And, don't forget pomegranate, bourbon and whiskey are fabulous with other savory dishes like these I've created.
Bourbon Brown Sugar Chuck Roast
Peach Bourbon Turkey Tenderloin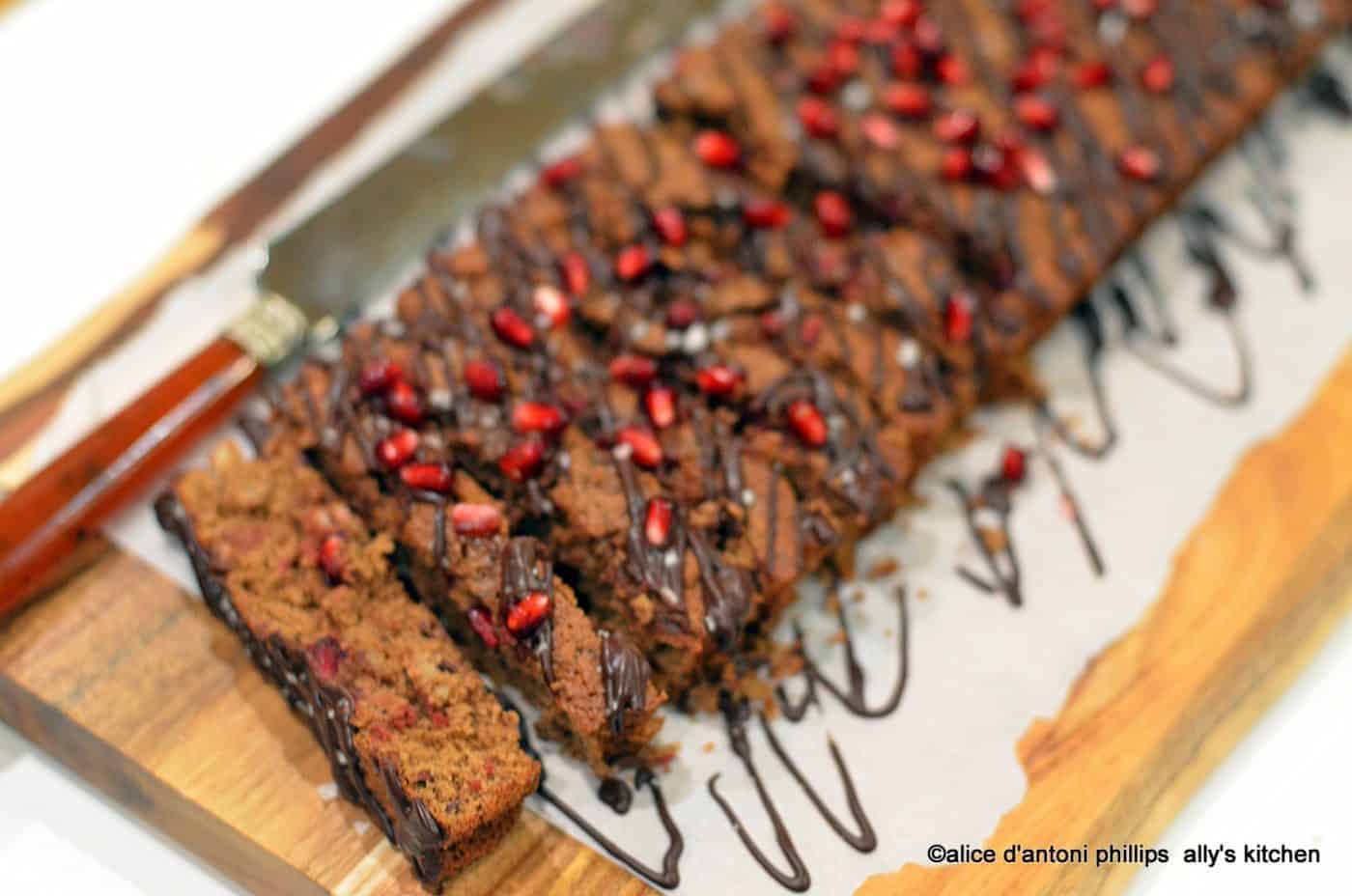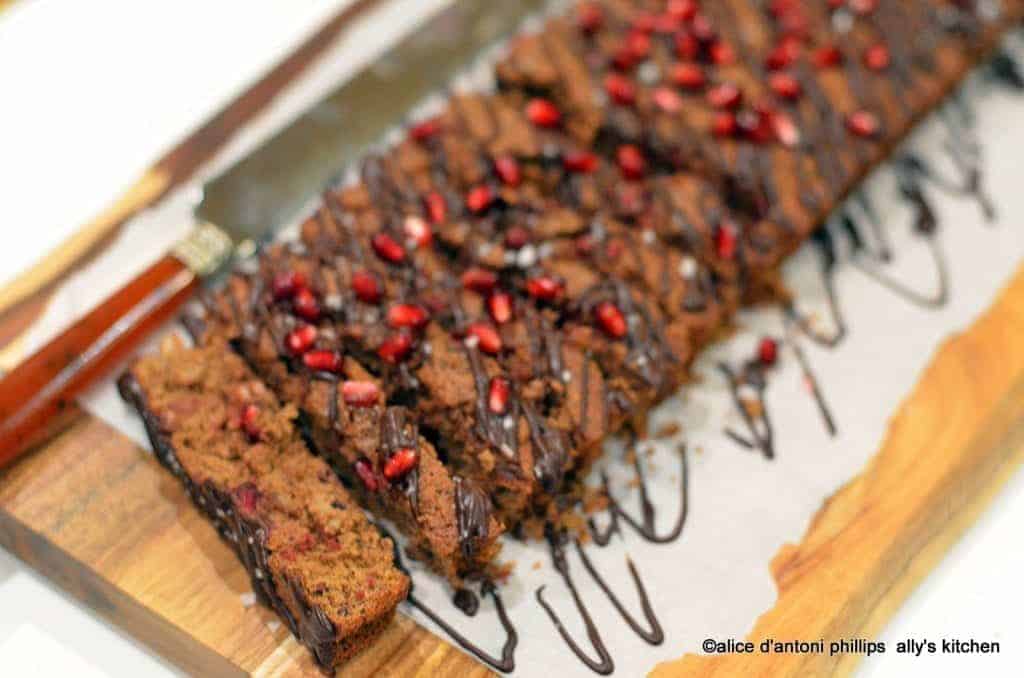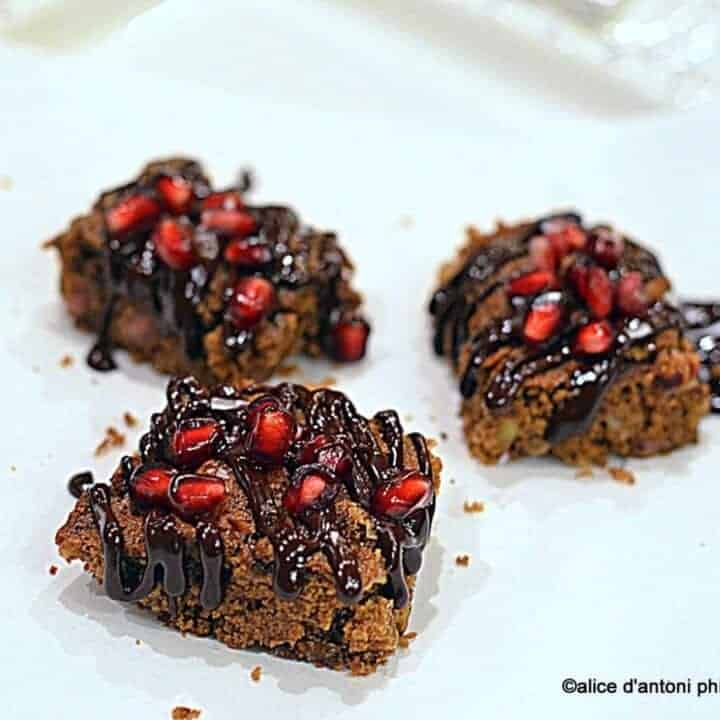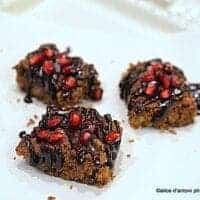 bourbon pomegranate chocolate cake
Yield: ONE 8 x 14 cake pan

Just saying bourbon pomegranate chocolate cake makes me *swoon*! Once you taste this chocolate cake, well, get ready to seriously SWOON!
Ingredients
Preheat oven to 350
CAKE
8 Tbl. butter, salted, room temperature
1 cup dark brown sugar
1/4 cup bourbon
1 Tbl. vanilla
3 beaten eggs
1 Tbl. instant espresso coffee
2 Tbl. 100%  natural cacao powder
1 3/4  cups oat flour
2 tsp. baking powder
1/2 tsp sea salt
1/2 cup shredded sweetened coconut, optional
1/4 cup cacao nibs
1 cup chopped almonds, pulse in food processor to make into pebbly mixture
1  cup pomegranate seeds, divided
DRIZZLE
6 oz.  bittersweet chocolate, 70% cacao
8 oz 62% semi-sweet chunks, divided
3/4 cup heavy cream
1/4 tsp. sea salt
1 tsp. oil
Finishing Sea Salt
Instructions
In a large mixing bowl with a mixer, combine the butter and sugar beating for about 3 minutes. Add the bourbon, vanilla, eggs and blend well.

In another medium sized bowl combine and blend the espresso, cacao powder, oat flour, baking powder, salt and blend. Combine half into wet mixture, mix, and combine the remainder.

Fold the almonds, coconut (optional) and about half of the pomegranate seeds. Pour into a greased baking dish.

Bake in a preheated 350 oven about 20-22 minutes or until a toothpick comes out basically clean from the center.

Put the chocolates in a glass bowl. Microwave the chocolate about 30 seconds on high.

Place bowl on a pot of simmering hot water (creating a double boiler) & whisk in the cream until smooth.

Add the salt and oil and blend. Cool somewhat then put in a squeeze drizzle bottle.

When the cake is cool, drizzle with the chocolate. Sprinkle on the remaining pomegranate seeds and sprinkle with finishing salt.

Caution: Addictively boholicious!