chunky red potato, green chile and white cheddar soup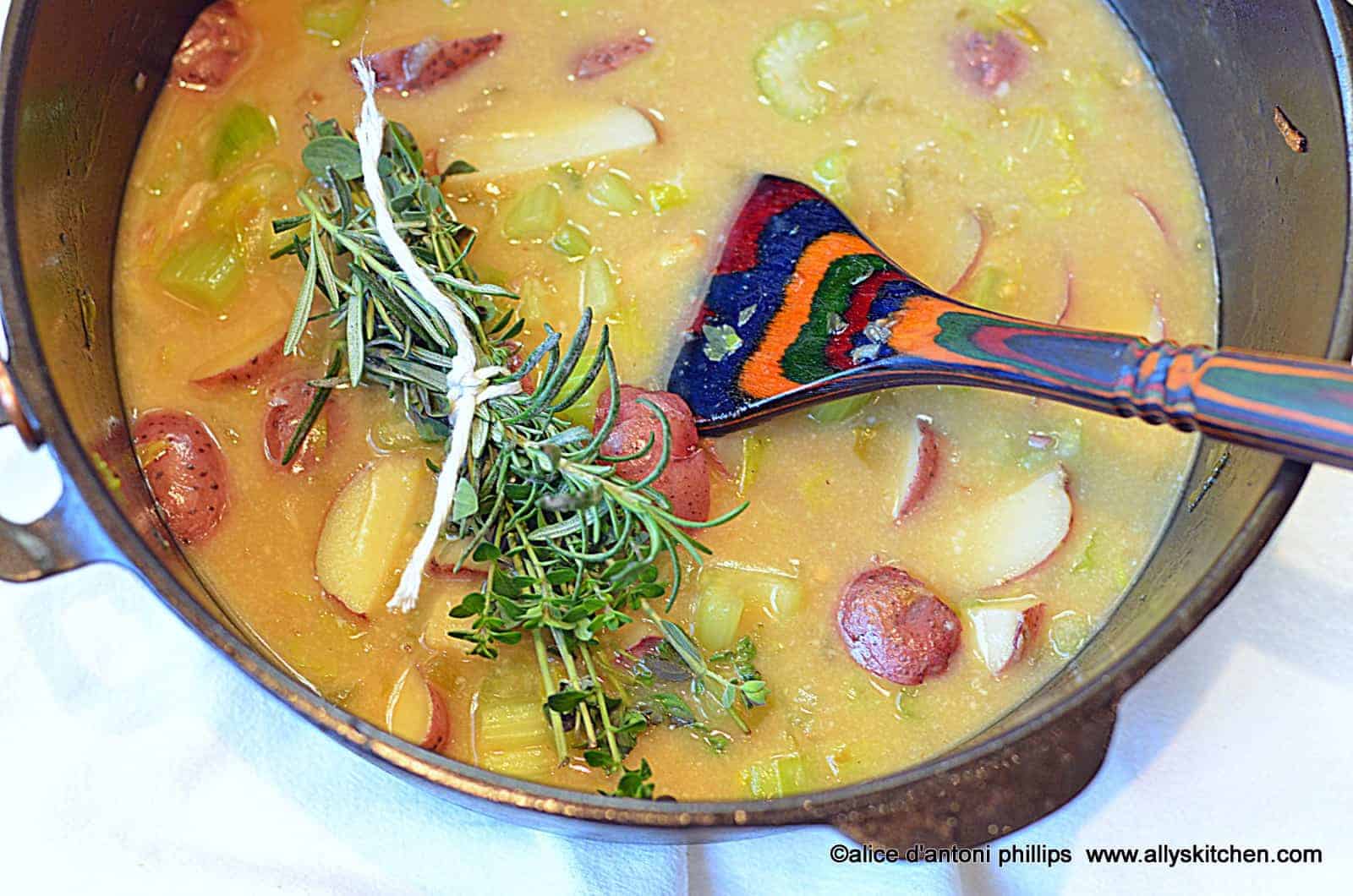 Soups~~the quintessential comfort food~~what you kind of gravitate to when you're in the mood to warm your tummy with not only good eats but memories.  Soups in my world are complete meals~~all I need to do is add a salad, and that salad can be anything from chopped tomatoes with some sea salt, olive oil, lemon juice and fresh basil to a full blown salad with dressing, croutons and more, and some good bread~~yeah, the kind that is good for dipping and scooping~~yes, that's the meal!
This soup has substance~~it's chunky and you could eat it double-fisted with a fork in one hand and a spoon in the other. Now the only thing missing from this soup is some crumbled fried bacon for the topping and green onions~~hey, go ahead and put a dollop of sour cream on top…here's to… ~peace & having soup your way~ xo ally!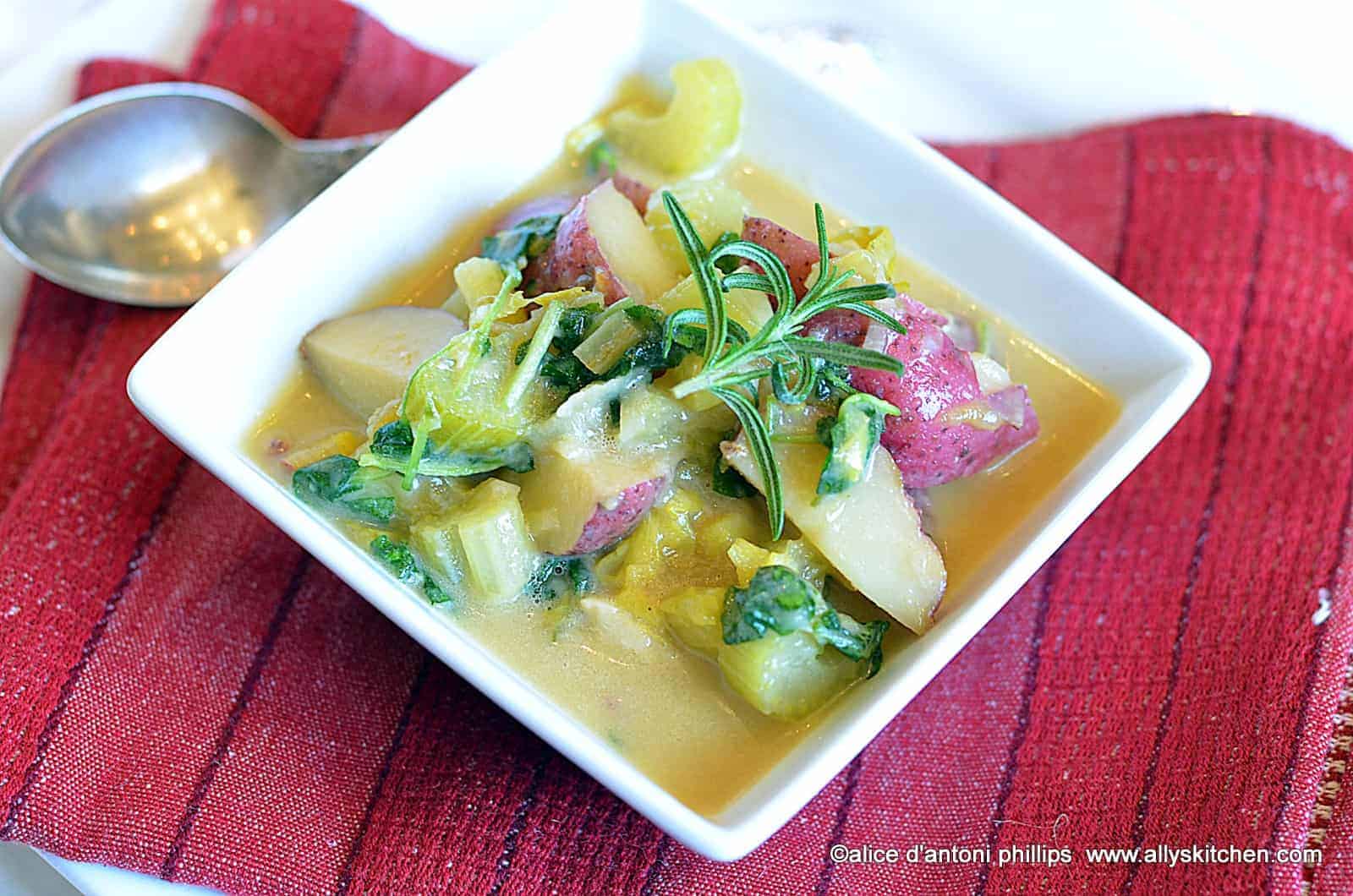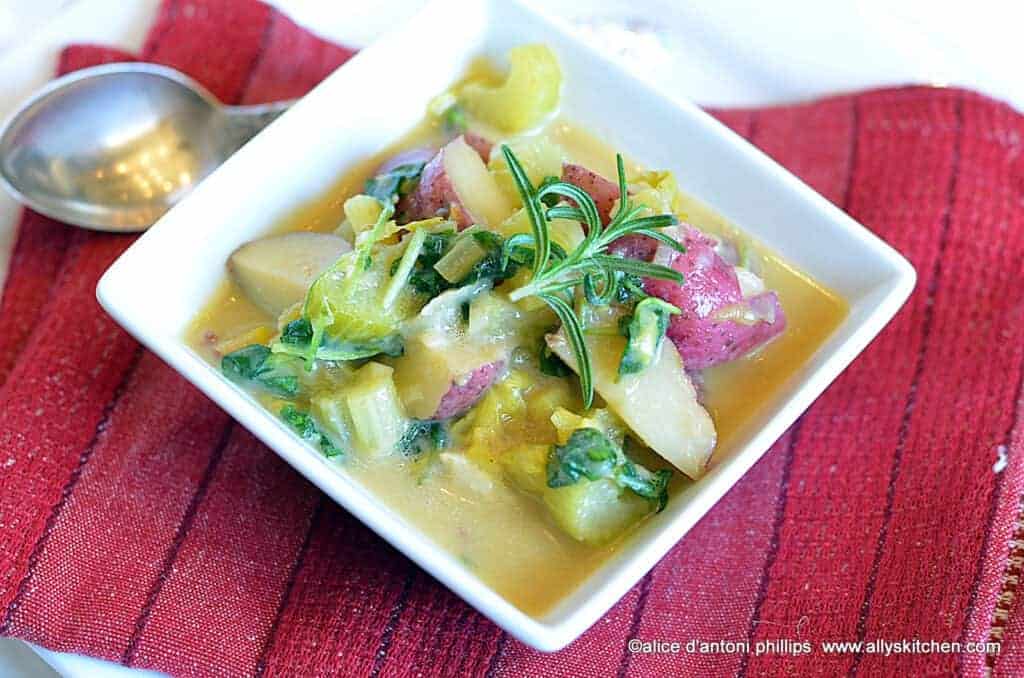 Serves: 4
What you need:
4 Tbl. Butter
4 cups sliced (quarters) small red potatoes
½ cup shallots, chopped
3 Tbl. Garlic, chopped
1 ½ tsp. sea salt
3 cups chicken broth
Herb Bouquet—2 pieces of rosemary, 4 sprigs of thyme, 4 sprigs of marjoram—tied together with cooking twine
2 Tbl corn starch + 2 Tbl. Water—blended together into a 'slurry'
1 ½ cups celery, sliced with green leaves (if available)
1/3 cup green chili peppers (chopped/from can)
4 oz. white cheddar, shredded or cut into small cubes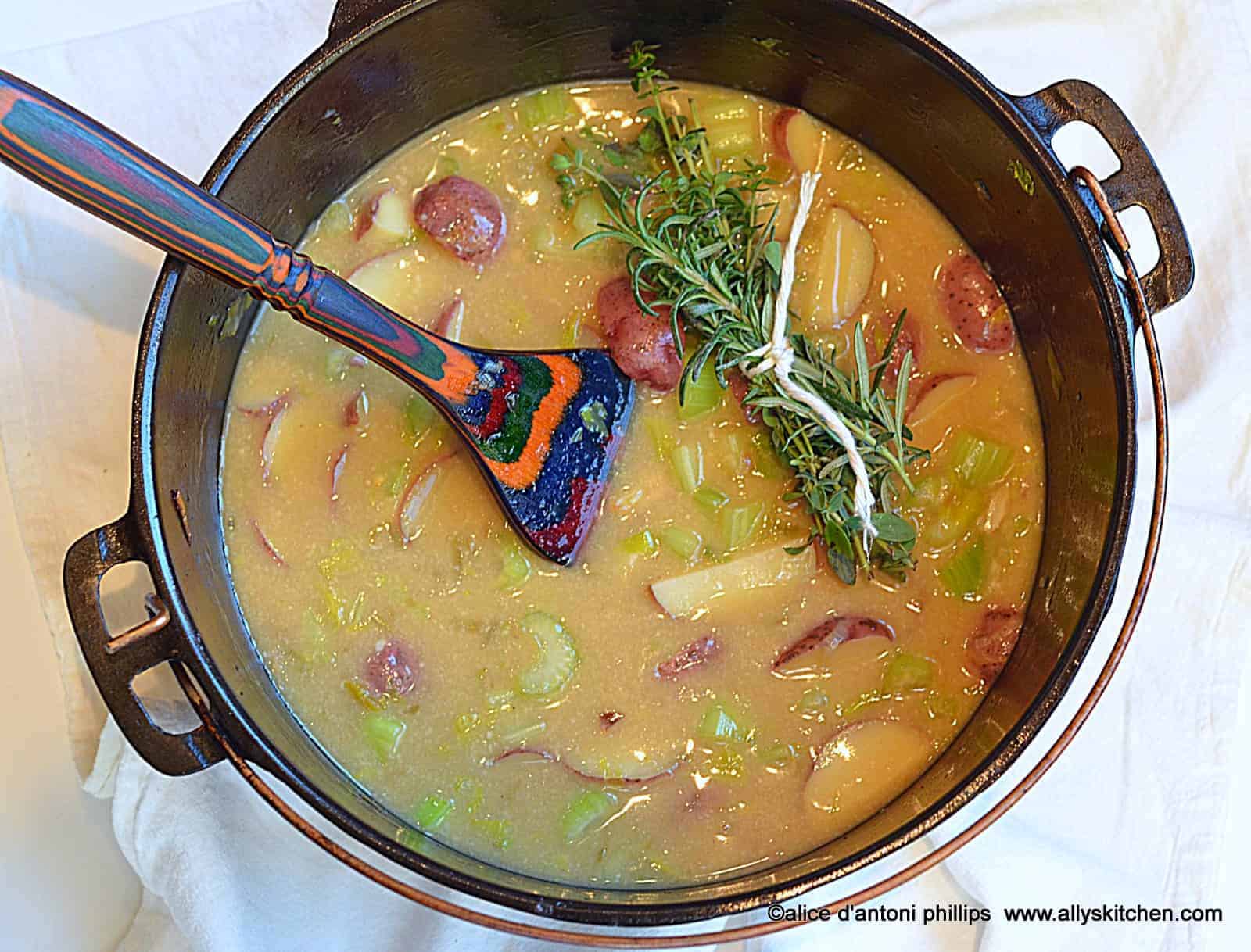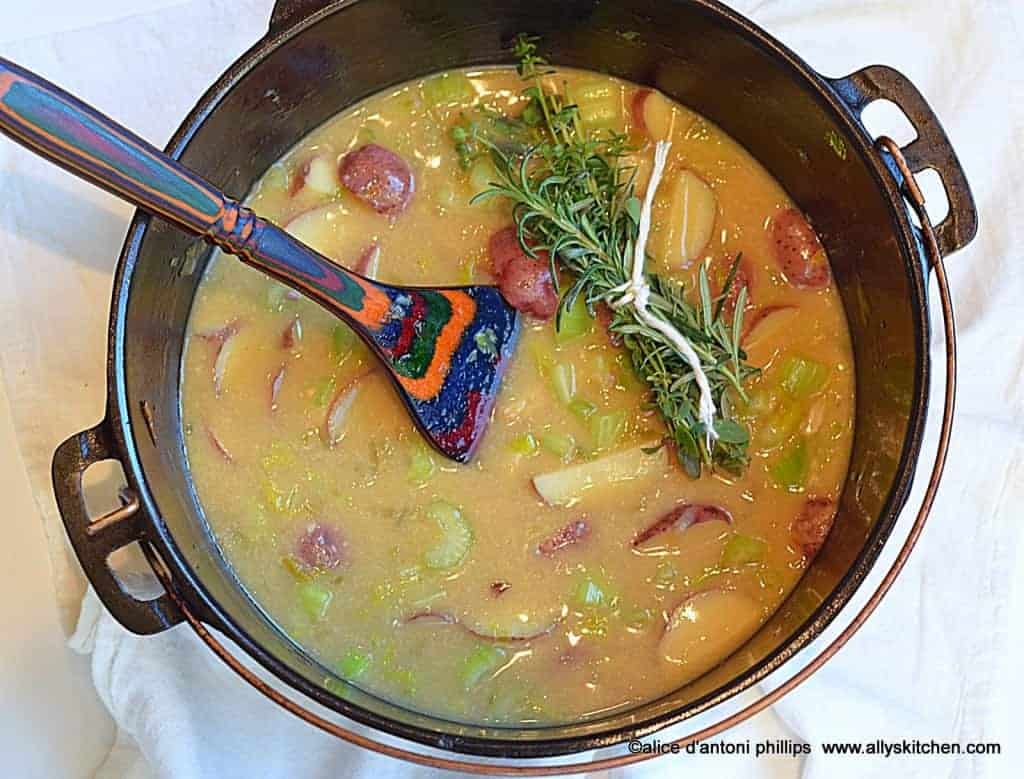 What you do:
Boho Tip~~If your soup is too thick, simply add a little more chicken broth; thin to your desired consistency.
In a heavy pot (with a lid), melt the butter on medium heat. Add the potatoes, shallots, garlic, salt and sauté about 10 minutes; reduce heat to medium low and continue cooking another 15 minutes; toss and blend so nothing 'burns'.
Add the chicken broth, herb bouquet, blend, cover, and cook (on medium) about 1.5 hours; stir a few times. Take tongs and remove the herb bouquet, shaking off excess broth; discard bouquet.
Drizzle in the corn starch/water slurry to soup, blend and thicken the broth somewhat. Add the celery and chili peppers and blend. Cook covered another about 15 minutes; reduce the heat to medium low and add the cheese. Blend and let the soup mixture simmer about 30 minutes; yes, stir a few times. Ready to serve.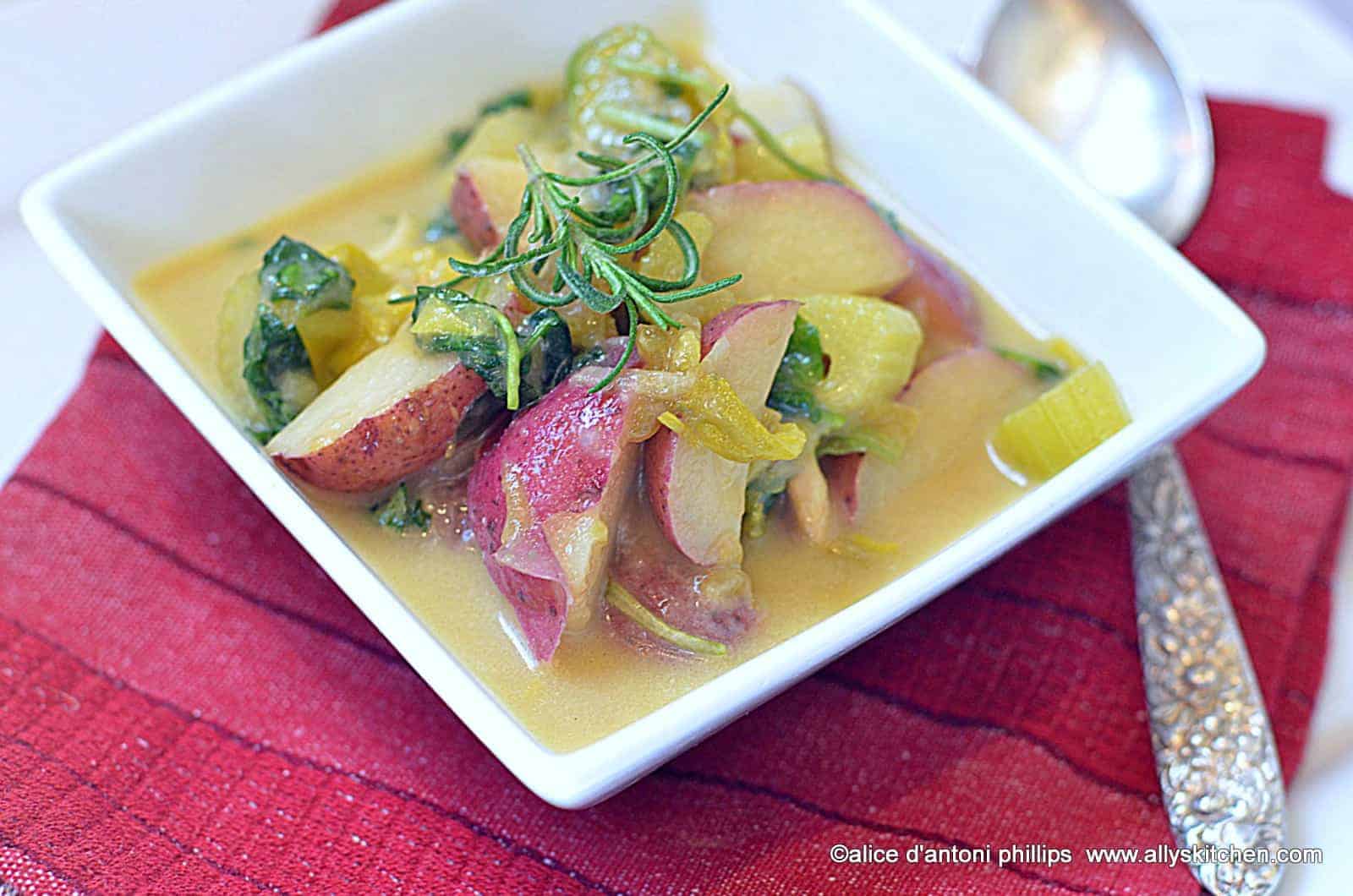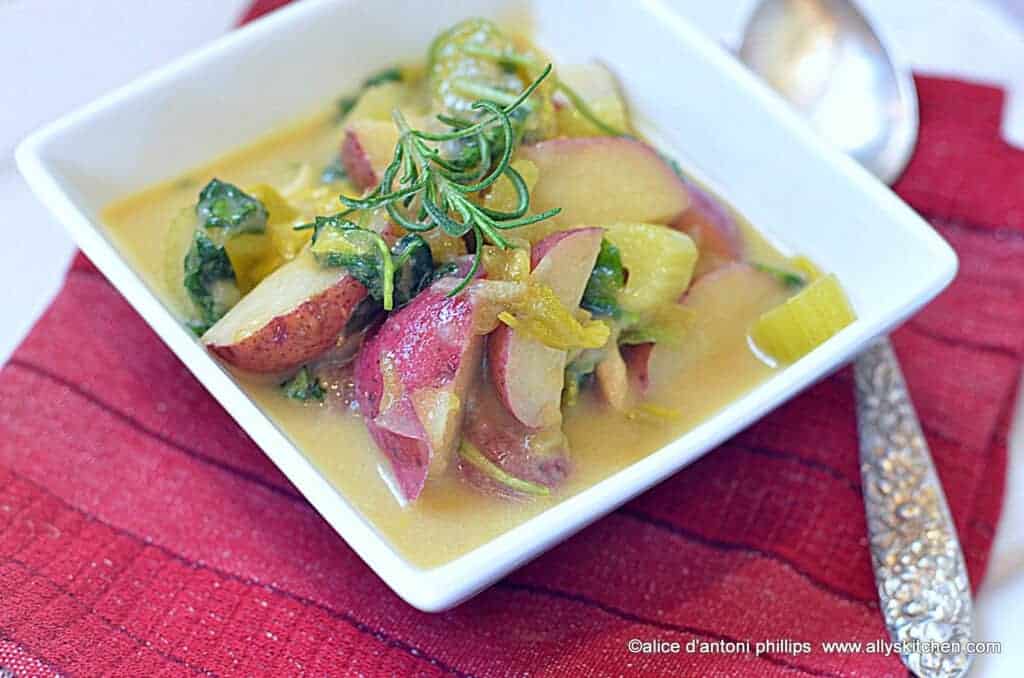 ©alice d'antoni phillips www.allyskitchen.com