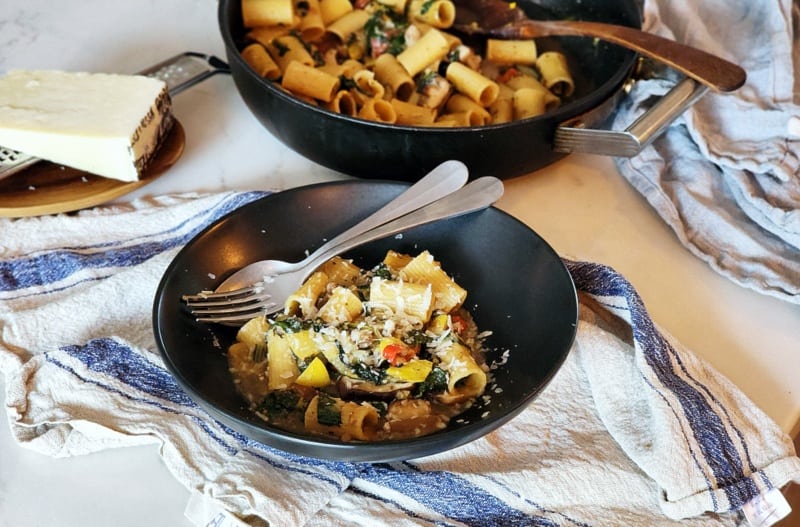 Get ready to taste Italy in this one skillet pasta meal! I'm adding super nutrients with mushroom chicken bone broth! Oh, yes, totally divine!
Easy Chicken and Mushroom Pasta
Yes, this recipe is so simple and easy. The most labor is the prep. Yes, cutting up the vegetables you're going to use.
I'm using what's in season, zucchini, squash, tomatoes, spinach and, always and forever, my fresh whole leaf sweet basil!
Pasta in One Pot
Actually, there's no chicken in this recipe. No chicken as in meat. The mushroom chicken comes from the divine fabulous bone broth, which cooks the pasta.
In this one pot, the pasta, and I love the mezze rigatoni, absorbs all the nutrients and flavor of the pasture-raised bone broth from Kettle and Fire.
I keep this bone broth, different varieties and even their delicious soups, in my pantry. Use the code ALLYSKITCHEN for 20% off your order! It's so worth it.
One Pan Pasta Dishes
Who doesn't love a one pan dish. And, pasta is so simple to make in one pan.
There's no mess in cooking the pasta in a large pot then dealing with lifting and draining it.
No, this pasta cooks right in the bone broth and with the vegetables.
And, if you're looking for a killer good one-skillet chicken dish with greens, then this Curry Chicken recipe will be perfect on a hectic weeknight!
One Skillet Pasta Dinners
You'll pray for leftovers because this pasta is so so good on day two.
And, you can use other pastas, but the mezze rigatoni holds its shape well. Don't use the large rigatoni as it tends to split and break apart. Other good pastas to use would be bow tie, capanelle, penne, cavatappi. That's because these are smaller pasta pieces and they work well in the pan/skillet. If you have a skillet that's 12″+ you could try spaghetti or linguine.
Pasta Cooked with Chicken Broth
Nothing improves the flavor of pasta than cooking in a rich bone broth. I oftentimes do this when I make any kind of pasta. Even if I'm going to scoop meaty Bolognese on top the pasta, it's better when cooked in bone broth. And, speaking of Bolognese, you much take a gander at some of my outstanding recipes!
Pasta Cooked in Stock
Why is Kettle and Fire my preferred bone broth. Well, for many reasons, but mainly because it's even better than I can make at home from scratch. It's simmered 14+ hours. The bones in the stock are grassfed or pasture-raised. Kettle and Fire focuses on regenerative farming which is good for the environment. In the chicken bone broth even chicken feet are used. These chicken feet are the most nutrient dense in making broth and you get all that important collagen in the broth. So, if you've never tried it, here you go. Use ALLYSKITCHEN at checkout and get 20% off your order.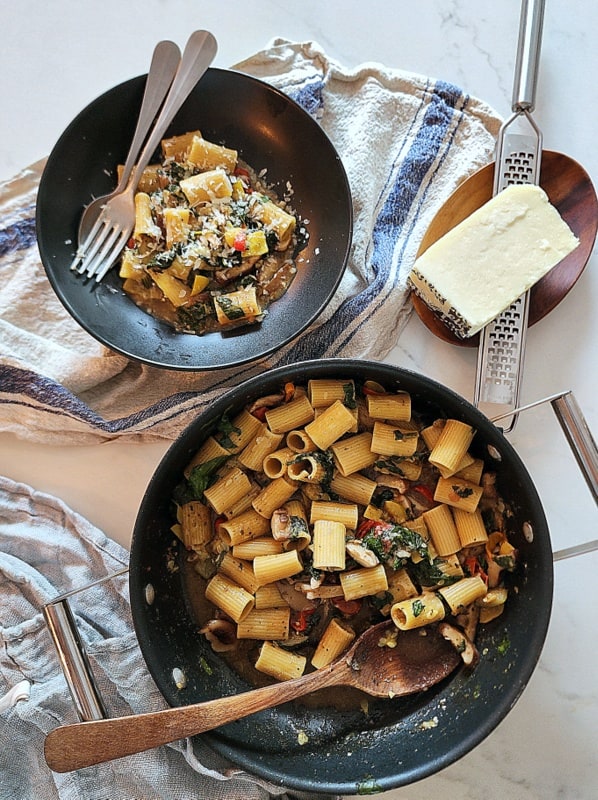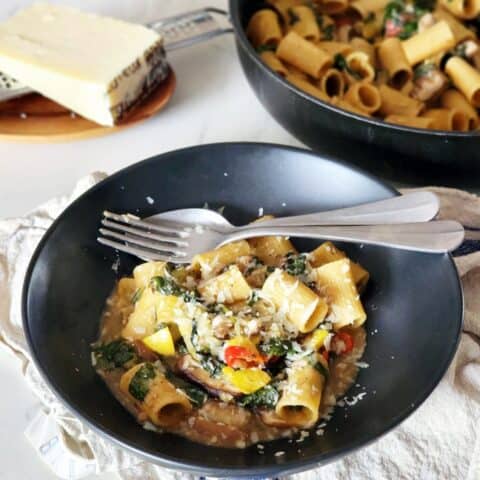 One Skillet Pasta Meal
Yield:
About 3-4 servings
Ingredients
2 Tbl. extra virgin olive oil
1 box (16.9 oz.) Kettle & Fire Mushroom Chicken bone broth + 1/4 cup water to rinse box
1 tsp. sea salt
2 tsp. garlic granules
1/2 tsp. red chili flakes
1 Tbl. Italian seasoning
2 cups mezze rigatoni
2 cups zucchini, large dice
1 cup squash, large dice
1 cup mini pepper rounds
8 oz. shitake mushrooms, sliced
1 cup fresh basil leaves
2 cups fresh spinach, packed
1/2 cup parmesan Reggiano, grated, + more for serving
Instructions
In a deep skillet (about 10"+ diameter) over medium heat, put the olive oil, bone broth/water, salt, garlic granules, red chili flakes, Italian seasoning and blend. Cover and let it come to a simmering boil around the perimeter of the skillet.
Add the pasta, zucchini, squash, and pepper, blend. Cover and let this mixture simmer boil about 6-7 minutes.
Turn heat to medium low. Add the mushrooms and blend. Cook about 2-3 minutes.
Add the basil and spinach and blend. Cover and cook about 3 minutes.
Turn heat to low. Sprinkle the grated parmesan on top, cover and let the pasta simmer about 5 minutes.
Ready to serve!