Easy Creamy Fresh Vegetable Pasta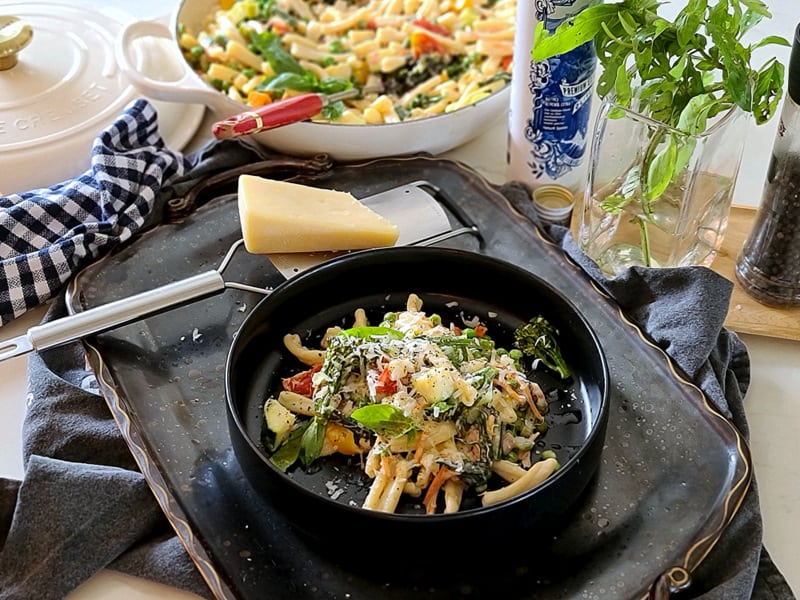 Easy Creamy Fresh Vegetable Pasta will be an anytime meal! Simply prepare your pasta. Choose your veggies. And, wow! You have a healthy meal!
Easy Pasta Recipe at Home
Pasta at home is one of the easiest meals, I believe, to make.
To me, the key is what are you adding to the pasta to make it a meal?
Some of my favorite recipes I've created with pasta? Well, here you go! Take a look.
Lemon Shrimp Pasta
Pasta with Heavy Cream
Of course, creaminess can come through several ingredients. And, with this recipe, we're definitely achieving this through the use of heavy cream and cheese. I mean isn't that the essence of mac and cheese? And, if you want to add a protein to your pasta like this Creamy Chicken Pasta, then make a few tweaks!
Creamy Pasta Recipes
Creamy pasta recipes are great with just vegetables, like this recipe. Or you can throw in protein or seafood. Nothing's more delicious than shrimp or scallops with pasta and veggies, too.
The creaminess of this pasta recipe with four different types of mushrooms comes from the pasta water and grated cheese!
Creamy Pasta Primavera
A really nice creamy pasta primavera, which basically means 'spring'. That's the time of the year that gardens are typically planted and all those glorious fresh vegetables can be harvested throughout the summer.
Pasta with Vegetables
Pasta with vegetables is a primavera that's a celebration of all things light and fresh. This recipe can be adapted to the veggies you prefer. And, don't be shy about adding different vegetables as well as leafy veggies like baby spinach, chard and kale!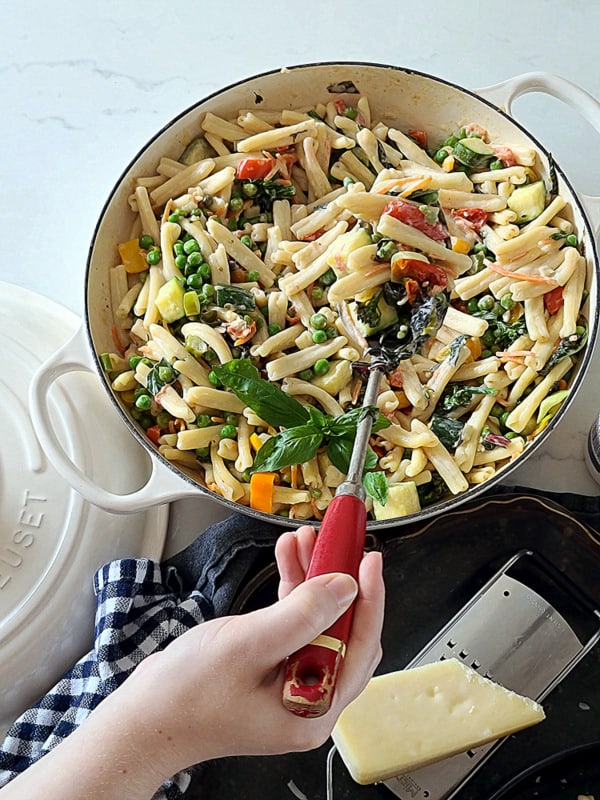 Healthy Creamy Pasta Primavera
Yes, the heavy cream and cheese in this recipe add up calories. The fresh vegetables do provide that healthiness that we always try to achieve in a recipe.
Easy Creamy Fresh Vegetable Pasta
And, another plus factor for healthiness. The nutritional yeast. If you've not used it, then take a look at some of the benefits I talk about in this post.
Nutritional Yeast: Is it Good for You?
Creamy Pasta and Vegetables Recipe
I'd definitely try to source fresh vegetables for this recipe. Of course, if you absolutely cannot, then look for the large garden style frozen vegetables. No sauce. Just vegetables.
Pasta Primavera with Shrimp
And, if you want to add to this recipe shrimp, scallops or chicken, it would be divine. Each is cooked differently before adding into the pasta.
pan seared scallops
Best Pasta Recipes
Another kind of pasta that my family absolutely adores is with my bolognese. And, I'm very proud to say that my bolognese catapulted me into the Top 10 of the Recipes division of the World Food Championships several years ago.
I have some variations of bolognese. Some more complicated and time consuming than others. All delicious!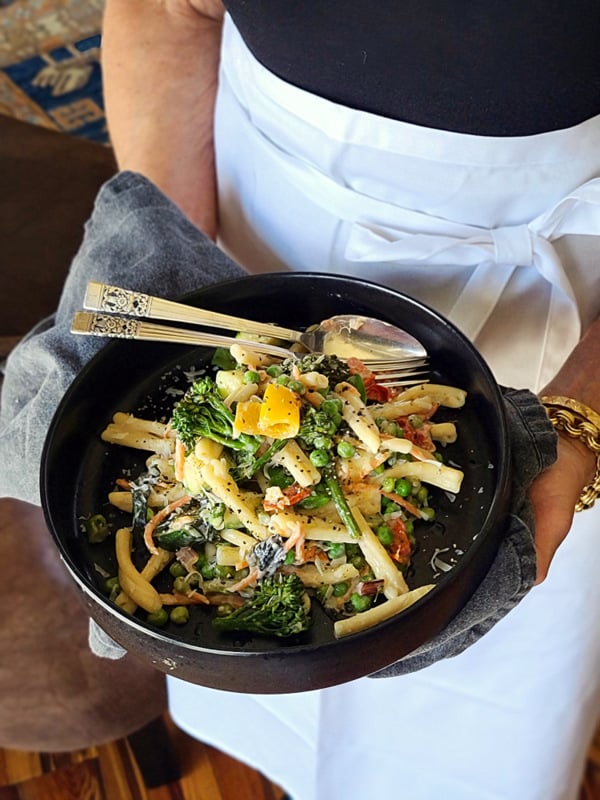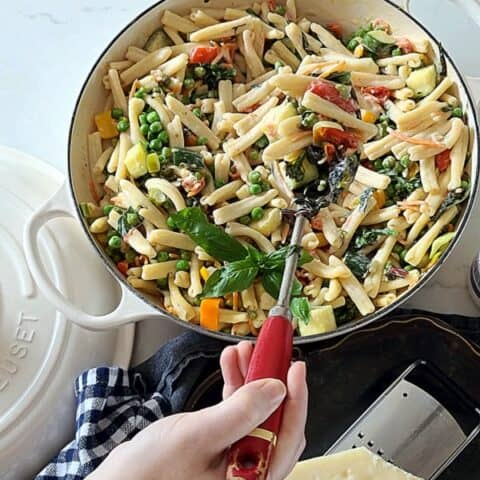 Easy Creamy Fresh Vegetable Pasta
Ingredients
PASTA:
4 ½ cup pasta, small pasta like penne, mini rigatoni, cavatelli, farfalle, cassarecce, orecchiette, etc.
VEGETABLES:
4 Tbl. extra virgin olive oil, plus more for serving/drizzling
4 garlic cloves, thinly sliced
1 Tbl. anchovy paste
1 cup Zucchini, cut in bite size chunks
1 cup Peas, previously frozen
1 cup Mini Peppers, cut in bite size pieces
½ Carrots, shredded
1 cup Broccolini, sliced and chopped
1 cup Cherry Tomatoes, sliced in halves
1 small Bokchoy bunch, sliced with greens
1 cup Chard, with stems, sliced into ribbons
1 cup fresh basil leaves
Salt and Pepper to taste
CREAMY SAUCE:
1 cup heavy cream
1 cup grated cheese
1 Tbl. nutritional yeast
Instructions
PASTA

Prepare the pasta per directions but undercooking about 2 minutes. Remove pasta from hot salted water. Reserve 2 cups of the pasta water.

VEGETABLES

In a large skillet over medium heat, add the olive oil and garlic. Sauté a couple of minutes. Add the anchovy paste and blend.

Add the vegetables, except the basil. Salt and pepper to taste. Toss and blend. Cover and cook about 5 minutes blend a couple of times.

CREAMY SAUCE

Meanwhile, put the heavy cream, grated cheese and nutritional yeast in a large microwavable measuring cup or bowl. Microwave on high for 2 minutes. Blend and stir.

COMBINING PASTA & VEGETABLES

Add the pasta to the vegetables. Reduce heat to low. Pour the creamy sauce over it. Add about one cup of the pasta water. Add fresh basil leaves. Gently toss and blend. Cover and let the pasta simmer/cook about 5-8 minutes. Blend before serving.

Serve with additional olive oil drizzle and more grated cheese.