asiago fresh herb meatballs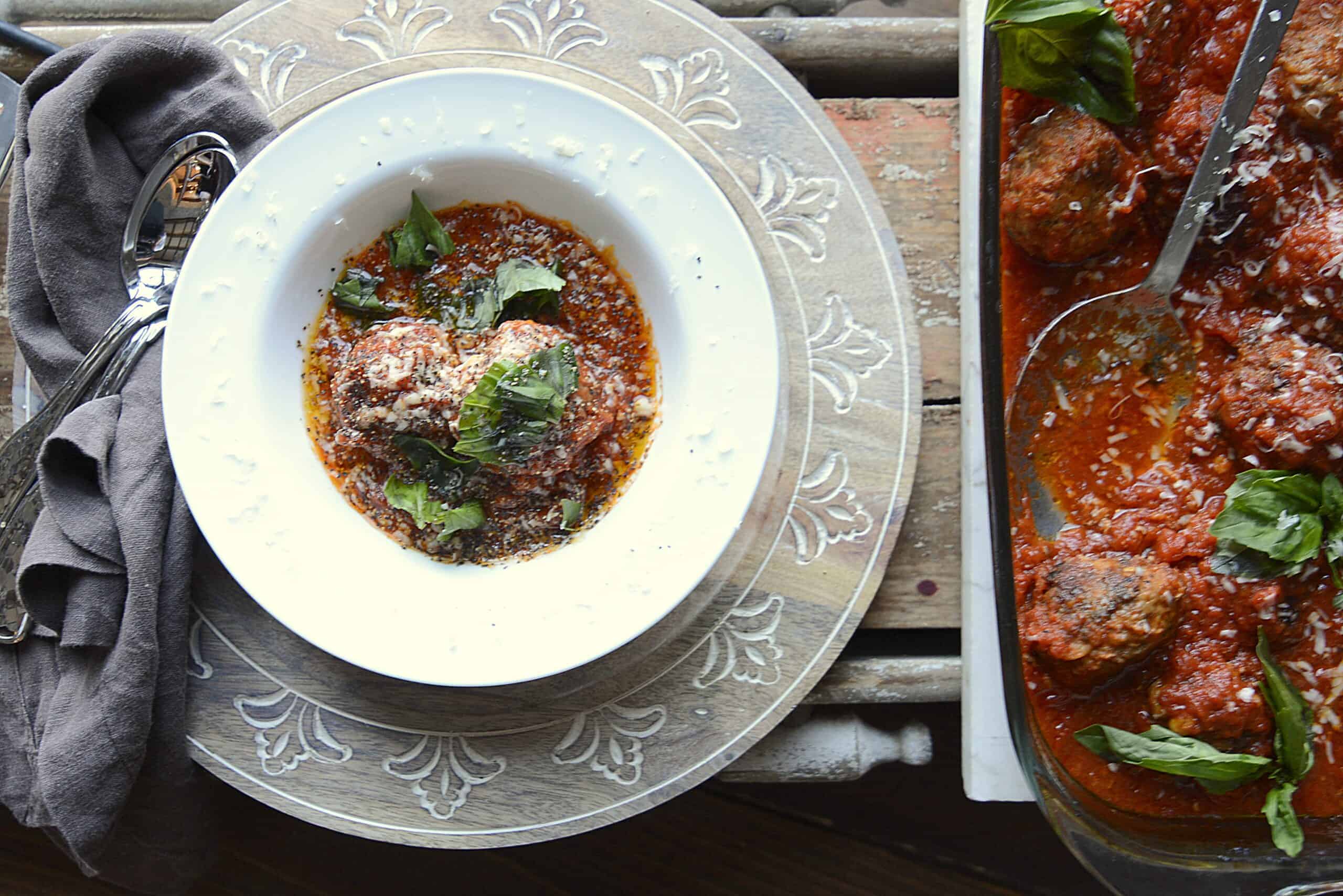 Oh, you're gonna never need another meatball recipe other than this asiago fresh herb meatballs one! Believe me, you'll get rave reviews!
Meatballs with Asiago Cheese
Meatballs are such a comfort food for me. I mean who doesn't love a good meatball.
Italian Meatball Recipes
It's like a ball filled with so much flavor, and my asiago fresh herb meatballs have even more flavor than you'd typically expect in a meatball!
Meatballs in Oven
That's probably because of the abundance of fresh herbs and the asiago cheese.
And, these meatballs are going to be baked in the oven making it pretty simple and easy.
Italian Meatballs
If you're not familiar with asiago, yeah, one of my favorite cheeses, it's an Italian cow's milk cheese.
And, the texture of this cheese changes depending upon the aging or maturity of it. And, in my opinion, Italian meatballs are great with asiago cheese.
Asiago Cheese Recipes Pasta
If you get a 'young' asiago, called asiago pressato, you're going to have something more buttery and sweeter.
What to do with Asiago Cheese
And, if the cheese ages, you'll have a more pronounced flavor, firm and crumbly and perfect in so many cooking applications as well as serving on a cheese tray with fruit, nuts, dried meats and more.
Aged asiago has hints of dried fruit and more saltiness, which I love!
Best Seasoning for Italian Meatballs
Now, these fresh herb meatballs are perfect for asiago cheese.
Just chop and crumble the cheese and it works into the meat mixture with no problems.
Garlic and Herb Meatballs
In fact, we're going to use less of breadcrumbs, or in this recipe crushed oats or saltine crackers, because the cheese acts like a binder of all the ingredients.
These little nuggets and flicks of cheese melt in the meatballs as they cook and adds to the deliciousness!
Best Herb Meatballs
These asiago fresh herb meatballs are just so easy and simple to make.
Truly, you don't need any real 'cooking skills' and after watching the video I've done on the recipe, you'll be a pro!
And, because I love love meatballs so much, you might want to take a look at some of my other recipes!
Blueberry Street Roll Ups~kids love them!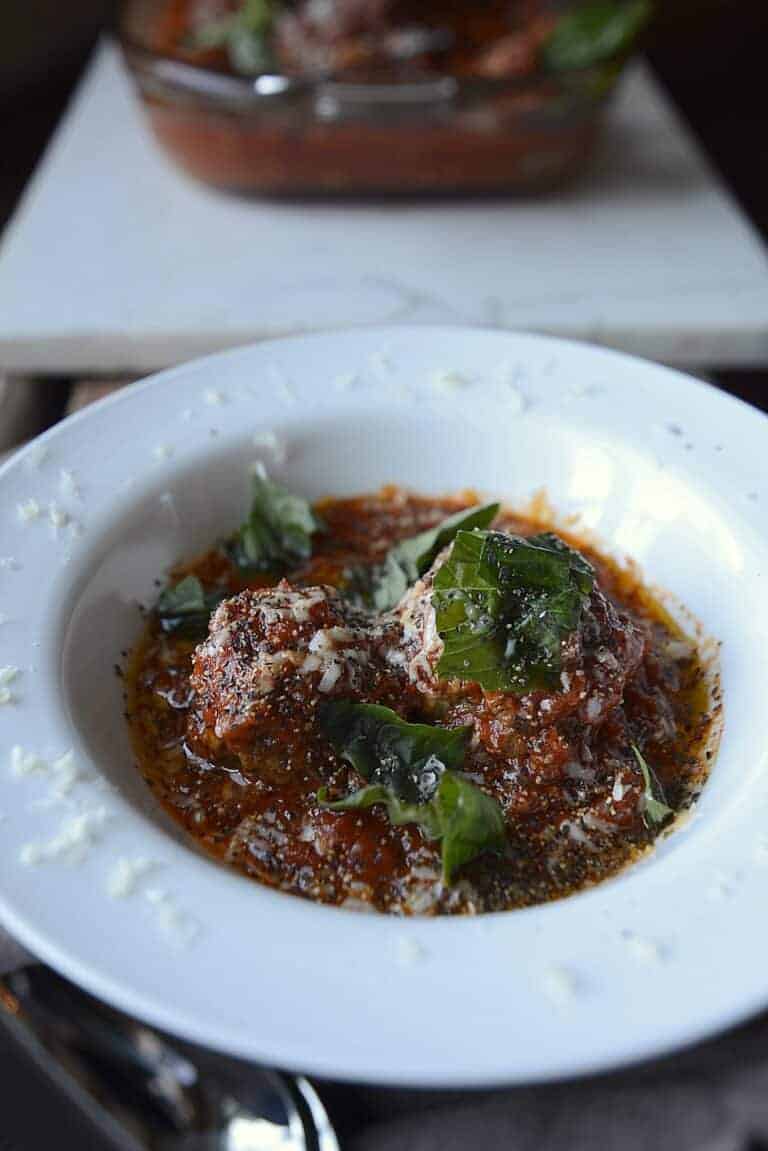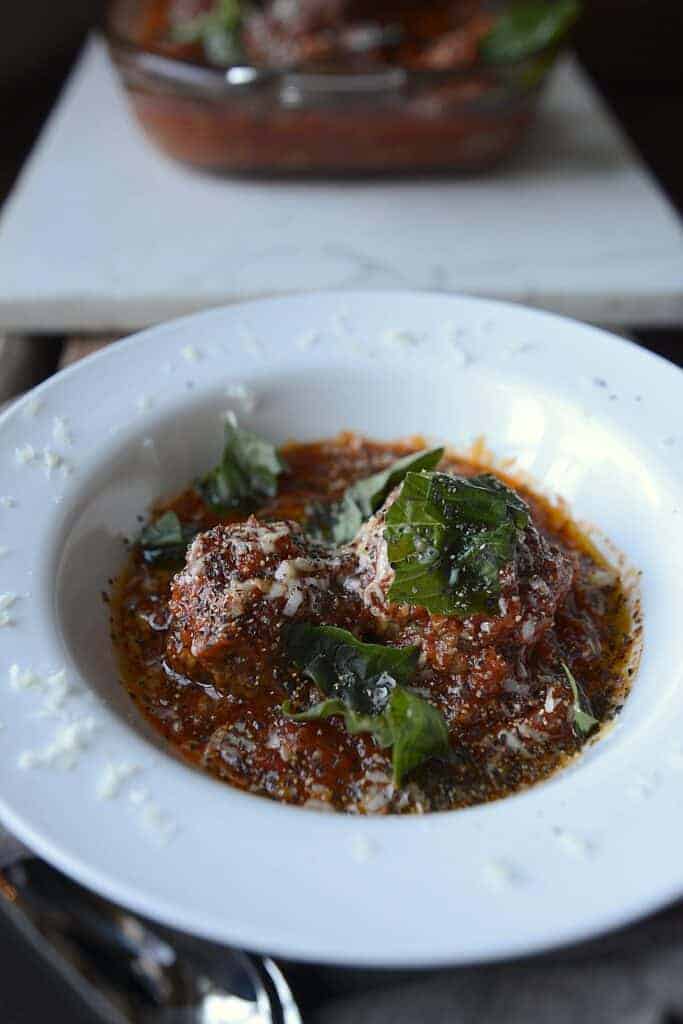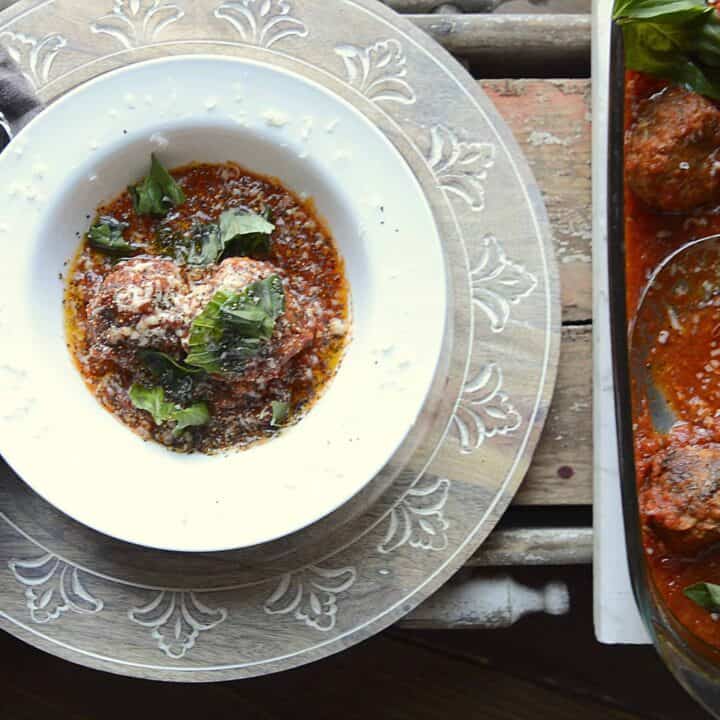 asiago fresh herb meatballs
Yield: 15-18 dinner size meatballs
Ingredients
Start Oven on Broil then Preheat to 350
1 lb. beef, ground 100% grassfed
1 lb. pork, ground
2 eggs, beaten
1 cup aged asiago cheese, chopped into pebbly texture
½ cup Greek yogurt, plain
1 cup sweet onions, finely minced
1 cup breadcrumbs, see notes for substitutions
¾ cup fresh herbs, equal amounts of basil, oregano, flat parsley, lemon thyme + more for garnish
1 tsp. sea salt
1 tsp. coarse ground pepper
½ tsp. red chili flakes
¼ cup extra virgin olive oil
1 jar (28 oz.) Marinara sauce, organic brand
Instructions
In a large mixing bowl, combine the beef, pork, eggs, asiago cheese, yogurt, onions, breadcrumbs, herbs, salt, pepper and red chili flakes.
Blend well. Form in to equal size meatballs. About fifteen to eighteen. Pour the olive oil into an 11 x 17 glass casserole dish. Place the meatballs in the dish.
Put the meatballs about 16"-18" from the broiler. Let them brown for about 8 to 10 minutes. Remove from the oven.
Pour the marinara sauce on the meatballs. Cover the dish tightly with foil. Cook in preheated 350 oven for 20 to 25 minutes. Remove and let the meatballs rest for about 10 minutes.
Serve with fresh herb garnish and more grated asiago cheese.
Notes
Substitutions for breadcrumbs: whole oats quickly pulsed in food processor to make into a finer mixture, saltines finely crushed, cooked rice finely chopped.

Marinara substitution: Crushed (or whole) San Marzano Tomatoes (28 oz. can) + 2 cups water or bone broth

These meatballs keep well for several days. You might find that you need to add more marinara sauce to them. So, have an extra jar on hand!

Like most sauces and meatballs, these are better on day two!

Try making great meatball sandwiches or use the meatballs, sliced or diced, on pizza!