North African Chicken Stew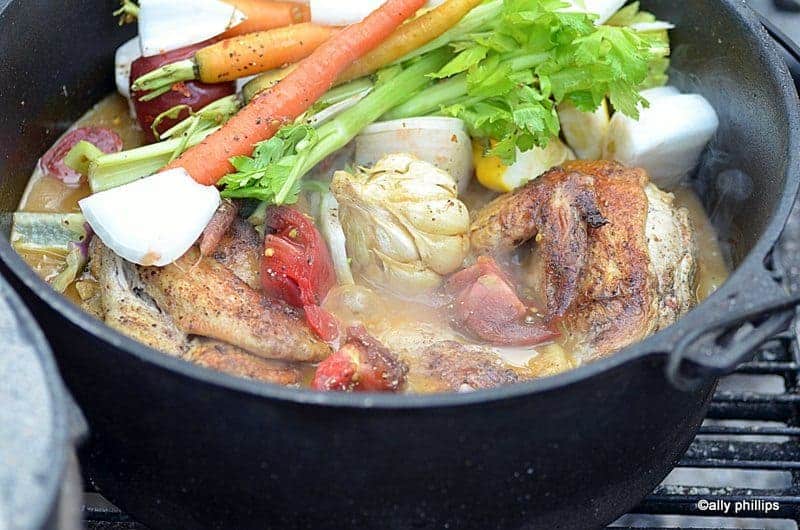 What makes North African Chicken Stew so amazing are the juices and spices. Yes, the exotic and tantalizing Middle Eastern harissa and ras el hanut.
North African Chicken Stew
There is nothing better than a cool evening, a roaring campfire, camp chairs around it, people laughing, sipping, talking, the skies waning into darkness and something totally decadent in the cast-iron Dutch oven on the grill. I'm talking about North African chicken stew! Now, you don't have to have a campfire to make this stew. Yep, you can do it in your slow cooker or oven, but you'll need to adjust the cooking times and temperatures, as well as the pan-searing of the bird before it starts cooking in those luscious liquids. But, that's not a problem. Just a few adjustments and you're good to go.
Stew Chicken
Usually delicious chicken! The tenderness and juiciness of chicken that has been stewed in a pan, saucepan will be appreciated by every member of your family. This is a scrumptious meal with chicken, potatoes and sweet potatoes, onion and carrots.
How To Make Stew Chicken
If you want to cook a tasty, but simple and affordable meal for family lunch or dinner, stewed chicken is the perfect option for you! This chicken stew is soft and juicy! This recipe turns out to be so delicious. When it comes to adding a more delicious recipe to your dinner/lunch table, definitely you're going to love these simple and tasty Smoked Ale Campfire Beef Stew, and north african spiced beef ribeye wraps.
Dutch Oven Chicken
If you like soft and tender poultry meat and at the same time with a crispy crust, then cook a dutch oven for you!chicken in your sleeve. The aromatic filling will add a special charm to the dish. This chicken can be served both for guests and for a family dinner!
Dutch Oven Chicken Recipe
Cooking over an open fire in adutch oven is, for me, an exhilarating experience. The temperature of the fire plus the hot red coals that are fired and put under the dutch oven and on the top of it make this chicken in no time~it's kind of like a pressure cooker, but it's all about the high heat. Since we have a 14″ Dutch oven, it takes two of us, yep, my hubby, to help because that lid and pot are heavy.
Chicken With Harissa
What makes this stew so amazing are the juices and spices. Yes, the exotic and tantalizing Middle Eastern harissa and ras el hanut. There's no reason to buy them because in my cookbook, Ally's Kitchen~A Passport for Adventurous Palates, I show you how to make them (and more). This cookbook is one you'll definitely want in your collection because it lets your palate travel the globe without having to go through TSA checks!
African Chicken Stew
This is made with tomatoes that are cooked down until the taste is mellow. African chicken stew is easy and this recipe is for a crowd! It is so flavorful and perfect served over hot fluffy rice. And, here are a few more recipes that might appeal to you to serve at a weekend brunch!
north african lamb loin chops
south african spiced salmon eggs
north african rice dates & olives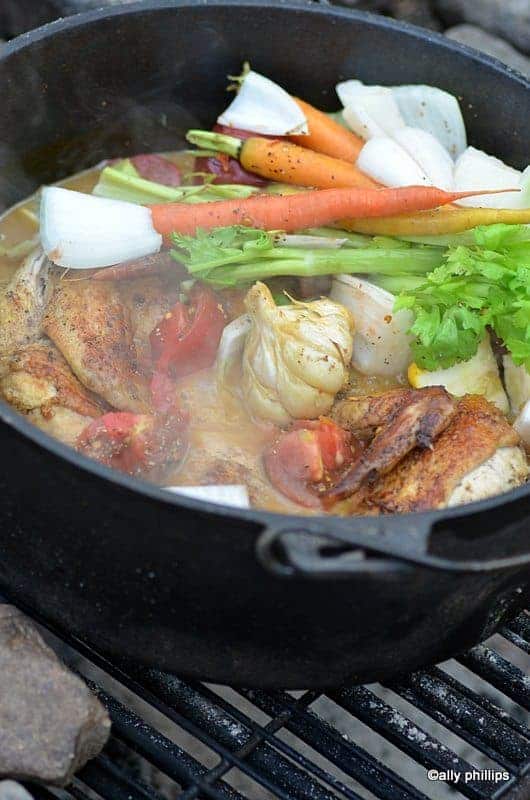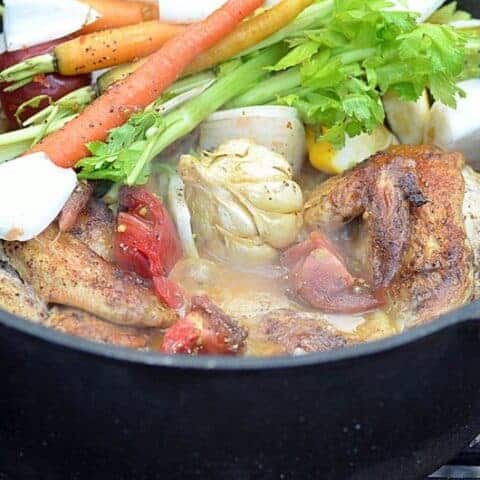 North African Chicken Stew
What makes this stew so amazing are the juices and spices. Yes, the exotic and tantalizing Middle Eastern harissa and ras el hanut.
Ingredients
1 whole organic chicken, 5-6 lbs., butterflied and cut in two halves
1/3 cup organic coconut oil
3 Tbl. Harissa
2 Tbl. Ras el Hanut
2 tsp. sea salt
2 tsp. peppercorns
2 tsp. cumin
1 tsp. red chili flakes
2 cups white wine (buttery chardonnay)
12 oz. Dole Packaged Foods pineapple juice
1/4 fresh pineapple, cut in random size chunks
1 (32 oz.) organic chicken broth (divided)
1 (26 oz.) Dole Packaged Foods Corn Garden Soup or an organic creamed chicken or corn soup
2 (12 oz.) boxes (Pacific brand) organic cream of chicken condensed soup
1 whole garlic clove (most of papery skin removed but left intact)
1 bunch organic rainbow carrots, stems trimmed, left whole
3 sweet onions, cut in chunks
4 stalks celery (with leaves), cut in 2-3" pieces
3 large heirloom tomatoes, cut in chunks
3 pattypan squash and/or zucchini, cut in chunks (can substitute regular squash cut in chunks)
10-12 red potatoes, cut in chunks
10 Dole Packaged Foods whole pitted dates, sliced in halves lengthwise
Instructions
Put the coconut oil in a hot dutch oven (12-14" diameter) over a campfire. Let it get hot.

Mix the harissa, ras el hanut, salt, peppercorns, cumin & chili flakes together and rub on both sides of the chicken. Work into the meat and under the skin as much as you can.

Put the chicken (skin side down) in the hot dutch oven and let it sear for about 3-5 minutes. Watch carefully as the campfire heat is harder to regulate. Flip to the other side and pan sear another 3-5 minutes.

Add the wine and pineapple juice and deglaze the dutch oven. Blend and stir then add the pineapple chunks. Add half the chicken broth, corn soup, one box of cream of chicken soup and blend. Add the garlic clove. Cover tightly and let this cook about 60 minutes.

(Note: Hot coals will be placed under the Dutch oven and on the lid.)

Check the chicken for tenderness after an hour. (You want it tender and able to pull away from the bones.) Add the remaining broth and chicken soup. Blend. Add water if needed.

The chicken should remain covered about 3-4" in liquid. Try to reduce heat somewhat by adjusting the fire. Add the vegetables, carrots, onions, celery tomatoes squash and potatoes.

Cook another 30-45 minutes or until veggies are tender. (If potatoes are tender, then all are tender.)

Using long handled tongs, gently pull as many of the chicken bones (carcass bones) out as you can & discard. Do the same with the chicken skin.

Remove from heat, add the dates and let sit about 15 minutes, then serve in big bowls with great crusty bread and some awesomely delicious salads. I recommend a cabbage/grape/cherry tomato salad, maybe an arugula salad. Just some things that are cool and refreshing!
Notes
Adapting for:

OVEN COOKING

1. Brown chicken in a heavy Dutch oven or cast iron pot. Preheat oven to 425. Cook about 90 minutes or until chicken is somewhat easily removed from bone. Check twice for adding liquid (water). Add veggies, cover and cook another 45-60 minutes.

SLOW COOKER

1. Brown chicken in a heavy skillet. Put in slow cooker with spices and liquids. Cook on High for 3-4 hours. Check for tenderness. Chicken should almost fall off bone. Add veggies and cook another hour.