Easy No Fail Roasted Shishito Peppers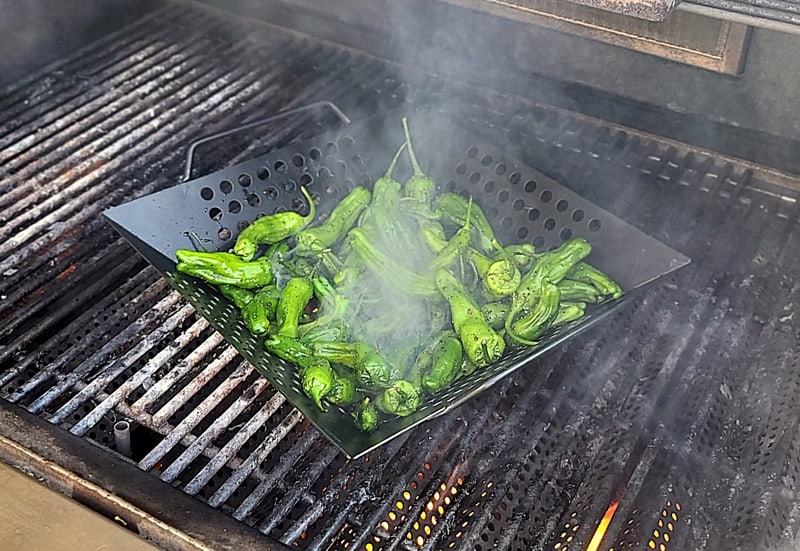 When I say Easy No Fail Roasted Shishito Peppers, I mean it! A few steps, a hot grill and you'll stave off the hangries with healthy nibbles!
Blistered Shishito Peppers
Shishito peppers are from Japan. They're mild, and absolutely delicious, especially when you blister and grill them!
What do they taste like. Well, find out for yourself. Be adventurous, and spring for a bag of them!
But, essential their flavor is sweet and slightly smokey natural. Don't worry about them being spicy.
Roasted Shishito Peppers
In fact, only one in ten shishito peppers will be hot. And, finding that one in a group of ten. Well, don't waste your time!
Smoked Shishito Peppers
Shishito peppers are versatile. they can be used like any other chile pepper. What's super unique and fun about them is their small sizes. That makes them perfect for this recipe and serving them as an appetizer.
And, leave on their little stems. Those are the pick up 'handles'!
I've served these blistered little tasty shishito peppers with things like…
Grilled Shishito Peppers Soy Sauce
Adding the smoked soyu to the grilled shishito peppers just sent them from 'good' to 'extraordinary'. It's worth investing in a bottle of smoked shoyu. Lots of ways to use it!
You can also roasted your shishito peppers in the oven. Just coat in olive oil or toasted sesame oil, lay them on a parchment paper lined cookie sheet and roast at about 425 degrees until tender. I will turn on the broiler right before they're done just to get a little golden brown charring on the peppers.
You can also eat shishitos raw. Yes, their flavor has hints of sweetness. And, the texture? Well, it's like a crunchy crisp green bell pepper.
Japanese Grilled Shishito Peppers
Another way to prepare the shishitos, if you don't want to fire up the grill, is to pan sauté them. Add a little toasted sesame oil and just let them get tender over medium heat in a cast iron skillet.
Smoked Shoyu Soy Sauce
What makes Smoked Shoyu so special? Well, it's the intricate cold smoking process, And, after that the sauce is then aged for an additional six months to mellow.
This is a very traditional even ancestral method of brewed preserving. It yields an exceptional shoyu!
How to Use Smoked Shoyu
You can added smoked shoyu to so many savory dishes to get an added pop of flavor. It's that umami effect that just moves food from 'yeah, that's good' to 'dang! that's incredible!'
Grill Baskets
Here are the two grill baskets that I have and I love them. Use them all the time for grilling veggies, corn, and other things, like Romaine lettuce halves! And, one more thing, if you want a smokeyER and spiciER flavor on your shishitos, then try sprinkling on some smoked hot paprika!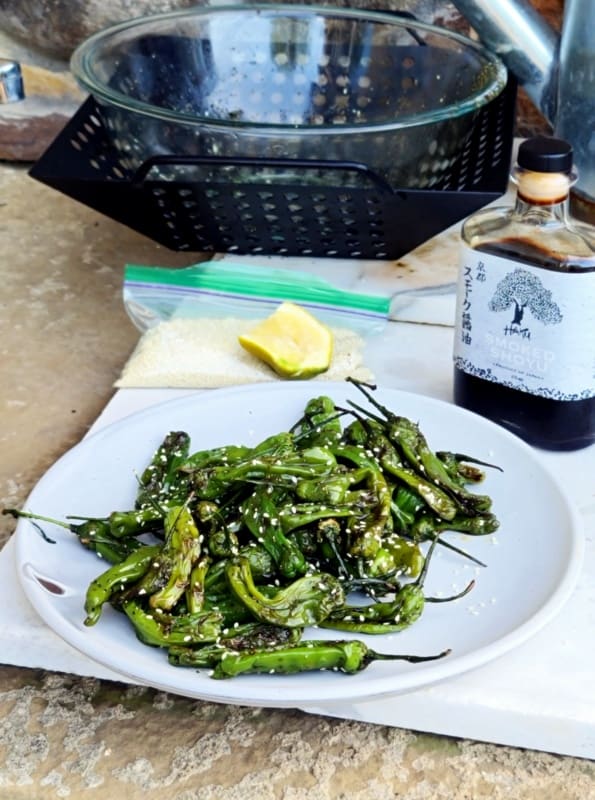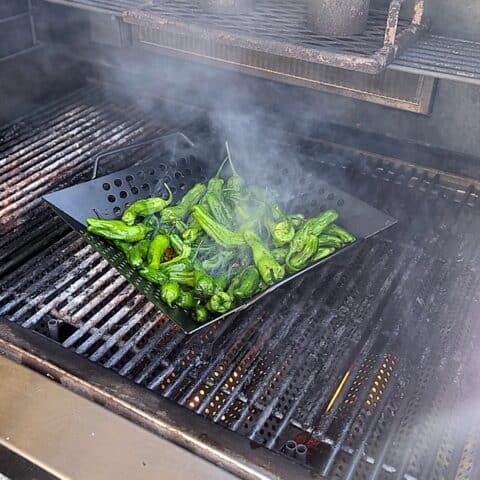 Easy No Fail Roasted Shishito Peppers
Ingredients
2 bags of shishito peppers, about 30-40+ peppers
1/4 cup of extra virgin olive oil
1 tsp. coarse ground pepper
3 Tbl. Smoked Shoyu Sauce, can substitute soy sauce
1/2 fresh lemon, juice only
1 Tbl. sesame seeds
Instructions
Put the peppers, olive oil and pepper in a large mixing bowl. Toss and blend.
Heat a grill to about 450 degrees. Put the grill basket on and add the shishito peppers.
Use long handled tongs to toss and blend/cook the shishitos for about 10 to 15 minutes or until they're more tender and have some charring on them.
Remove from the grill. Put them back in the bowl. Add the smoked shoyu, lemon juice and sesame seeds. Toss and blend.
Ready to serve!