This is one of those recipes that has few ingredients, and the pack a powerful palate punch!  Add to that the fact that it can be prepared within about 30 minutes, no dilly dallying, and you've got something that will be a crowd pleaser!
The crunchiness of the Napa cabbage combined with the taste of the beef and the sweet & saltiness of the apricot sauce and nuggets of pineapples is undoubtedly refreshing.  Just be careful because eating just a couple of wraps is not an option~~you may want to double this recipe!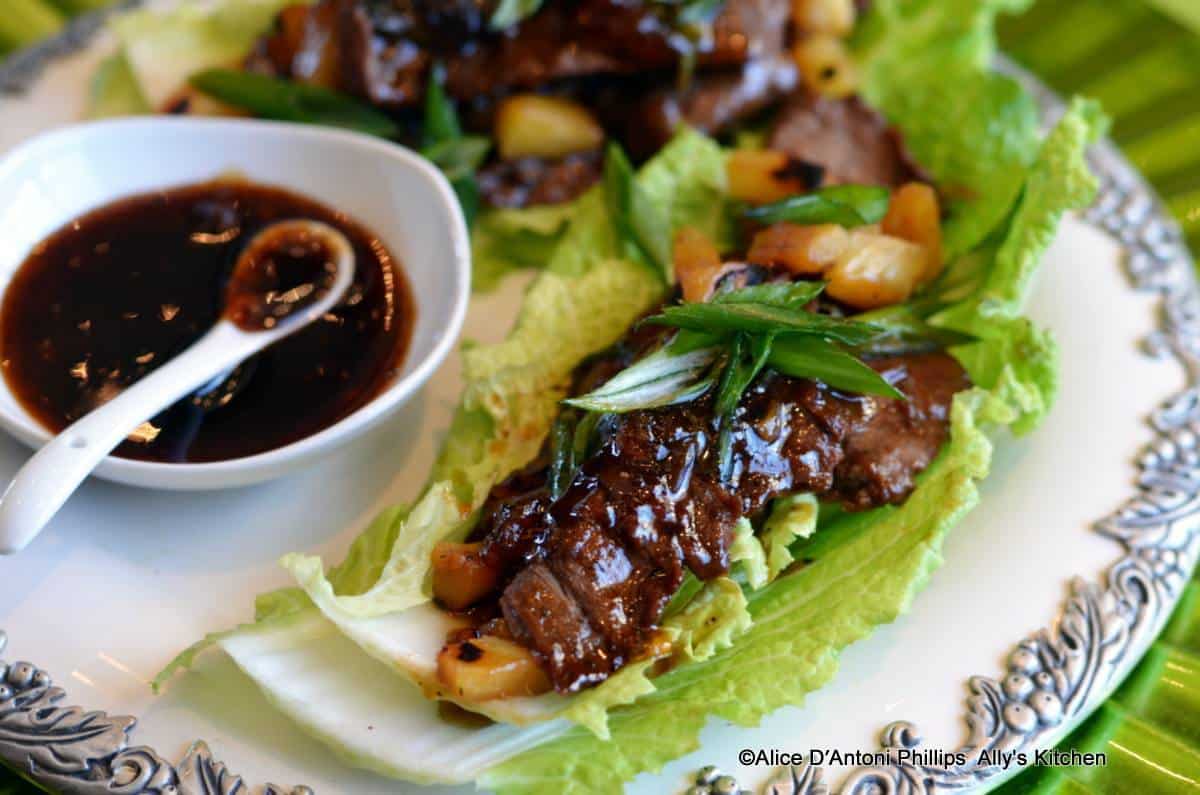 Serves: 6
What you need:
1 ½ lbs London Broil sliced very thin at an angle (other cuts of beef: NYstrip, Ribeye)
1 (20 ounce) can pineapple tidbits drained reserving liquid
1/3 cup + 3 tbl soy sauce
1 ½ cups apricot preserves
1 ½ cups green onions sliced thin including tops
1 large head Napa cabbage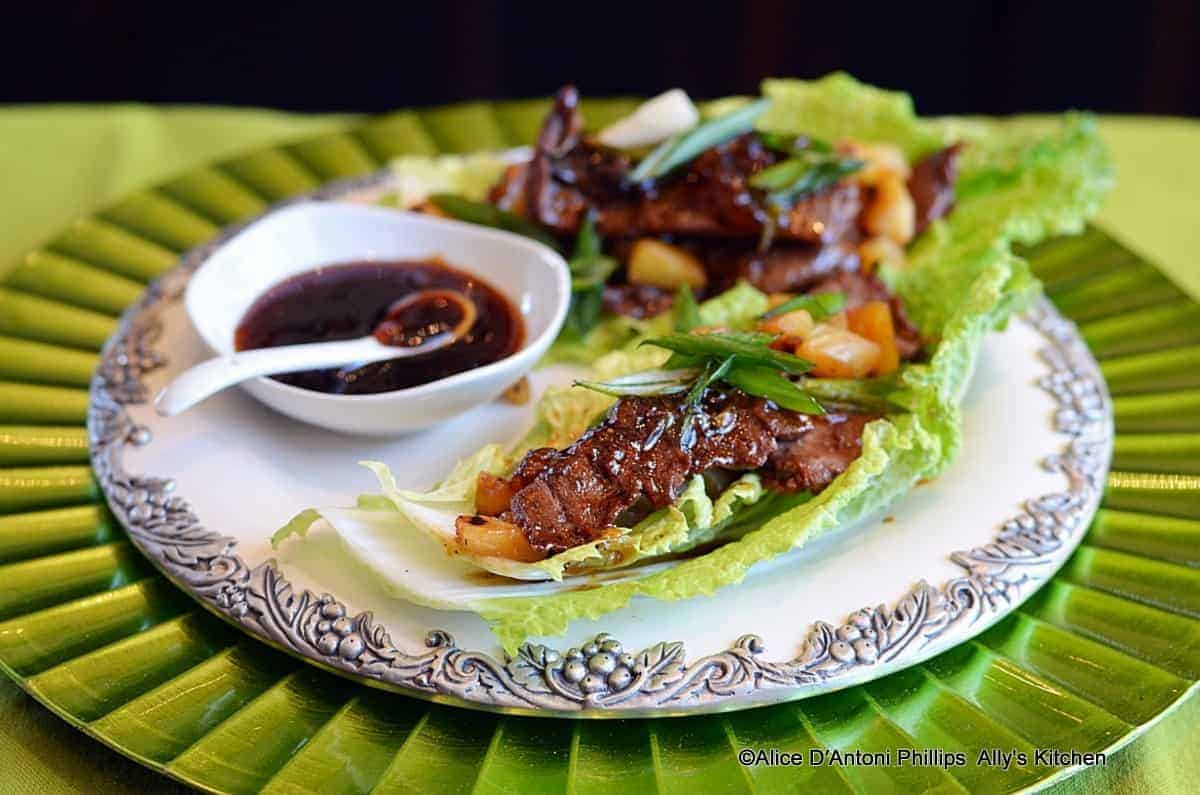 What you do:
In a large non-stick skillet over medium high heat put thinly sliced beef frying about 5 minutes (turning with tongs).  Add 3 tbl soy sauce and 1/3 cup of the pineapple juice.  Bring to simmering boil and cook 3 minutes.  Reduce heat to low, add ¾ cup green onions, blend & cover with a lid.
Combine 1/3 cup soy and apricot preserves in a bowl.  Put in microwave for 90 seconds.  Whisk and microwave again for 60 seconds.  Cut the bottom off the Napa cabbage, rinse and drain leaves, pat with paper towels and put on large plate.
Meanwhile, in a medium size non-stick skillet over medium high heat put drained pineapple tidbits; cook about 5-7 minutes letting a char begin to form on some pieces.  Turn off heat, add about 4 tbl of the pineapple juice to deglaze pan.  Set aside.
Serving:  Build-your-own Napa cabbage beef-pineapple wrap.  Put meat on a serving dish drizzling with some of the soy/apricot sauce and garnishing with some green onions.  Place cabbage leaves on a plate. Put pineapple in a bowl & garnish with a few green onions.  Use remaining green onions & soy/apricot sauce for serving.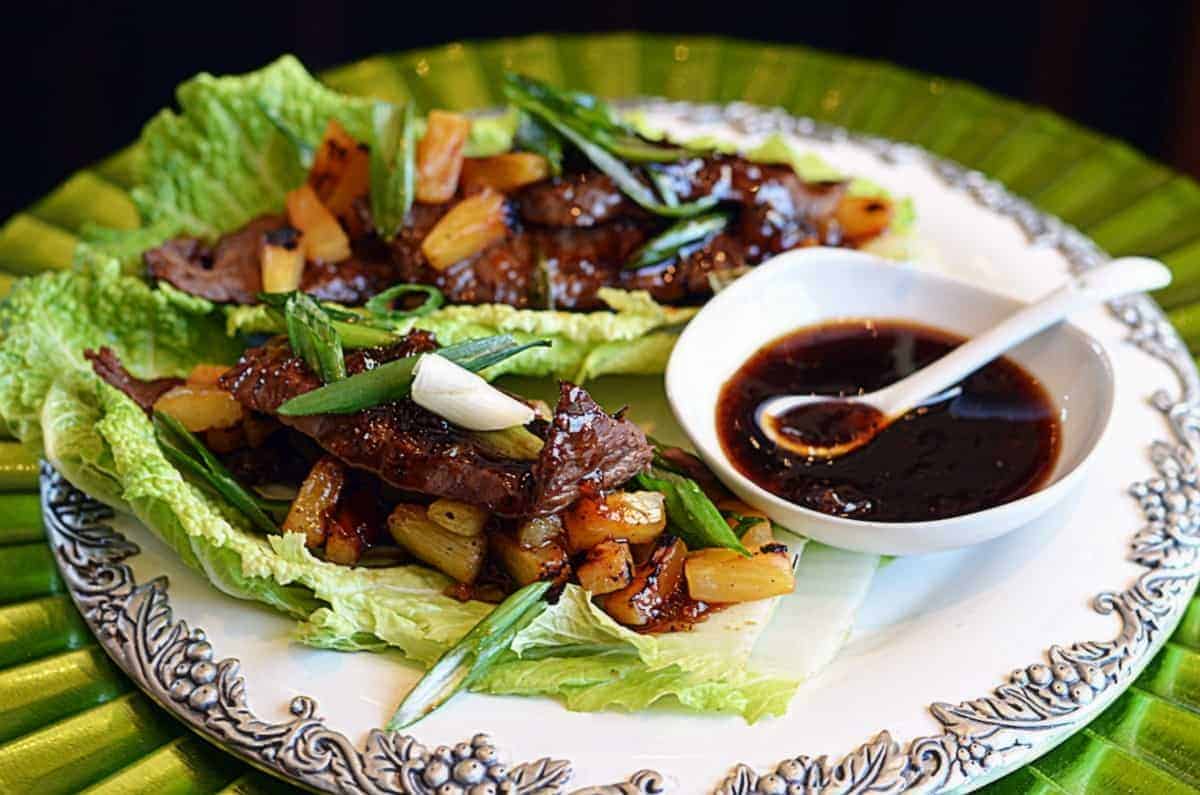 ©Alice D'Antoni Phillips  www.allyskitchen.com