Spicy Chunky Anasazi Chili Beans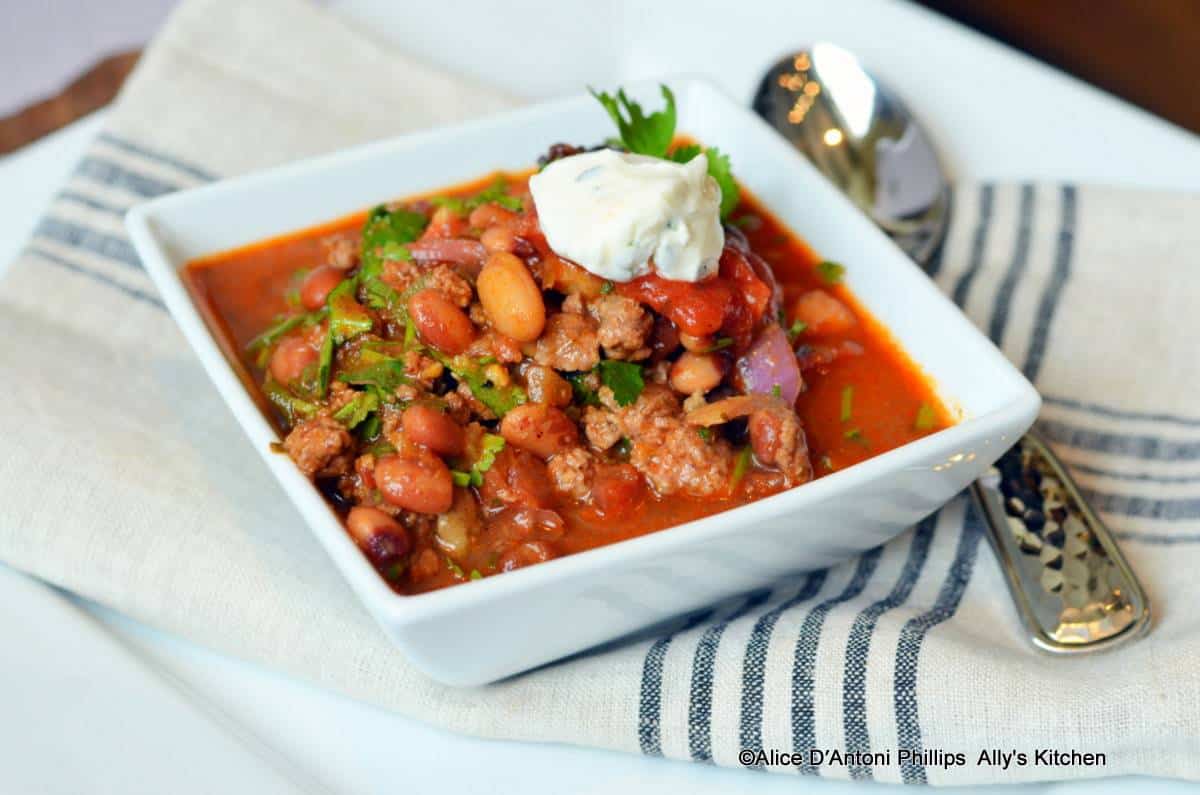 I made some really wickedly good Anasazi beans, and had about 4 cups left over. This became the reason for this chili! There was the ham hock, too, that the beans had been cooked in, so I shredded the meat off the bone and threw it in this chili. Not to worry if you don't have a ham hock, the ground pork will bring a lot of depth of flavor to this chili. Chili is such a personal thing…kinda like BBQ…folks have their preferences. So, if you want more beans, less beans, one type bean, a variety of beans, then make it your own.
I've also done chili using the 'holy trinity, onions, celery and carrots, ground up in a food processor and sauteed with the garlic. Sometimes I've added a little corn to it!! Just depends upon my mood. So explore your tastebuds. Boho this recipe and any you start with. Basically, that means add your own special twists to the recipe! That's what good fooding's all about. Making it your own!
And, if you're looking for another fabulous bean recipe, well, try this one! Healthy and to die for. But, wait, don't die! Just make it! xoxo ~ally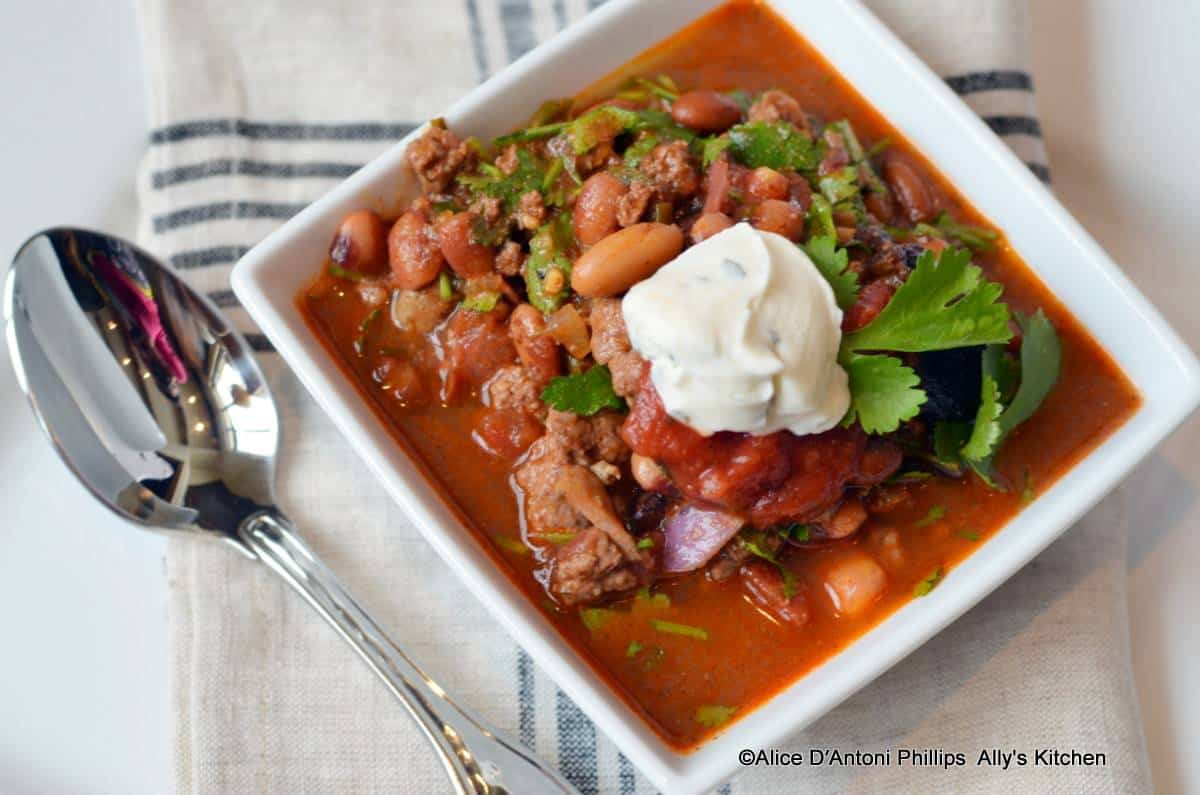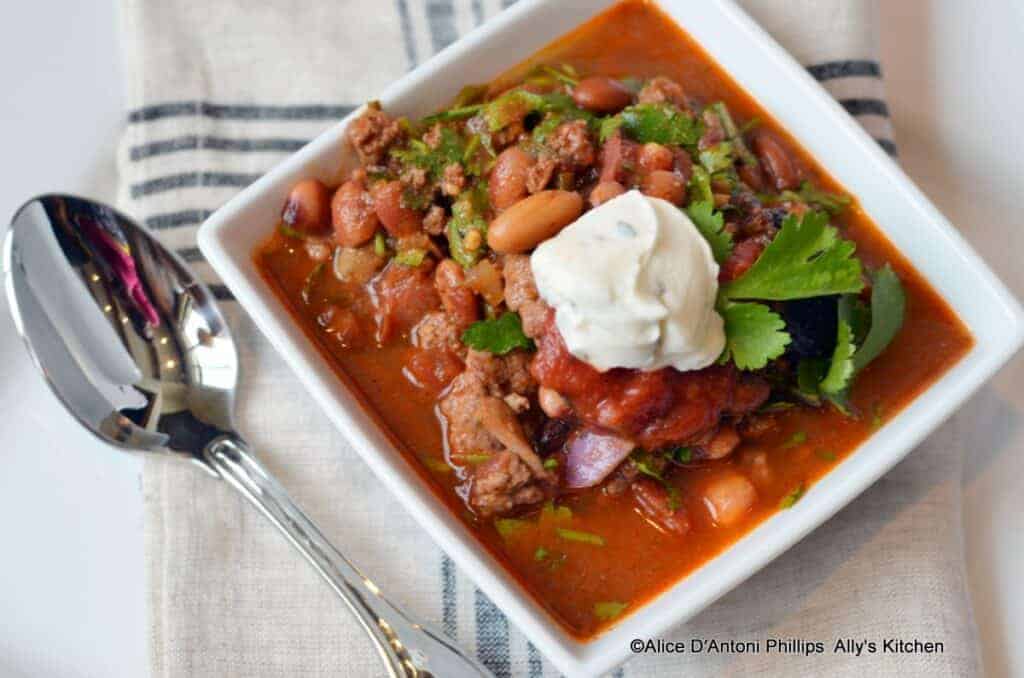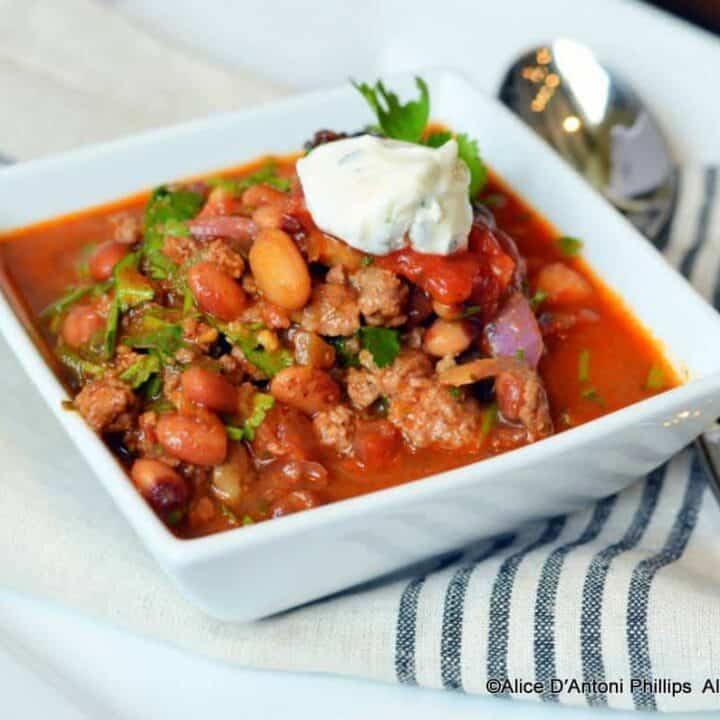 Spicy Chunky Anasazi Bean Chili
Yield: 6+ healthy eating folks
Ingredients
1/3 cup canola oil
1 cup diced scallions (with greens), divided
1/4 cup chopped red onion
2 Tbl. diced garlic
1 1/2 lbs/ ground beef
1 lb. ground pork
1 tsp. sea salt
1 tsp. coarse ground pepper
2 packages of chili seasoning mix (your level of heat), you can substitute this combo:  2 tsp ground cumin, 1/2 tsp smoked hot paprika, 1/2 tsp red chili flakes and 1/4 tsp cinnamon OR 2 Tbl. Ras el Hanout
1 1/2  cups red wine
2 (10oz.) can diced tomatoes with jalapenos, or chilis
6 cups beans (Use your favorite type bean(s). I used leftover Anasazi beans, cannolini and black beans. You can add more beans if you like.)
12 oz. store-bought fresh Pico de Gallo
2-4 cups chicken broth, as needed
½ cup chopped cilantro
Instructions
In a heavy large pot over medium heat, pour oil. Sauté ½ cup scallions and garlic about 90 seconds. Add ground meat, salt, and pepper increase heat to medium high and brown.
Sprinkle on chili seasoning mix and blend into meat. Let it cook about 2 minutes. Add the wine and let it simmer about 10 minutes.
Add diced tomatoes, beans and Pico de Gallo and half the chicken broth. Bring to a low boil for about 20 minutes. Reduce heat to low and cook about 45 more minutes.
Add chicken broth and/or water as needed. When ready to serve add cilantro and the remaining scallions. Serve with sour cream, shredded cheese or both!