Jeffersonian Inspired Chunky Vegetable Beef Stew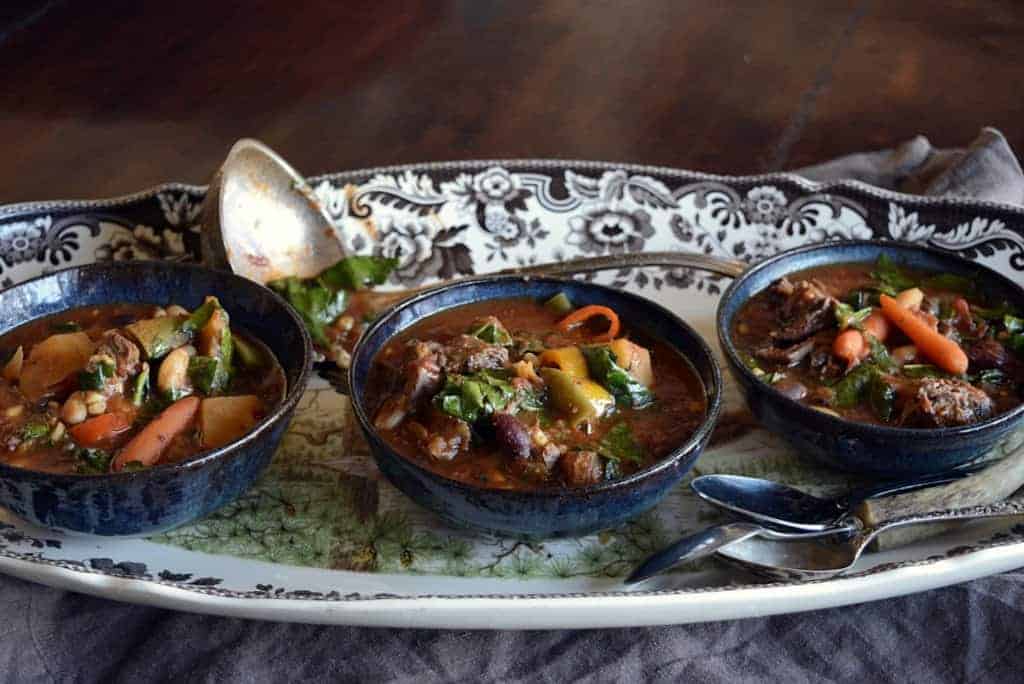 Have you tried Jeffersonian Inspired Chunky Vegetable Beef Stew? if not, then you should definitely check our easy recipe for this vegetable beef stew.
Jeffersonian Inspired Chunky Vegetable Beef Stew
I've always been intrigued by history. In fact, reading historical biographies, watching documentaries on television, and exploring the Internet reading about history is one of my favorite pasttime activities. Well, that is when I have time to have a 'pasttime'. I think this love affair for history started my second year at Marshall University. I 'had' to take two courses in American history, part 1 (beginning America up to 20th century) then part 2 (20th century). I wasn't jumping for joy since I considered it quite boring.
Vegetable Beef Soup Recipe
A simple, tasty and healthy first course for the whole family! This soup will take its rightful place on your table! I recommend by all means preparing vegetable soup with beef. The soup is light, tasty, aromatic, and you will definitely like it.
Stove Top Beef Soup Recipes
Tender chunks of beef, vibrant veggies, all cook together in a deliciously seasoned sauce in one pot on the stove. This Classic Stovetop Beef Stew is a recipe that never goes out of style.You're going to love these simple and tasty recipes:
a new magazine is born
chunky red potato, green chile and white cheddar soup
blueberry lemon cheesecake bars
chunky fresh salmon scallion olive salad
aussie chunky lamb stew
Thomas Jefferson Food
Thomas Jefferson was the first person to bring French cuisine to the United States. During a diplomatic trip to France, he made a deal with James Hemmings. Live each day to the fullest, create memories that make your world sparkle, give to others through tasty food and happiness!! xoxo ~ally
Who was Thomas Jefferson?
Thomas Jefferson is the founding father of the United States, the third president of the country, who held this post from 1801 to 1809. Thomas Jefferson is called one of the outstanding US presidents, who made a great contribution to the development and prosperity of his country. In addition, he was also an outstanding architect who largely shaped the image of Washington.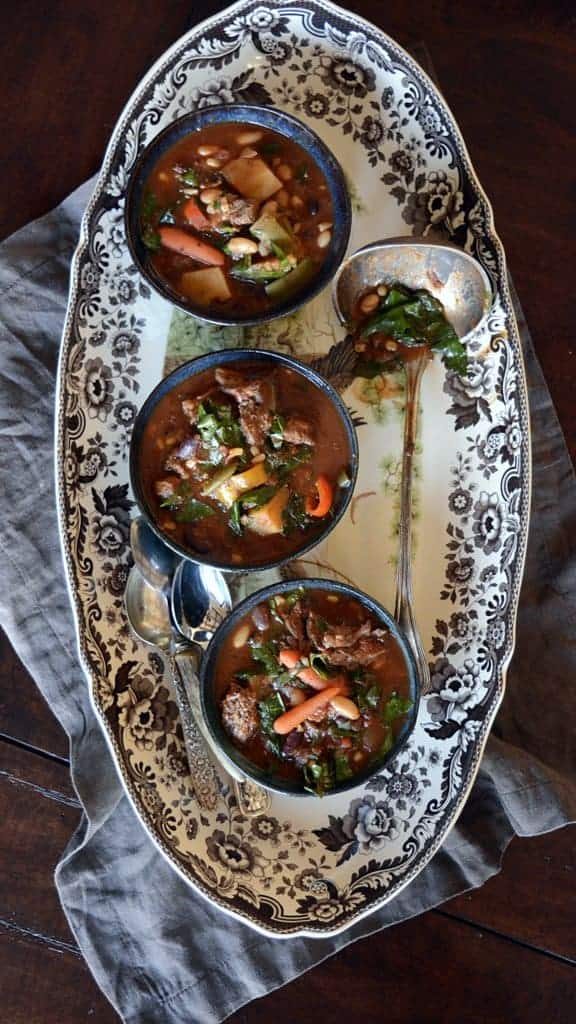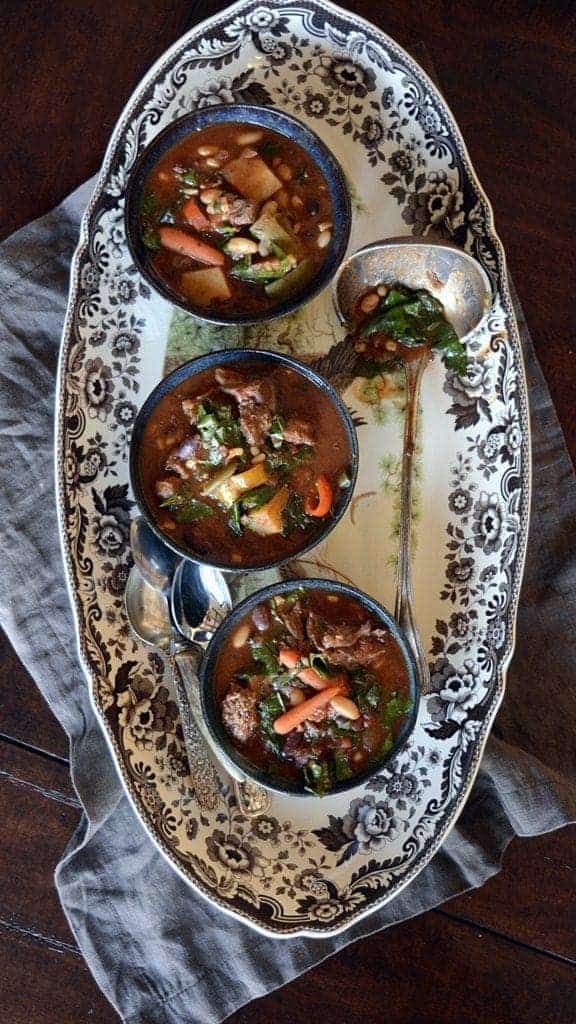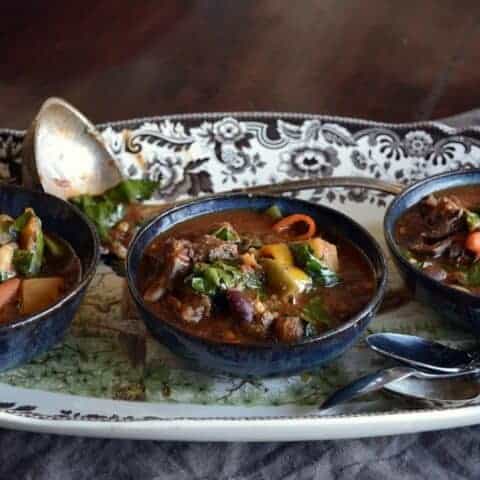 jeffersonian inspired chunky vegetable beef stew
Have you tried Jeffersonian Inspired Chunky Vegetable Beef Stew? if not, then you should definitely check our easy recipe for this vegetable beef stew.
Ingredients
STEW BASE:
¼ cup oil
½ cup sweet onion, medium dice
1 ½ lbs. beef, large dice
4 cloves garlic, peeled and rough chop
2 tsp. sea salt
1 tsp. coarse ground pepper
¼ cup flour, all-purpose
1 cup red wine, cabernet or merlot
2 cups vegetable tomato juice
1 (28 oz.) can fire roasted crushed tomatoes + 1 can water (I used Muir Glen.)
1 (14.5 oz) can tomatoes, diced + 1 can water
1 beef shank bone
4 bay leaves
3 tsp. smoked hot paprika
1 tsp. sweet paprika
2 tsp. thyme, dried
VEGETABLES:
Your choice. Here's what I used:
2 large baking potatoes, peeled and cut into chunks
2 cups peppers, mini, sliced into rounds
1 cup baby carrots, whole or larger ones cut in half
1 (10 oz.) box frozen corn
1 (14.5 oz.) can Italian cut green beans
1 (14.5 oz.) can cannellini beans
1 (14.5 oz.) can mixed beans, black, pinto, navy
2 cups collards, chopped & packed
Instructions
STEW BASE: In a large stock pot or Dutch oven pot over medium heat, put the oil. Add the onions and sauté about 3 minutes.
Increase heat to medium high. Add beef and brown about 3-5 minutes. Add garlic, salt, pepper and flour and blend well. Pour in wine, blend, cover and cook about 3 minutes.
Reduce heat to medium and add, crushed tomatoes/water, diced tomatoes/water, beef shank, bay leaves, paprika, and thyme. Cover pot and let it cook, at a simmering boil, about 2 ½ hours. Stir occasionally.
Remove beef shank bone and take off any remaining meat and return to pot. Cook another 30 minutes on a simmering boil.
VEGETABLES: Add your veggies that require more cook time first, like potatoes and carrots. Cook about 30 minutes. Then continue to add other veggies and continue cooking until tender.
Notes
Please don't be scared off by the number of ingredients. This is reeeeally a super simple recipe! It takes time and great layers of flavoring to create this magnificent 'jeffersonian inspired chunky beef stew' and it's worth every second of your time!

Always try to use vegetables that are in season. It creates more freshness and deliciousness!

Adjust the smoked hot paprika to your taste. I'm a spicy kinda gal!

When I slice the mini peppers into rounds, I don't worry about the seeds. Whatever I scoop up goes into the stew, too.