lemon butter herb roasted whole chicken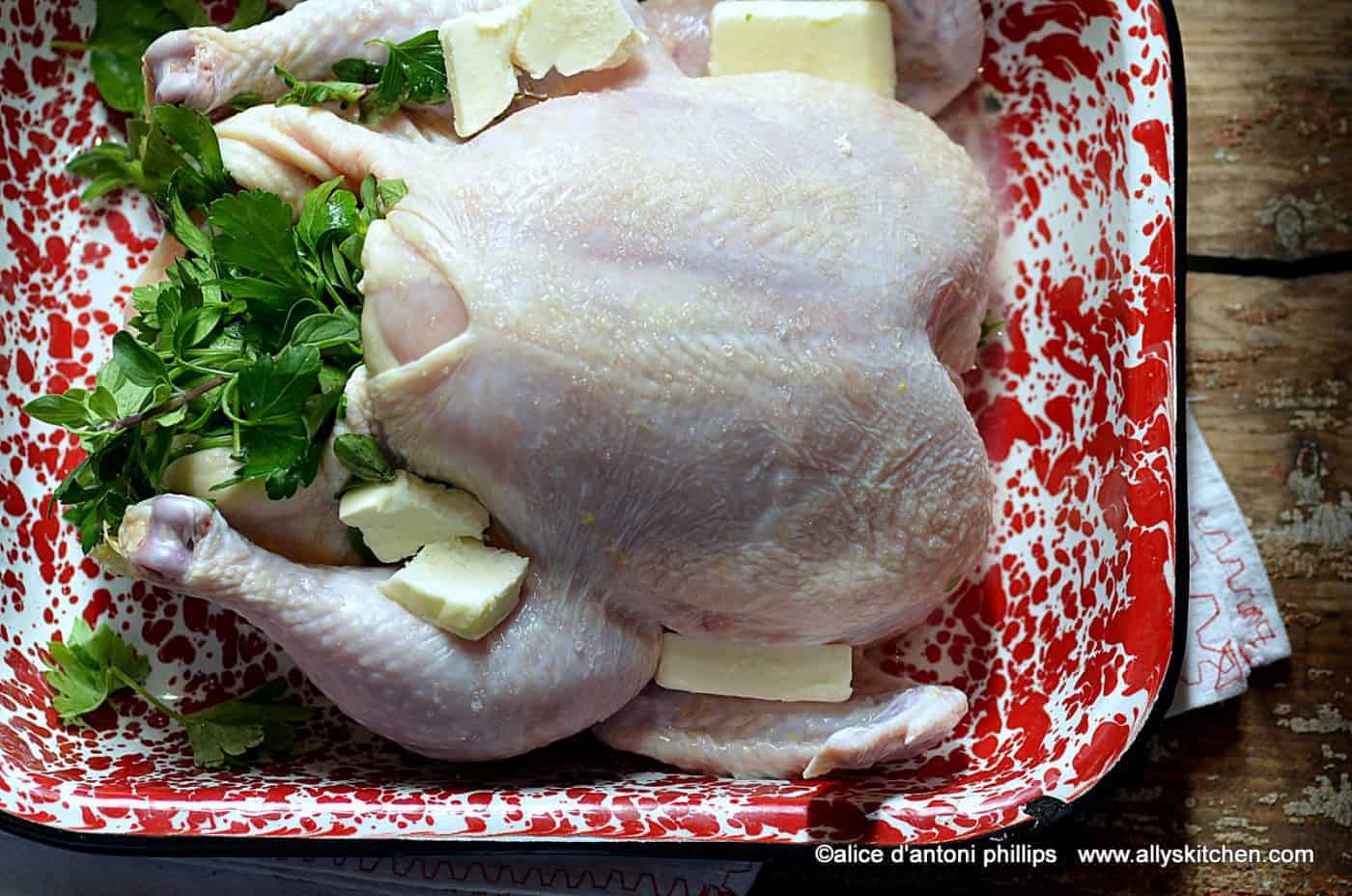 Just the sound of this recipe, lemon butter herb roasted whole chicken, makes me hungry! Names of recipes set the stage for our brains to start firing neurons and associating flavors~~plus, we get a 'mindset' sort of a thought in our brain that begins the process of subconsciously deciding whether we might or might not like it.
I mean think about it, when you go to a restaurant, read the menu, it's the words that either make a dish appeal to you or not, then if there's a picture, oh, wow, that's even added pleasure for the neurons to start activating! The array of flavors in this chicken, which is simple to make and beautiful to serve, will surely make your guests, be it family or friends, having a neurogastromic explosion!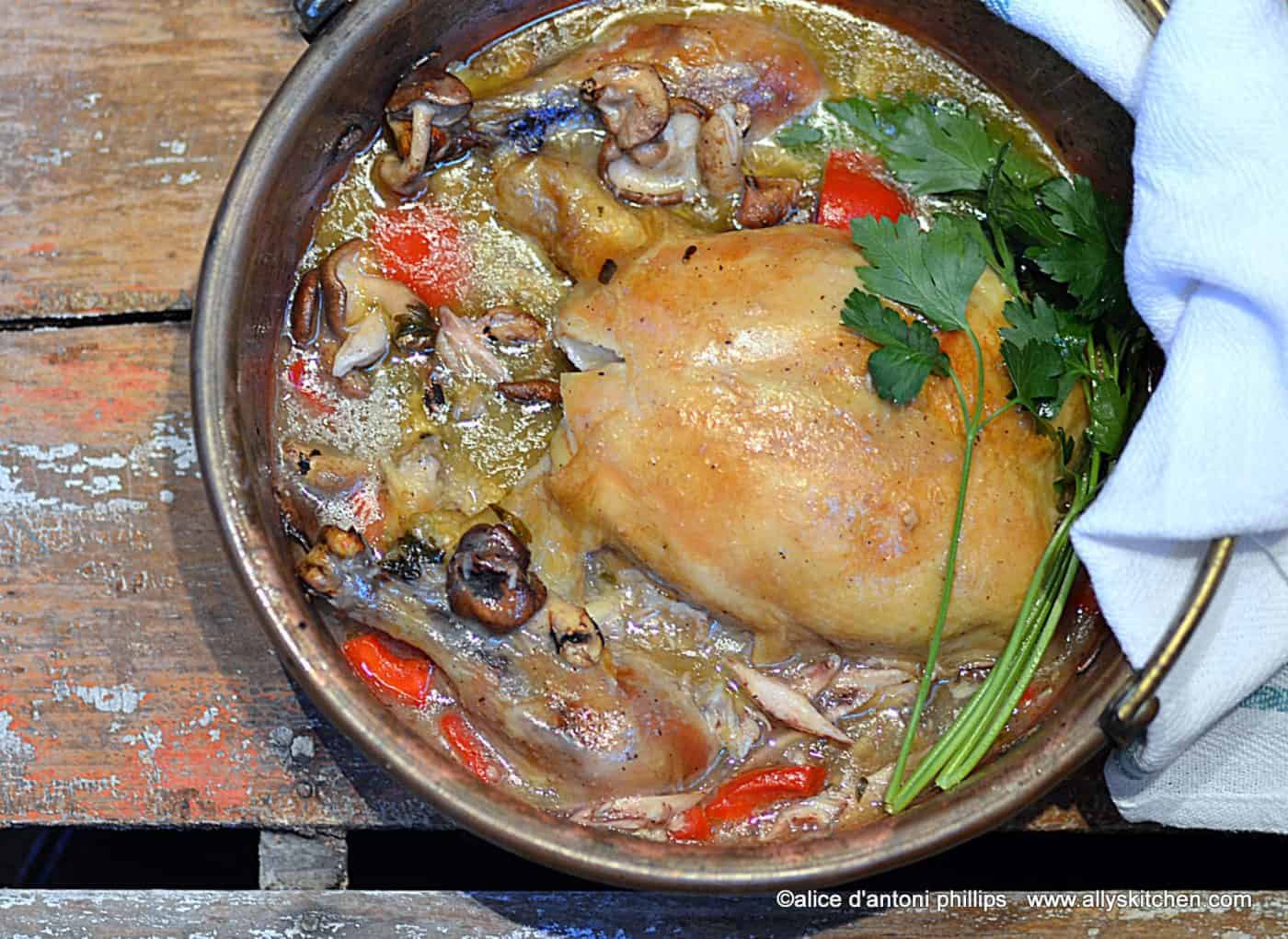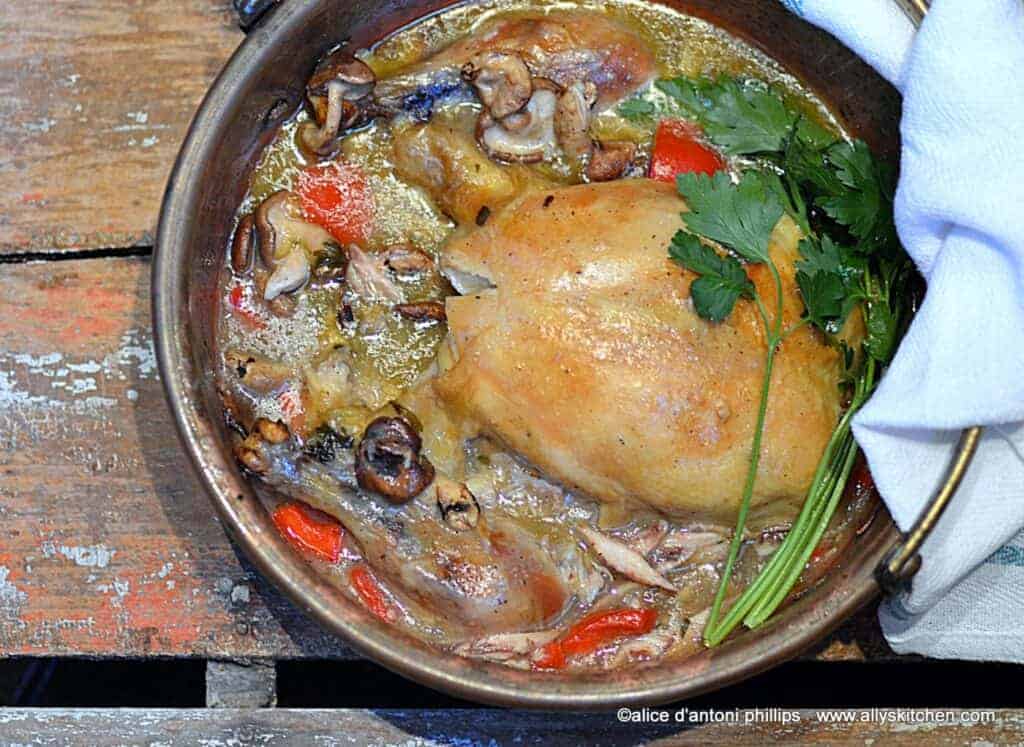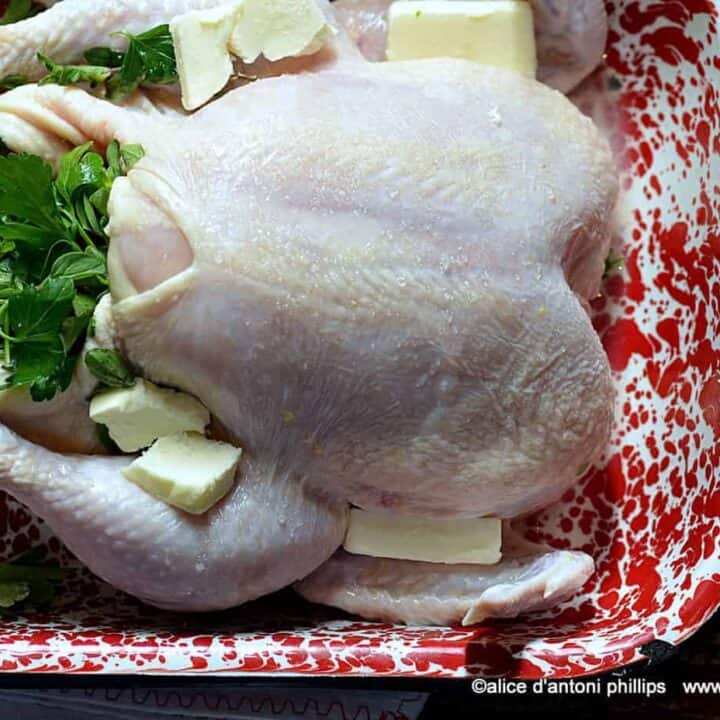 lemon butter herb roasted whole chicken
Ingredients
Preheat oven to 350 then broil to brown
1 whole organic chicken, about 2 ½ to 3 lbs.
½ lemon, cut into 4 pieces
4 Tbl. salted butter
1 ½ tsp. sea salt
3-4 sprigs of flat parsley and 3-4 sprigs of another herb (thyme, rosemary, marjoram, etc.) tied with cooking twine in a bouquet
Cooking spray
2 cups water
12 oz. box organic condensed cream of chicken soup (I used Pacific brand.)
OPTIONAL:
3 cups cremini mushrooms
1 red bell pepper, cut into bite size pieces (feel free to sub any color you wish!)
Instructions
Clean the chicken well. Pat dry with paper towels. Place two tablespoons of butter, the lemon pieces, one teaspoon of salt and herb bouquet inside the cavity.
Place in a roasting pan. Coat the chicken with cooking spray, sprinkle with the remaining salt and tuck the remaining butter (break into pieces) in the bends of the wings/legs. Double foil and cover the chicken tightly. Place on a cookie sheet. Bake in a preheated 350 oven for 1 ½ hours.
Remove foil (careful because there's lots of steam and it's hot!). Spoon broth over the chicken. Return to oven and cook another 20 minutes basting 2-3 more times. Turn to 'broil' and brown the chicken to your desired hue.
Remove and let cool about 20 minutes.Discard the cooked herbs. Pour the broth in a large pot, add the chicken soup and simmer on medium low on the stove for about 15 minutes making a thick gravy/broth. Optional: Add the mushrooms and bell peppers, cook another 15 minutes.
Place the whole chicken to this pot and baste well with the gravy/broth. Cover with a lid and warm on simmer until ready to serve. And, remember, the skillet is your rustic serving piece!