Chana Masala Pork & Corn Medley with Pea Sprouts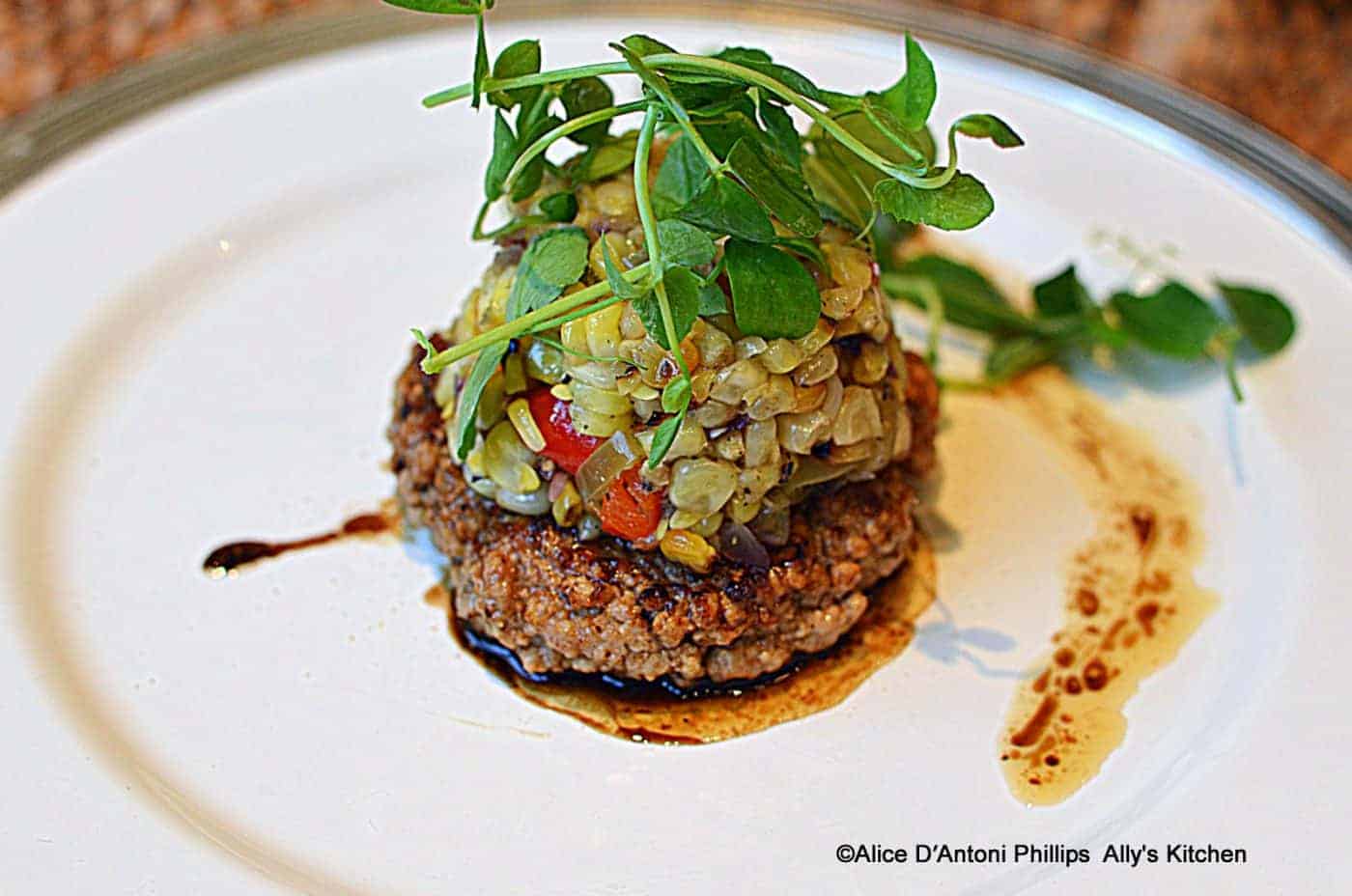 My Boho nature invades all parts of my life, not just my food~~it's in my thinking, my living and my cooking! What exactly is a 'boho' nature…well, this is my take on it~~I love adventure. I love changing things up. I love trying new things. I love putting together unlikely combinations. I love experimenting and exploring. I color, vibrancy, whimsical and playfulness in most everything I do! This recipe is a reflection of my 'Boho' nature~~since I've always wanted to explore Indian cuisine, I thought I'd start with some spices!
Chana Masala is a combination of spices used in Indian and Pakistani foods. I actually found a brand of it at Walmart of all places! Can you imagine! it was called 'Cholle Masala" and is from Kohinoor, which produces authentic Indian spices. When I read the list of spice ingredients, I was so intrigued and couldn't wait to get home, open, sniff, and use it! According to Wikipedia Chana Masala has in it not only chickpeas, but other ingredients typically include onion, chopped tomatoes, coriander seed, garlic, chillies, ginger, dried mango powder (amchur, sometimes spelled "amchoor"), crushed pomegranate seed (anardana) and garam masala.[2]
Since I'd done a boatload of smoked grilled fresh corn the day before~~yep, here's the recipe~~CLICK~~I knew I was going to use some of this in the new dish. And, since I'd seen a pound of ground pork at the market marked down half price, I decided that would be used, too! Did I mention that being 'boho' means being spontaneous and free-spirited~~yes, even with my recipes~~it's whatever captures my attention or whatever may be a good buy So, how did this turn out? Well, I had two taste testers~~Sally and Matt, my dear neighbors~~my pal Sal's Italian & Matt's Australian~~I mean what a better twosome to taste this dish! All I can say is there was NOTHING left on their plates, and Sal wants the recipe to serve at her next dinner party!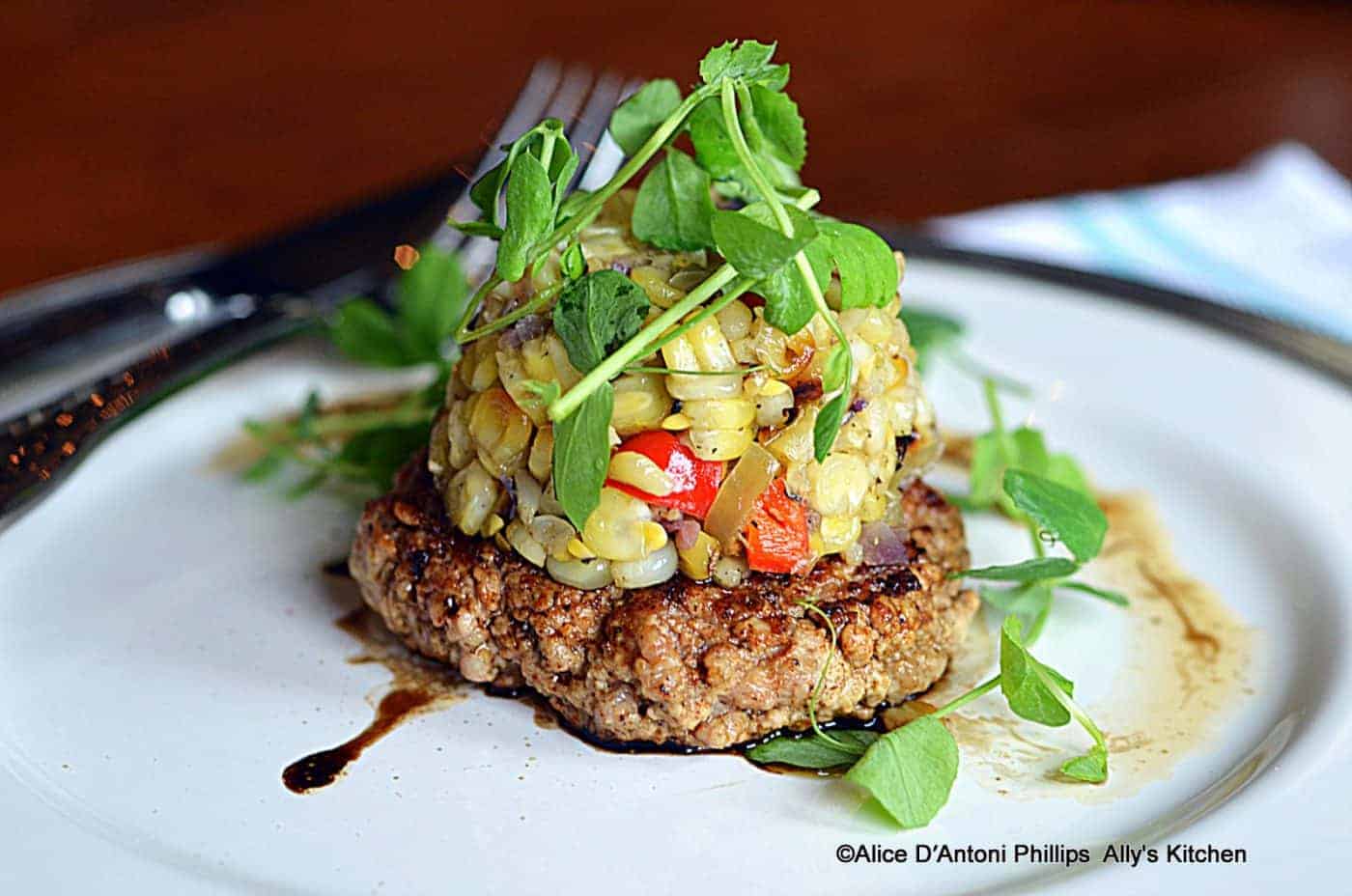 Serves: 4
What you need:
Corn Confit:
¼ cup extra virgin olive oil
1 tbl minced garlic
1/3 cup diced red onions
½ cup diced red bell peppers
1 tsp Cholle (or Chana) Masala
4 cups thawed frozen corn (or if corn is in season, grill and cut off the cob)
1/3 cup gourmet peppers (drained)~~I used 'Uncle Gary's Gourmet Peppers'
1 tsp sea salt
1 tsp coarse ground pepper
Pork Patties:
1 lb ground pork
1 tsp sea salt
1 tsp coarse ground pepper
1 tsp Cholle (or Chana) Masala (I bought mine at WalMart!)
¼ cup Greek yogurt
Canola Cooking Spray
Garnish:
2 cups fresh pea sprouts or microgreens (or whatever green you prefer)
Pitted Black Nicoise Olives (optional)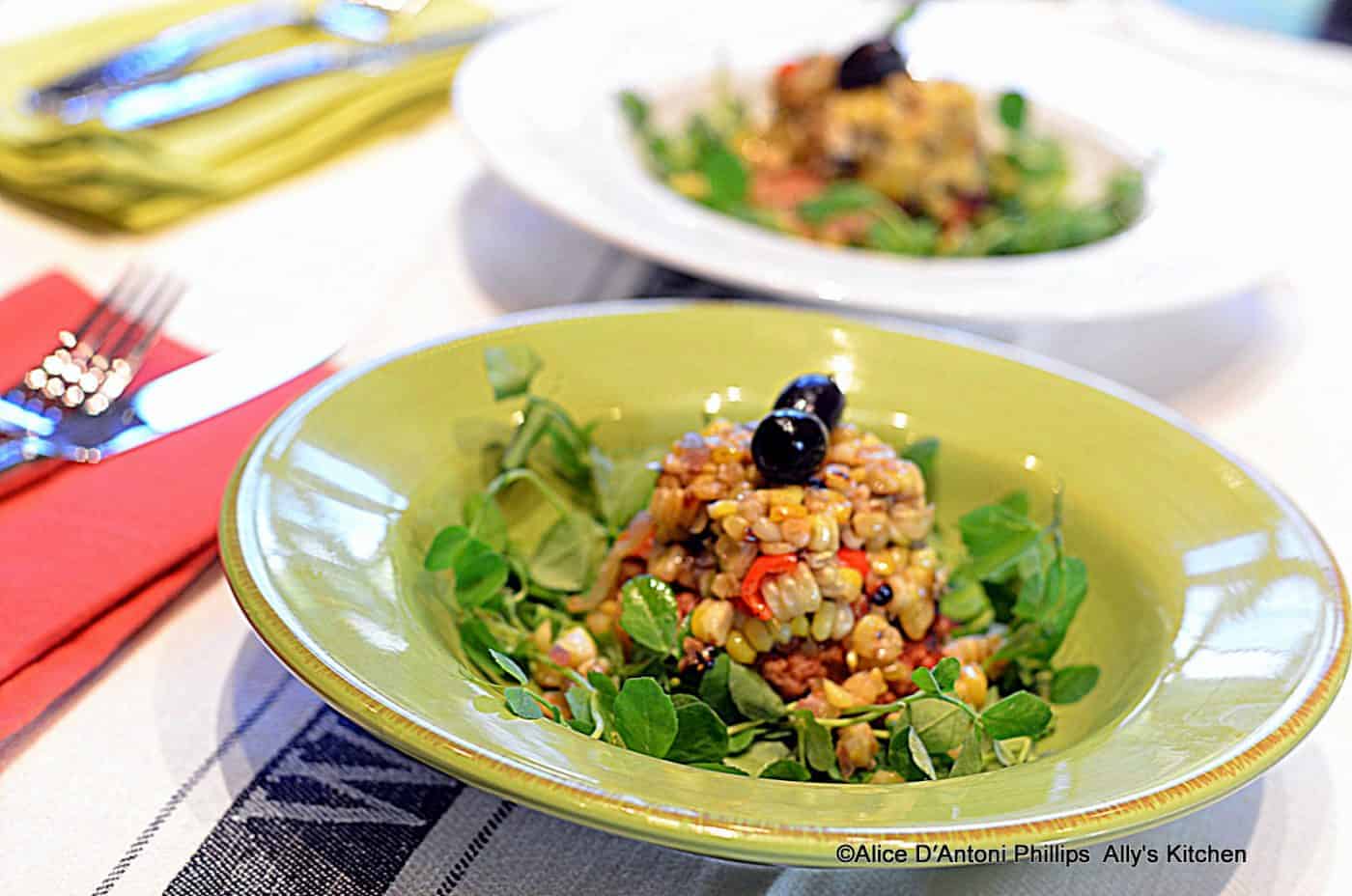 What you do:
In a heavy large cast iron skillet on medium high, heat the olive oil. Add the garlic and onions and sauté until translucent. Reduce heat to medium, add the peppers and blend in the cholle masala. Add the corn, gourmet peppers, salt and pepper and blend. Reduce heat to medium low, cover with a lid and let this cook about 20-30 minutes stirring occasionally until ready to serve.
Combine the pork, salt, pepper, cholle masala, and yogurt in a mixing bowl and blend together well with your hands. Portion into 4 equal size patties. Coat both sides with cooking spray.
Coat a cast iron skillet with cooking spray. Heat on medium high. When hot, place the patties in the skillet (you should get a good sizzle). Press down to flatten somewhat. Cover with a lid and cook about 3-4 minutes. Flip the patties and cook another 3-4 minutes. (Both sides should be golden brown.) Add about ¼ cup water to deglaze the pan. Turn off heat & cover with lid until ready to serve.
Plating:
Place the pork pattie in the center of the plate. Drizzle with some of the skillet au jus. Top with the corn confit and some of the pea shoots or microgreens.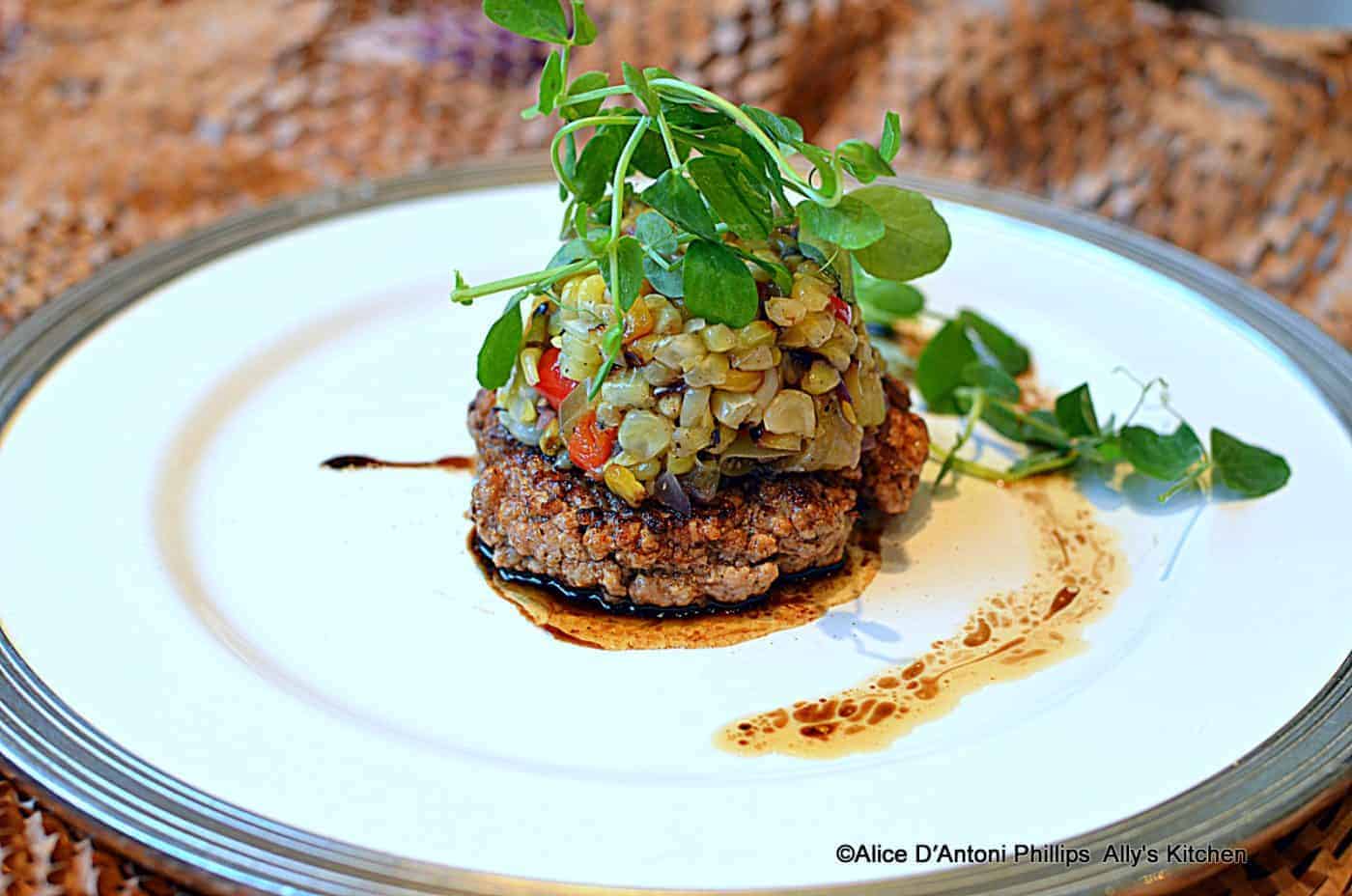 ©Alice D'Antoni Phillips Ally's Kitchen