pepper encrusted bison tenderloin & grilled onions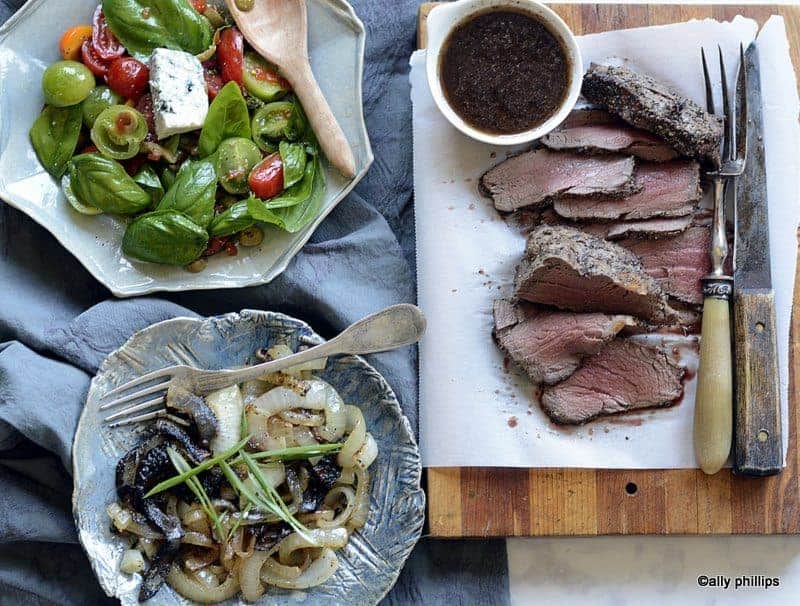 I am a fan of bison. All cuts of bison. Tender and tasty, it's much like beef but different. When you look at bison that's not been cooked, you'll immediately see that it's much redder than beef. That's because bison doesn't have a lot of marbeling, or internal fat, like beef.
Bison requires less cooking time than beef. According to the National Bison Council about one-third less time. And, it's strongly recommended that you don't cook it to 'well done'. Not gonna be your best bites. And, if you're having it for the first time, you want to savor the deliciousness of this meat.
Now this beautiful pepper encrusted bison tenderloin & grilled onions was cooked to perfection. Actually,  next time I'll make it a tad bit more rare. It's important to let the bison rest once it's cooked. That way the juices and flavors have time to join forces to give your palate an explosion of taste. If you're using a thermometer when you cook it, look for an internal temperature of about 120 to 140 degrees. I simply do the finger/hand test and it works most every time for me.
You'll see here that I served this bison with its au jus and some simple grilled onions and an heirloom tomato salad. The hunk of Maytag bleu cheese is my 'vice' in this recipe. Lawsy, I love that, too! Enjoy feeling like you're out West on the range sitting around a campfire with cowboys and cowgirls. It's part of the bison experience!
xox ~peace & bison~ ally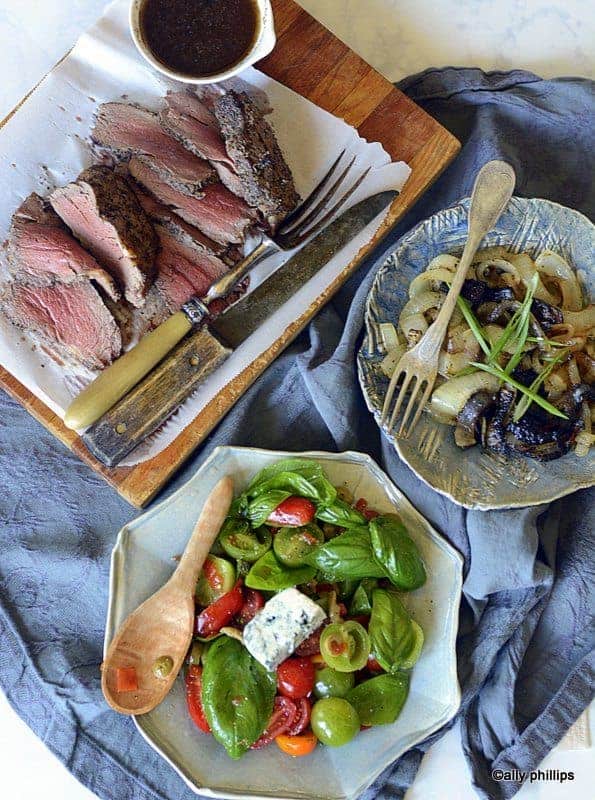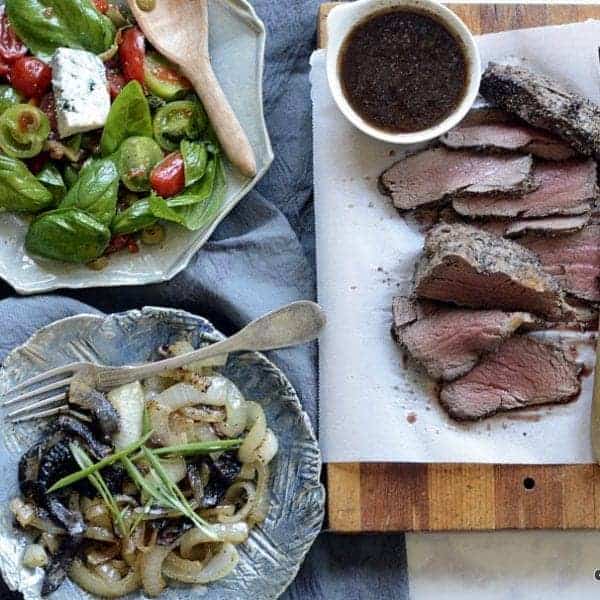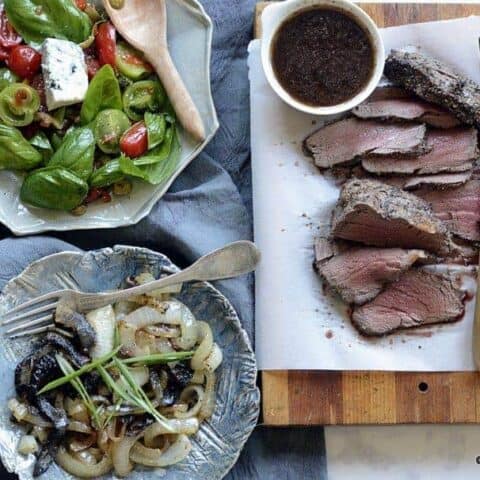 pepper encrusted bison tenderloin & grilled onions
Ingredients
Preheat oven to 450
1 lb. bison tenderloin
¼ cup bacon drippings
2 tsp. sea salt, divided
1 Tbl. coarse ground pepper
½ cup red wine
3 Tbl. butter, salted, divided
1 large sweet onion, sliced thinly into half-moon rounds
Instructions
Coat the tenderloin on all sides with the 1 ½ salt and pepper and massage into the meat.
Heat a large (10") cast iron skillet on high heat. Add the bacon drippings. Let it get hot. Put the tenderloin in and pan sear on each side about 60 to 90 seconds each. You want to get a 'crust'.
Turn off heat, Add the red wine to deglaze and one tablespoon of butter. Whisk together.
Cover with a lid. Put in a preheated 450 oven for about 6-7 minutes for rare to medium rare. Remove from the oven. Remove the lid and let the meat rest about two to three minutes.
Put the remaining butter in a cast iron skillet on medium high heat and let it melt. Add the onions and remaining salt. Sauté for about 12-15 minutes until the onions are tender yet retain a tad bit of crunch.
Notes
If you prefer more well done meat, then cook longer.

Use a thermometer for the internal temperature, which should be between 120 and 140 degrees.