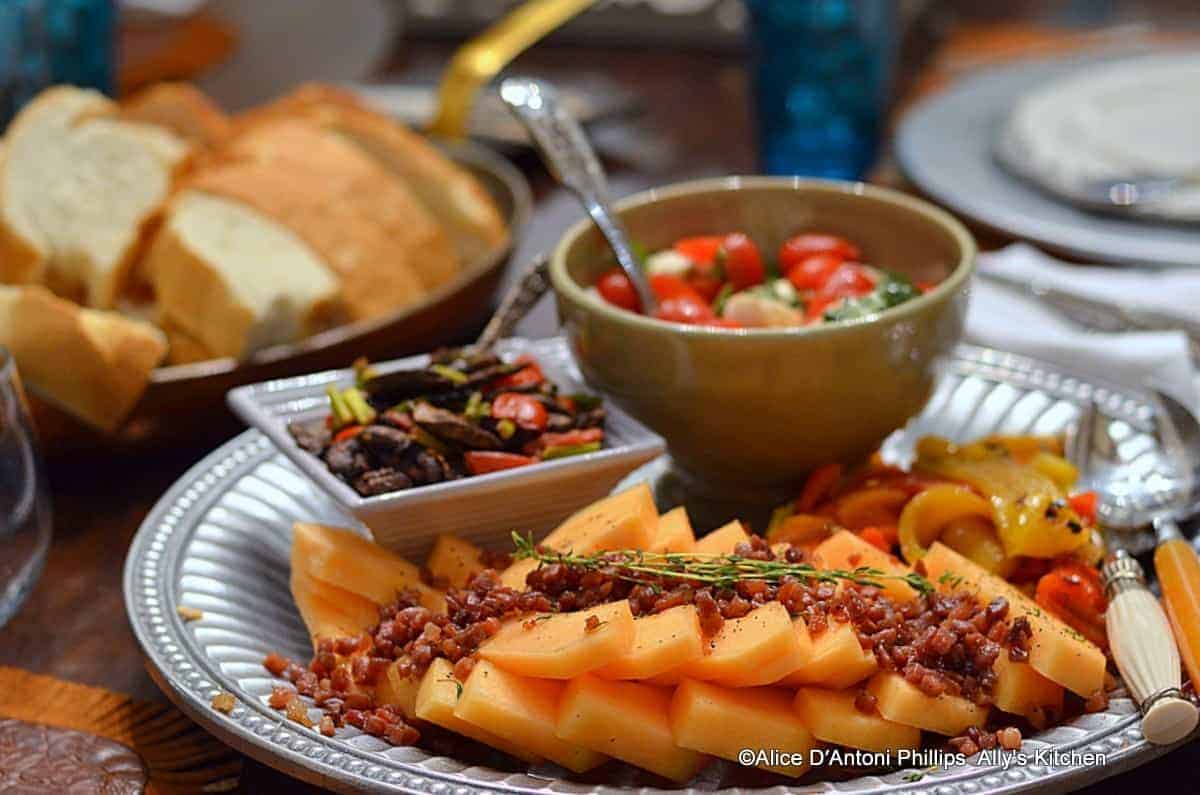 What is Antipasti
An antipasti starter is about gathering friends around the table and enjoying the art of nibbling, snacking and sharing! Mezze and tapas are similar.
An antipasti starter is basically a 'starter' prior to the big meal! Some may call it antipastO. The basic different between the ending letter of an "i' or an "o" is related to portion. Antipasti is plural while antipasto is singular. It doesn't matter what you call it antipasto or antitasti. Or if you even give it the Italian twist. These boards, platters and plates are all about something to munch on, not to fill you up, prior to the meal!
Antipasti Starter
The antipasti starter platter, board, plate, tray, whatever you serve it on, has really no hard and fast rules. You want a colorful offering of flavors and ingredients like marinated vegetables, olives, deli meats, cheeses, maybe small bites like a crostini, cheeses, fresh fruit, dried fruit, nuts, dips, hummus, pastes, crackers, artisan breads and other things that just are for grazing. The big thing is to thick color and beauty. Of course, the number of people you're serving also makes a difference. For a larger crowd, say 8-10 people, have several trays. You can also opt to have individual trays and plates.
Italians love their antipasti trays, and I'm loving them more and more, too! They're just so easy. So for a small dinner party with four very good friends, Ben and I, well, I really, decided we'd ditch salads and go Italian! Since we were also having lasagna, it carried through the culinary feel. You serve antipastai trays family style, and everyone gets to dish out what appeals to them.
Honestly, sometimes my antipasti starter can end up being the entire meal for the evening. We all sit around the table, engage in conversation, pass around small dishes and plates and end up filling up on small bites. Yes, the art of nibbling and snacking, just elevated! These quick dinner bites are perfect for your next antipasti starter, too!
Italian Appetizer
Italians have long loved their food and eating. Meals are a time-consuming affair, and they relish this engagement with family and friends. No one is to be rushed and it usually all starts with the Italian appetizer or antipasti starter. In addition to the combination of all the ingredients and beauty of the platter, the Italian appetizer experience is typically punctuated by good wines. It's the way to start an evening or early afternoon diner with friends and family.
Nibbles Platter
The nibbles platter is usually really easy to put together. Unless you're serving something like shrimp that might need to be steamed or sauteed, then most of what you're selecting will be packaged, jarred, canned and wrapped like cheeses and dried meats. You want to invite folks to graze. But, in this nibbles platter zone, you want to ensure that fingers and hands aren't touching the foods. So, it's important to have small plates, napkins, toothpicks, forks, spoons and more to scoop, pick up, select and put on one's individual nibbles platter or plate.
Easy Appetizers
Antipasti can be hot, cold, cooked or raw. It's up to you. On the individual plates, which usually are small works of art, you want bites of this and that to be selected. If you're all sitting around the big dinner table, then these nibbles, or grazing antipasti, platters are passed around.
Mezze
If you're in the parts of the Mediterranean and the Middle East, you hear these snack platters referred to as mezze. Again, these are simply small plates where you build a few bites on your own from a large collection of offerings. In countries like Turkey, Israel, Greece and Lebanon, these delicious snacking trays can vary slightly. But, the intent is the same, you enjoy the art of the snack platter.
Tapas
Tapas are a tad bit different from mezze, antipasti and antipasto. Tapas, more Latin American and Spanish, refer to eating with a group where everyone can share and sample different breads, meats, seafood, vegetables and more. Tapas are small plate servings, and it's a great way to try new flavors and dishes. But, if you want to consider tapas for your snacks or appetizers, hey, it's your gig and you can do so!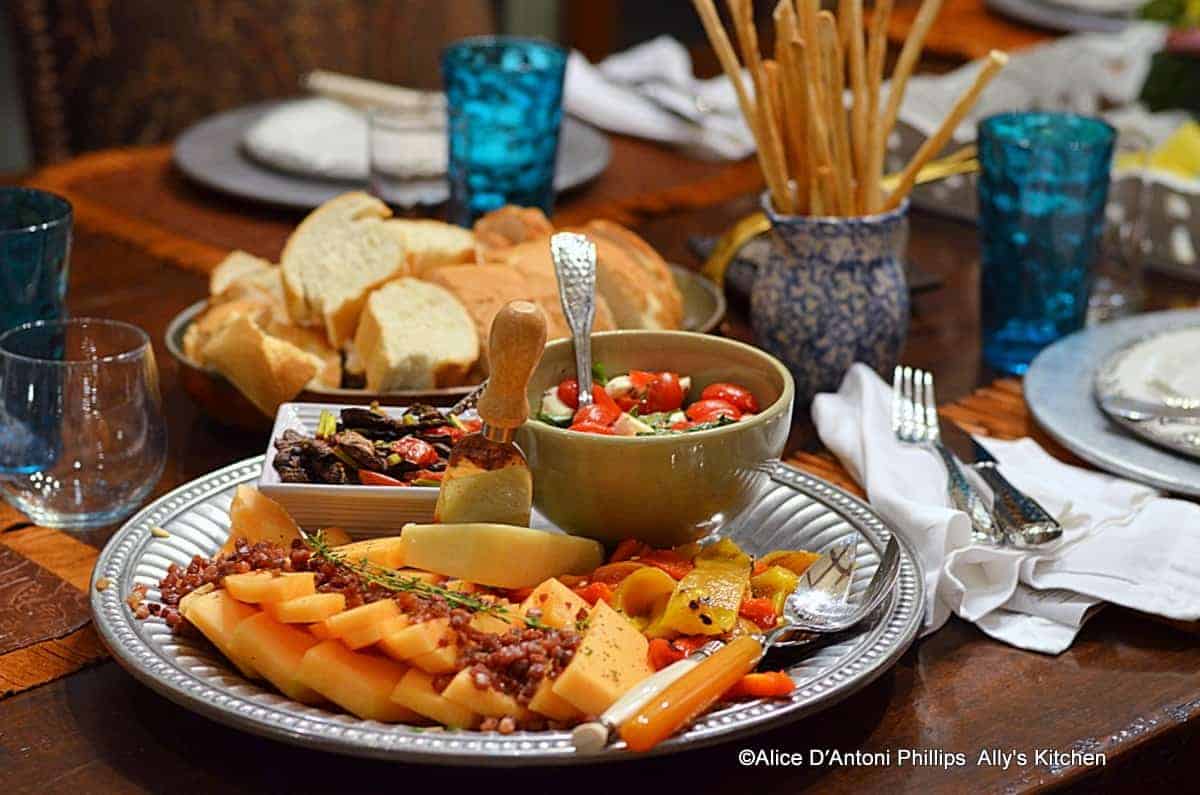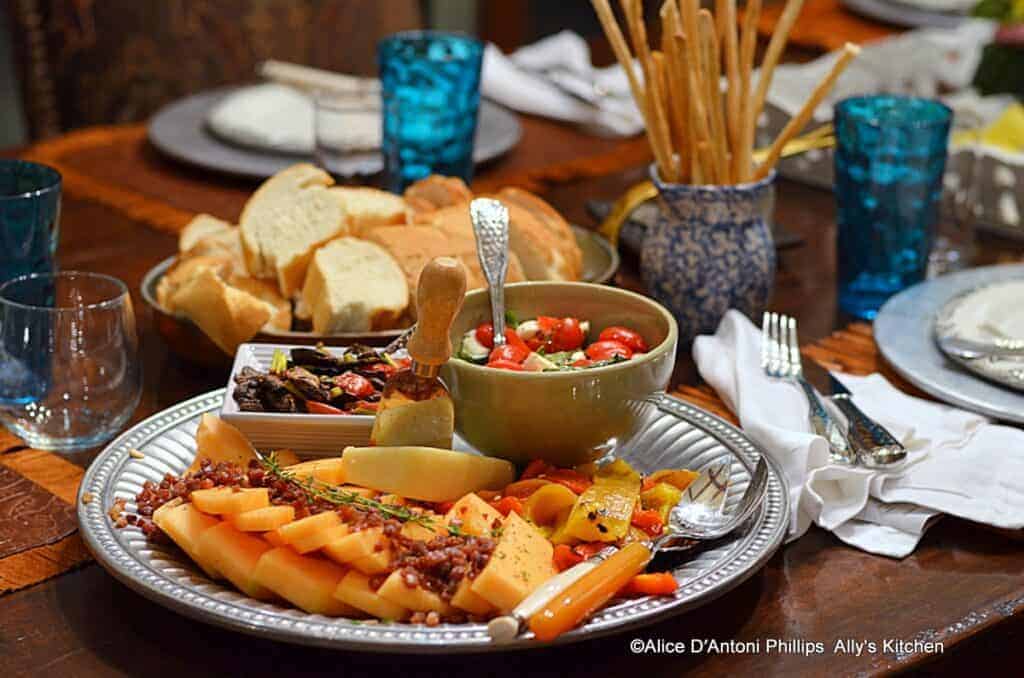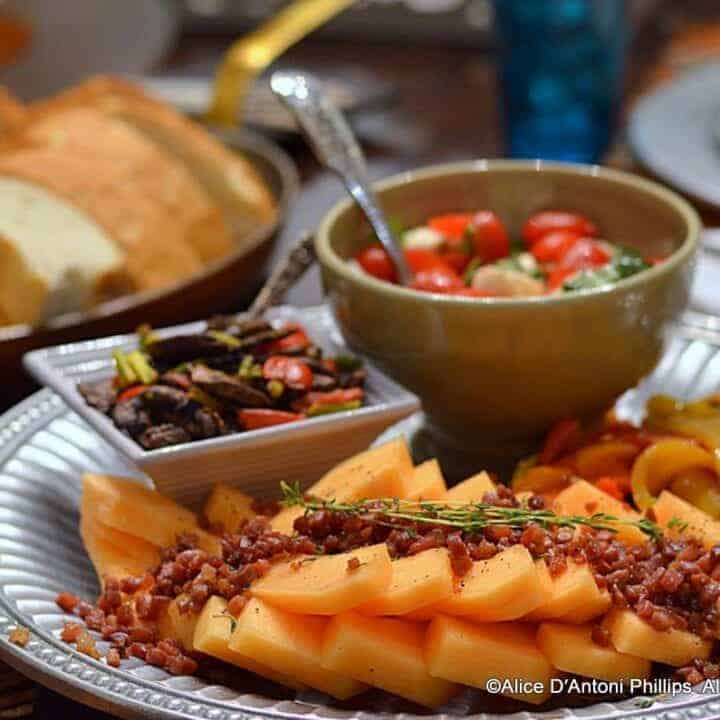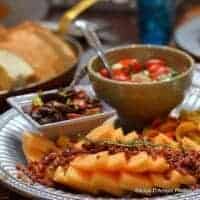 antipasti starter
An antipasti starter is about gathering friends around the table and enjoying the art of nibbling, snacking and sharing! Mezze and tapas are similar.
Ingredients
1 cantaloupe cut into slices
1 cup diced proscuitto fried quickly in a skillet~~set aside
Fresh Thyme sprigs
12 ounces sliced baby bella mushrooms
2 cups sliced cherry tomatoes (divided)
1 cup cut asparagus (cut into about 2" pieces)
1/2 cup cubed sweet onions
2 large bell peppers (roasted, sweated, peeled and sliced into pieces)
Cheese (your choice)
Olive Oil
Italian breads
Instructions
Spread the mushrooms, 1 cup tomatoes, asparagus and onions on a parchment-paper-lined cookie sheet. Drizzle with olive oil and toss veggies. Add sea salt and pepper. Roast for about 15-20 minutes in a pre-heated 425 oven. Remove and let cool.

Roast the whole bell peppers on an open flame on the stove or gas grill turning on all sides and charring until tender. Remove, put in a glass dish, cover with a plate, and let the peppers sweat. When cooled, remove peel and as much of the charring as you prefer (I like to eat it!), slice into pieces, drizzle with olive oil, salt and pepper.

Arrange the cantaloupe on the platter, Give a sparse sprinkle of sea salt and a light drizzle of olive oil. Pull off some fresh thyme leaves and sprinkle on and cover with the cooked prosciutto. Place the remaining ingredients on the platter. Serve and enjoy!