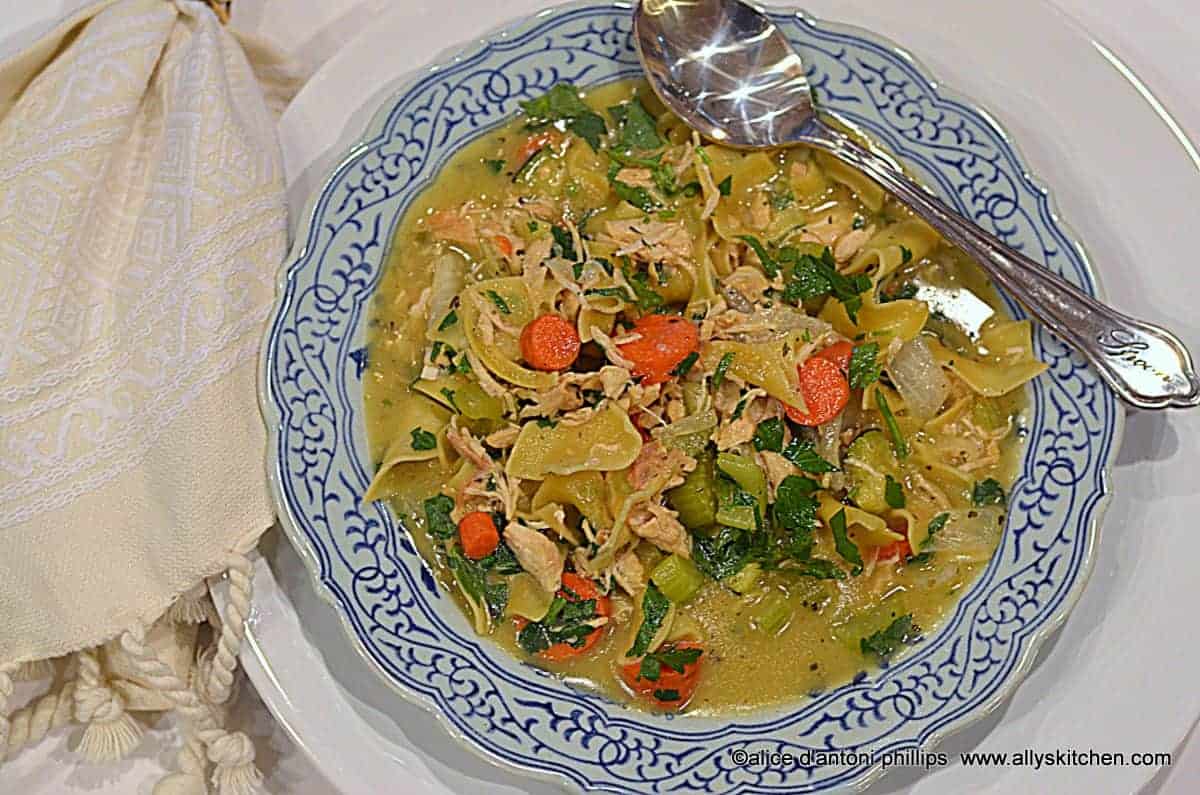 I like my soup chunky. I like my soup fresh. I like my soup creamy. I like my soup with al dente veggies. I love soup with chicken! This soup is right up my alley (tsk tsk)!
There's something about adding the wine to the soup and infusing hints of acidity and sweetness once the alcohol in the wine cooks off. In essence, you get the flavors, which is precisely why you use it! You could certainly make this soup with a leftover rotisserie chicken by just boiling the carcass with some aromatics then you'd have shreds of meat and some amazing broth~~you can do the same with bone-in fresh chicken breasts.
If you've never tried white pepper, then by all means add it to your gourmet spice stash. Here's what Chow says about the difference between white and black pepper~~black peppercorns are picked when almost ripe and sun-dried, turning the outer layer black. To produce white peppercorns, this outer layer is removed before or after drying, leaving only the inner seed. White pepper tastes hotter than black, and when your cooking lighter dishes (mashed taters, white gravies, etc.) there's an aesthetic quality with the white pepper.
Finally, there's nothing better in this soup than the hearty earthy and almost dough-like wide egg noodles!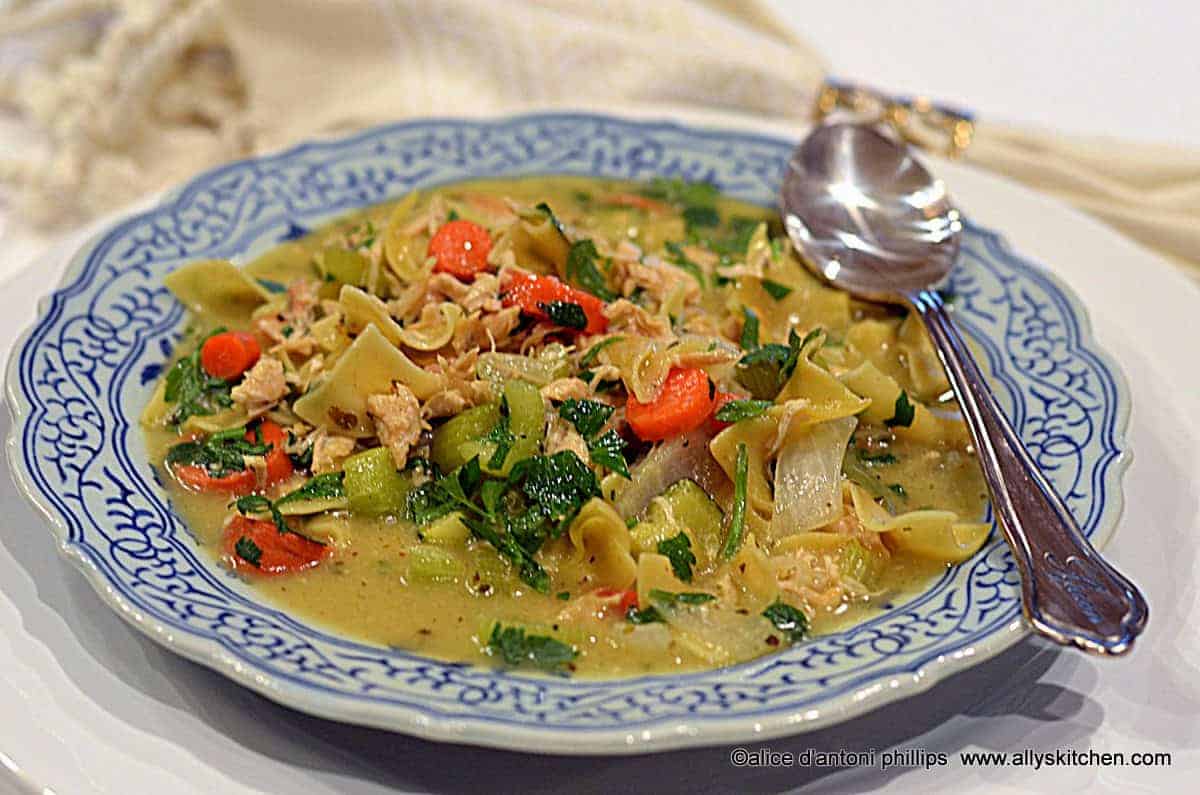 Serves: 8+
What you need:
3 tbl butter
1 ¼ to 1 ½ lbs thin chicken breasts cut into chunks
4 tbl olive oil
2 tsp sea salt (divided)
1 tsp white pepper
2 tsp cumin
2 tsp dried oregano
1 cup white wine
32 ounces chicken broth + 3 cups water (both divided)
1 can cream of chicken soup
3 tbl flour + ¼ cup cold water (mixed together into a liquid paste)
2 cups cut fresh carrots
2 cups sliced celery
1 cup onion cubes
½ cup zucchini cubes
3 cups hearty homestyle eg gnoodles (dried)
½ cup chopped Italian parsley
1/3 cup grated parmesan reggiano
2 cups dried wide egg noodles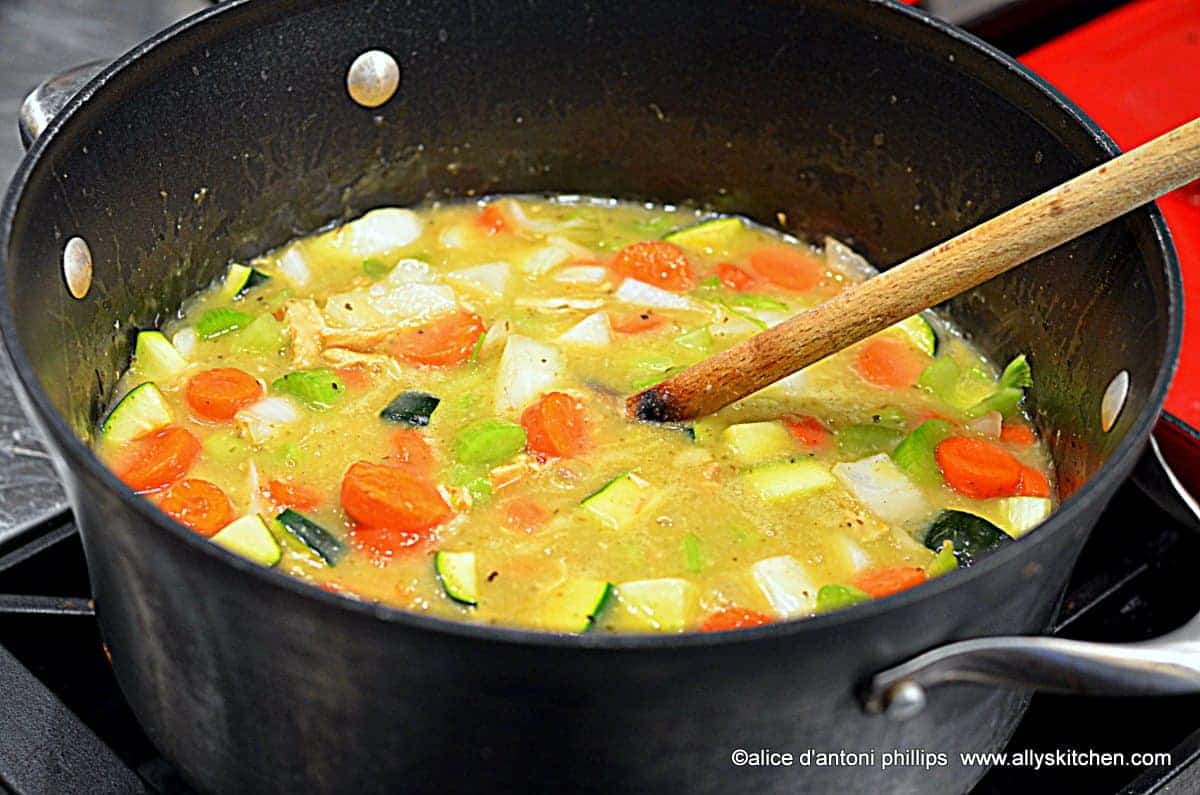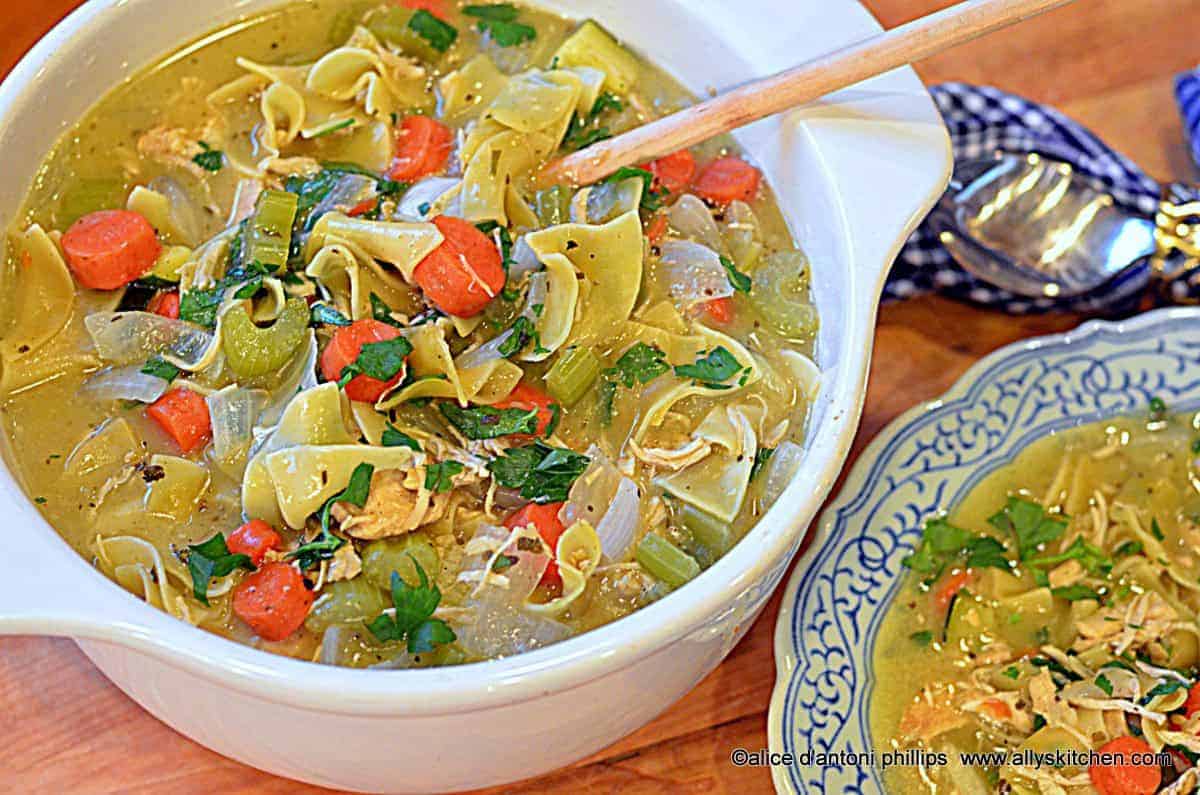 What you do:
In a large soup pot over medium heat, add the butter and olive oil. Put in the chicken chunks, 1 tsp salt, pepper, cumin, and oregano and blend browning the chicken. Increase heat to medium high and add wine.—sizzle/cook for about 3 minutes.
Add half of the chicken broth and 1 cup water. Reduce heat to medium. Cover with a lid and cook about 1 hour and 15 minutes adding broth and water as needed.
Add the cream of chicken soup and swish out can with a few ounces of water and add. Increase heat to a simmering boil and drizzle in the flour mixture. Whisk to remove lumps and also this action will separate/break up chicken chunks. Broth will thicken.
Add the veggies and homestyle noodles, cover and let the noodles cook on medium about 30-45 minutes. (Add broth or water if needed.) The veggies will be slightly al dente or cook more to your preference. Add the parsley and Parmesan and blend.
Ready to serve!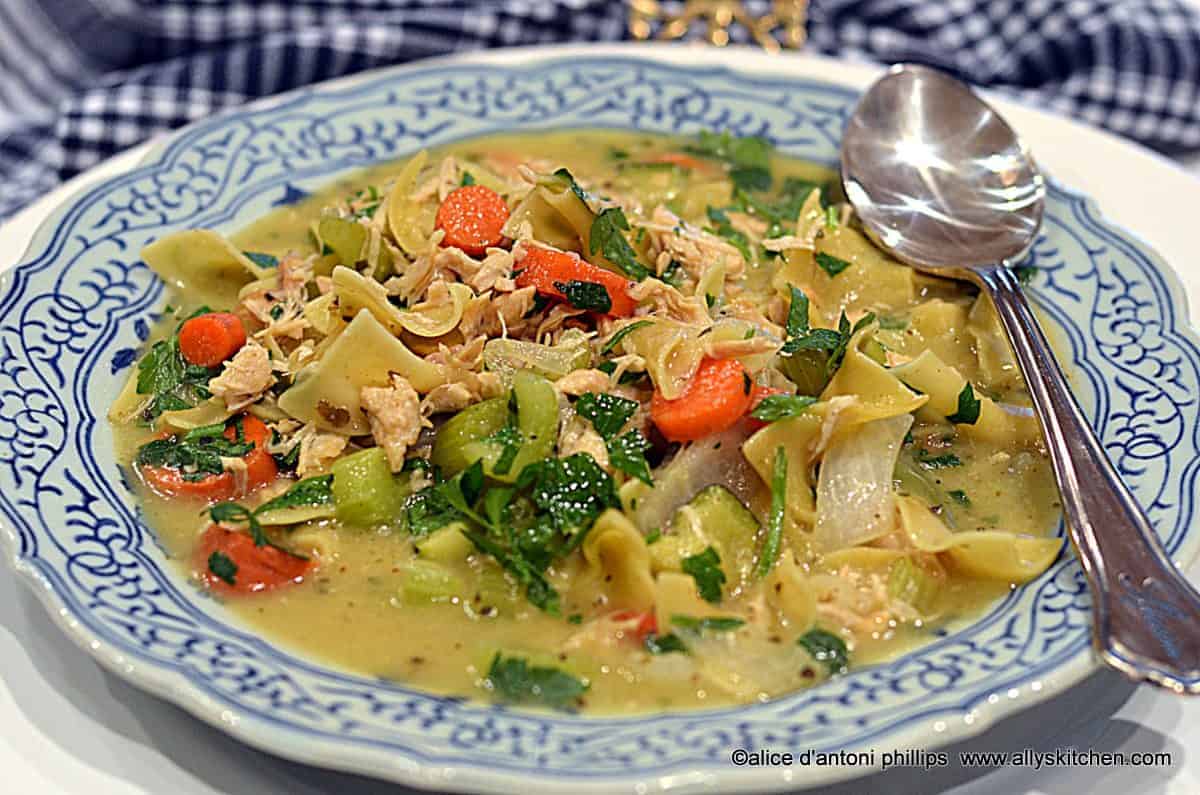 ©alice d'antoni phillips www.allyskitchen.com