Love Bird Citrus Garlic Chicken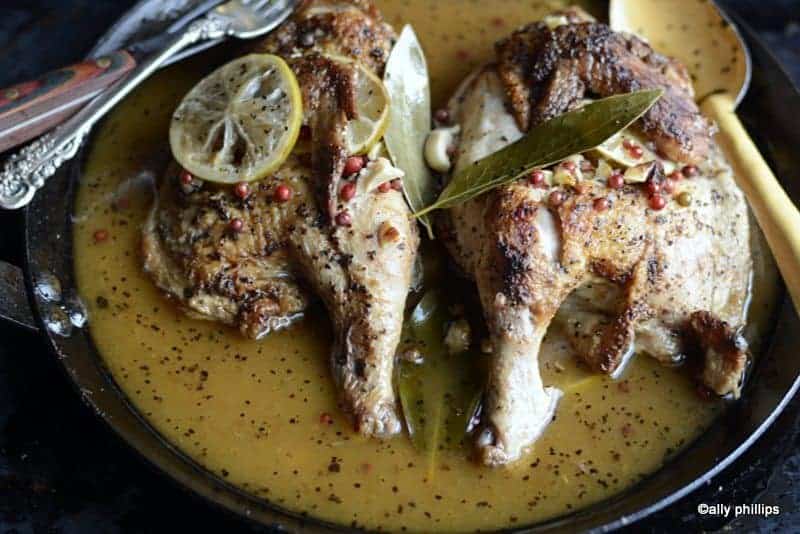 Love Bird Citrus Garlic Chicken is one of the most popular chickens in the world and yet happens to be one of the easiest! No hunting down hard to find ingredients, Try now!
Citrus garlic chicken recipe
It looked like a sweetheart side-by-side perched in the cast iron skillet for no mayo chicken salad when I decided to spatchcock then break this bird into two lovely individual parts. I'm a food designer, after all. I see a blank canvas whenever I work with an ingredient, particularly those that are completely natural and the best of Mother Nature's bounty, such as meats, vegetables, and fruits. One that I can design and turn into a work of art. This 'heart bird citrus garlic chicken' is a manifestation of my inner Picasso!
Easy chicken recipe
This chicken and citrus banana nut cake are not only simple to make, requiring only a few spices, salt and pepper, bay leaves, peppercorns, and chicken broth, but it's also stunningly beautiful and delicious. Tenderness and flavor are ensured by the pan-seared and buttered skin, as well as the fusion of internal juices during oven cooking.
Chicken and lemons
Now, what can you serve with this chicken with a love bird? Anything goes, as long as it doesn't overshadow the bird's earthiness and rustic appeal. I'd look at my sides from an artistic perspective once more as if I had a palette of oils or a paint wheel. By its hand, what would be stunning? Perhaps a deep burgundy color, like beets. Or a bright green like broccolini or green petite peas that have been gently steamed. Then try something black, like forbidden rice, for something exotic and smoky.
How to make citrus chicken
You could find a new perspective in the kitchen for the ultimate Caprese salad if you start looking at your plates and overall cooking as a canvas of art, something that enables your inner imagination to shine in the kitchen. You take on the personas of Van Gogh, Picasso, and Rembrandt! Rinse the chicken and pat it dry with paper towels. Season with salt and pepper on both sides. Place on a clean plate and set aside.
Chicken in a skillet
On medium-high heat citrus honey nut oatmeal with cream & fresh fruit, heat a 10-12″ cast iron skillet. Melt the butter when the pan is wet. Place the chicken in first, skin side down. Sear for 3-4 minutes in a pan. Flip to the underside with tongs and sear for another 3-4 minutes. Remove the pan from the sun. Underneath the chicken and legs, tuck the lime slices. On the chicken, squeeze the juice of the second lime.
Culinary chicken ideas
We don't eat out very much. Nothing makes me happier than getting some culinary ideas like orange-pineapple fajita chicken & veggies while someone else takes care of the dishes. We eat the bulk of our meals at home because my husband (and sometimes even I) thinks the food I make is just as good as the food we get at restaurants. There are no complaints here; after all, cooking is what keeps my heart beating! But every now and then, I'd like to take a break.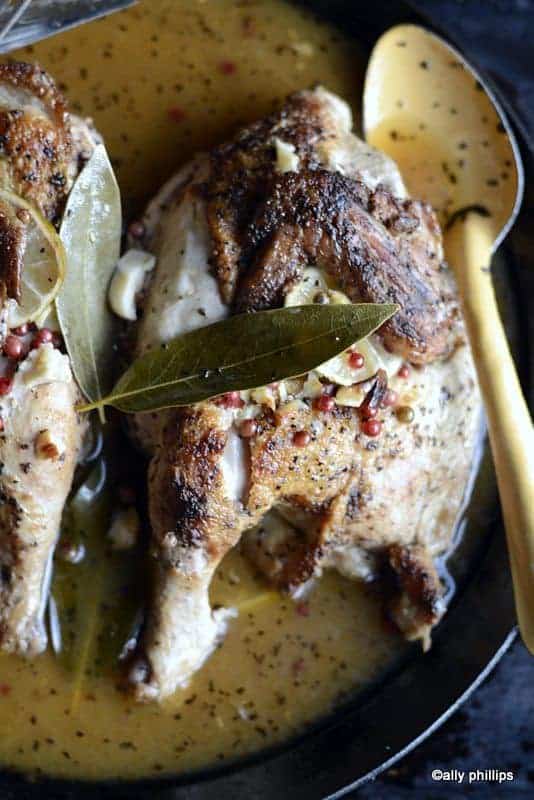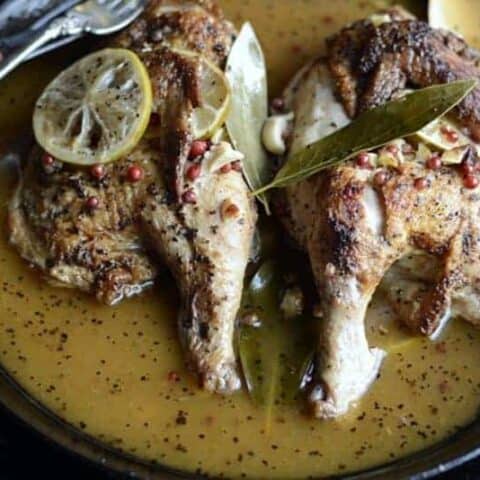 Love Bird Citrus Garlic Chicken
Yield: 2 healthy servings

Love Bird Citrus Garlic Chicken is one of the most popular chickens in the world and yet happens to be one of the easiest! No hunting down hard-to-find ingredients, Try now!
Ingredients
Preheat oven to 425
2 1/2 to 3 lb. whole organic chicken, cut in half center breast bone
2 tsp. sea salt
1 tsp. coarse ground pepper
2 Tbl. butter, salted
2 limes, divided, one cut into about 6 round slices, one cut in half for squeezing
4 garlic cloves, smashed
3 bay leaves
2 cups chicken broth
2 tsp. peppercorns
Instructions
Rinse and pat dry with paper towels the chicken. Sprinkle on both sides the salt and pepper. Set aside on a clean plate.

Heat a 10-12" cast iron skillet on medium high heat. When hot, melt the butter. Put the chicken in, skin side down first. Pan sear for about 3-4 minutes. Use tongs, and flip to the underside and sear another 3-4 minutes. Remove from heat.

Tuck the lime slices under the chicken and wings. Squeeze the juice of the second lime on the chicken.

Put the garlic cloves and bay leaves on the chicken. Add the chicken broth around it. Sprinkle on the peppercorns.

Use heavy foil and cover the skillet well. Roast in a preheated 425 oven about 50-60 minutes (internal temperature 165). Remove. Leave covered and cool about 15 minutes. Ready to serve.
Notes
Be sure to save any broth. It will be a killer soup base.

Don't throw out those bones. Put in a pot. Cover slightly with water. Then simmer to get all the meat off of it. Plus, you have even more great soup broth.