tomato pesto spinach stuffed grilled chicken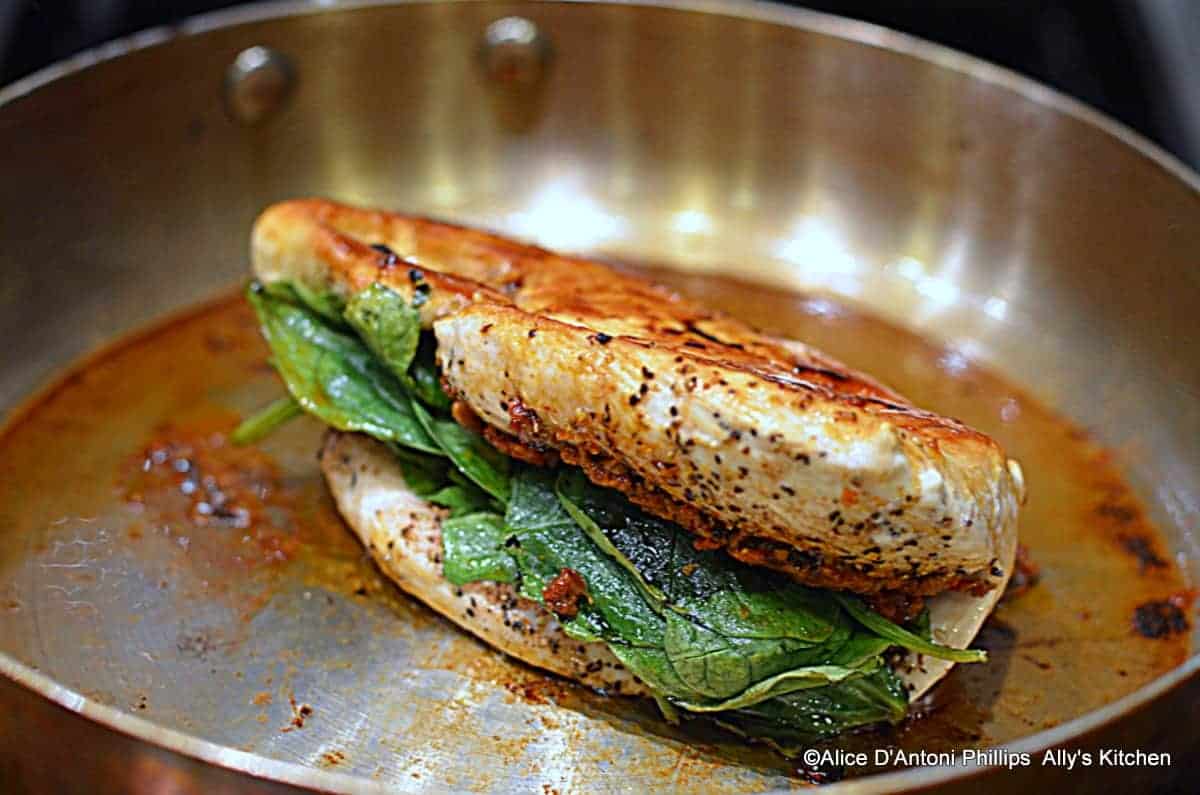 Quick. Easy. Healthy. There's always enough time to come home from work and prepare this boholiciously bohoriffic dish~~you've got layers of flavors with just a few products.  All you need to add is some pita or flat bread~~well, that's what I'd serve with it!  Then for dessert try this~~  ~caramelized warm pear strawberry & mascarpone~  You might even want to invite company cuz you're gonna knock their socks off!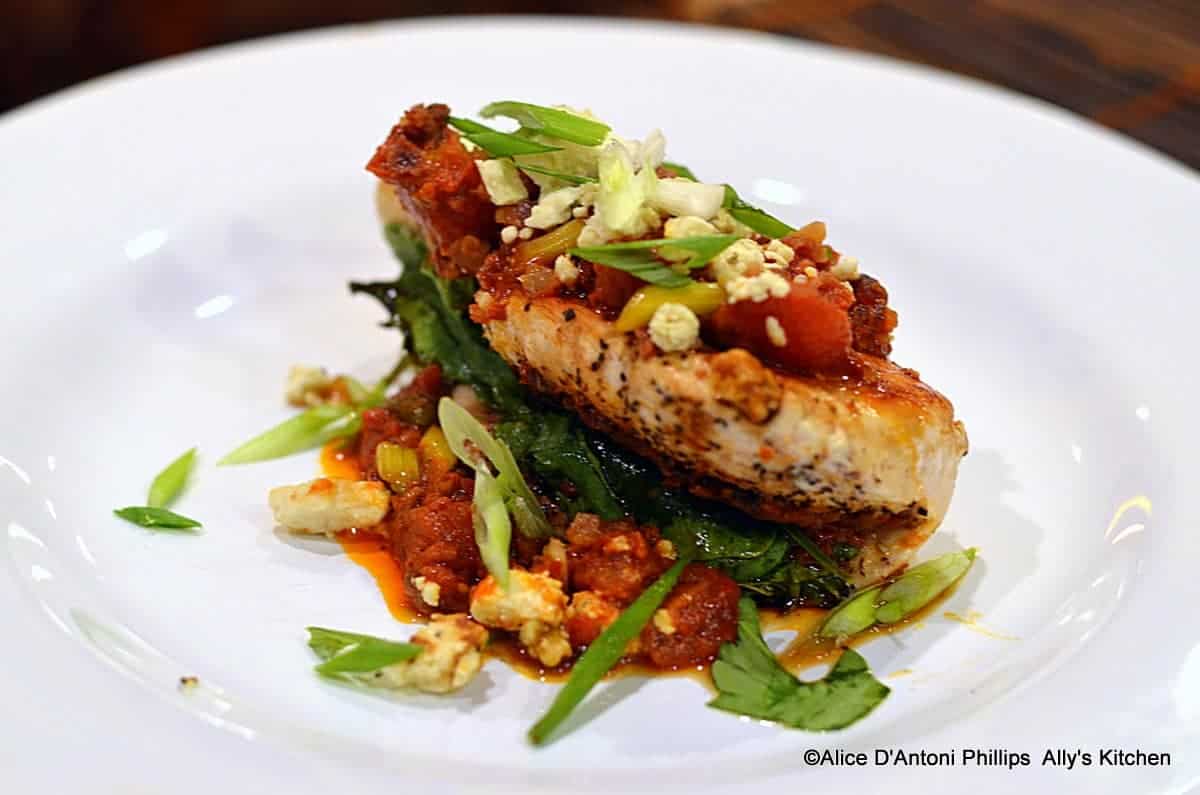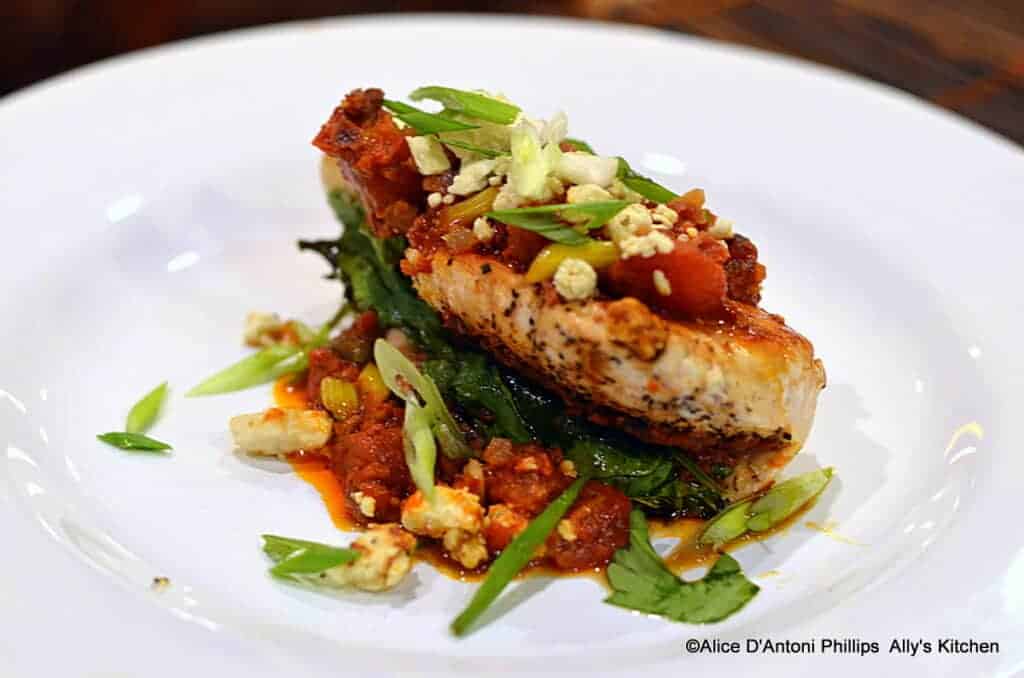 Serves: 4
What you need:
2 tsp Ras el Hanut (divided)~~substitutions: Harissa, Jamaican jerk seasoning, Italian, Greek~~a nice blend
1 ½ tsp sea salt (divided)
2 tsp pepper (divided)
1 tsp lemon pepper
4 thick chicken breast filets butterflied (not sliced completely through)
8 tbl + 1/2  cup Bella Sun Luci Sun Dried Tomato Pesto Sauce with Whole Pine Nuts (divided)~~substitute sun dried tomatoes with some olive oil + pine nuts
3 cups fresh spinach leaves
¼ cup extra virgin olive oil
1 (14-15 oz) can diced tomatoes (w/juice)
6 green onions chiffonade sliced (divided)
1 ½ cups crumbled lemon/herb feta (can substitute plain feta)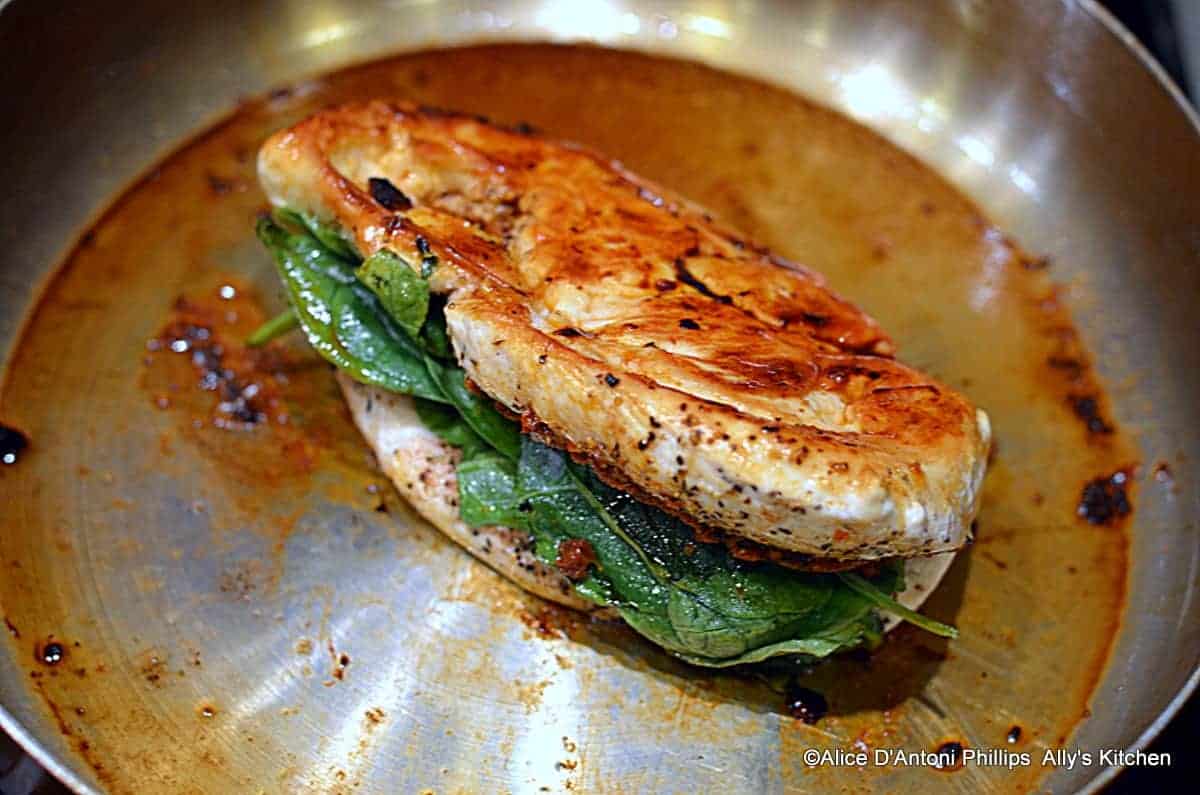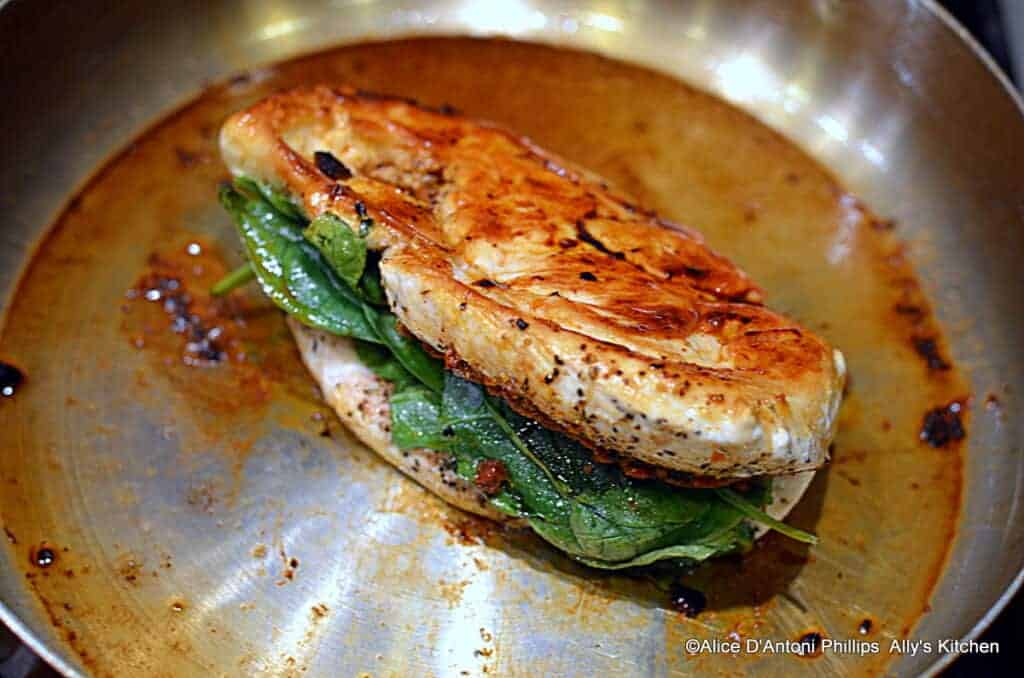 What you do:
Chicken Breast: 
In a small bowl combine 1 tsp of the Ras el Hanut, 1 tsp salt, 1 tsp pepper and 1 tsp lemon pepper and blend.
Open the butterflied chicken breasts and coat the insides with equal amounts of the spice mixture.  Spread 2 tbl of the Bella Sun Luci Tomato Pesto Sauce on the inside (both sides).  Place equal amounts of whole fresh spinach leaves on one side of the chicken.  Fold over the other side on top.  Pat and secure the chicken back into one breast.
Coat well a large cast iron skillet with cooking spray.  Get it hot on medium high heat.  Place the chicken breasts in the skillet (do not crowd).  Cover with a lid and pan sear for 3 minutes, then reduce the heat to medium and cook another 2-3 minutes.  Flip the chicken to the other side, cover with a lid and continue cooking 5 -6 minutes on the second side.
Tomato Sauce:
In a saucepan over medium heat, combine ½ cup Bella Sun Luci Tomato Pesto Sauce with Whole Pine Nuts, ¼ cup olive oil, 1 tsp Ras el Hanut, ½ tsp salt, 1 tsp pepper, and 1 can diced tomatoes.  Stir and let cook about 15-20 minutes.  Turn off heat and add 4 chiffonade sliced onions and blend.
Plating/Assembling:
Put about ¼ cup of the sauce in the middle of a dinner plate.  Spread into an irregular 'circle'.  Perch the chicken in the middle of the sauce.  Add another about ¼ cup of sauce atop the chicken, sprinkle equal amounts of crumbled feta on top and garnish with green onions.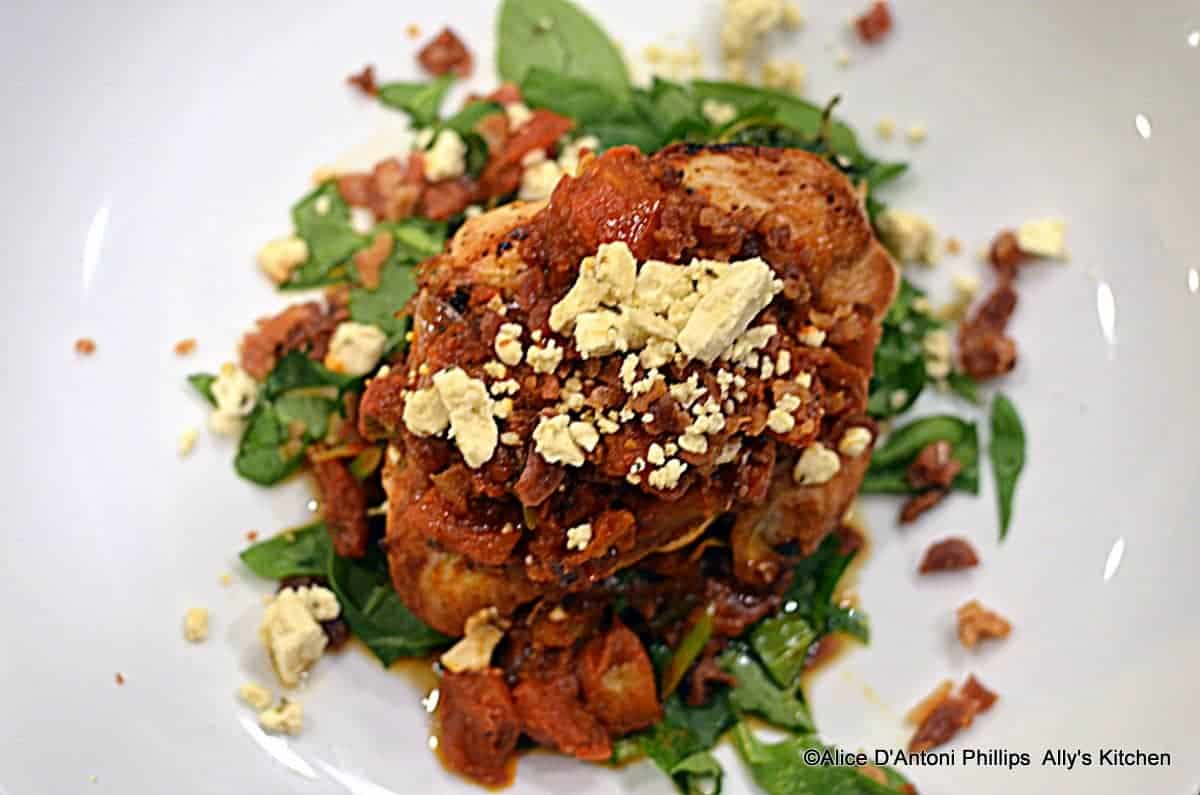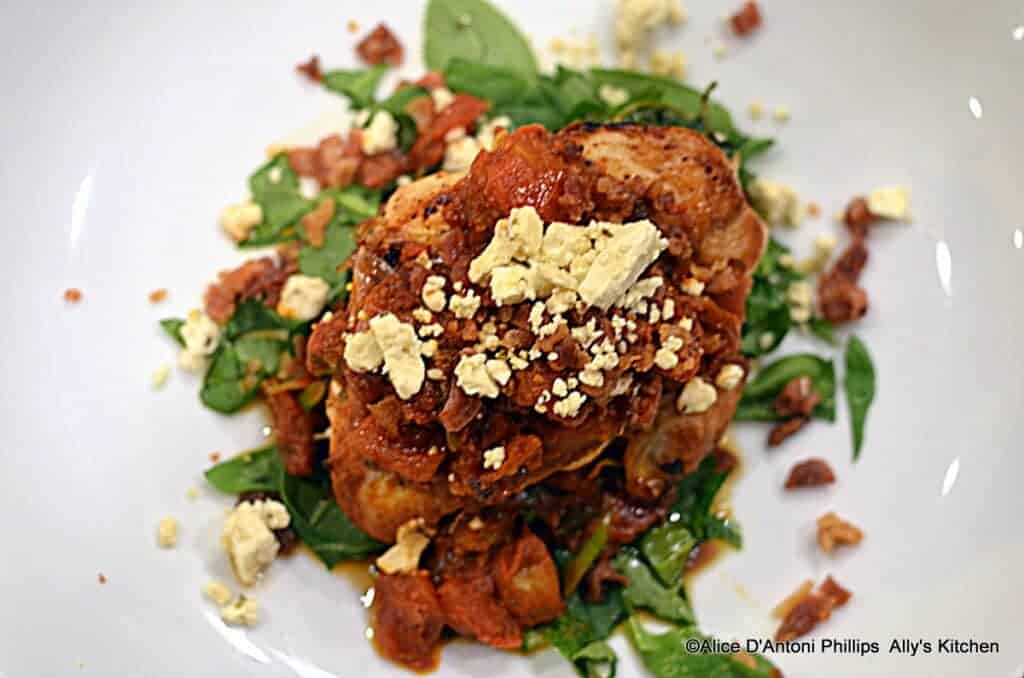 ©alice d'antoni phillips   www.allyskitchen.com