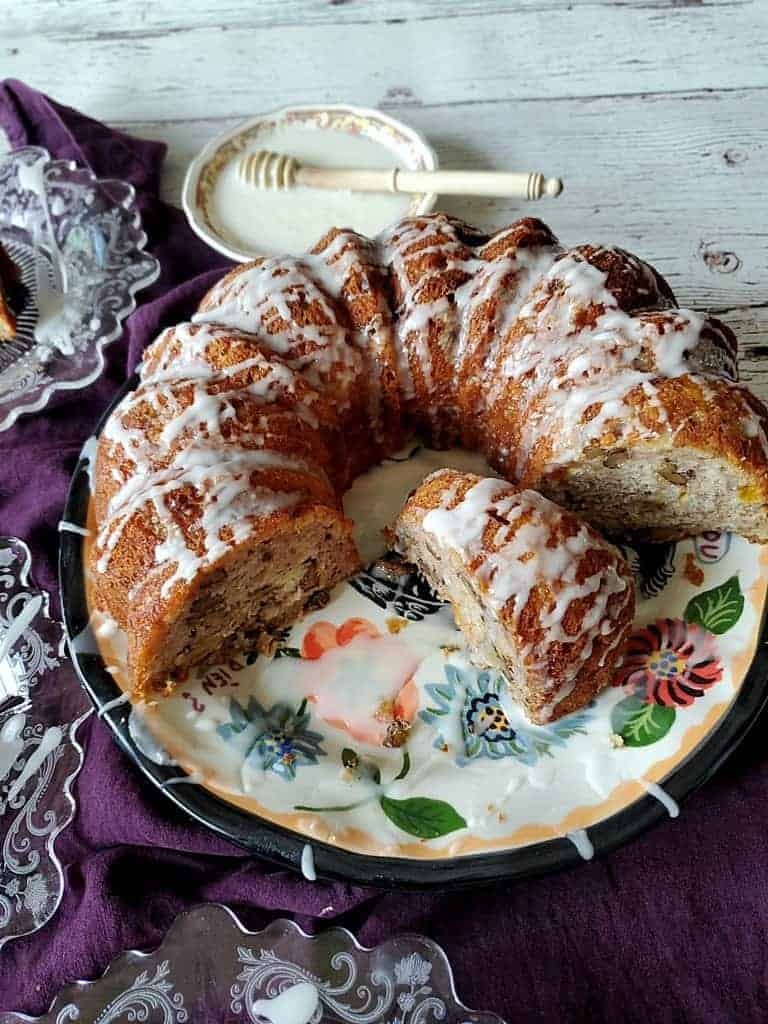 This citrus banana nut cake is a new twist for the traditional banana cake! Sparks of citrus make for a palate pleasure that will have you smiling!
Old Fashioned Banana Nut Cake
The old fashioned banana nut cake could be the perfect dessert served at your table; either cut it in slices or keep it well wrapped. To add charm to your nut cake, add citrus honey nut oatmeal with cream and fresh fruit because, of course, no one says no to the new dishes that always come with a contemporary twist, and when it's on your cake, you are going to love those sparks well. How it sounds, the moistness, the fresh citrus honey with a cream glaze, yum-yum right.
Best Banana Cake Recipe
The best banana cake recipe is all you need to make the best cake because these cakes can be perfect for your morning coffee or tea and when the extra drizzling is done with almond joy cake, trust me; you will not want to miss it. So, serve your friends this cake and collect compliments that you will surely love. However, maybe bake it in a rectangular or bread pan to give it a more layer cake type look.
Easy Banana Cut Cake
Banana is a universal fruit, and when added to a cake, it will do wonders for your taste buds. Imagine adding pineapple coconut buttermilk dump cake to your usual banana cake and creating a whole new flavour to your dessert; sounds perfect. Cut the cake in slices or large chunks and wrap it well. Store it in a fridge and take it out whenever your heart craves it because you can eat it for about six weeks.
How to Make a Cake with Banana
The food seekers are always in search of trying something new that satisfies their taste. You can certainly bake the banana cake in a casserole or a baking dish. You can add easy sour cream coconut cake to avoid a full sugar taste and add a sour taste. These cakes would not require many ingredients. So whatever you use for your usual cake will do the job for you in this as well.
Best Banana Nut Cake Recipe
The recipes you create, the desserts, the cakes will sound unique for your baking list. To make the best banana nut cake recipe, you can have a gluten-free banana buttermilk bundt cake to add on. And just like that gorgeous one bowl chocolate cake, simple pantry ingredients will do. And without gluten, the cake could be more crumbly or have a shorter life.
Banana Nut Cake from Scratch
Even if you are not a professional baker, you can still create a banana nut cake from scratch because it's a simple recipe and more straightforward ingredients like flour, baking powder and soda. However, if you are a chocolate lover, what could be better than mixing the chocolate banana cheesecake bites to make it incredibly exciting and tasty.
Banana Cake with Nuts
The banana cake with nuts is a simple dessert; you need to add nuts according to the quantity you would like in your cakes; the nuts can also work as toppings in your banana cake to make it look tastier. So what are you waiting for, people? If you also want to have a banana cake with nuts, grab your ingredients, make the cake and enjoy it with a cup of coffee afterward.
Banana Cake Recipe Easy
The simplest way to make your banana cake recipe easy is to add chopped nuts, melt the butter, sugar, vanilla and combine them all. Bake it for approximately 40 minutes and tada! Your banana cake is ready. However, if you would like to add toppings to it, use cherry to do the same, it will look beautiful, but cherry lovers can enjoy the fruit. So if you are having a small get together this banana cake could be the simplest yet tasty choice to make.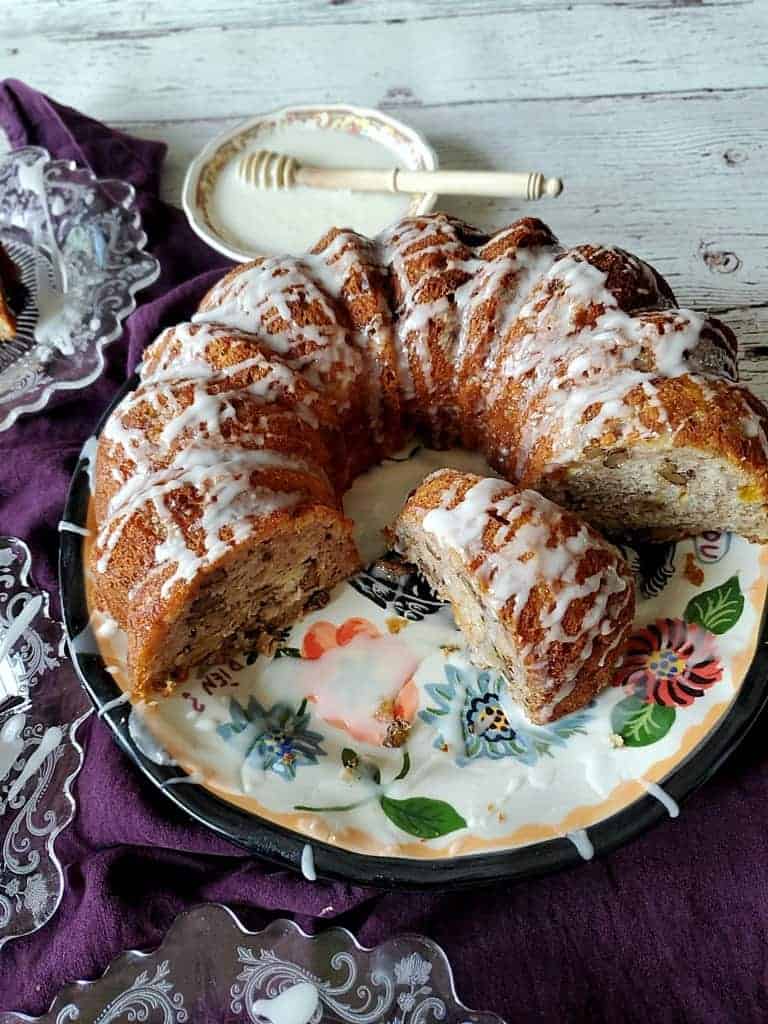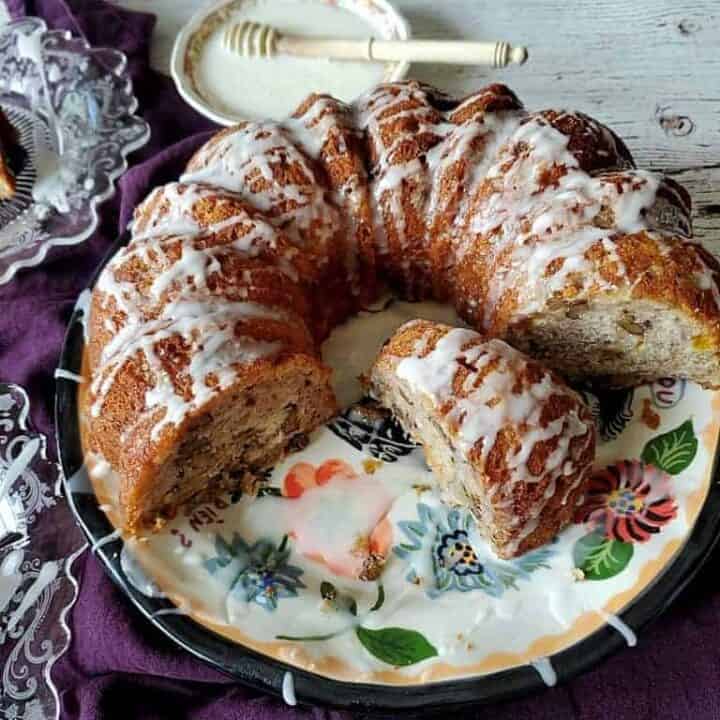 Citrus Banana Nut Cake
This citrus banana nut cake is a new twist for the traditional banana cake! Sparks of citrus make for a palate pleasure that will have you smiling!
Ingredients
3 ripe bananas, mashed
1 cup mandarin oranges with juice, about 1/2 cup of liquid added
2 eggs
1/3 cup oil, coconut or avocado or your choice
1/2 cup sugar
1 cup whipped cream cheese
1 3/4 cups flour, all purpose
2 Tbl. baking powder
1/8 tsp. salt
2 cups walnuts, chopped
GLAZE: 4 Tbl. fresh lemon juice + 1 cup powdered sugar
Instructions
Grease a bundt pan well. (I use solid Crisco.) Preheat oven to 350.

In a large mixing bowl, blend together the bananas, mandarins, eggs, oil, sugar and whipped cream cheese. Blend well.

Sift in the flour, baking powder and salt. Blend well. Fold in the nuts. Pour into the well-greased bundt pan. Bake for about 40 to 45 minutes or until a skewer comes clean from the center.

Cool well then release from the bundt pan.

GLAZE: Whisk together the lemon juice and powdered sugar into a thick mixture. Drizzle on the cake.