Peaches & Cream Parfait Cake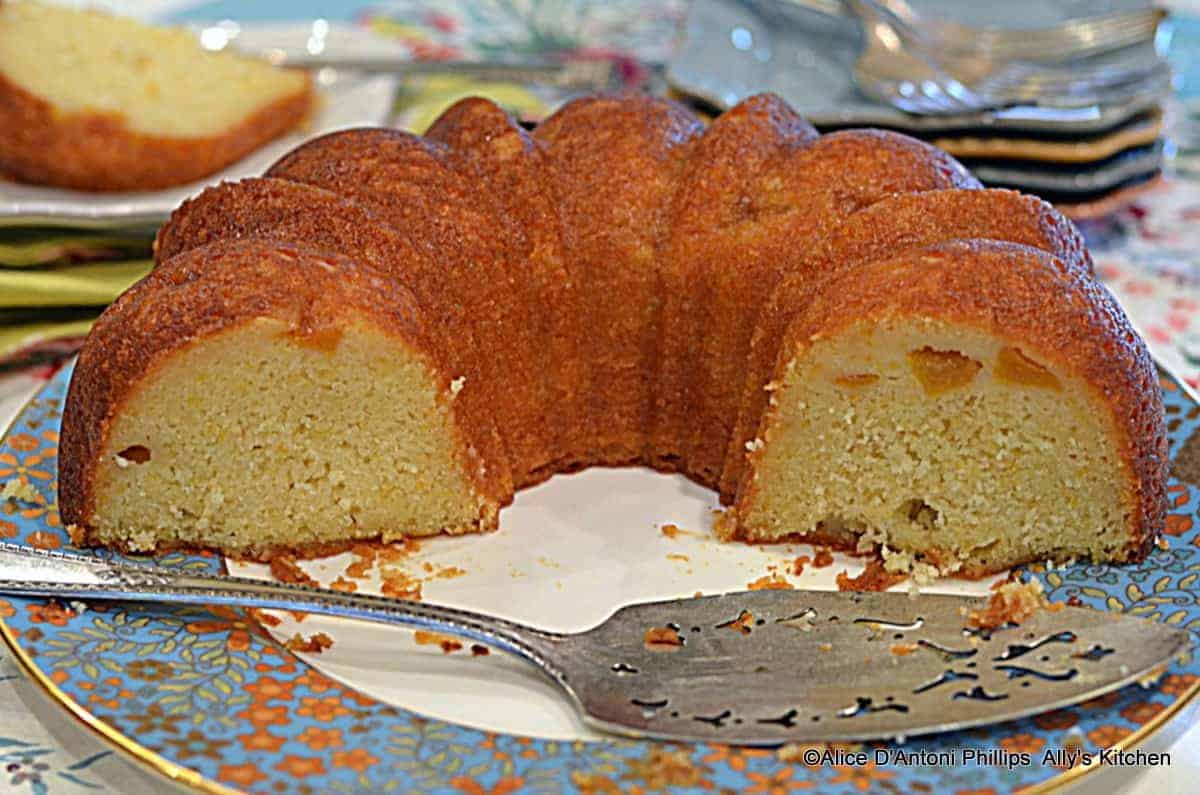 Finding new fooding products to play with is like finding new toys for my cooking! I leisurely hang out in grocery stores spending sometimes hours in the aisles looking at various products. (Each of us has our idiosyncrasies ) My wheels are always turning to have that light bulb go on. Even if there's no spark at that particular time, my brain will think '…hummmm, that's interesting…' I'll put it in my cart, take it home, and know that somewhere, somehow, sometime the interesting product will become an ingredient in a new recipe. Such is the case with these really cook Dole brand 'Peaches & Cream' parfait snacks!
The product may stay in its original form or I might change it entirely. Kitchen tools, ingredients, appliances and everything in my kitchen is like my huge playground, like a Disney world, my own version of the North Pole and the love-affair with 'toys'! This 'Peaches & Cream Parfait Cake' makes me giggle it's so good!
And, if you're looking for one fine easy deeeelicious gluten free peach recipe, then grab this GF Peach Cobbler!
This recipe is brought to you by DOLE Packaged Foods, however, all of the recipe development and creative food artistry, including the photography, is solely the work of Ally in her Kitchen. For more information CLICK~
Makes: One bundt pan cake
Preheat Oven 350
What you need:
2 sticks room temperature butter
½ cup sugar
4 room temperature eggs
6 pre-packaged Dole brand 'peaches & cream' parfait' individual containers (divided)
(Note: You can substitute 2 cups chopped peaches + ¼ cup heavy cream)
1 pre-packaged cake mix (white, yellow or lemon flavor~~I used a 'King Arthur' brand lemon pound cake mix.)
1 tsp baking powder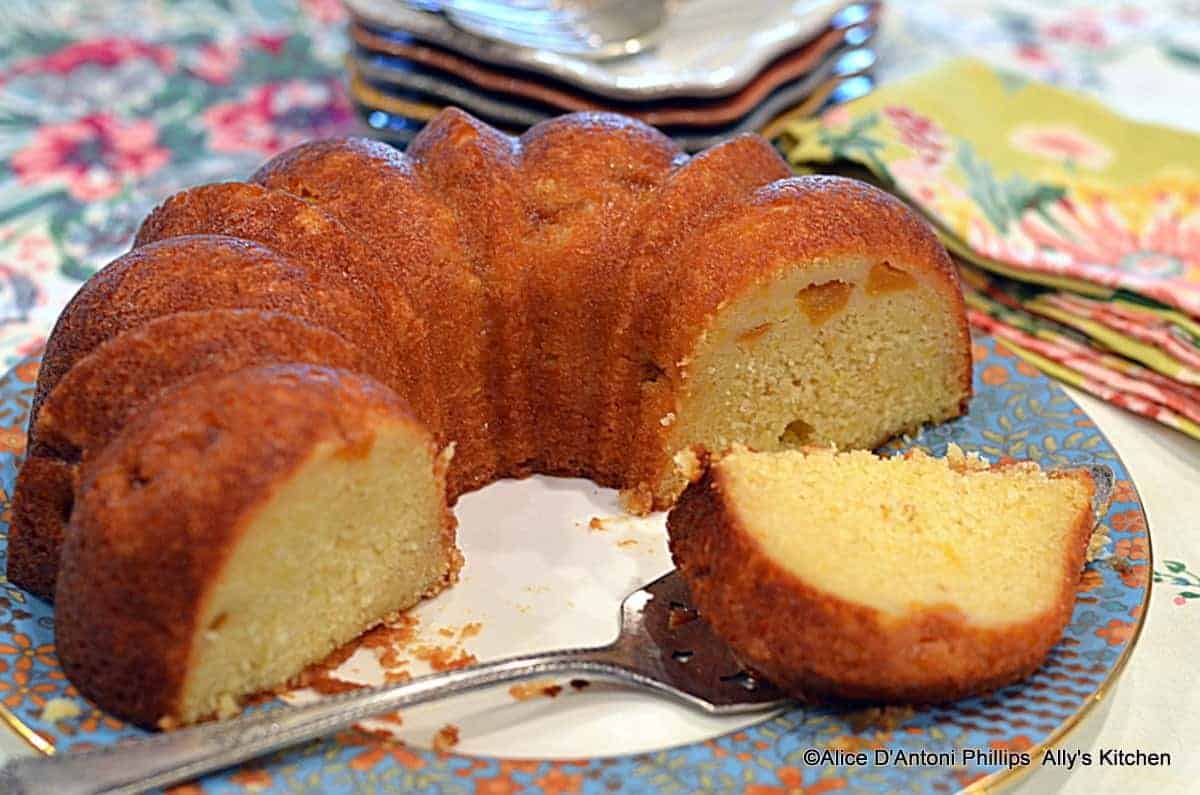 What you do:
Cream together the butter and sugar with a hand mixer. Add the eggs, one at a time, and continue beating with mixer.
Blend 4 containers of the peaches and cream in a food processor. Add to wet mixture and blend about 2 minutes with hand mixer.
Combine cake mix and baking powder and blend together. Add about 1/3 at a time to the wet mixture and blend well with mixer. Drain liquid from remaining chopped peaches. Fold into batter.
Pour batter into a greased bundt pan. Bake in a preheated 350 oven about 45 to 55 minutes or until a toothpick comes clean. Cool on a rack before serving.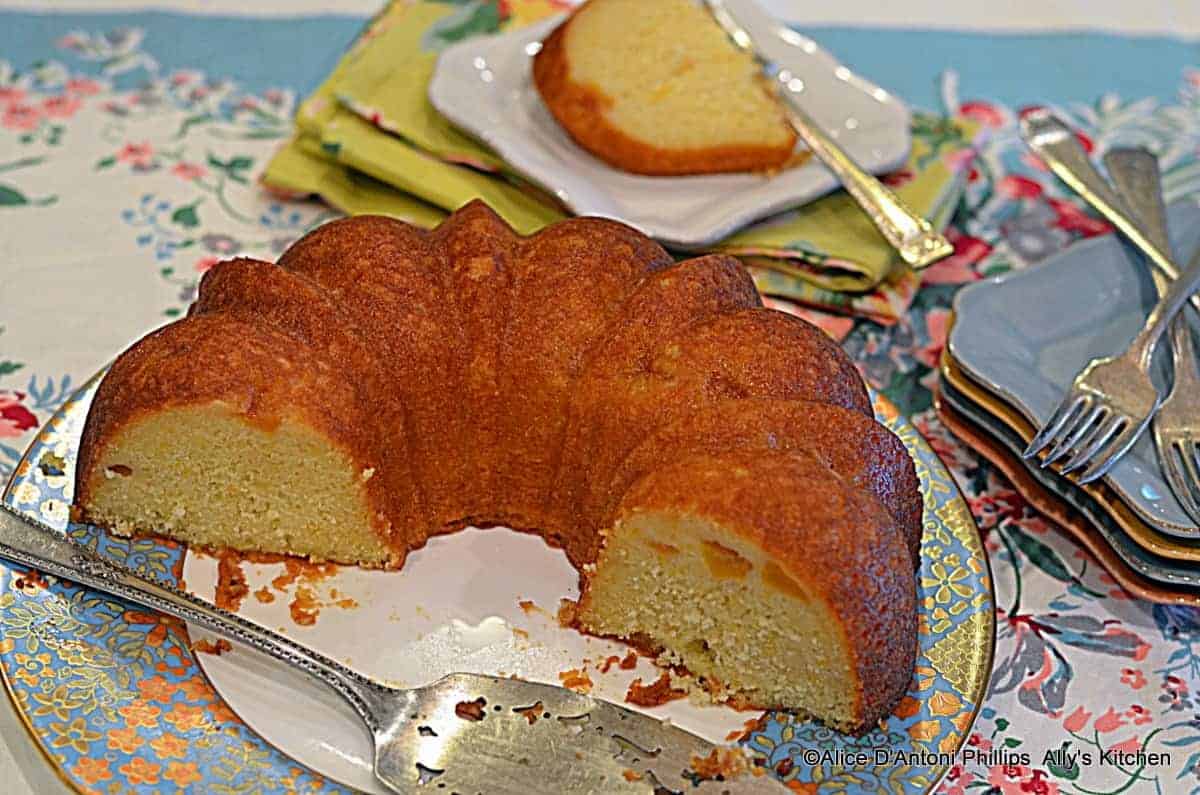 ©Alice D'Antoni Phillips Ally's Kitchen