chocolate splatter bundt cake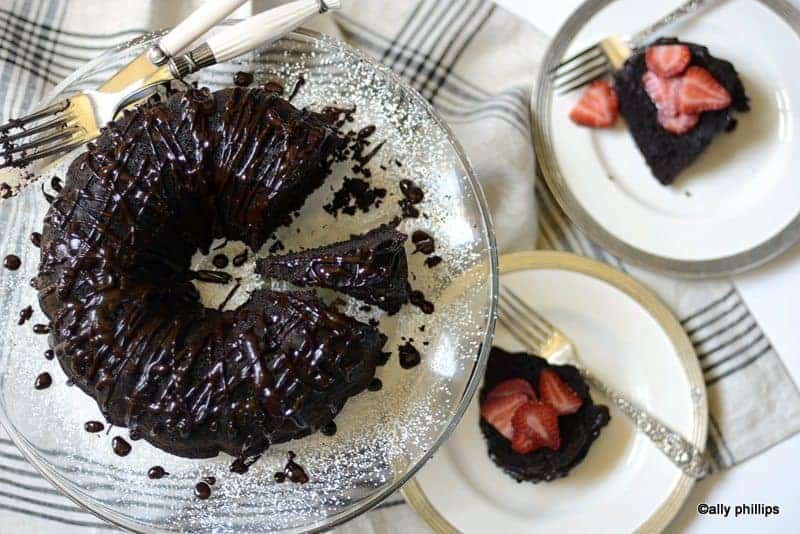 Sometimes short cuts are just what you have to do in cooking. And, this chocolate splatter bundt cake is one of those recipes that has a shortcut. Now, this doesn't in one iota way compromise the flavors or taste of this cake. It just saves some time. And, who doesn't need to have time-savers in their busy lives.
Starting with a good quality chocolate cake mix is the key to this cake. Then we're going to follow the directions, but add a few flavorful tweaks that will make this cake even chocolateeER. Really, is that a word?
What I love about the chocolate splatter bundt cake is that the 'splatter' isn't perfect. It's a homemade chocolate ganache that's drizzled helter skelter atop the cake creating a pattern and look of fun and delight. If you don't want to make the ganache, which is super easy, then look at buying some chocolate syrup or drizzle (check the ice cream section of your grocer), and use that.
If you've got little ones who are in the kitchen with you. Then you just might let him or her doing the finishing 'splatter' touches. Would be so stinkin' much fun because you can't mess up. And, the messier you are, the better the splatter is!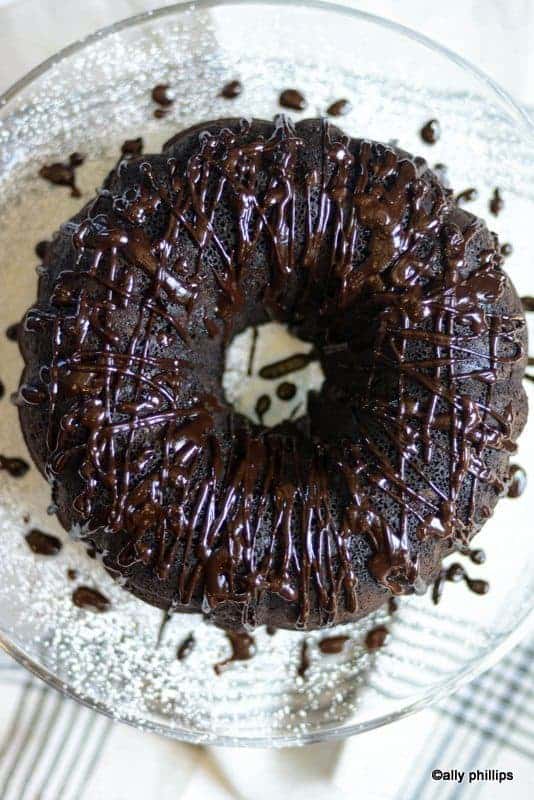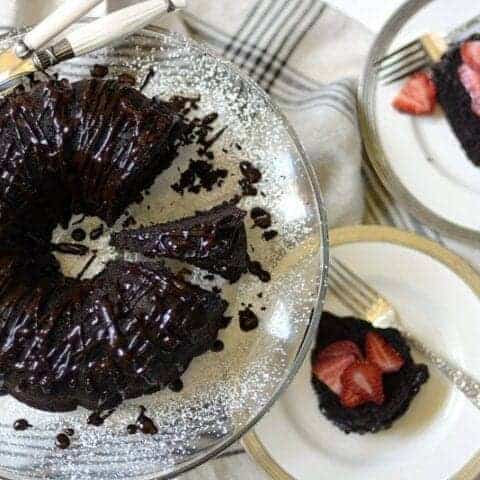 chocolate splatter bundt cake
Ingredients
Preheat oven to 350
1 pre-packaged double chocolate cake mix
1/3 cup Greek yogurt, plain
2 ripe bananas, cut into about 2" chunks
1/3 cup chocolate chunk pieces
7 oz. chocolate, broken into chunks and pieces (I used chocolate with sea salt. Lindt or Ghiradelli brand.)
¼ cup + 2 Tbl. half and half cream
1 tsp. butter, salted
Instructions
Prepare the cake mix according to directions. Add the yogurt and bananas and blend with a hand mixer until all is worked into the batter. Fold in the chocolate chunks.
Coat a bundt pan with cooking spray or grease. Pour in batter. Bake in a preheated 350 oven for about 40-45 minutes or until a 4-6" wooden skewer comes basically clean from the center. Remove to a cooling rack for about 45 minutes.
Flip cake from pan onto a serving plate. Let it cool another hour or so.
Meanwhile make the chocolate ganache. Combine the chocolate and cream in a microwavable bowl. Cover with plastic wrap. Microwave on high for 6 minutes. Remove and blend the melted chocolate into the cream.
If all the chocolate is not fully melted. Microwave again in 20 second increments until melted. Add the butter and blend in well. Cool a few minutes then drizzle on the cake.