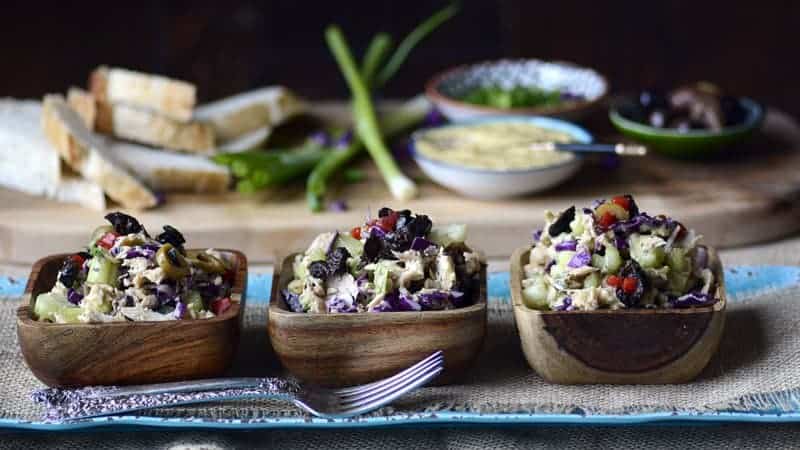 In this mango kahuna tuna salad, you've got a healthy serving of vegetables as well as fruit with the Dole Sunshine mangoes.
Thanks to Dole Sunshine for partnering with me for this post! I am the creator of this recipe and for the description and information that follows. For a full disclosure, click here!
Healthy Tuna Salads
No cook recipes are the best! And, if you can shave off extra time with other shortcuts, then you're more inclined to head into your kitchen instead of the drive through! Taking less time to make then cranking up your car and heading to the fast food drive through.
Tuna Wrap Recipe
This mango kahuna tuna salad is a staple you'll want to have in your refrigerators because it's good for a few days. I love fixing things that I can eat on for several days. That way, I'm more inclined to eat healthy and well, rather than carelessly just because I'm ravished and don't have time or desire to cook.
Healthy Tuna Salad with Greek Yogurt
In this mango kahuna tuna salad, you've got a healthy serving of vegetables as well as fruit with the Dole Sunshine mangoes. Speaking of mangoes, I hate to peel and slice them. They're slippery littl' critters and trying to remove the sweet fruit from the seed can get tedious. I know I leave more of the fruit on than I should.
Tuna Salad Dressing
Well, with the frozen mango chunks, you can save yourself that agony and mess. Just as fresh and perfect as you'd expect from Dole Sunshine, these chunks are harvested and packaged at the peak of freshness and ripeness. So, you're assured of high quality! Honestly, I don't peel mangoes anymore. Those days are long gone thanks to Dole Sunshine!
Mango Tuna
This mango kahuna tuna salad has it all! Creamy. Crunchy. Savory. Hints of sweetness. Saltiness and all wrapped up in a perfect salad. There's less guilt in the dressing mixture, too, because you're using some mayo but also a yogurt based dressing. Hey, grill a hot dog bun and stuff it with this salad, you'll be crazy about tuna dogs!
xoxo ~ally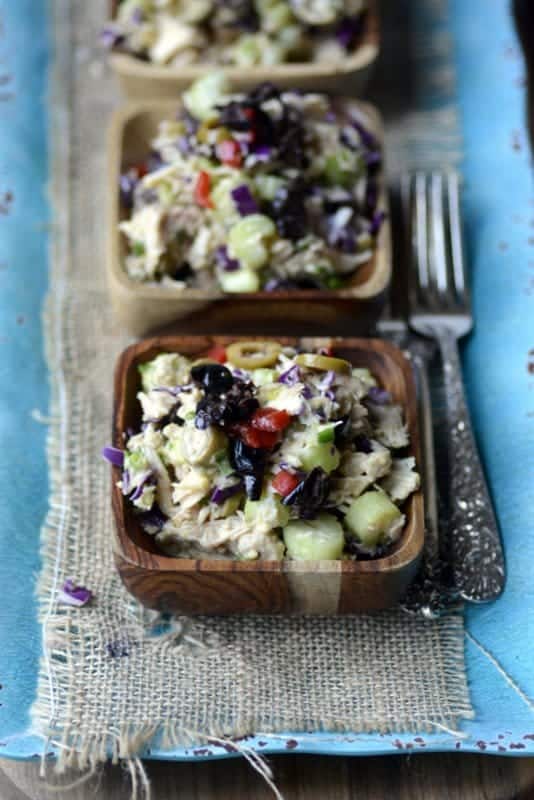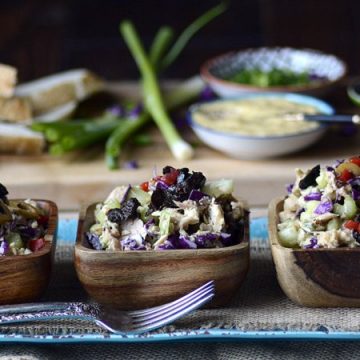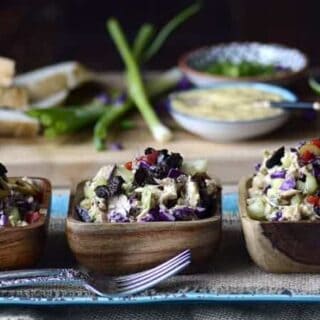 mango kahuna tuna salad
Ingredients
1 ½ cup Dole Sunshine frozen mango chunks, thawed, cut into smaller pieces
1/3 cup avocado mayonnaise
1/3 cup Cilantro Avocado Yogurt Dressing, Bolthouse Farms brand (found in refrigerated section), or something similar in a yogurt based dressing
1 tsp. sea salt
1 tsp. coarse ground pepper
4 cans (7 oz.) albacore tuna, in water, drained
5 medium sized green onions, sliced thinly with tops
1 ½ cups celery, sliced with some green leaves chopped
½ cup deli style green (with pimentos) and black olives (pitted), in oil (about 3-4 Tbl.), sliced (Note: Olive mixes can be found in most grocery store delis) + more for garnish
1 ½ cups purple cabbage, chopped
Instructions
Put the thawed mango chunks, mayonnaise, cilantro avocado yogurt dressing, salt and pepper in a food processor. Pulse and blend into a thick creamy mixture. Set aside.
In a large bowl, combine the tun, green onions, celery, olives/oil, and cabbage. Toss and blend breaking some of the tuna chunks into smaller pieces. Add about three-fourths to one cup of the dressing. Toss and blend.
Refrigerate at least an hour before serving. Use the extra dressing for garnish/serving.
Notes
Serving Suggestions:

Use hot dog buns and fill with the tuna salad. Hamburger buns also work well.

Roll up tuna in tortillas.

Stuff pita pockets with the tuna.

Serve with greens making a salad.