The Best Open Faced Tuscan Omelet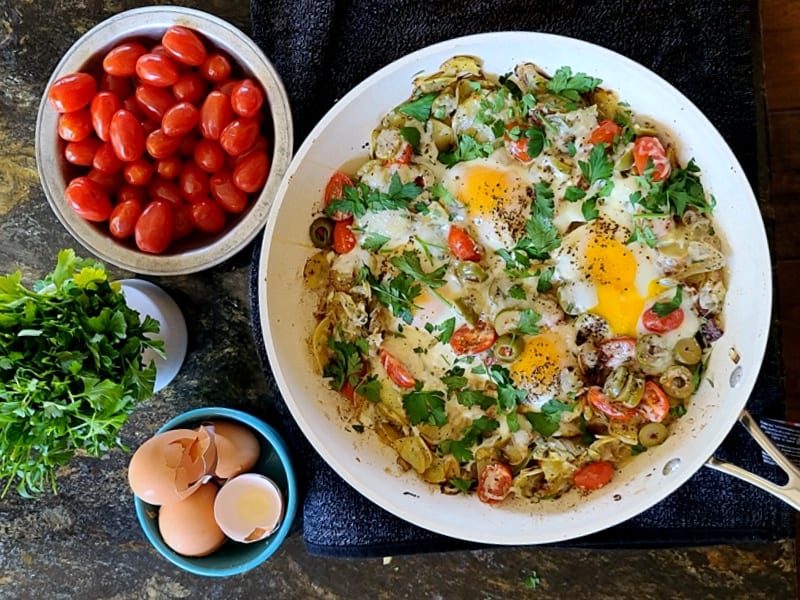 This beautiful open faced Tuscan omelet was inspired by a trip to Tuscany! There we had the freshest of fresh vegetables and eggs!
Tuscan Style Omelet
This Tuscan style omelet is inspired by my travels and many stays in Tuscany.
One of the most delicious, albeit super simple, side dishes we ordered were potatoes and onions!
How to Make the Perfect Omelet
Now these weren't just any potatoes. They were the creamy buttery Yukons. And, the potatoes were always sliced very thinly.
The only way you achieve this paper thin slice is with a mandolin. If you don't have one, check my Amazon Storefront. It's very inexpensive and worth having in your arsenal of gadgets!
Healthy Omelet Recipes
Healthy omelets are easy to make. Just choose the right ingredients.
I don't load up on a lot of cheese. Yes, there's cheese in here, but not that much. And, it's a grated parmesan.
While this open-faced omelet is Italian, how about an Afghani Omelet! Yes, my son, now a LT COL in the Army, learned to make these while serving 27 months in Iraq as a young soldier.
Perfect Omelet
Making the perfect omelet is easy when you're making an open-faced omelet. I think some folks may have difficulty folding and flipping that omelet. So why do that?
This open faced omelet is more like a frittata!
Eggs and Potatoes
Best eating to me for a meatless meal is something that has eggs. So full of nutrients and protein, eggs make the easy Meatless Monday meal!
Breakfast Skillet with Potatoes
Now this breakfast skillet is special because it's inspired by all the flavors of the open farmers market in the small villages we visited in Tuscany. Fresh everything. From potatoes, tomatoes, carrots, chard, spinach, eggplant to an array of cheeses and dried meats!
And, the perfect 12-inch skillet to cook it in is this one! Check it out! It's an Italian brand, Tramontina, made in the USA.
Potato Omelet
I have some beautiful delicious open skillet omelets with or without potatoes. Here are a few of my favorites:
Easy Harissa Shakshuka
Open Faced Omelet
An open faced omelet is perfect for breakfast, lunch or dinner! Don't limit yourself. Serve with some crusty hot baguette and make it a big meal!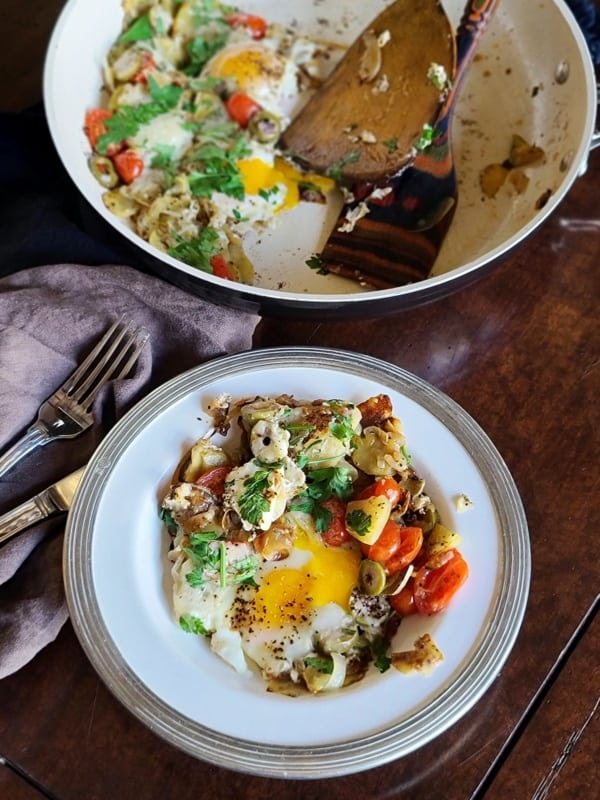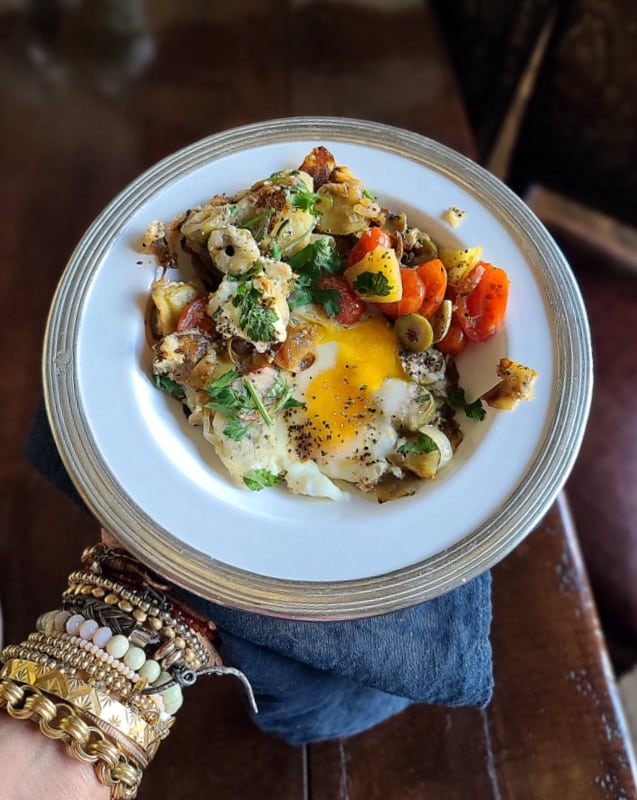 The Best Open Faced Tuscan Omelet
Ingredients
1/4 cup extra virgin olive oil, divided
4 Yukon potatoes, sliced thinly on mandolin
1 large sweet onion, thinly sliced French cut
3 Tbl. fresh rosemary, roughly chopped
1 cup cherry tomatoes, sliced lengthwise in halves
1/2 cup green olives, thinly sliced
1/2 cup parmesan reggiano, grated
4 pasture-raised eggs
Sea Salt and Pepper to taste
Instructions
In a large skillet (10-12" diameter) over medium high heat, add half the olive oil. Add the potatoes and spread around the pan. Top with the onions. Drizzle another bit of olive oil. Add salt and pepper. Cover and let this cook for about 8-9 minutes.
Reduce heat to medium. Add the rosemary, tomatoes, olives and parmesan. Cover and let this steam/cook another about 3-5 minutes.
Reduce heat to medium low. Make small openings in the cooked vegetable mixture to place each egg. Add salt and pepper to the eggs. Cover and steam to your desired finish. You can move the veggie mixture around somewhat to let the whites spread into the skillet and cook a little faster.
Top with a drizzle of olive oil and the fresh flat parsley. Serve immediately.
Notes
Wash, scrub and rinse the potatoes well. Do not peel.
Roma tomatoes can be diced and substituted for the cherry tomatoes.
Yukon potatoes are THE BEST for this recipe.
For a little spice and kick, add red chili flakes. Sprinkle on the onions/potatoes as the cook.
Depending upon how you like your eggs finished, it may take anywhere from about 7 minutes to 12 for the eggs to cook on medium low.