al fresco summer chicken tomatoes & purple potatoes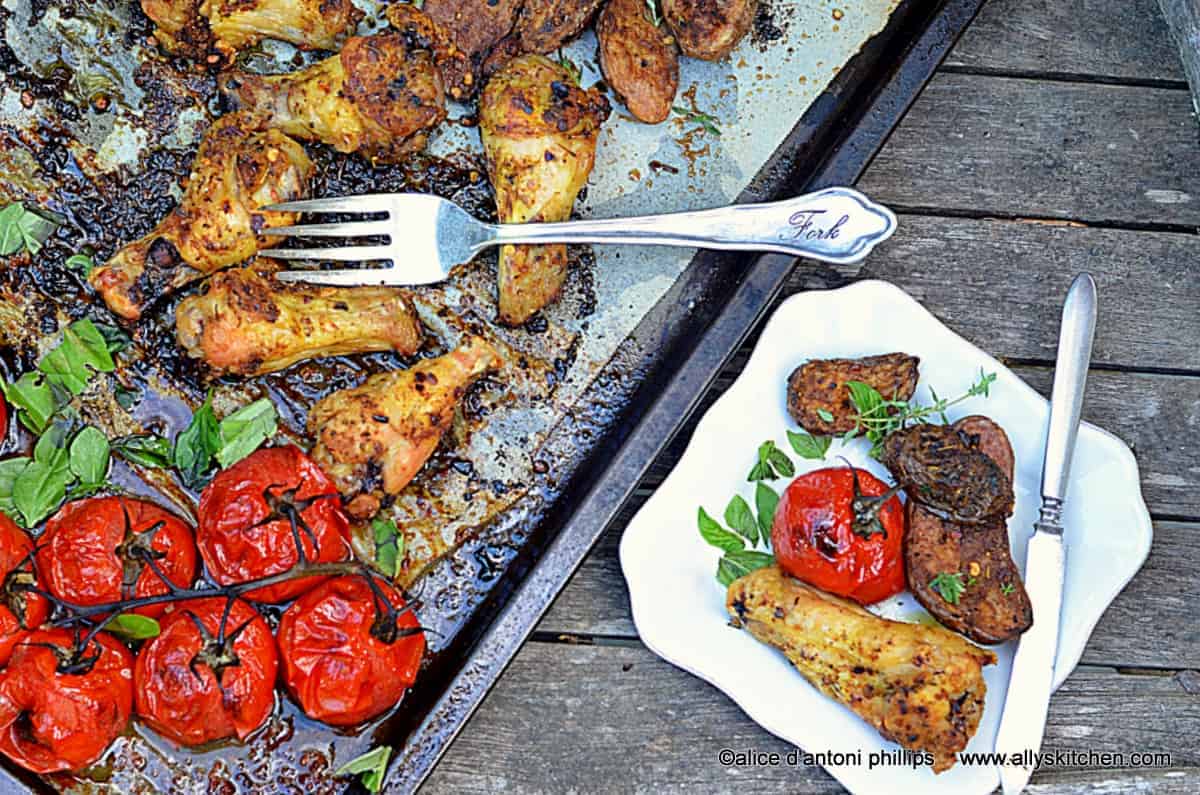 Aaahhhhhh, al fresco dining! The summer months call for this gloriously casual fare! Anyone can create and enjoy this type of temperate weather eating whether it's a full meal or just finger treats! The key to 'al fresco' eating is that you're outside—yes, you're in the element of Mother Nature and all her spectacular splendor. And, after the long winter months, this kind of unplanned, yet planned, dining is quite welcomed!
Whether you're living in the city or country, you can make this happen—if you have an outdoor patio, deck, or yard, that's great, but if you don't, then maybe there's a green space nearby where you can spread a blanket of nice tablecloth on the ground or, if you're lucky, maybe there're picnic tables. So, that's the first thing about al fresco—it's outdoors!
Second thing, if you've got an outdoor table/chairs, wonderful—if you don't then rig something that will serve as your table—move something from inside outside then throw a pretty tablecloth on it! If all else fails, put it on the ground/grass, and scatter a few pillows—you know, the ones from the sofa or bed! I love to fill jars with water and fresh herbs or flowers, maybe light several candles as the darkness sets in. It's all about the mood and ambiance you want to create.
Lastly, make the food 'close to the earth' eating—that means make it fresh, tasty and simple. In this case, it's all on one cookie sheet, and it's good hot, warm or room temperature. Spring for some bottled water—oh, I love the carbonated—wine and other drinks, maybe some sweets—an assortment of cookies and chocolates—and you're ready to enjoy 'al fresco' dining—an experience that is relaxed and where there are no time limits. Laugh, munch, talk, sip, and be ever-so grateful that you're in the moment of this splendid boholicious experience!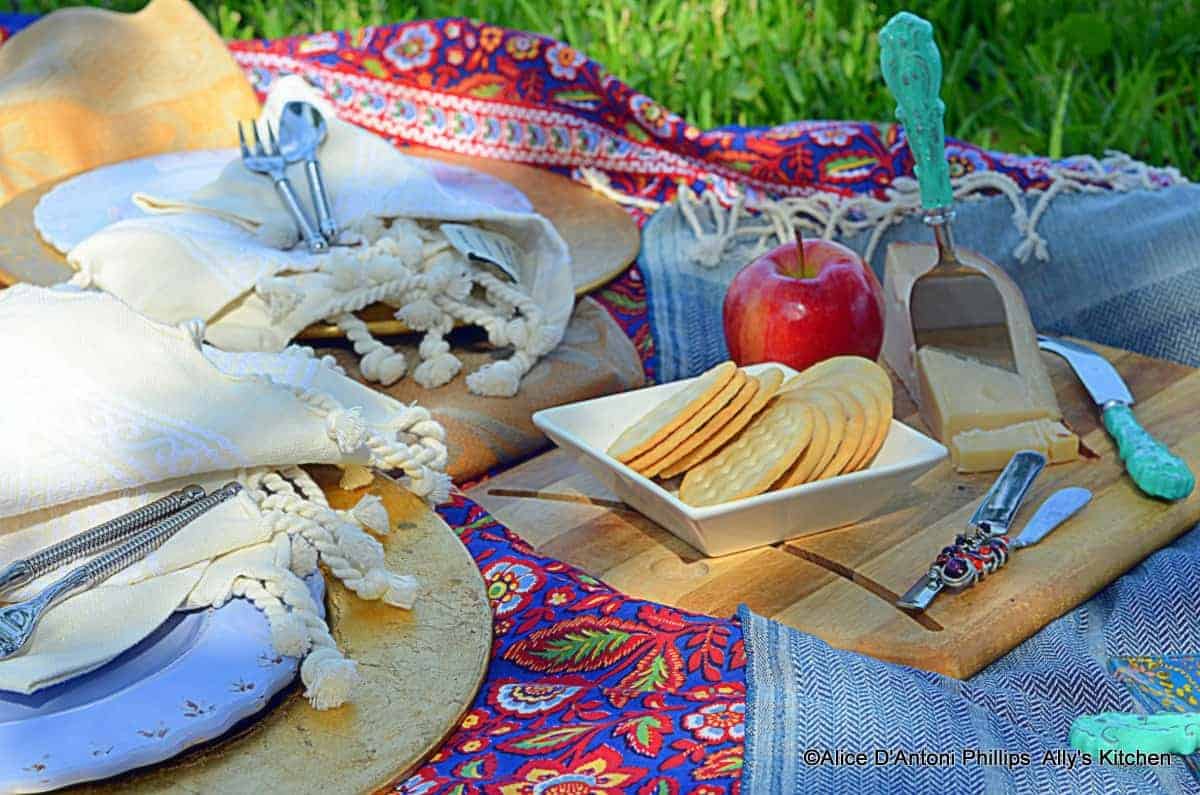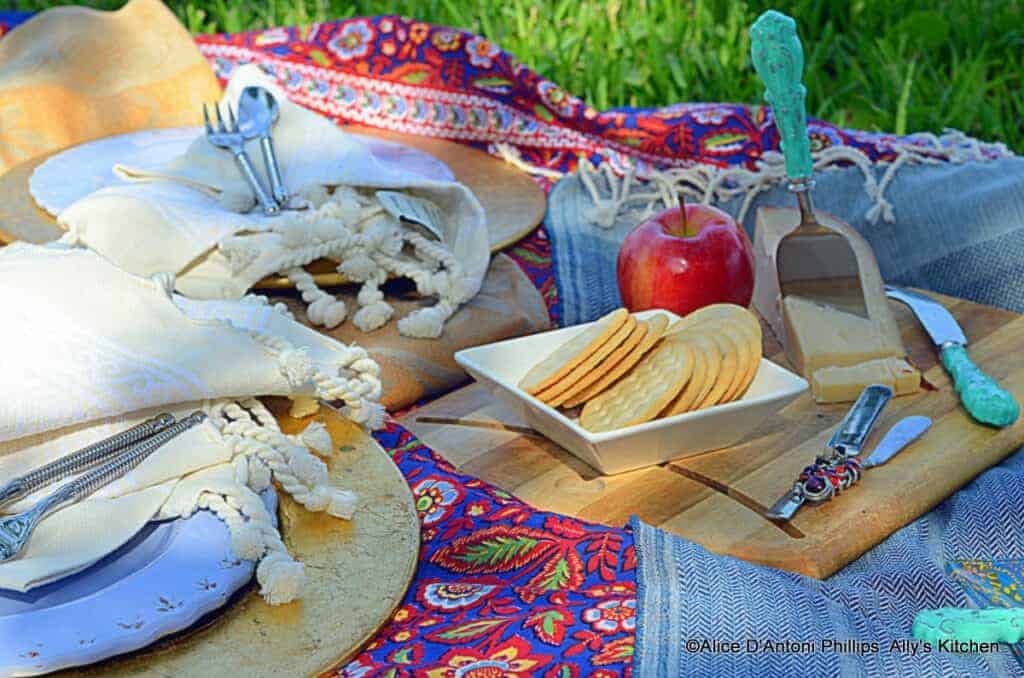 Serves: 2-3
Preheat oven to 425
What you need:
6-9 chicken drumettes
6-8 fingerling potatoes sliced in halves lengthwise
1 Tbl. Spice Seasoning Blend (your choice—Greek, Italian, Harissa, Ras el Hanut, Berbere, Jamaican Jerk—whatever you have on hand and what your tastebuds are craving!)
1 tsp. sea salt
8-10 Campari tomatoes on the vine
Cooking spray
3 Tbl. chopped fresh basil
Fresh thyme sprigs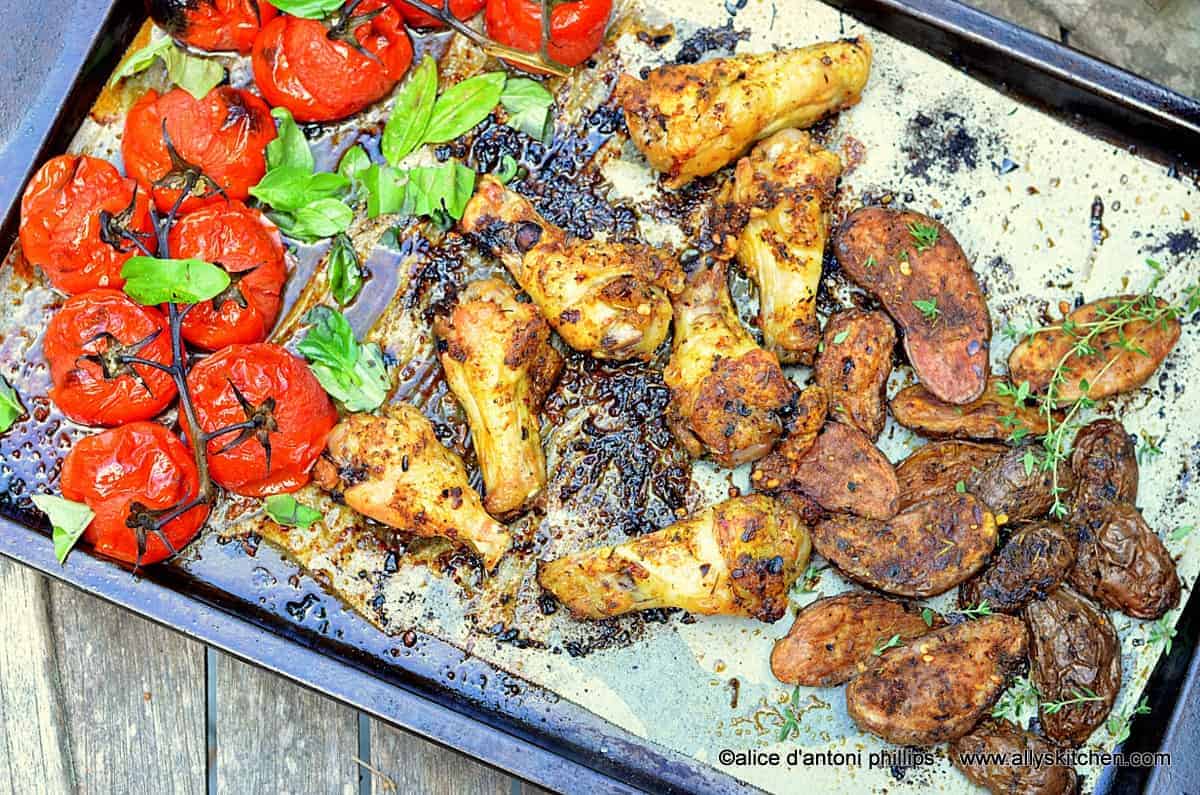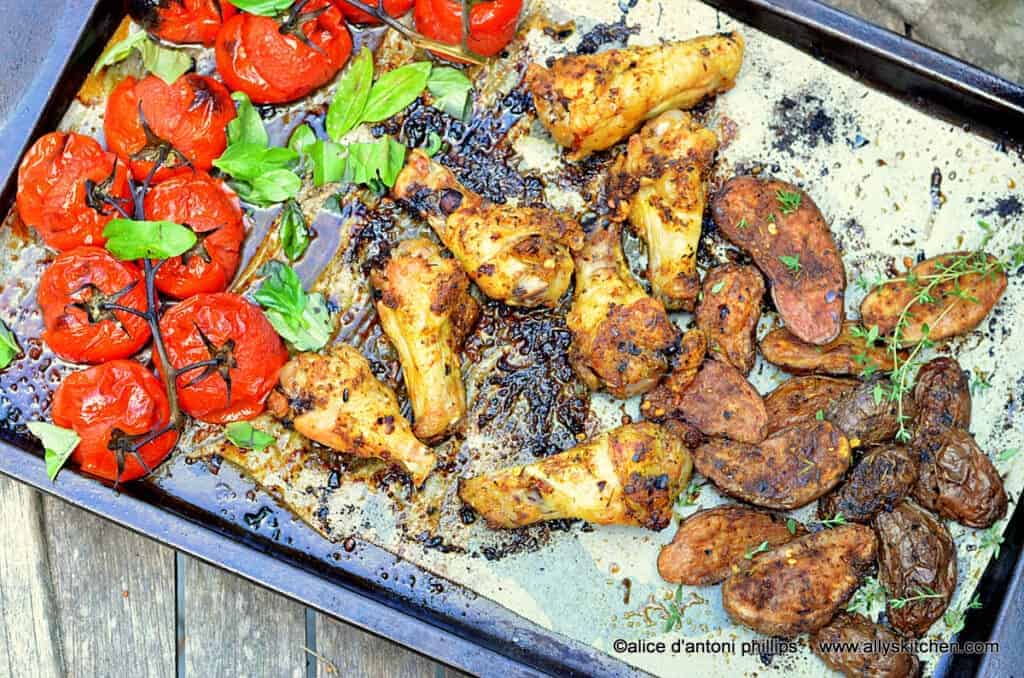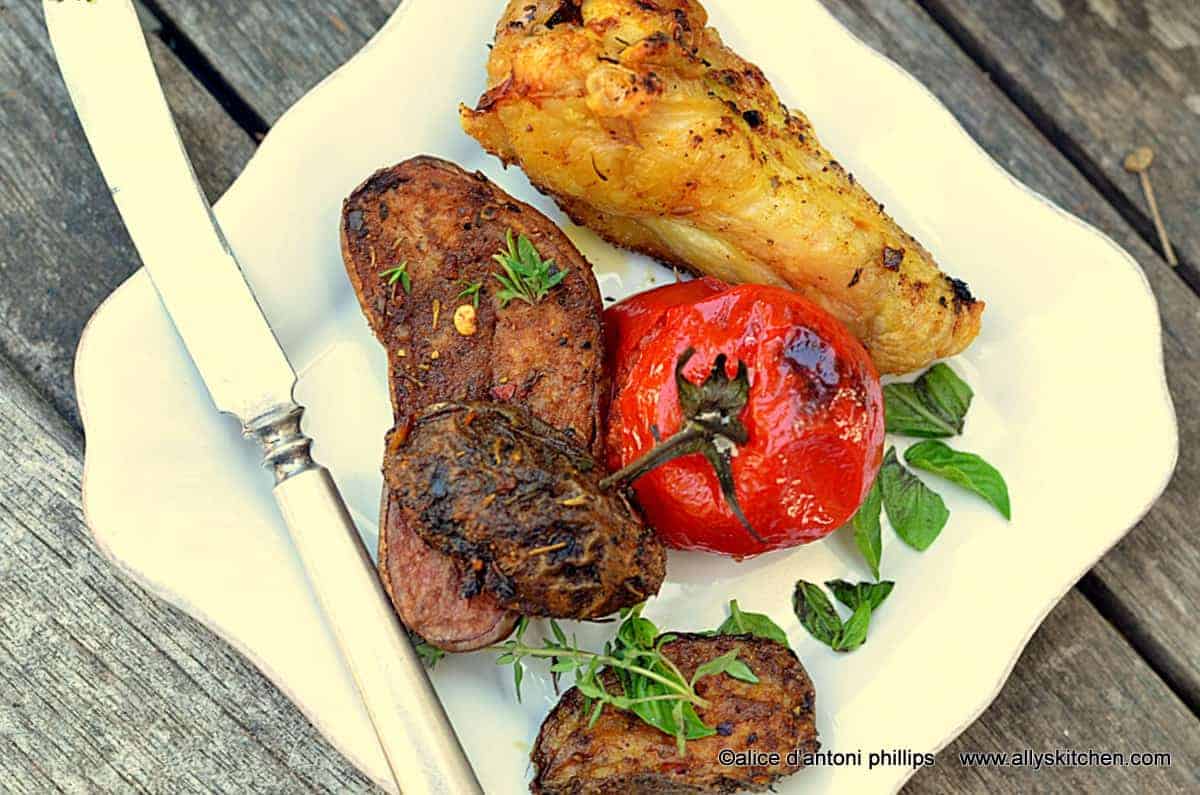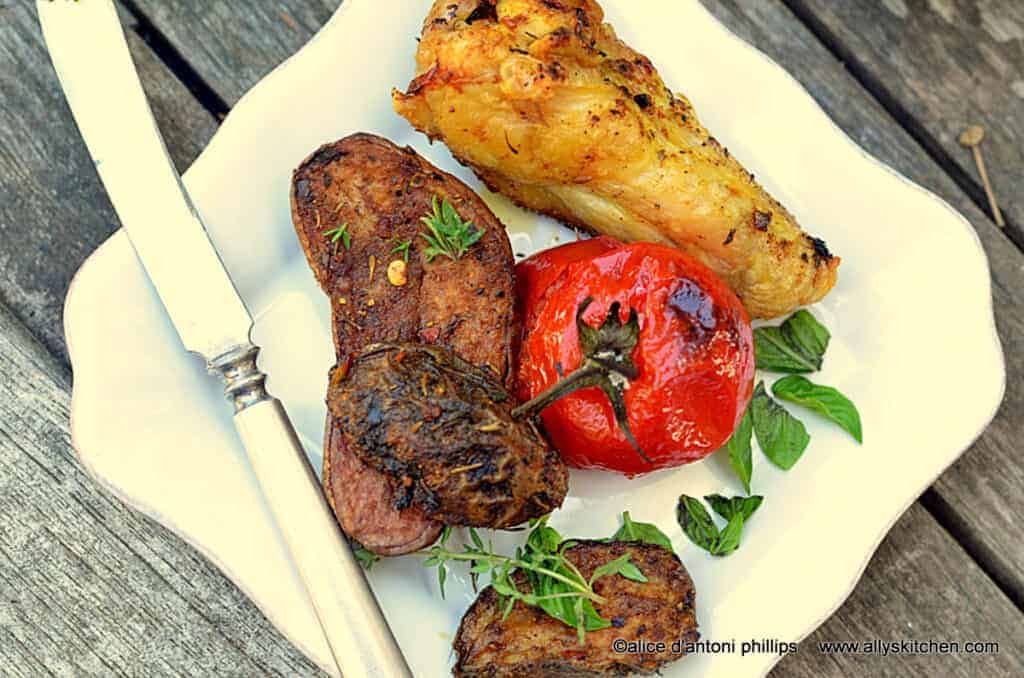 What you do:
Put the drumettes and potatoes (two separate areas—do mingle) on a parchment paper lined large cookie sheet. Coat on all sides with cooking spray. Sprinkle on half the salt and the seasoning blend, toss and coat well.
Coat the tomatoes with cooking spray and sprinkle with the remaining salt. Put them on another plate and set aside.
Cook the chicken and potatoes in preheated 425 oven for about 15-17 minutes. Remove, loosely cover the chicken/potatoes with double foil, then add the tomatoes to the cookie sheet. Cook another 7-10 minutes. Remove and sprinkle the tomatoes with the basil and the potatoes with the fresh thyme.
Ready to enjoy an authentic al fresco treat? Use your fingers or utensils—your choice—napkins required! Have some nice chilled white wine!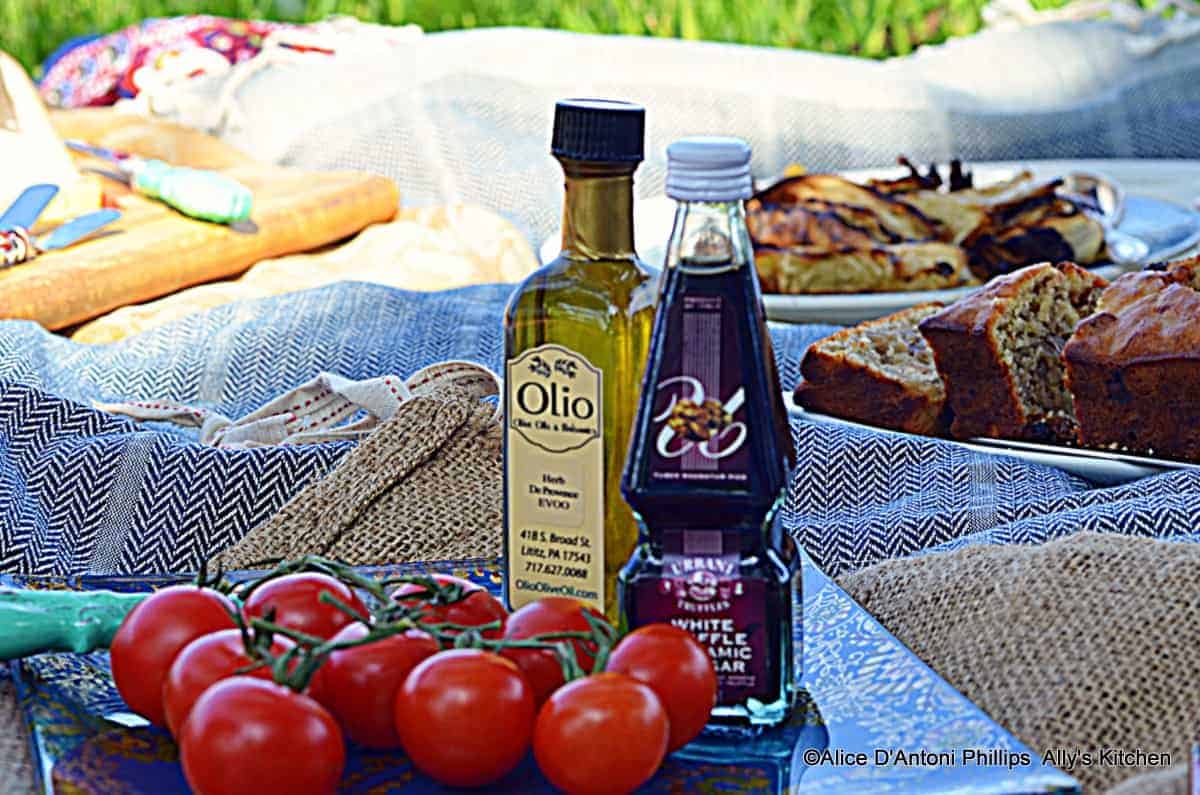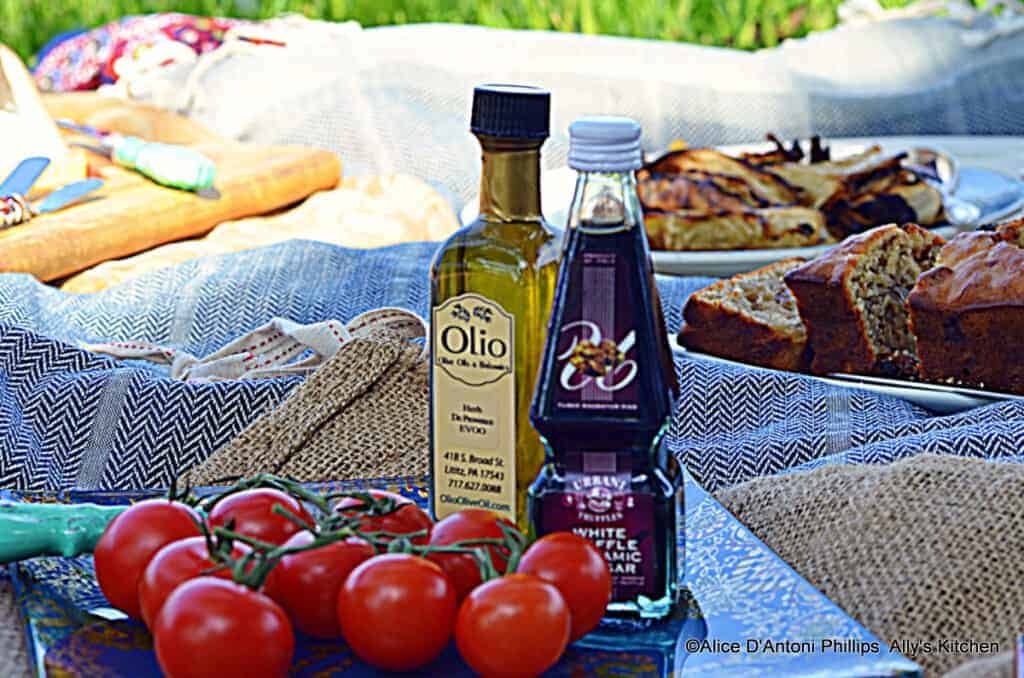 ©alice d'antoni phillips www.allyskitchen.com