Butternut Squash Saffron Rice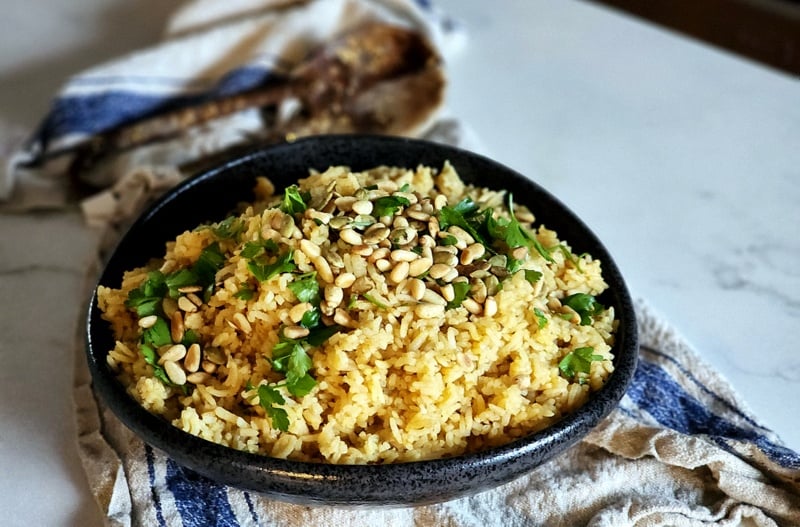 Butternut squash saffron rice is the kind of side dish that makes a holiday or dinner table extra special! Simple easy and always a fragrant delicacy!
Butternut Squash Recipes
Butternut squash is synonymous with the holidays, I think!
And, I've got some knock your socks off recipes that you might want to try! I mean how about honey nut squash bowls!
Jasmine Rice and Saffron
OK, I know that saffron is one of the most expensive spices in the world. That's because it comes from the flower stigmas of the saffron crocus plant. Yes, a member of the iris family.
Most saffron comes from Iran. It's not only used for culinary purposes but it's used in medicine, perfumes and dyes.
Easy Saffron Rice
I'm making this rice dish easy. That's why the instructions call for microwaving it versus cooking it stovetop or in a rice cooker. Rest assured, however, that you could use either of these cooking techniques with this recipe.
Here's my perfect microwave rice technique more explained.
Healthy Rice Toppings
Toppings abound for this rice side dish.
I wanted to do something simple and, again, healthy.
For me, it was fresh flat parsley and toasted pumpkin seeds and pine nuts. Just a hint of that Fall roasting flavor.
Butternut Squash Rice
The butternut squash soup that's used in this recipe takes the flavor of the rice over the top.
You could certainly make your own butternut squash soup, but, why? It's just so simple to use the box from Kettle and Fire.
Again, my goal is to make this a simple easy recipe for you removing some of the labor-intensive steps, but not the nutrition and flavor.
Elegant Rice Dishes
Yes, the addition of saffron makes this rice go from 'just rice' to an elegant rice side dish.
So what's saffron taste like? Well, it's very delicate and complex. There are nuances of earthy and floral tones.
Remember it doesn't take many threads to infuse this delicacy into your rice.
If you've had Latin or Spanish paella, then you've had saffron. You must take a look at my recipe!
Easy Rice Side Dishes with Few Ingredients
You'll see that this dish has just a few ingredients.
However, each ingredient is a star.
There's no substitution for the Butternut Squash Soup from Kettle and Fire. It's going to add depth of flavor, a glow of golden, along with the saffron, and the luscious liquid that is needed to infuse into the rice as it cooks.
The soups from Kettle and Fire are perfect for cooking. Why not take a look, explore the possibilities and keep some in your pantry. Use my code, ALLYSKITCHEN, at checkout and get 20% off your orders.
It's grassfed and pasture-raised bone broths and soups that have all the high-quality and healthy ingredients so important to us.
Believe me, I can keep you stocked with recipes using this top-quality bone broth!
Holiday Rice Side Dishes
Saffron's grassy and earthy aroma and flavor makes this rice side spectacular.
Yes, it's something that's so simple, albeit so gorgeous, that you'll wonder why you don't make it more often.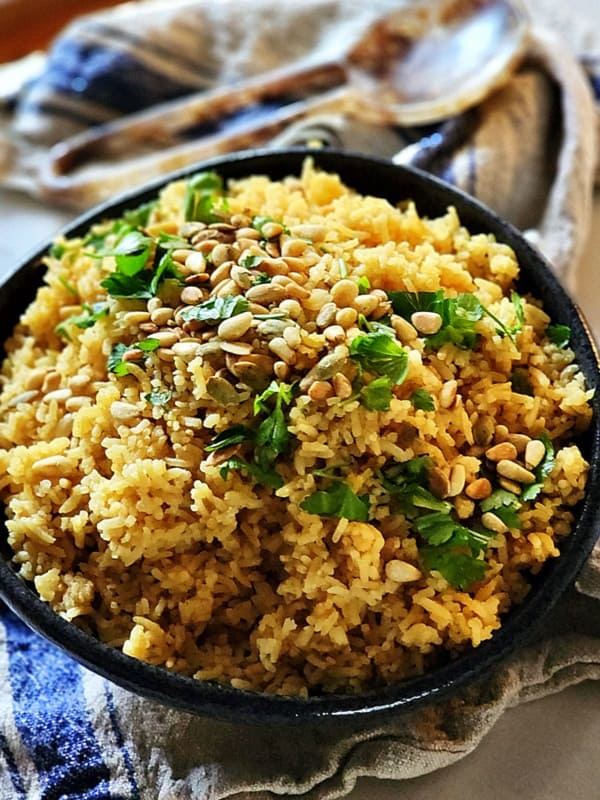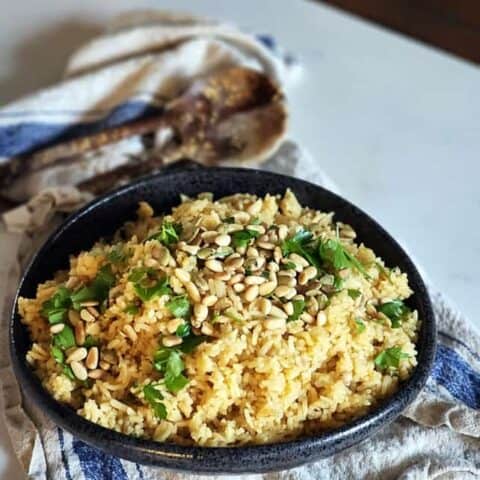 Butternut Squash Saffron Rice
Ingredients
1 1/2 cups jasmine rice, rinse and drain several times to remove residue
1 1/2 cups Kettle and Fire Chicken cooking bone broth
1 box (16.9 oz.) Kettle and Fire Butternut Squash Soup
3-4 saffron threads
1 1/4 tsp. sea salt
1/4 cup fresh flat parsley, chopped
1/3 cup pine nuts
1/3 cup pumpkin seeds
Instructions
In a medium to large microwavable glass bowl, put the rinsed rice, chicken bone broth, butternut squash soup (rinse box out with a splash of water and put in with rice), saffron and salt. Blend well.
Cover with doubled paper towels on top the bowl. Then take a larger piece of plastic wrap and cover the paper towels securing alongside the sides of the bowl.
On top of the plastic wrap, put a microwavable plate or bowl as a 'lid'.
Microwave on HIGH for 20 minutes. Let it sit for about 3 minutes.
Meanwhile, toast the pine nuts and pumpkin seeds in a skillet over medium heat. Keep mixing so they don't burn. Toast a few minutes until the pine nuts start getting a slight golden brown on them. Set aside.
VERY carefully remove the lid and coverings form the bowl. Just slide to the side.
Take two large forks and fluff the rice well. REcover the bowl with the paper towels, plastic wrap and 'lid'. Let it rest about 20 minutes.
When ready to serve, top with the fresh parsley and toasted nuts/seeds.