Easy Mediterranean Lentil Soup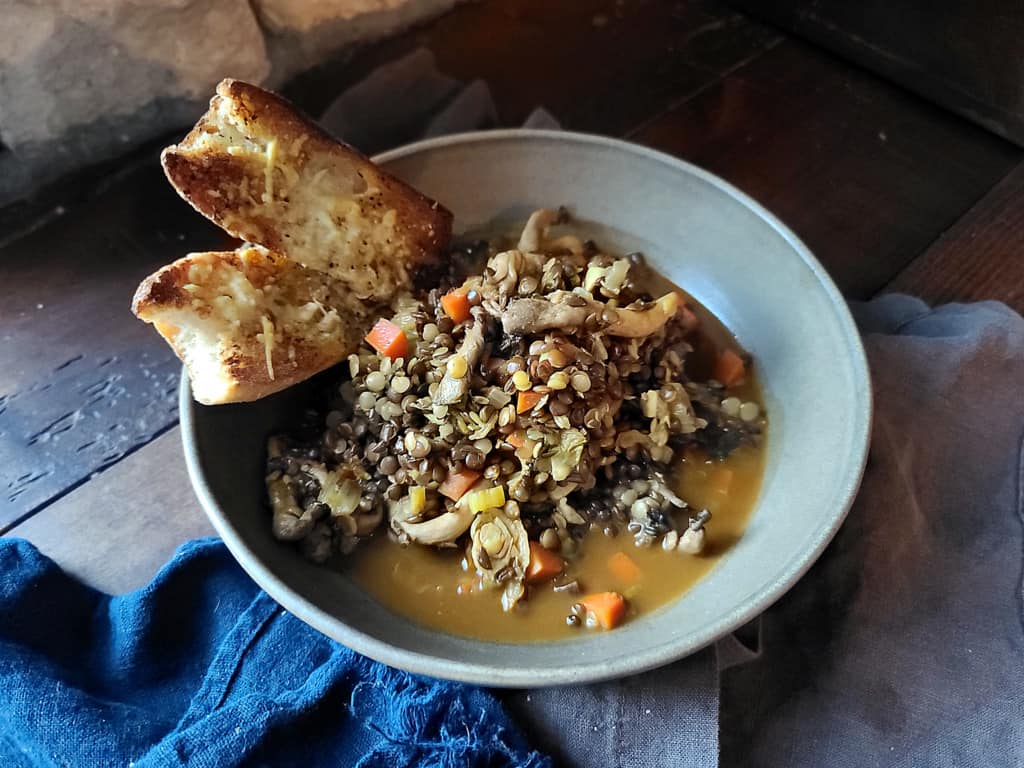 Easy Mediterranean Lentil Soup is the kind of bowl that makes you happy to eat a second bowl! Full of vegetables and healing bone broth!
Best Lentil Soup
What makes this the best lentil soup?
It's easy to make. Takes only about 45 minutes start to finish.
It's got super healthy ingredients.
It's Pops approved!
And, best of all, I'm hoping you'll try out the Kettle and Fire Beef Bone Broth. It really does add a huge depth of flavor to the recipe. You can have it delivered right to your doorstep. And, get 20% off your order using my discount code at checkout: ALLYSKITCHEN.
Now you can use another brand of beef bone broth. No, you don't have to use K & F. What I do know is that this is one superior bone broth. Nutritionists for Women's Health Magazine consider it one of the eight best. Do your own research. You decide. And, yes, I'm an affiliate partner with Kettle and Fire and very proud to say that.
Easy Lentil Soup Recipe
What we love about being in the kitchen is not being there forever and creating something that's tasty, healthy, delicious and something that expands our palates.
This recipe will because we're using Harissa as the seasoning mixture. Now, if you've never tried Harissa, you can make it yourself (just like you can bone broth) or you can buy it. If you want to make it, check out my recipe. I make my own. I love the aromas that come from creating it. It transports me back to Morocco!
Now we do love lentils in our house, and I have some other recipes that I think you might want to give a quick look. One is even a salad!
Easy Middle Eastern Lentil Salad
Slow Cooker Caribbean Jerk Red Lentils and Pork
Kitchari Cauliflower Rice Lentils and Vegetables
Thick Red Lentils & Red Peppers
How to Cook with Lentils
Lentils are simple to cook. Depending upon the type you choose, you'll find different cooked textures. For instance, red lentils, which have a mild, sweet and nutty flavor can be cooked in about 15 to 20 minutes.
They tend to end up mushy after they're cooked. And, that makes a great soup, I think, but they're also great for thickening another type of soup.
Red lentils have a mild, sweet, and nutty flavor, cook in 15-20 minutes, and will end up mushy after they're cooked, making them ideal for dal, curry, or thickening a soup.
Veggie Lentil Soup
Now I like to cook lentils on the stovetop because I have more control over the final product.
Yes, you can cook in a slow cooker or multi-cooker, however, when the time is done, you may or may not have your desired results. And, if you're using red lentils and cooking a crock pot or slow cooker, you're going to pretty much have creamy lentils.
Curried Lentil Soup Recipe
While I used harissa as my seasoning agent, you could as easily substitute a curry mixture or make your own curry mixture.
Usually in this mixture you'll find cumin, ginger, turmeric, black pepper and sometimes garlic and cinnamon.
Lentil Soup in Slow Cooker
OK, lentils cooked in a slow cooker. You'll need the ratio of one-third cup of DRY lentils to about two to three cups of liquid, water and/or bone broth. Using LOW setting, you're looking at about 4 hours and HIGH will take about 2 hours.
Lentil Soup with Ham Hocks
Ham hocks are a marvelous seasoning agent for any beans.
If you want to throw in a ham hock, I'd do this using the slow cooker rather than stovetop method. Why? Well, because the lentils are just not cooking long enough on the stovetop to get the full impact and flavoring of the ham hock. This hock breaks down over time in the heat and when this happens the flavorings of the fat and bones come into the soup.
And, one more thing, IF you want to go vegetarian with this recipe, then simple substitute vegetable broth for the beef bone broth!
Lentil Soup with Vegetables
Now this recipe has some serious vegetables in it. I'm choosing those that I think go well with the brown/black/green lentils, carrots, onions, celery, celery leaves and mushrooms.
The mushrooms add another dimension of earthiness and are almost like a 'meat'.
Speaking of meat, you could add a cooked ground meat to the lentils for added flavor. My choice would be lamb, pork, beef, chroizo, elk, buffalo. Just brown it in some olive oil and add to the lentil soup as the lentils are cooking.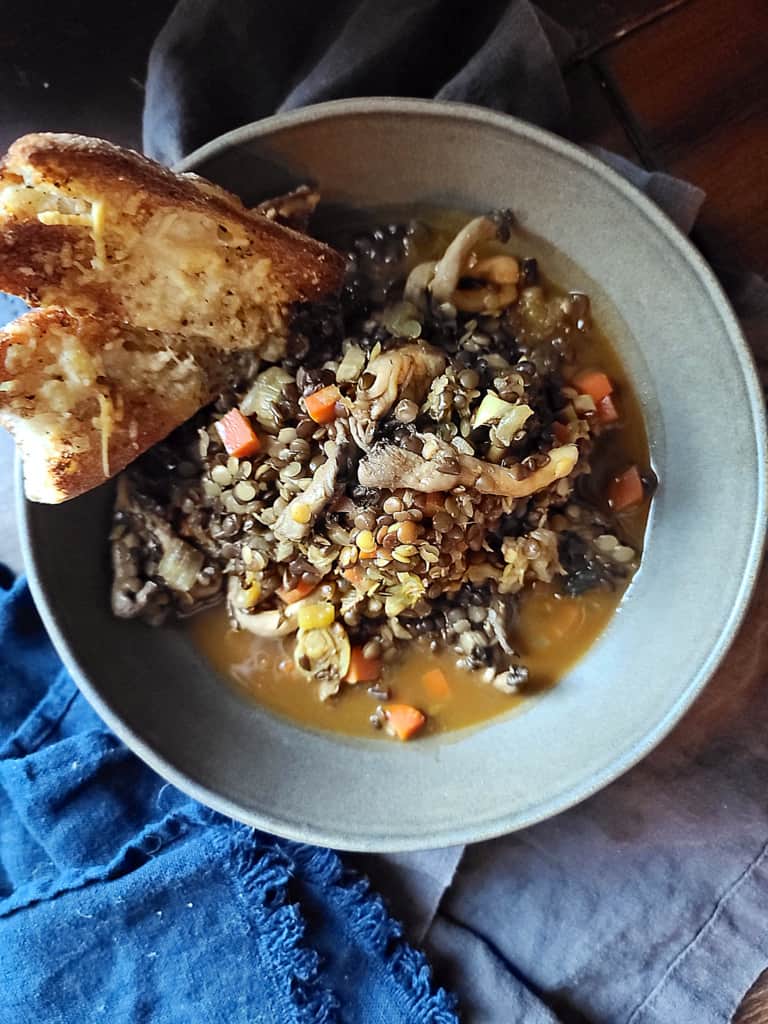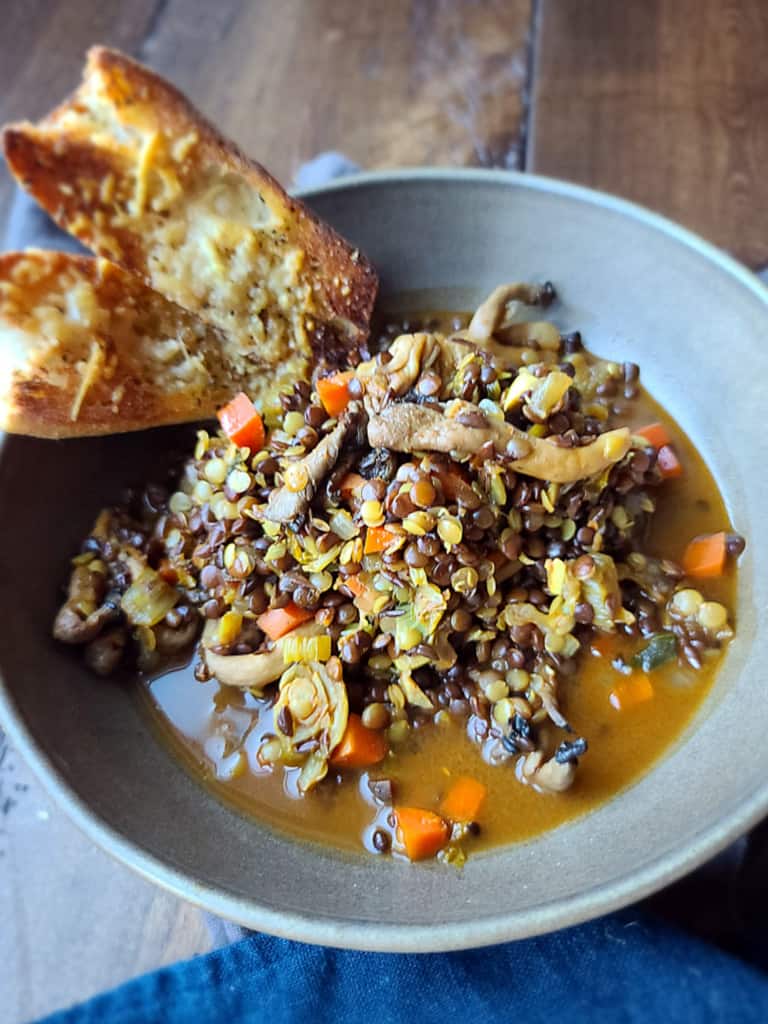 Easy Mediterranean Lentil Soup
Ingredients
¼ cup extra virgin olive oil
1 cup sweet onions, diced
1 cup celery (and leaves), sliced
1 ½ cups carrots, small dice
1 box (16.9 oz.) + 1 cup beef bone broth + 1 ½ to 2 cups of water, Kettle & Fire
2 Tbl. nutritional yeast
1 Tbl. harissa, check my homemade recipe
1 tsp. smoked paprika
1 tsp. sea salt
3 bay leaves
8 oz. lentils, brown or green or combination of brown, black, green
8 oz. mushrooms, oyster or your choice
Instructions
Put a large deep skillet or soup pot on medium high heat. Let it get hot. Drizzle in the olive oil.
Add the onions and sauté about three minutes. Add your celery and carrots and continue cooking about 3-5 minutes. Pour in the beef bone broth and water and blend then mix the nutritional yeast, harissa, paprika and salt in a small bowl and sprinkle into the broth and blend.
Add the bay leaves and lentils. Blend the mixture. Reduce heat to medium, cover and let it cook about 25 to 30 minutes or until lentils are tender.
Add the mushrooms, blend. Turn heat to low and just let the mushrooms steam in the mixture about five minutes.
Ready to serve!