no bake strawberry dessert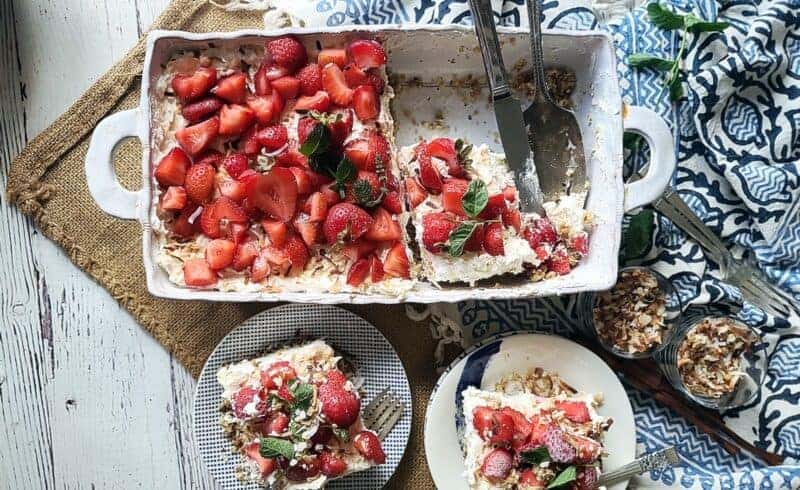 OMG, this no bake strawberry dessert is slide out of your seat 'sooo delicious' when you take that first bite. A thick cookie crust and creaminess! YUM!
Strawberry Pie
Nothing electrifies a hot summer day better than a cool creamy strawberry dessert!
And, if you find local freshly picked strawberries, well, then you've scored big. But, even if you can't find local strawberries in season, you'll still want to make this pie!
Strawberry Cream Pie
Sure we've heard of peaches and cream. To me, there's a perfect go together with strawberry and cream. And, when you put both of these insanely delicious ingredients into a strawberry cream pie, then you have a winner.
No Bake Strawberry Pie with Cream Cheese
Actually, I made this no bake strawberry dessert with cream cheese for my dear girlfriend's birthday! She always visits me when she and her family come to the beach, and we spend an afternoon of just the two of us.
When you've been devoted friends for decades, you love doing special things for dear people. And, Laura is just that, one amazingly dear girl in my life.
I love using whipped cream cheese with this recipe because it makes it easier to whip and blend.
Easy Pies
Easy pies are tops on my baking list. And, when I can make an easy pie a no bake pie. Well, it's a double score big for me.
No Bake Pie
Now this no bake pie does have a 'tad' bit of time needed in the oven. Not the pie. But you're going to blind bake the crust.
Blind Bake
When you blind bake, you're basically pre-baking a pie crust or another pastry without the filling, The blind baking helps to set the crust. And, in this pie, we're using a graham cracker crust. To learn more about how to blind bake jump over to this great post on Blind Baking Tips!
Recipes with Cool Whip
Cool whip might not be the healthiest to eat, but when you use it only on special occasions and not often, then I'm fine with it. Recipes with cool whip tend to be easy as the whipped 'cream' (really not true cream we know!), helps add a creaminess and sweetness.
No Bake Pies with Cool Whip
Just Google no bake pies with cool whip and you'll get a huge selection. Certainly if you don't want to use cool whip, then use heavy whipping cream. To get about three cups of whipped goodliness, you'll use one and one-half cups of heavy whipping cream. And, of course, you'll need to whip it to a fluffy consistency. There can be slight differences in texture and sweetness.
If you want to sweeten your heavy whipping cream somewhat, use powdered sugar. Whip your cream to soft peaks then add your powdered sugar. Be sure to get the little lumps out before adding. Use a whisk or fork. You could also sift into the whipped cream. Gently blend in. You should have your whipped sweetened cream in about five minutes.
What is Mascarpone
Mascarpone is a favorite ingredient of mine. It's an Italian cream cheese. You can usually find it at most larger grocery stores. It's similar to cream cheese. However, mascarpone cream cheese is made from whole cream. American cream cheese isn't made from whole cream. I think this additional fat adds a little more flavor. Plus, mascarpone has a sweeter flavor in my humble opinion.

Desserts with Mascarpone
Probably the most famous of the desserts with mascarpone is tiramisu! Classic tiramisu like this one from the New York Times is going to have mascarpone!
So why not add marcarpone to this no bake strawberry dessert and make it a classic!
Strawberry Cream Cheese Pie
While a strawberry cream cheese pie is decadent enough, you'll be adding in some shredded coconut to the filling and toasted coconut to the top before you chill this baby firmly for serving. I do put in the freezer for maybe 15 to 20 minutes to let it 'flash chill', then I move it to the refrigerator for more chilling.
I'm telling you, it's slide out of your seat delicious. Plus, it's going to last several days covered tightly and refrigerated.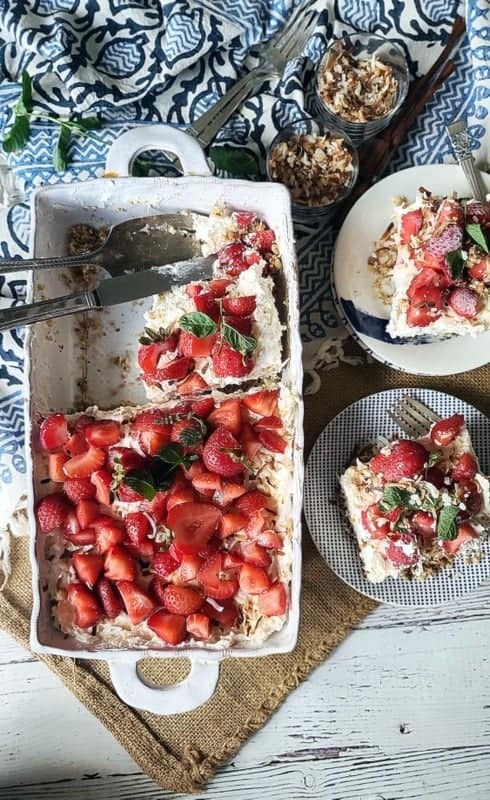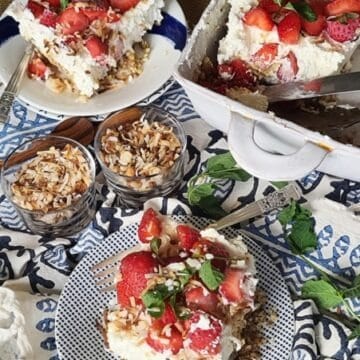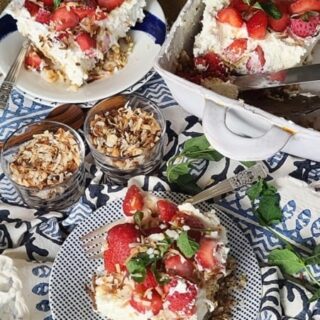 no bake strawberry coconut pie
Yield: One 9 x 13 baking dish

OMG, this no bake strawberry coconut pie is slide out of your seat 'sooo delicious' when you take that first bite. A thick cookie crust and creaminess! YUM!
Ingredients
2 packages graham crackers, roughly crushed in food processor
2 cups sliced almonds, roughly crushed/pulsed in food processor
8 Tbl. butter, salted, melted
½ cup orange juice
1 packet (.25 oz.) gelatin
8 oz. whipped cream cheese, almost room temperature
8.8 oz. container mascarpone, almost room temperature
1/3 cup sugar
2 tsp. vanilla
1 ½ cups coconut, shredded, sweetened, divided
1 1/2 cups heavy cream, whipped
16 ounces fresh strawberries, cleaned and cut into bite size pieces
Instructions
Mix the crushed graham crackers, almonds and butter in a mixing bowl. Pour into 8 x 13" casserole dish (about 3" deep). Press down into the bottom of the dish. Set the crust by baking in a preheated 350 oven for about seven minutes. Remove and cool completely.

In a small saucepan over medium heat, put the orange juice and gelatin. Whisk well and let it come to a simmering boil (around the edges of the pan) and cook for 3-4 minutes. Remove and cool.
Take one-half cup of the coconut. Spread on a cookie sheet. Put under the broiler for a few minutes to toast. Watch carefully. Set aside to cool.

In a large mixing bowl, combine the cooled gelatin, cream cheese, mascarpone, sugar and vanilla. Blend about two minutes with a hand mixer.


Add one cup of the coconut and whipped cream and fold in blending completely.

Pour into the cool set graham cracker crust shell. Spread and smooth out. Sprinkle on toasted coconut. Top with fresh cut strawberries. Fresh mint is optional when serving
Notes
To cool completely put the set crust in the refrigerator.


To cool gelatin, put in freezer section for a few minutes. Not too long, it will jell.


You can use another type of dish, but make sure it's got depth to it.


You could use a larger casserole dish, but the end pie wouldn't be as thick.